This article first appeared in Personal Wealth, The Edge Malaysia Weekly, on March 30, 2020 - April 05, 2020.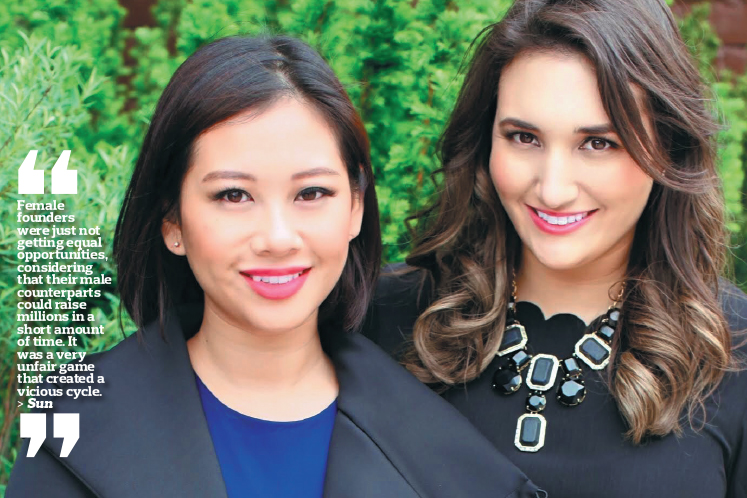 Women are among the most under-represented groups in the venture capital industry, be it from an investor or investee perspective. In a male-dominated world, entrepreneurs who do not fit the typical characteristics of a "successful founder" usually do not get equal recognition or enough funding to scale their businesses.
Recognising this gap, Pocket Sun decided to invest in start-ups whose founders are from under-represented groups, mainly women and those who are considered minorities. Along the way, she set up a venture capital firm, SoGal Ventures, in the US with co-founder Elizabeth Galbut. The firm, which has investments in Asia, has launched a fund that allows investors from all over the world to participate in its vision. 
SoGal Ventures' funds have seen some notable exits since the launch of its first fund in 2017. Examples include natural language start-up Kitt.ai (acquired by Baidu in 2017), asthma detection start-up Tueo Health (acquired by Apple last year) and fitness platform GuavaPass (acquired by ClassPass last year).
Sun's vision of investing in women business owners was sparked when she was studying at a university in Southern California, US. That was where she started a female entrepreneur community called SoGal Foundation to create a platform for female students who aspired to be entrepreneurs. During this time, she realised that what a lot of innovative female founders really needed was capital to scale their businesses, but often were unable to secure any. That was when she decided to become a venture capitalist, so that she could help bring entrepreneurs to the next level. 
"These founders were just not getting equal opportunities, considering that their male counterparts could raise millions in a short amount of time. It was a very unfair game that created a vicious cycle. If these female founders could not grow beyond what they could achieve by bootstrapping, the investors would say 'I do not want to invest in you because you cannot scale'. That does not sound logical, right?" says the 29-year-old.
If this cycle is allowed to continue, it will lead to an even bigger problem later on, says Sun. The venture capital industry is quite infamous for being male-dominated. While it is the same situation in many industries such as engineering and aerospace, it could become more problematic for the venture capital industry as a whole, where investments determine which innovations could be big in the next decade or so. 
"Venture capital [funds] have pretty much enabled [the growth of] companies such as Google, Amazon, Facebook, Twitter, Reddit and Tesla. Venture capitalists (VCs) vote with their money on what the future is going to be. But about 90% of VCs are men and most of them love to 'recognise patterns' — when they see that Mark Zuckerberg has been successful, they want to invest in a 'Zuckerberg lookalike' to boost their chances," says Sun. 
"That means if the entrepreneurs are female, black or Asian, their chances [of obtaining funding] are slim. If a young Latina, for example, were to pitch to investors, she would probably not get a deal simply because the investors could not imagine that anyone who looked like her would be 'successful'. So, her innovative ideas may never reach the [intended] audience."
The statistics paint a stark picture of Sun's observations. Data provided by business insights firm Crunchbase (as at July 2019) show that female-only founding teams received only 3% of the global dollar volume in 1H2019, compared with 8% in 2018 and 3% in 2017. By comparison, male-only teams received 86% of the global dollar volume while male-female teams got the other 11%.
It has definitely been a challenging journey for China-born Sun, who is a minority playing in a club full of men. However, she points out that she has certain advantages over her male counterparts. One of these is her ability to see things through a different lens, which allows her to identify qualities of a company that male VCs may not be able to.
"I have a different perspective from, say, an older male Caucasian investor. I also have a different mindset and interests. I see different pain points and I evaluate entrepreneurs in a different way," says Sun. 
"For example, male investors may say women are too soft, too emotional and think too much. I think these are great traits in a founder and should be considered advantages, not disadvantages." 
The need for diversity
Although Sun has only been in the industry since 2016, she has won many awards and has been included in many prestigious lists, including Forbes magazine's 30 under 30, Harper's Bazaar magazine's Women of Our Time and DBS Treasures' The Asian Unstoppables. While being a VC is her full-time job today, she did not intend to become one when she moved to the US a decade ago. 
Hailing from Shandong, China, Sun bid her home farewell in 2009 to study at The College of William and Mary in Virginia, the US. After completing her undergraduate degree, she landed a job in marketing but needed to quit after a year due to problems with her work visa. Determined to stay in the US, she applied for a master's degree in entrepreneurship and innovation at the University of Southern California, simply because it offered a partial scholarship. 
There, Sun met a lot of passionate business owners who inspired her to pursue her dream of becoming an entrepreneur. She excelled in university and even earned the Best Venture award for her semester-long project on a bubble tea shop business. 
At the time, Sun did think that it was a bit odd that most of her classmates were men. However, she learnt of the harsh reality of the venture capital scene in 2014. From 2011 to 2013, only 2.7% of  venture capital money went to female CEOs, according to Babson College's The Diana Project. 
From then on, Sun knew that she needed to do something to create an impact. There were several problems that needed to be addressed, starting with the lack of a platform for female entrepreneurs to voice out their ideas and network with one another. 
Sun did not have the resources to do things in a big way. So, she took baby steps, starting with a high tea for female entrepreneurship students. The first event was held in a classroom and attended by speakers who were founders of juiceries and bakeries, so they could bring desserts and drinks for the participants to sample.
Encouraged by the outcome, Sun organised three more events that month. Four months later, the network organised its own entrepreneurship summit, which saw more than 500 attendees. Since then, SoGal Foundation has grown into a much larger social platform of more than 100,000 members and 40 chapters around the globe.
Having addressed the lack of a strong network, Sun needed to tackle a bigger problem — inequality in terms of attracting capital. She says the only way to solve this problem was to have a greater participation of investors with different backgrounds. This ultimately led to her becoming a VC. 
"We need a massive number of different investors in the game because the entrepreneur pool is getting more diverse — the founder could be a 10-year-old, or people with disabilities, or they could be anyone. But investors generally look the same, think the same and play at the same country club. The investor pool needs to be diverse too in order to tap these investment opportunities," says Sun.
In 2016, with the resources in hand, she co-founded SoGal Ventures with Galbut, whom she met at a venture capital course at Stanford University. The duo have invested in more than 65 companies, having got most of the leads for the deals from the foundation built much earlier. 
"I realised that if I really wanted to help people, I would need to find a way to bridge the gap between capital and female entrepreneurs. Of course, it was really hard for someone like me, who had no prior experience, who did not come from a super rich family and who had no network of high-net-worth investors I could leverage," says Sun.
"But my situation was very similar to the average female founder. We just have to slowly work our way around it. That was why I wanted to be one of their first partners and help them get to the place they needed to be to get scalability." 
The venture capital landscape has changed for the better since Sun founded SoGal Ventures. She now sees more female VCs leaving bigger firms to start their own, which is a positive move. "This has not happened in Southeast Asia yet, but we do see firms in the US now adding female partners to their team for diversity. The good news is that these female investors are becoming more visible, which is something we try to do with one of our networks, SheVC," she says. 
SheVC is a growing network of female investors operating mainly in Asia. The network currently has 130 members, who are from most venture capital firms, accelerators and other venture-related entities in the region. It acts as a support group, with members providing each other with information, recommendations for awards and speaking opportunities, among others. Sun's goal is to encourage more participation in the venture capital industry among people who, like her, wish to give a voice to under-represented communities.
"In the alternative asset management industry, 98.9% of the money is controlled by men. Hence, I do not care about competition. There needs to be thousands more diverse fund managers in the space to create a level playing field. Hopefully, this will help entrepreneurs feel more comfortable pitching their ideas, knowing that their ideas will be better understood," she says. 
Looking for life-changing ideas 
SoGal Ventures invests in the future of how humans live, work and stay healthy. Although this basically means the firm invests in companies that offer a product or service that impacts society as a whole, Sun wants the companies to have a strong impact on those who are underserved. 
"For instance, until 1974, US banks could refuse to issue a credit card to someone simply because she was a woman. How crazy is it that women were not to be trusted with credit until 46 years ago? The college that I went to has more than 300 years of history, but it has only served women for a century," says Sun.
"So, if you think about it, the infrastructure of many industries was not designed with women in mind because they were not using any public facilities at the time. Women did not go to school, they were not allowed to vote, they were not in politics. Think about how many opportunities are out there to make things better not only for women but also others who have been left out of the process." 
In China, for example, there is a lack of facilities for people with disabilities, she points out. The country has not designed an inclusive enough infrastructure for these people to feel valued. 
"I think the opportunities that really excite me are products and services that can help people who were previously pushed to the sidelines. How can they own their voice and reclaim their narrative?" says Sun.
When considering future investments, it is important for her to ensure that her vision is aligned with that of the entrepreneurs right from the get-go. One mistake she made in the past was investing in a company with a lot of potential but was misaligned in terms of its future prospects, which led to disappointment for both parties.
SoGal Ventures also cares deeply about product validation. The products or services that the investee company offers have to be what the market really needs. So, there must be concrete evidence to back this up. These have to be things people are waiting to pay for, things that will solve real pain points and improve people's quality of life, says Sun. 
"Yes, it is a very high bar. To look for real evidence, we tap our SoGal Foundation community members. We use them as a market research pool to make informed decisions. We also make our own judgements on the future of these entrepreneurs, whether they are a well-functioning team, have a good market strategy, are sustainable and have a solid plan for long-term sustainability," she says. 
One aspect that makes SoGal Ventures unique is how Sun and her co-founder leverage their own sensibilities and sense of compassion and vulnerability to understand the start-up founders as human beings. This intangible element requires them to have long sit-down sessions with the founders, allowing them to assess any potential roadblocks. Sun even reaches out to a highly skilled psychologist to help them craft specific questions for the different founders. 
Addressing gaps
Most of SoGal Ventures' portfolio companies are digital healthcare innovation players. This is due to its belief that the next generation will consume healthcare very differently from previous generations. 
It also helps that Galbut is familiar with the healthcare landscape in the US. Her previous investments include Real, which is redesigning the mental healthcare model, and Everlywell, which makes at-home health testing affordable, convenient and accurate. 
Everlywell offers more than 30 at-home tests, including those for food sensitivity, metabolism, ovarian reserve and sexually transmitted diseases. On March 21, the company announced that it had successfully developed at-home Covid-19 test kits and was planning to distribute these at no profit. 
Sun has a positive outlook on the healthcare innovation industry. She says a lot of the problems in the industry can be solved with personalised healthcare enabled by technology. "Women have been left out in most areas and healthcare is no different. Most of the drugs we are familiar with were only tested on men before being launched in the market. We do not know whether this has affected us differently or whether we have been taking the right doses. Hence, I am largely interested in personalised healthcare and medicine," she says. 
Sun also likes companies that provide alternative healthcare options. These companies allow people to discover different kinds of treatments, instead of just conventional ones. For example, SoGal Ventures recently invested in Parsley Health, which is reinventing the general practitioner model. The company combines conventional medicine with functional medicine, using a systems biology-based approach that focuses on identifying and addressing the root cause of diseases.
"So, instead of talking to you for 10 to 15 minutes before giving you a bunch of pills, these medical professionals spend 70 minutes with you and talk through your lifestyle, how you work and other things that are happening in your life that may be causing the symptoms. This way, they do not just try to heal you but also look at preventing future consequences," says Sun. 
She is looking for companies that can address gaps in female healthcare such as alternatives to prolonging fertility and promoting wellness post-menopause. "These may be taboo topics, but they do affect a woman's quality of life. Menopause, for example, is a new chapter in every woman's life but it is not celebrated. On the contrary, it is seen as something negative because she is no longer reproductive," she says.   
"I think there are so many opportunities to change the conversation there and help women go through different phases of life. I was very upset when I learnt that only US$1 billion worth of investments went to the female health and wellness industry in 2018 while companies such as Grab or Go-Jek are easily able to raise US$1 billion per round. It is a very underfunded industry." 
In search of hidden gem
SoGal Ventures' first fund — SGV Fund 1 — was launched in 2016 with US$15 million under management. The fund has been deployed to more than 65 companies across the globe. Pocket Sun, co-founder of SoGal Ventures, says the firm can invest up to US$1 million per company. 
She adds that she considers the fund to be young and does not want companies to exit anytime soon to prevent premature outcomes. "We think we have seen a healthy ratio of early exits and write-offs so far. The ratio is definitely on the lower side when compared with other funds in our vintage year. But this is not to say that our companies are not successful. The companies are appreciating very well, growing their valuations up to 16 times within a short period. 
"The thing is, our fund is very different from the others [in the industry]. So, we are curious to see if we can create returns that will surprise the industry. Is it possible amid an overall bearish market? We are optimistic."
Although SoGal Ventures mainly invests in companies based in the US, it also invests in companies in Australia, Canada, Kenya, Singapore, Sweden, the Philippines and the UK. In fact, Sun moved to Singapore a few years ago as she saw great potential in Southeast Asia. She is keeping her ear on the ground and building a strong network before making her next move.
"I really hope there are more prominent female founders in the region. So far, I have not seen any yet. But there is so much potential to grow in that aspect. So, I hope to continue contributing to the rise of female power in this region," says Sun. 
She firmly believes that there are undervalued opportunities in the region. The firm is used to looking for diamonds in the rough, she says, adding that not a lot of her investments are in Silicon Valley, where most venture capitalists look for deals. 
"We have invested in companies in Boise, Idaho and Farmington, Connecticut. These places are virtually never on any venture map. I think Southeast Asia definitely has a lot of hidden gems. But it will take effort to uncover these opportunities," says Sun.
SoGal Ventures is looking to launch a new fund at the end of this year or early next year, which will be a scaled-up version of its previous fund. Unlike conventional funds, where institutional investors take the lion's share, 70% of the first fund came from individual female limited partners. 
"Back then, it was unheard of. We were very proud to achieve it by reaching out and convincing a lot of younger women to participate in our journey of making an impact. This next fund will be more institutional, but the thesis remains. We will continue to invest in founders from under-represented groups. We will write bigger cheques and take up more ownership in the companies we believe in," says Sun.