This article first appeared in Options, The Edge Malaysia Weekly, on January 27, 2020 - February 02, 2020.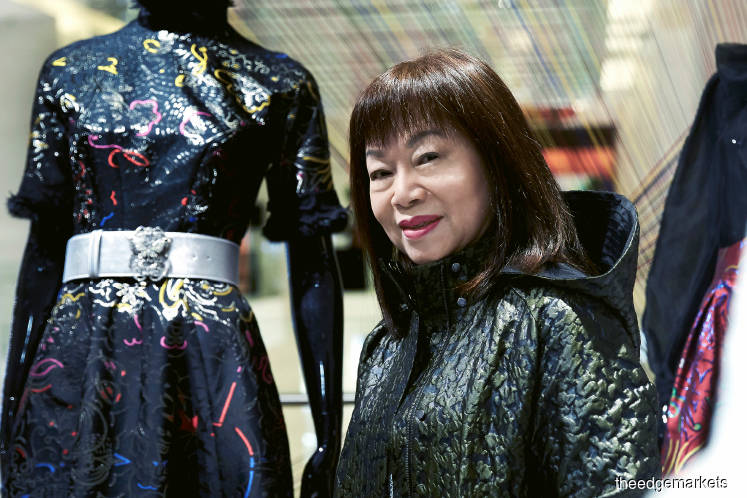 Chinese motifs, images,art and literature inspire Shiatzy Chen's designs, showing that culture and heritage transcend time and trends beautifully
If you cannot afford a pretty dress, what do you do? Learn to make your own. And if you choose to step into the world of design, how do you stand out? Be better than the best.
This steely determination to chart her own destiny has taken a girl born into a poor family in Changhua county, Taiwan, to the glitzy fashion world, carrying her own label, Shiatzy Chen.
Unlike those who berate fate for their lot in life, Wang Chen Tsai-Hsia, the oldest of seven children, stopped studying after primary school and learnt to sew to help her family make ends meet. It is this same can-do attitude that has taken the brand — Shiatzy in Mandarin signifies "neo-Chinese chic"  — from Asia to Europe.
"Sure, we have challenges. It was very tough when we started in 1978. In business, you have to overcome every situation. Don't blame. Keep doing. Keep on ­doing," says Chen, 69. Wang is her ­husband's ­surname. "He [Yuan-Hong] takes care of the business and ­finance while I do the creative part."
Doing involves starting from point zero, with a blank sheet. To fill it, she turns to her roots — ­Changhua has a rich cultural history — and picks out threads to weave "scenescapes" into her designs.
For the full story, pick up a copy of The Edge Malaysia (January 27, 2020) at your nearest news stands or visit optionstheedge.com.