This article first appeared in The Edge Malaysia Weekly, on July 15, 2019 - July 21, 2019.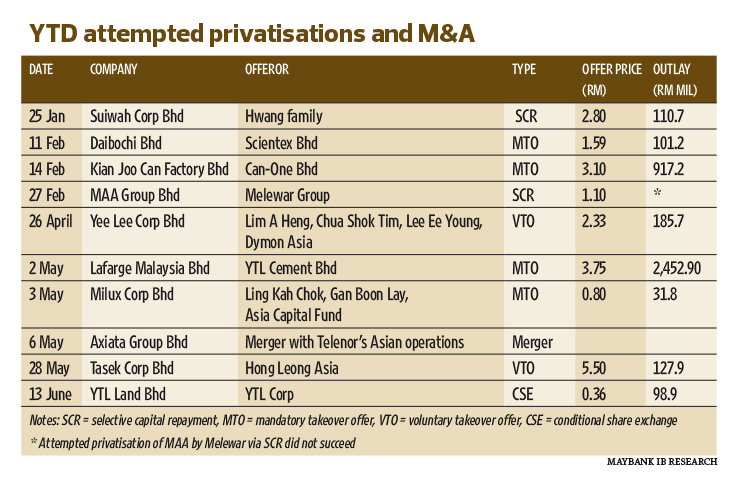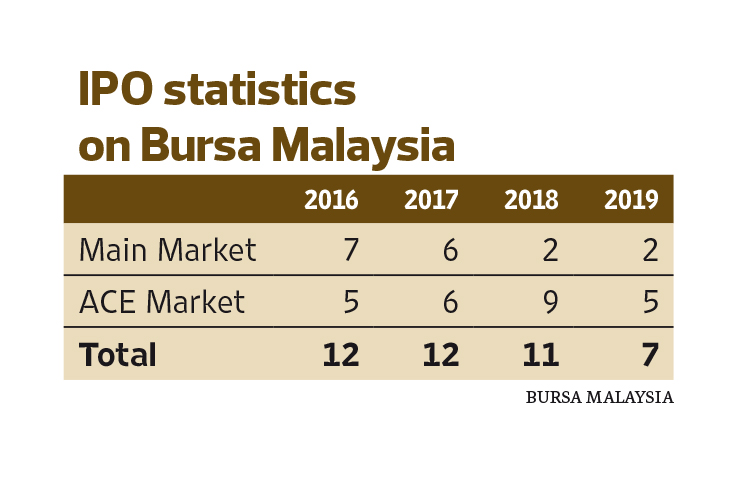 IF we take the number of initial public offerings (IPOs) as a benchmark for the vibrancy of the equity market, many would agree that it has been rather lacklustre for several years now.
On the other hand, news about company privatisations as well as mergers and acquisitions (M&A) seems to be appearing more frequently recently.
"The IPO market in 2018 was the worst seen in the last decade for Malaysia. This year, there is a pipeline of IPOs," a dealmaker tells The Edge.
But the first half of this year has not been too exciting.
The Main Market of Bursa Malaysia saw only three companies make their debut, raising a total of RM1.3 billion. They were Leong Hup International Bhd, HPMT Holdings Bhd and UWC Bhd. But this is just one up compared with last year.
The ACE Market saw five new listings. Most of the IPOs came from the Leading Entrepreneur Accelerator Platform Market, which caters for small and medium enterprises.
Privatisation and M&A activity, meanwhile, appear to have improved. There have been 10 attempts so far this year, according to Maybank Investment Bank Research, in a July 2 report.
The two biggest corporate exercises were the 51% acquisition of Lafarge Malaysia Bhd by YTL Cement Bhd in May for RM1.63 billion and the mega merger of the Asian operations of Axiata Group Bhd and Telenor ASA, which will also involve the merger of Digi.Com Bhd and Celcom Axiata Bhd.
The acquisition of Lafarge has been completed, with YTL Cement holding a 76.98% stake in the former, while the merger of the two telecommunications companies is still awaiting regulatory approval.
If the heightened privatisation and M&A activity of late were to suggest that the interest for IPOs is waning, a corporate finance adviser is quick to dismiss this notion. "The IPO market is cyclical and it is not a structural concern. Every few years, we see this happening."
Many like the corporate finance adviser believe that the fewer number of IPOs seen these days is mainly due to the depressed state of the stock market.
"I wouldn't say that the interest in IPOs is waning. I think it is a combination of factors like weak market sentiment and low liquidity, which are making it difficult to raise money from the market," says Fortress Capital Asset Management (M) Sdn Bhd adviser for strategic investments Geoffrey Ng.
The tepid IPO scene could also be due to the valuation expectations of companies versus what the market is willing to value the companies at.
"I think it is related to the expectations companies have on valuations. Many expect very high valuations and this makes it hard to attract investors," says Astramina Advisory managing director Wong Muh Rong.
"Companies have to be realistic about valuations. Unless you are in an industry that is involved in very advanced technology — like Alibaba, Facebook, Google — where it is uncharted territory (in terms of valuation), investors won't be too keen about valuations that are deemed too high for them. It is important to leave some decent value for investors at IPO so that it is a win-win situation for all."
Take the IPO of QSR Brands (M) Holdings Bhd, for example. After much hype about its relisting last year, the IPO has been postponed indefinitely as key potential investors deemed its valuation too high.
With market conditions being weak now, industry observers say the time seems ripe for privatisation and M&A deals as valuations come under pressure.
Fortress Capital's Ng believes that privatisation is gaining momentum in Malaysia and sees many opportunities for such corporate exercises. What will help spur this on is the low interest rate environment, which makes borrowing relatively cheaper.
"With the interest rate cut, borrowing has become cheaper. Major shareholders can borrow from financial institutions or team up with private funding like private equity firms to privatise the company if they feel that their shares are not appreciated by the market," says a corporate finance adviser.
Going into the second half of 2019, Maybank IB Research is also of the view that M&As and privatisations will be a recurring theme, given that the broad market weakness has unlocked values.
"In our view, the three most interesting potential M&A and privatisation candidates are Media Chinese International Ltd, KESM Industries Bhd and Harbour-Link Group Bhd. All three are forecasting free cash flow yield of more than 8% per year for the next two years," says the research house.
Astramina Advisory's Wong, on the other hand, does not see the privatisation play rising this year. Instead, she sees the M&A trend becoming more prevalent going forward.
"These days, businesses go for economies of scale because there is more negotiating power in business. Take the Lafarge-YTL Cement merger, for example. That is a very smart move as they now are the biggest cement player in the market," she says.
Wong also sees signs of a pick-up in the capital market this year. "I believe more IPOs will be coming onstream as you can see that the government wants to stimulate the economy through the revival of infrastructure projects. This means that companies will want to get listed so that they can get a piece of the pie too."
Globally, there have been 507 IPOs so far this year, raising a total of US$71.9 billion, according to EY Global IPO Trends for 2Q2019. This push came from 13 unicorns, which launched their IPOs this year, with Uber Technologies Inc being the largest at US$8.1 billion.
While the number of deals and the amount raised for the first half were 23% lower than a year ago, EY believes that IPO activity will pick up moving into 2H2019 despite the geopolitical uncertainties and trade issues.
"The number of unicorns that came into the public markets in 2Q2019 suggests that the IPO candidates were either finding an open IPO window or choosing a window of their own making. There are several more mega IPOs and unicorns waiting in the wings as well as a robust pipeline of small and mid-cap IPOs across all regions," the report says.
If this becomes a reality, the stock exchange will be eagerly awaiting the vibrancy it has been deprived of over the last few years.