This article first appeared in The Edge Malaysia Weekly, on April 15, 2019 - April 21, 2019.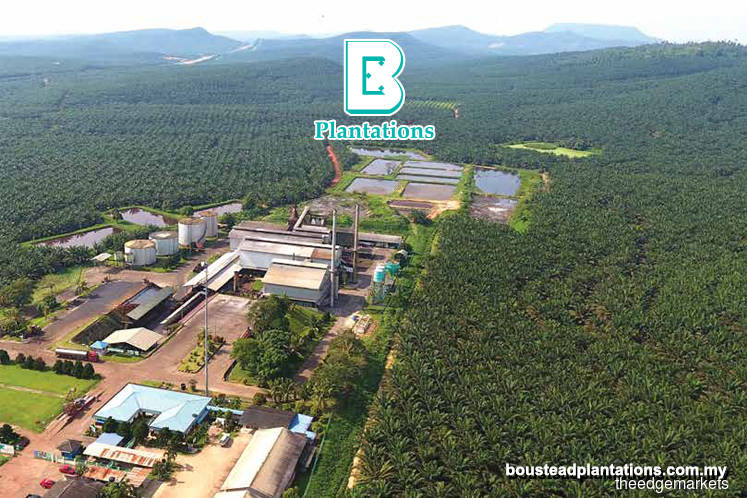 AMID questions about its RM750 million acquisition of Pertama Estates in Sabah, which was concluded in May last year, Boustead Plantations Bhd has reiterated that the deal is viable.
"We maintain that this is a viable acquisition, more so as the scarcity of plantation land continues to be a challenge for the sector," the planter says in an email response to The Edge.
"Given the strong management inputs and application of best agronomic and management practices, the potential returns from Boustead Pertama Estates, in terms of revenue and profit generation, should not be underestimated."
Among the points raised by The Edge are the splitting of Pertama Estates into several non-contiguous chunks of land, plus irregular road patterns seen via satellite images (see story on Page 63).
The planter was also asked about the apparent lower planting density in some parts of the estates.
In response, the planter notes that Pertama Estates is split into five estates: Boustead Pertama Estate (2,636.63ha); Boustead Sapa Payau Estate (1,307.47ha); Boustead Ruku Ruku Estate (3,196.18ha), Boustead Lokan Estate (2,550.08ha) and Boustead Lokan Baru Estate (1,888.95ha).
Pertama and Sapa Payau share a common boundary as do Lokan and Lokan Baru. Ruku Ruku is only 2km from the main road, the company says. "Boustead Pertama Estates is therefore sizeable, in three main blocks, and located in close proximity to each other. Access to the main road is very good with a wide half chain gravel road connecting the various estates."
Commenting on the irregular road patterns, Boustead Plantations says grid roads are only possible on flat terrain, which is becoming scarce. It asserts that most Malaysian oil palm estates are now located on inland soils where the terrain varies from undulating and rolling to hilly below a 25° slope.
"Grid road construction is therefore not possible on inland soils. Adequate road density is the determining factor for efficient and full evacuation of FFB [fresh fruit bunch] crop in inland soils.
"Hence, the estates are well connected to and accessible from the Sandakan/Kota Kinabalu main road. The estate roads, which are aligned along the contours of the land, meet current operating requirements," it says.
As for the sparser planting density, Boustead Plantations states that the three largest estates — Pertama, Ruku Ruku and Lokan — have a mean palm count of over 105 per hectare. Ruku Ruku is the highest with a mean stand of 118 palms per hectare, "which is very good considering the age profile of the estates".
However, it says the Sapa Payau estate has the lowest stand at 71 palms per hectare due to "pest damage and hilly terrain", in addition to the presence of a riparian reserve on the land.
"While we do not anticipate significant yield improvements from this small property, we have plans to look into alternative crops for the hilly terrain and the large unplanted reserves on this estate," it says.
Firm sees value
The issues highlighted raise the question of whether Boustead Plantations paid a steep RM750 million price for a relatively unproductive and flawed asset in Pertama Estates.
In response, Boustead Plantations says: "We are of the view that this acquisition holds much value in terms of potential yield and efficiency improvement, which will subsequently contribute to profitability. Hence, we disagree with the statement above."
It also says it does not see any heavy financial strain from future replanting and that it will seek to monetise assets to rebalance its land bank.
Elaborating, it says that of the five estates, Pertama has reached an annualised mean FFB yield of 14.45 metric tons per hectare (MT/ha) just 7½ months after the firm took over.
This is "an achievement not attainable over the past five years, which generated an FFB yield of only 9.92 MT/ha in 2017". Ruku Ruku has the highest potential for yield improvement and saw mean yield increase by 20.7% year on year in the first quarter of this year, it says. It expects an FFB yield of over 14 MT/ha for Ruku Ruku this year, compared with 8.54 MT/ha last year.
"This early indication of success points to the fact that this was the right acquisition to undertake, and we are confident of improving this over time," it adds. "Furthermore, we anticipate that sustained FFB yield of over 20 MT/ha is achievable" once the firm begins replanting with its latest clonal planting material, which it expects will yield significantly higher oil extraction rates.
That said, one question remains: Why the rush to replant much of the planted area?
Previously, Boustead Plantations said it plans to replant 7,400ha of the planted area over the next 10 years. For perspective, two-thirds of the 9,998.36ha planted area across Pertama Estates comprise peak-production trees aged 10 to 20 years.
When pointed out that replanting prime mature trees would be wasteful, Boustead Plantations says it "is in no rush" and that replanting is only expected to commence in 2022, which it did not say in its Oct 30, 2017, filing with Bursa Malaysia.
"Our initial replanting projection of 7,400ha was based on [the] age of palms. However, as palm stand is higher than anticipated, as well as the lower height of palms, we can defer replanting in some fields by two to three years."
Long term, the company says it is confident that revenue and earnings from Pertama Estates will improve "substantially" due to a higher oil extraction rate and synergy from a palm oil mill that is under construction.
"We are steadfast in our decision to acquire these assets, particularly given the clearly promising prospects ahead for the group as a result of the potential contribution from Boustead Pertama Estates."