This article first appeared in The Edge Malaysia Weekly, on March 25, 2019 - March 31, 2019.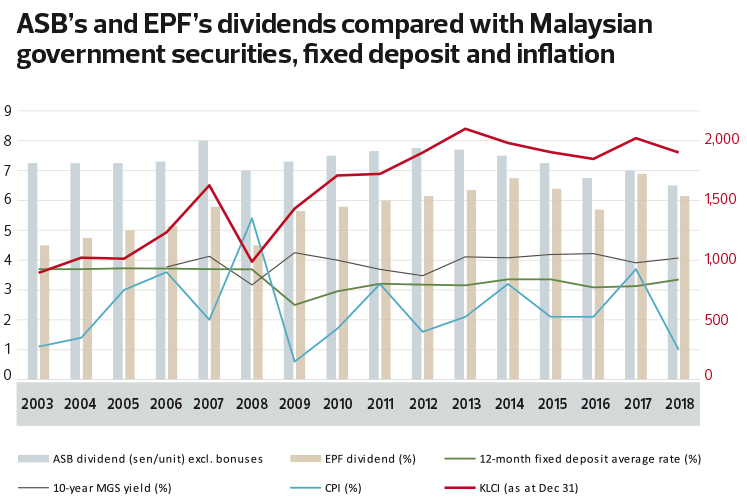 pnb, EPF, bank negara and bloomberg
FOR years, long-time unitholders of Amanah Saham Bumiputera (ASB), the flagship fund of PNB, have come to expect reasonably high returns.
They have good reason to. They have grown accustomed to stable returns of 8% or more in the last 28 years.
To put that expectation into perspective, in 2018, 9.6 million ASB unitholders received an income distribution of 6.5 sen per unit plus a 0.5 sen bonus — a reasonably high 7% return overall.
Historically, however, the 6.5 sen is the fund's lowest distribution per unit in at least 28 years. So, in the lower-return environment today coupled with greater volatility, can unitholders still cling to that magic 6% or thereabouts from the recent past?
"Well, if we were to remain with the portfolio that we have, which is concentrated on stocks and shares, it would be very challenging if the market doesn't recover," says PNB chairman Tan Sri Dr Zeti Akhtar Aziz. "But if we successfully diversify, it would increase the prospects of generating that kind of return."
PNB's dividend track record has long been a source of scepticism, seeing as the returns had consistently seemed immune to great swings in the stock market.
Critics point to how PNB's funds regularly outperform other major institutional funds, including the Employees Provident Fund. In some years, its income distribution belied the actual performance of the stock market.
A case in point is when the benchmark FBM KLCI fell 39% y-o-y in 2008. While the EPF's dividend dropped to 4.5%, ASB sustained its dividend at 7% (not including bonus) despite its heavy exposure to the local stock exchange. PNB had explained that it had built up reserves and unrealised gains from good years, which were then tapped when the market hit a rough patch. But that approach is clearly no longer sustainable in the current investing landscape. For one, it unduly shields unitholders from understanding the risks associated with their investment while perpetuating unrealistic expectations.
"It would be incumbent on us to educate investors on the risks that we are confronted with but, at the same time, we will make every effort to generate the best kind of return for their savings," says Zeti.
And she appears confident that PNB will be able to deliver at the end of the day if the transformational agenda she is driving is successful. "I've seen funds, especially endowment funds at universities in the US, generate relatively good rates of return, in the teens actually, because they are so well managed."
"But that involves international markets and we have relied on the domestic markets so far, and even then, we have concentrated on the stock market. We are diversifying ... [but all] this cannot be achieved in a short period of time," she says.
Clarifying a news report that PNB is considering an exchange bonds programme to raise capital for overseas investments, the fund manager says no such programme had been approved by PNB's board. That said, it is continuously assessing various capital-raising options for domestic and international investing activities.
 And any such programme in future will only involve PNB's proprietary portfolio and not its unit trust funds, which are kept separate. This is in accordance with the Securities Commission's regulations on unit trust fund operations, which forbids any trust fund manager from undertaking any borrowings or encumber any assets under the unit trust funds for any purpose.
 "Accordingly, any speculation on this matter is unnecessary and concerns regarding the charging of our unit trust assets are unfounded."
Save by subscribing to us for your print and/or digital copy.
P/S: The Edge is also available on Apple's AppStore and Androids' Google Play.