This article first appeared in The Edge Malaysia Weekly, on September 24, 2018 - September 30, 2018.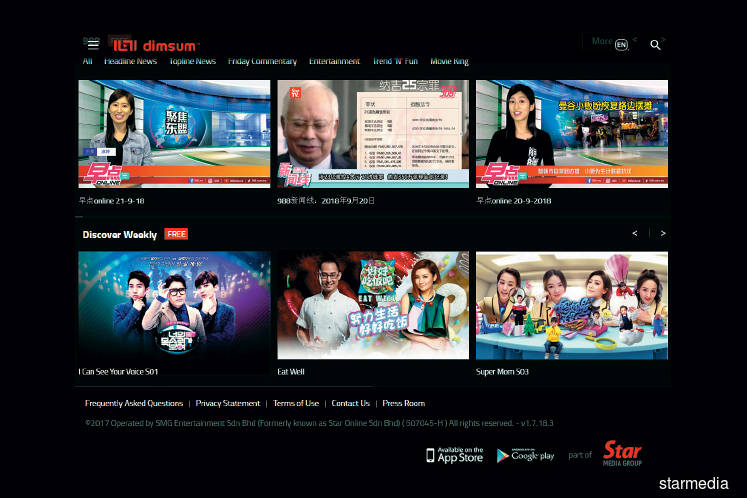 WHEN Star Media Group Bhd launched dimsum, its over-the-top (OTT) video streaming service, in late 2016, it was considered a bold move.
Some quarters, including the board, deemed it necessary then and held the view that the venture, although costly, would enable the group to gain a foothold in the digital media space that had much greater growth potential than its traditional newspaper publication business, which was seeing shrinking advertising revenue and declining circulation.
The OTT service sent a signal that Star Media saw the need to transform and was doing so. It raised hope that the print media group would not become a dinosaur.
That, however, did not stop the sceptics from questioning the investment, which is burning cash at a time when Star Media needs to cut jobs in order to reduce costs and stay profitable.
Nonetheless, the group's chief operating officer Roy Tan, who joined the digital division in 2013 and spearheads the OTT service, sees things panning out as planned as far as dimsum is concerned.
"dimsum is exactly where it should be from a budgetary standpoint. It has made exactly the amount of losses it should (have)," he says.
Tan is tight-lipped on details such as financial numbers, investment outlay and turnaround timeframe, but stresses that things are under control. "We know how much we're going to lose (for dimsum) in a particular year.
"The board (was) already cognisant of ... the time frame of the business' turnaround — it was planned for since the get-go... he tells The Edge.
To put things in perspective, Tan points out that it took 15 years for the group's core publication, The Star, which was established in 1971, to break even. It would be unfair to expect dimsum to churn out impressive earnings so soon.
"We're not expecting our OTT business to do likewise (15 years to break even)," he says, adding that dimsum is expected to reach profitability ahead of the traditional forecast of 12 to 13 years for similar businesses.
An Aug 27 report by TA Securities suggests that the medium-term target is for dimsum to break even by 2022, six years after its launch. Analysts have indicated that the long gestation period for the business is among the reasons why they remain subdued about Star Media's prospects.
Still, the question remains as to whether the group's print business can continue to generate enough cash to sustain dimsum.
Tan acknowledges that dimsum has placed "a level of stress on the group", and notes that the print segment has been, and will continue to be, Star Media's breadwinner.
"We are still very sustainable. In fact, bearing in mind that the (financial) reporting segment includes dimsum ... at the entity level, its performance well within our expectation, he says.
Looking at the group's financial statements, dimsum's performance is not immediately clear. The OTT provider's accounts are lumped under the group's print and digital segment, which has seen revenue and net profit declining on a year-on-year basis.
Tan points out that the segment's margins have, in fact, expanded. Profit before tax (PBT) for the segment climbed 74.8% to RM19.33 million for the first six months ended June 30, 2018 (1HFY2018), compared with RM11.06 million in the same period a year ago. Its profit margin widened to 10.9% in 1HFY2018 compared with 5.4% in the previous corresponding period.
For FY2016, the segment reported a PBT of RM90.7 million for the full year. This shrank to a loss before tax of RM105.85 million in FY2017 due to the group's write-off of its assets as well as its mandatory separation and early retirement schemes.
Revenue for the print and digital segment has been on the decline. In 1HFY2018, the group recorded revenue of RM270.37 million. It achieved an annual revenue of RM449.12 million in FY2017 and RM549.6 million the year before.
Although the print and digital businesses are lumped together in Star Media's financial accounts, Tan insists the two divisions should be assessed differently.
"These are two separate businesses. You cannot use the profit of one business versus another. You look at it within the context of (the particular) business," he says, adding that each segment is measured by different metrics based on its economic environment.
"We should acknowledge them based on their own merits."
He says compared to competitors such as iflix, dimsum is not "burning cash".
"They burn way more than we do, at a very unhealthy number. We're nowhere near that number. We're not a start-up like those guys are; we have a lot more financial prudence," he states, adding that the group's public-listed status means it has to "exercise some prudence".
"We're not going to go into a country just to say we are first and to grab market share if the market isn't ready because we'll hear about ... as a business, if the market is ready, we'll go in. If not, we'll hold off," Tan adds.
iflix was launched in Malaysia and the Philippines in May 2015, 18 months before that of dimsum. It now has a presence in 28 countries across Asia and Africa, and claimed it had more than 15 million subscribers as at last July.
dimsum has a presence in only three countries — Malaysia, Brunei, and most recently, Singapore. Tan says it has surpassed 800,000 subscribers, with active subscribers at levels "usually double" the industry average.
"To be honest, we never saw iflix as a competitor because they're [offering] primarily Hollywood content. "[In terms of] library depth of vernacular content, we're focused [on] only offering Asian content."
According to iflix, it completed a US$30 million round of funding on April 2015 , backed largely by Catcha Group, whose co-founderPatrick Grove is also co-founder and chairman of iflix. The group raised US$90 million and US$133 million in subsequent exercises from investors that include Singapore's DBS Bank.
Save by subscribing to us for your print and/or digital copy.
P/S: The Edge is also available on Apple's AppStore and Androids' Google Play.