This article first appeared in Personal Wealth, The Edge Malaysia Weekly, on April 17, 2017 - April 23, 2017.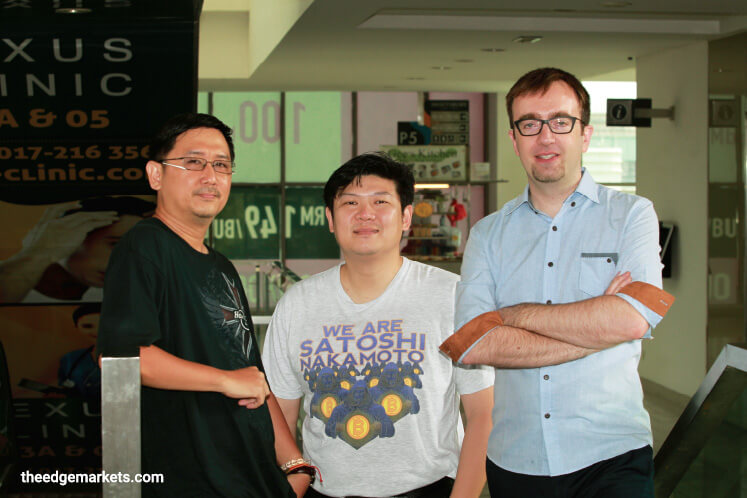 Cryptocurrency schemes are so common in Malaysia that it is hard to tell the genuine ones from the get-rich-quick scams. Industry players give us the low-down on these schemes.
Jason* first learnt about Lara With Me in July last year while he was surfing the internet. The cryptocurrency scheme promised a guaranteed daily return of 3% with a minimum investment of US$100. The website looked professionally designed and claimed that the returns came from the trading of different cryptocurrencies. 
"At first, I thought, 'Wow, how do they get 3% per day? That is crazy. In one month, you can recoup almost all of your initial investment,'" he says.
"But I did my research and I thought it was still possible. There were about 500 cryptocurrencies back then and there was heat in the cryptocurrency world. Investors had little knowledge about what it was and went in fervently, which drove prices up."
Despite being new to the world of cryptocurrencies, Jason, who is in his mid-thirties, was not a stranger to investing. He had already ventured into stocks, foreign exchange and properties. Yet, he was attracted to the scheme's promised returns. 
So, he followed the instructions on the website and got in touch with the scheme's operator via a group on Telegram Messenger. He was given a bitcoin address so that he could participate in the scheme. Then, he transferred a certain amount of bitcoins from his digital wallet to the operator. 
Jason was cautious, so he put in only US$100 worth of bitcoins. A month later, he was thrilled when he saw that the value of the cryptocurrencies in his digital wallet had almost doubled to US$190. He received a message every day from the operator of the scheme via Telegram Messenger, telling him that the returns had been deposited into his digital wallet.
"I got a return of 90% in bitcoin in 30 days, which is 3% [of the initial investment amount] per day," says Jason.
But deep down, he knew there was a possibility the scheme could be unsustainable. How could there be an investment that provides a return of 90% per month continuously? Nevertheless, if he could get these returns for the next six months, it would make him rich. 
So, Jason invested another US$10,000 in the scheme, staggering the payments to the operator over the next three months, which was made via a mobile application built by the operator on top of Telegram Messenger. Lara With Me had a recruitment structure, so he asked several friends to join the scheme. For referring his friends, he would be rewarded with 10% of their initial investment amount. 
However, by the end of the third month, Jason stopped receiving messages and the operator of the scheme could no longer be contacted. "The first and second month was fine. But in the third month, Telegram sent us a warning as I think a lot of people had reported the group to Telegram directly," he says. 
"When that happened, Lara With Me informed us that this had created a lot of havoc to its back-end system, which it needed to sort out. But after a while, it just disappeared." 
Jason suffered a loss of about US$3,000 as he was unable to retrieve his final round of investments. Other investors were not so lucky, with some of them losing up to US$100,000. They formed several groups on Telegram to see if they could recoup their losses.
"I knew some had lost a huge chunk of their wealth. All of us were added to a Telegram group. I chatted with some of them to verify that these people were real. Many of them are from Vietnam and China," says Jason. 
Nobody in the group actually knew who were behind the scheme. Some speculated that they were Russians while others thought they were Ukrainians. 
Some of the investors tried to track down those responsible for the scheme and managed to trace them to two shell companies registered in the US and the UK. But they could not locate the true owners of the scheme and the stigma of having fallen prey to such a scam prevented them from pursuing the matter further.
CRYPTOCURRENCY SCAMS RAMPANT IN MALAYSIA
Aaron Ting, vice-president of the Malaysia Investors' Association (MIA), says what happened to Jason has happened to many regional investors as well. While he does not have the exact figure, he says such scams could easily involve hundreds of millions or even billions of dollars regionally.
"My personal observation is that the situation in Malaysia can be described as severe and mainstream, which is cause for grave concern," says Ting.
"News reports of collapsed schemes and the amount of money being poured into cryptocurrencies or electronic tokens created by illegal investment schemes outnumber those of bitcoin purchases and other genuine cryptocurrencies in Malaysia." 
The most well-known documented case in recent memory was UFun Club — an international cryptocurrency pyramid scheme. It was added to Bank Negara Malaysia's Financial Consumer Alert List in mid-2014, says Ting.
"It gained attention due to its international reach. There was reportedly more than RM1 billion invested and 15,000 participants involved in the scheme. Some well-known personalities were also linked to it," he says.
Cryptocurrency schemes have gained traction in recent years due to the slowing economy and rising cost of living, which has prompted many from the middle class to look for additional streams of income. 
"Their decision to participate in these schemes may not necessarily be out of pure greed. Some may justify their actions with the desire to create extra income to support their lifestyle or family. There are also those who are aware that it is an illegal investment scheme, but do so anyway, hoping to realise a profit before the scheme collapses," says Ting.
However, the initial intention of getting a second stream of income usually turns to greed later on, says Jason. "My friends and I had big dreams for the big bucks we were going to earn. We started talked about starting a business and buying a house or car. When the scheme collapsed, our dreams were crushed. We were really upset." 
SOPHISTICATED SCAMMERS EVERYWHERE 
Ting says cryptocurrency schemes are so common in Malaysia that the man in the street automatically associates all types of cryptocurrencies with get-rich-quick schemes. "In reality, it is the schemes and operators that are malevolent, not cryptocurrency or the technology behind it such as blockchain. But people cannot differentiate the two."
That is why Ting and his friends, Colbert Low and Rene Bernard, have decided to speak out on the issue. Low was one of the earliest cryptocurrency investors in the country and the founder of bitcoinmalaysia.com — an informative blog on bitcoin investing. He was the first to organise an event on bitcoin and blockchain in 2013.
Bernard is the president of NEM Association of Malaysia (NAoM). NEM is a new generation blockchain technology. It has its own cryptocurrency called XEM, which fuels transactions. NAoM was established in October last year to promote the NEM blockchain among Malaysians and provide support for the adopters of the technology.
"Many have a negative perception about cryptocurrencies and blockchain. The first thing that comes into their minds is, 'Oh, it is a scam'," says Low.
Bernard concurs. "You can ask people in the Klang Valley. Two out of five will say it is a get-rich-quick scheme. I asked someone if he had heard about bitcoin and he gave me the same answer."
Ting, Low and Bernard think that the situation is worrying. While the Malaysian government and financial institutions are looking into blockchain technology, the general public is unprepared and uneducated. There is a gap to be filled. 
WAYS TO SPOT A SCAM
Ting says cryptocurrency scammers are getting more sophisticated to attract the public. He says these operators, like those who run pyramid schemes, use various tactics to win the trust of unsuspecting investors.
For instance, they incorporate their companies as "Berhad" to give the public the impression that it is a listed company, when it can be a private company with more than 50 shareholders. These operators also pay celebrities to market their products and post photos of them on their websites and social media to enhance their credibility.
"However, many of these photos are misused for promotional purposes. There have been many cases where they went to a public forum and had a photo taken with a well-known personality or credible person. Then, they post it online or use it in their promotional materials, insinuating or mis-representing that they have a partnership or collaboration with that person," says Ting.
"These operators are also known to participate in financial industry and banking events organised at four and five-star hotels, which makes it very hard for investors to distinguish whether the schemes are genuine. They are very good at marketing and being aggressive and even appear on TV shows or featured in newspapers."
Ting says investors should always refer to Bank Negara's Financial Consumer Alert List, which is available on the regulator's official website. They should also refer to the Securities Commission Malaysia. 
He says if investors are willing to put in the extra effort and research the companies behind the schemes, they will find that most of them are shell companies with very little paid-up capital and the registered names are proxies. The public should also request more information on the company operating a scheme. 
"It is always a good practice to request full company details, including its licence, before checking with the Companies Commission of Malaysia (CCM) and other relevant authorities," says Ting.
There are several red flags that the public should be aware of. "For example, when the main promoter of the scheme is neither the director nor a shareholder of the company, or the paid-up capital is small," he says. 
"It is also telling when the business description of the company does not match what it is doing. The public should be wary of such companies."
Ting says it is worrying if the company is not registered in Malaysia. "It is even worse if it does not have a local company or claims to be an agent of a foreign company," he points out. That is because the participants of the scheme will not be able to take action against the company under Malaysian laws. 
Jason agrees with Ting. In his case, nobody knew who the operator was and who sent them messages every day. Also, as the company behind the scheme was incorporated overseas and registered using proxies, there was no way for the investors to pin down the culprit.
"There was really nothing much we could do. And even if there were, we wouldn't do it because of the embarrassment. Imagine, if I were to start a business in the future, why would I want to be associated with a scam?" says Jason.
Just like investing in stocks, it is important to know the people behind the scheme, he says. Also, the people should be directors or shareholders of the company. 
"The best case scenario is that you can talk to them face to face. Or at least, the person's information can be traced online," he adds.
"If a person does not want to reveal his real identity, it only shows one thing — he does not want to take full responsibility for the consequences that could happen in the future. It is as simple as that."
However, it is still very hard for the public to spot scams and resist the temptation of high returns, says Bernard. Also, the operators of illegal schemes are usually very sophisticated. 
GET YOURSELF EDUCATED
Those who are interested in trading cryptocurrencies on exchanges should equip themselves with technical knowledge so that they can see the value of the different technologies incorporated into the cryptocurrencies and blockchains, says Jason. 
Unlike many who shy away from investments after getting burnt, he decided to learn more about cryptocurrencies. "I was intrigued and became passionate about the subject. I spent at least two hours every day reading up on it," he says.
Jason quit his full-time job as a digital marketer this year and is now actively trading cryptocurrencies. His investments have doubled in the past three months, so he has decided to focus on this for now. 
He attributes his success in the past three months to his thorough research on cryptocurrencies and blockchain technologies. He also uses basic stock trading strategies. 
"I will say that there are fundamentals in cryptocurrency investments. It is mainly the functionality of each blockchain — how it has been adopted by different industries around the world and what the prospects are for moving forward. The more the blockchain technology is used, the more the demand for the cryptocurrency, and the higher its value. All the information is online," says Jason.
There are about 1,500 cryptocurrencies in the world today. In terms of market capitalisation, Bitcoin is the leading cryptocurrency, followed by Ethereum, Ripple and Litecoin. All these have their own blockchain technologies and functionalities. 
"Another important thing is to look at the community behind the cryptocurrency. A community that voluntarily improves and updates the system and network is very important for its future. If there isn't a strong community behind the cryptocurrency, it will not last," says Jason.
"Some invest in these technologies in return for the cryptocurrencies, hoping that they will appreciate in the future. While you will not be able to know all of the investors involved, you can get some information online." 
Jason says he allocates 20% of his investment portfolio to cryptocurrencies, which is considered high by many as this asset class is very risky. "It can be the Wild Wild West out there for those who invest blindly, following the trends and momentum. I believe that people who are well educated in cryptocurrencies can earn returns simply by applying basic stock trading strategies.
"I have friends who asked me to invest on their behalf after seeing my returns over the past three months. I always tell them that we can have discussions, but they have to take on their own risks."
Why cryptocurrencies are adopted by scammers
Aaron Ting, vice-president of the Malaysia Investors' Association, says cryptocurrencies have become a very convenient tool for scammers due to their complexity and lack of regulations. Not many people understand the technology behind cryptocurrencies and are unable to distinguish between proper schemes and scams, he points out.
The features of the cryptocurrencies, which allow people to conduct transactions while remaining anonymous, have compounded the issue. "The technology itself is good and there is huge potential for it. Unfortunately, it is sometimes used by the wrong people for bad purposes," says Ting. 
On top of that, many victims are unwilling to be involved in the police investigation due to embarrassment, job commitments or a lack of funds to institute legal proceedings to claim back their losses, he says.
Ting says cryptocurrency scams began three years ago when people took notice of bitcoins and compared them to gold. They even called bitcoins "electronic gold". Scammers quickly adopted the cryptocurrency in their illegal schemes to lure unsuspecting investors.
While cryptocurrency investments are not regulated, Bank Negara Malaysia is keeping an eye on these activities, says Ting. The regulator is doing a good job of constantly updating its Financial Consumer Alert List and monitoring companies based on feedback from the public. 
"We know the regulator has instructed the closing of the local bank accounts owned by several cryptocurrency exchanges and suspected illegal investment scheme operators in Malaysia," he says.
Ultimately, there is only so much that regulators can do, says Ting. The viable long-term solution, and also the most challenging, is consumer education. 
"We believe that working with the authorities and media to disseminate information to the public via a sustained awareness campaign will help. The public should learn more about blockchain technology and how to distinguish it from illegal investment schemes," he says.
* Not his real name