This article first appeared in City & Country, The Edge Malaysia Weekly, on July 16, 2018 - July 22, 2018.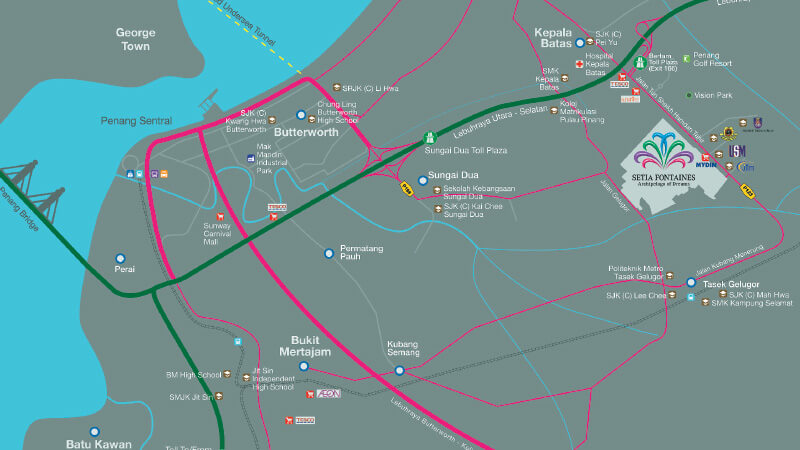 Riding high on its successful eco-themed townships in the central region of the peninsula, S P Setia Bhd plans to unveil its first township development in Penang by year-end. Known as Setia Fontaines, it is located in Bertam in Kepala Batas, North Seberang Perai.
The development has an estimated gross development value of RM9.6 billion. The 1,675-acre township will comprise 16 residential precincts,  270 acres of commercial and retail components, a 63-acre lake and 37-acre park. It is set in a carefully planned environment true to S P Setia's "eco-philosophy" DNA, as evident in its thriving townships of Setia Eco Park in Shah Alam and Setia Eco Glades in Cyberjaya, and the new Setia Eco Templer in Rawang.
The eco-themed township developments are envisioned and spearheaded by executive vice-president Datuk Koe Peng Kang starting with Setia Eco Park in 2003.
Koe, in an exclusive interview with City & Country, talks about the concept, inspiration and vision of the 1,675-acre freehold fully integrated township of which 270 acres are designated for commercial and retail. The development has been earmarked for development over the next 20 years.
"Based on the organic growth and spillover [of people] from Penang Island, I believe there is a demand in Penang for a bigger township development compared with the 700 to 900 sq ft condominium units in the island [that cost] close to RM1 million [each]. We want to build houses in Penang set in a similar environment as Setia Eco Park and Setia Eco Glades at very reasonable prices," he says.
Setia Fontaines' 270-acre commercial component comprises the Setia International Waterfront Centre (Setia IWC) that will have the Setia Experience Centre, Oriental Club, main clubhouse, convention centre, retail and lifestyle streets, auditorium and hotel; and the Setia Fontaines City Centre comprising serviced apartments, office towers, a medical centre, international school, shopping malls and strata shops.
The developer plans to have water taxis that can ferry residents from designated locations in the township to commercial areas via the waterways — an alternative to travelling by car.
"Residents can also jog, walk or cycle along the path at the edge of the water," says Koe.
"In Setia, our DNA enables us to see the future value of land, and we want to offer landed houses set in a beautiful environment and in a convenient location."
The first projects to be launched at Setia Fontaines, tentatively by year-end, will comprise 489 houses at the Fountain of Rinjani and Fountain of Jimbanee residential enclaves in Precinct 6, 398 houses in Precinct 1 and 111 shopoffices in the City Centre Business Hub, with selling prices starting at RM330,000 for Precinct 1, RM360,000 for Precinct 6 and RM700,000 for the shopoffices.
The gated-and-guarded Precinct 6 will comprise 1 and 2-storey terraced, cluster and semi-detached houses as well as bungalows. The size of the units will range from 24ft by 70ft for the 1-storey terraced houses (built-ups: 1,395 sq ft) and 22ft by 70ft for the 2-storey terraced houses (1,867 sq ft) to 50ft by 85ft for the 1-storey bungalows (2,317 sq ft) and 50ft by 85ft for the 2-storey bungalows (3,257 sq ft).
Precinct 6 is part of the Island Collection, which will have five precincts and nine islands in total, and will be within walking distance of Setia IWC, the town park and the lake. The residential enclave will have clubhouse facilities, green landscapes, scenic waterways and houses with modern designs and functional layouts, according to the developer.
Meanwhile, Precinct 1 will comprise 1 and 2-storey, 22ft by 70ft terraced houses with built-ups of 1,350 to 1,817 sq ft. They will be within walking distance of shopoffices, a proposed Chinese school, Setia IWC, the town park and the lake.
The 111 shopoffices at the City Centre Business Hub are 2 and 3-storey units with lot sizes ranging from 22ft by 70ft to 33.5ft by 70ft.
Being part of the Setia Fontaines City Centre, the City Centre Business Hub will enjoy high visibility and easy access from the main road, as well as an immediate catchment area that covers existing and future townships. The shopoffices are designed to have 22ft wide shop frontages and a ceiling volume of 4.3m for the ground floor units. The hub is within walking distance of a proposed Chinese school as well as the residential and commercial developments at Setia IWC.
The estimated completion date of these launches will be three years from the signing of the sales and purchase agreements.
Leveraging its eco-philosophy
"We work with the environment, not against it," says Koe. In designing the infrastructure for the 1,675-acre township, which is low lying and flat, the developer realised that the area needed to be filled with earth. "Instead of taking earth from elsewhere, we are [using that which was dug out during the construction of] the drainage system that forms the waterways in the development. These waterways are not just for recreation purposes but will also act as part of the drainage, flood control and irrigation systems."
The drainage system, says Koe, has to act like a natural river to sustain life, contributing to the biodiversity of the area.
"The eco-landscape today is not only for human beings. For instance, the trees we select for our developments must bear certain types of berries so that birds will continue to live there. And having a lake with fish and diverse aquatic life will prevent the breeding of mosquitoes, just like at Setia Eco Park.
"We cannot stop development, so the only way we can live together is by designing for the ecosystem as well. All these efforts contribute to long-term sustainability," he adds.
Meanwhile, fountains are a feature of the development as "fontaine" is French for fountain. According to the developer, each residential precinct will have its own fountain. "They create a cooling atmosphere. All the fountains, as well as garden lighting, in the development will be solar-powered to reduce electricity consumption. The fountains will also use a saltwater chlorination system for easy maintenance," explains Koe.
"Setia Fontaines will bear the hallmarks of what we have done in the central region for almost 15 years," he remarks.
As for architecture, Koe explains that the themes to be used are inspired by the journey of Sir Francis Light, the founder of the British colony in Penang and the capital of George Town, and will have European, Balinese, Chinese and Peranakan influences, paying homage to Penang's heritage.
According to general manager Ricky Yeo, each residential precinct will have its own clubhouse with a swimming pool and gym, in addition to two other clubhouses at Setia IWC that will face a musical fountain and a lake.
The main clubhouse will house all recreational facilities, including a swimming pool, gym, function room and food and beverage outlet. "The unique thing here is we will incorporate space for art appreciation, musical events, an auditorium and exhibitions. We plan to create an activity-driven space that will be able to host international activities," says Yeo.
Oriental Club is the other clubhouse that will house restaurants, banquet halls, floating pavilions, cultural halls and exhibition areas.
According to the developer, residents can expect monthly maintenance to cost RM180 onwards.
Creating value
"We always want to create value by getting land at a low price and using our expertise in township development to bring up its value," says Koe. S P Setia acquired the tract for Setia Fontaines at end-2016 at RM8.50 psf through a public bid.
"Compared with Batu Kawan, which was priced at RM50 psf and above and is leasehold, this tract is freehold and can be seen from Tanjung Tokong where Gurney Drive is," he adds.
While many may perceive the Penang mainland as an affordable alternative to the property hot spot of Penang Island, Koe believes the Bertam area is established and possesses growth potential.
"This takes us back to the time before Setia Eco Park and Setia Alam were developed. The area [known as Meru then] had little to no amenities and we sometimes wondered where to go to eat," Koe reminisces. "We started with an estimated GDV of RM2.2 billion and, after 15 years, it is RM6 billion today. We still have 300 acres of undeveloped land in the area and zero bank borrowings.
"But here in Bertam, there are already a lot of existing amenities and facilities, including schools and tertiary education institutions, banks, hospitals, supermarkets and shopping malls, petrol kiosks, and even a golf resort. All we need to do is build two access roads to tap into the main trunk roads of [Jalan Tun Hamdan Sheikh Tahir in the north of the development and Jalan Tasek Gelugor in the south]," he says.
Existing amenities within a 6km radius of the development include educational centres (Universiti Sains Malaysia, Universiti Teknologi Mara, Institut Latihan Perindustrian and Maktab Rendah Sains Mara), hypermarkets, government departments, public amenities (Penang Golf Resort and MPSP Sports Complex), banks and F&B outlets.
Setia Fontaines is accessible via the North-South Expressway (which is 6km or a 5-minute drive away), Butterworth Outer Ring Road (19km or 15 minutes away), Butterworth-Kulim Expressway (24km or 15 minutes away) and the Penang Bridge (26km or 20 minutes away).
While it now takes 45 minutes to drive from George Town to Setia Fontaines via the Penang Bridge, Koe says the state government has proposed an undersea tunnel that will reduce the travelling time to 25 minutes.
Meanwhile, he sees a huge potential for Setia Fontaines in the international market. "Foreigners, such as the Japanese and Chinese, love our blue skies, warm weather and green environment. There is a market for our products to be leisure — and even  — retirement homes.
"We have to create a bit of international flavour, in addition to the advantages we already have in the area. We must make Penang an international destination. Imagine getting a 1-storey retirement villa at below RM400,000 at Setia Fontaines and, once the [undersea tunnel] is completed, the heart of Penang will just be a short distance away."
The developer plans to market the project overseas through its regional offices in Singapore, Japan, China, Vietnam and Australia. "Penang is an educational hub. If international companies can set up here and employ our local graduates, it can help prevent brain drain. Other catalysts for foreign companies to invest in Penang are the relatively lower cost of operation, a government that welcomes foreign investments, good infrastructure and good quality of life in Penang," says Koe.
"We believe all these efforts we are putting in will contribute to a long-term appreciation in value. For a development as big as this, it will go through many property market cycles and I believe it can weather any challenges."