This article first appeared in The Edge Malaysia Weekly, on February 17, 2020 - February 23, 2020.
Click / Tap image to enlarge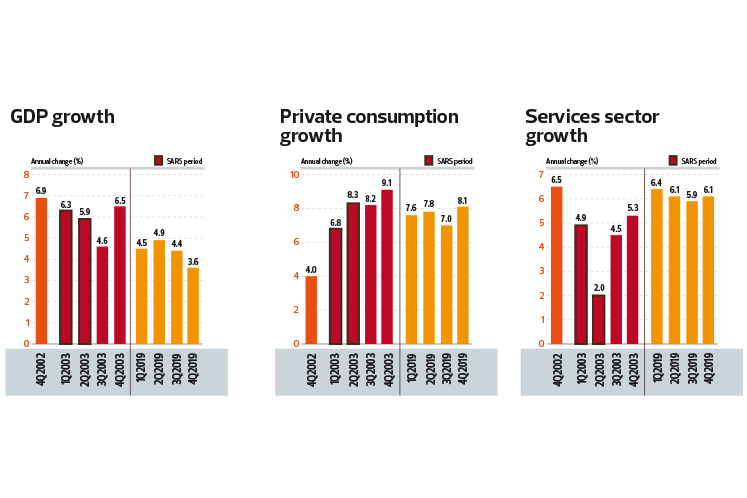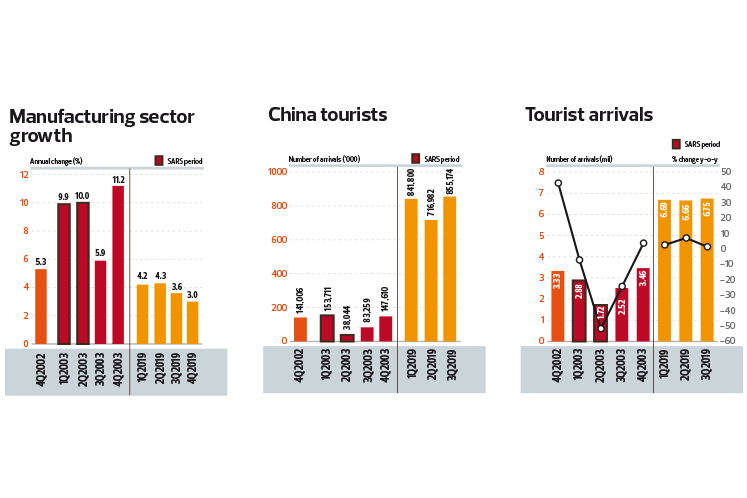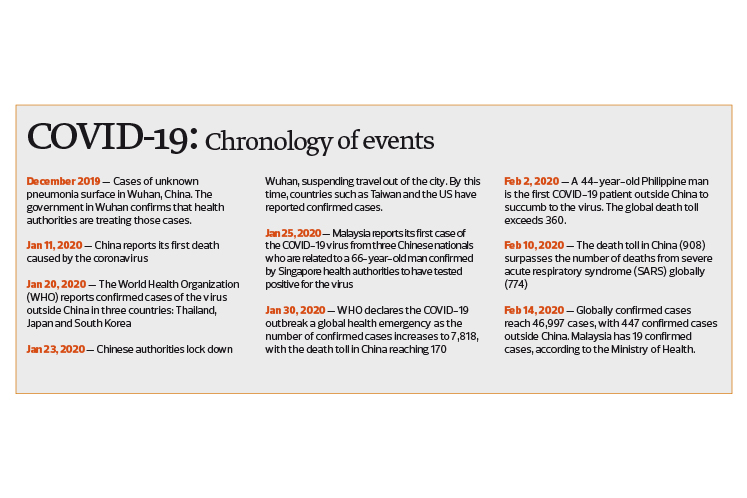 IF policymakers and rate setters in Malaysia  are wondering whether it is time to bring out the big guns, they can be certain that our neighbour across the Causeway will spare no ammunition to stay ahead of others in the global economic rat race in an election year.
Even before feeling the impact of the coronavirus outbreak, Malaysia's gross domestic product (GDP) reading for the last three quarters of 2019 had tumbled to a 41-quarter low of 3.6%, dragging the full-year headline growth down to 4.3% — the lowest since the annual contraction during the 2008/09 global financial crisis. Not only was the reading jarringly short of the government's official forecast of 4.7% but it also almost fell through the central bank's projected range of 4.3% to 4.8% for 2019.
Bank Negara Malaysia's reduction of the overnight policy rate by 25 basis points to 2.75% on Jan 22 — which most economists had not expected to see until at least March 3 and which heightened suspicions of a poor 4Q2019 GDP reading — now looks more necessary than pre-emptive.
After all, growth did not recover in 4Q2019, after slipping to 4.4% in 3Q2019 from 4.9% in 2Q2019 and 4.5% in 1Q2019. The 3.6% reading for 4Q2019 undershot 9 out of 10 forecasts on Bloomberg, above only Barclay's 3.5% and well below the most bullish forecast of 4.7%.
Even central bank governor Datuk Nor Shamsiah Mohd Yunus — who offered a glimmer of hope by pointing out that 4Q2019 growth could have been as strong as 4.3% and the full-year number as high as 4.7% "had we not suffered supply disruptions in the commodity sector" — told reporters on Feb 12 that the COVID-19 outbreak made it "very hard" to tell for certain if a recovery can be expected in 1Q2020, sans the contraction in gas, crude oil and crude palm oil production seen late last year (see "A gas pipeline's costly malfunction" on Page 52).
Whispers of <3% in 1Q
At least three economists see the numbers coming in even lower than 3.6% in the first quarter of the year before improving subsequently on the back of a stimulus boost and the assumption that the COVID-19 outbreak will be largely contained within six months.
At the time of writing, the most bearish of 11 economists polled by Bloomberg saw the country's GDP tumbling to 1.9% in 1Q2020, lowering the full-year average to 3.7% — well short of the official forecast of 4.8% for 2020.
Citing the list of 90 measures in the RM8.1 billion stimulus package introduced in May 2003 — incidentally, by the then prime minister Dr Mahathir Mohamad who was also the finance minister before stepping down in October that year — businesses that are now clamouring for aid and incentives to be expedited include the Federation of Malaysian Manufacturers (FMM) and the Malaysian Association of Hotels (MAH), whose members had lost more than RM40 million in revenue from over 95,972 room cancellations as at Feb 8.
Their urgency is understandable. Not only have sales receipts fallen since the coronavirus fallout spread but business owners are also feeling the manpower strain from the pre-emptive leave of absence necessary to clear the 14-day COVID-19 incubation period, not to mention the extra costs incurred from the increased frequency in sanitisation to disinfect high-traffic surfaces and providing masks and anti-bacterial liquid to those still standing.
Businesses and taxi drivers in Barcelona — 9,407km away from Wuhan in China — for instance, will no doubt feel the impact of the cancellation of the Mobile World Congress (MWC 2020). The organiser Global Mobile Communications Systems Association (GSMA) saw the rationale for not exposing more than 100,000 people from across the globe to unnecessary air travel following the increased pullout of participants. The first cancellation in 33 years of the world's largest annual gathering for the mobile telecommunications industry also came on the heels of a news report of a British coronavirus "superspreader" who infected at least 11 people in the course of his travel to France, Switzerland and England. He had not been anywhere near China but was believed to have contracted the virus when attending a conference in Singapore.
China 2003 vs 2020
Indeed, the world is about to find out how well our economies can withstand China catching a cold. Some observers are already speaking of potential second-round effects on the world economy if the impact from the outbreak caused a longer-than-expected disruption to the global supply chain and an extended decline in commodity prices.
While policymakers can take a leaf from their playbook during the Severe Acute Respiratory Syndrome (SARS) outbreak in 2002/03, they may well have to step up their game to effectively bolster their economies.
From the sixth largest economy in the world in 2003, China is now the second largest, accounting for 20% of global GDP in 2018 compared with 9% in 2003, according to Maybank Kim Eng Research.
The Asian giant's deeper ties with the global economy are not just in manufacturing but also in consumption — everything from basic commodities to tourism, gambling, real estate and retail dollars.
Asean countries alone hosted 27 million China visitors in 2018 compared with 2.9 million in 2003, the research house told clients in a Jan 29 note, noting the significance of the tripling of Chinese outbound tourists from 7.1% to 22% of total visitors over the period.
The rise is hardly a surprise. In 2003, Singapore's two integrated casino resorts — Marina Bay Sands and Genting Group's Resorts World Sentosa — had yet to open their doors. They only did so in 2010. Las Vegas Sands' The Venetian Macao opened on the Cotai Strip in 2007, the year gambling revenue in the former Portuguese colony overtook that of the Las Vegas Strip in the US.
In Macau, where gambling contributes more than 80% to annual tax revenue, all casinos were ordered to shut for 15 days on Feb 4 in order to contain the spread of the COVID-19.
With Chinese shoppers making up about a third of global luxury spending, it is no surprise that a number of luxury retailers — including Burberry Group, Kering (Gucci, Saint Laurent), Capri Holdings (Versace, Jimmy Choo and Michael Kors) and Tapestry Inc (Kate Spade and Coach) — have flagged reduced sales owing to the outbreak.
Apple, which had planned to close all 42 of its China stores and offices from Feb 1 to 9 following the outbreak, reopened only five of its stores in Beijing on Feb 14.
Saving private consumption
In Malaysia, there is a need to prop up private consumption — the largest engine of growth for the headline GDP numbers — even though the job market and wages are still holding steady and an Employment Insurance System (EIS) has been in place since January last year.
Most Malaysians, including civil servants with so-called iron rice bowls, are not expecting a sizeable bonus and annual increment. For those in industries that are more affected by the virus outbreak, there is even fear of being asked to agree to a pay cut or worse, being laid off.
Genting Malaysia Bhd chairman and CEO Tan Sri Lim Kok Thay — who in June last year told shareholders in Malaysia that he was taking a 20% pay cut — will reportedly be giving up his 2020 pay as chairman and CEO of Genting Hong Kong, whose cruise business has been badly affected by the virus outbreak. Those in higher-paid senior positions are being asked to take 20% to 50% pay cuts this year, according to a recent report by Hong Kong's Apple Daily. It is understood that some of the senior staff are based in Kuala Lumpur.
Suggestions to increase the people's spending capacity include a voluntary 2% reduction in employees' contribution to the Employees Provident Fund as well as the option to withdraw this year's EPF dividend that is expected to be declared by early March.
A further e-wallet injection could also help boost consumption via e-commerce, especially if people are avoiding crowded places, economists say.
Employers, including MAH members, have asked for banking support, discounts on water bills as well as a temporary exemption from the Sales and Services Tax (SST) to shore up consumption.
The RM7.8 billion outstanding GST refunds mentioned by the FMM in its wish list would also offer businesses more flexibility when it comes to boosting investments and paying their employees.
Economists have also called for stimuli to increase private investments where growth needs to be stronger, not so much to help lift the headline GDP numbers but to help sustain the long-term competitiveness of the Malaysian economy.
Fiscal flexibility
Last Friday, the Ministry of Finance said the prime minister will announce an economic stimulus package "to mitigate the adverse external economic impact of the COVID-19 outbreak on Malaysia while preserving the welfare of the rakyat" at 4.30pm on Feb 27. The stimulus package "is neither a new budget nor part of Budget 2020 measures. Instead, assistance will be given to the affected sectors to allow the economy to emerge as whole as possible and benefit from the expected economic rebound post-COVID-19", the statement read.
Tourism, manufacturing and transport are sectors that have been identified so far by government officials as among the beneficiaries of the stimulus package.
Several banking institutions have already offered affected businesses cash-flow relief by allowing a six-month moratorium on loan repayment. These do not require any spending by the federal government, whose fiscal space is closely tracked by economists and credit rating analysts.
It is worth noting that of the RM8.1 billion stimulus package for SARS in 2003, about RM800 million was revenue given up by the government from providing tax incentives, with another RM1.7 billion coming from its budget. The rest was from Bank Negara (RM2 billion) and development financial institutions (RM3.6 billion).
Given that the economy grew 4.3% last year, the fiscal deficit of RM51.72 billion pencilled in for Budget 2020 represents 3.3% of GDP, even without additional spending on the COVID-19 stimulus package, back-of-the-envelope calculations show.
When affirming Malaysia's sovereign rating recently, Moody's said it expected the country's fiscal deficit to average 3.3% between 2020 and 2021 — just above the government's targeted fiscal deficit of 3.2% for 2020.
Treasury officials have said the conservative 3.2% budget deficit accords it room to provide additional stimuli where necessary, something Finance Minister Lim Guan Eng affirmed when announcing that a stimulus package was in the works.
Pushing the fiscal deficit figure to 3.4% of GDP can free up another RM1.4 billion to RM2 billion to bolster the economy, on top of the usual RM2 billion contingency fund worked into the annual federal government budget, back-of-the-envelope calculations show. This is assuming a GDP growth of 3.5% to 4.5% for 2020.
Any additional targeted spending that proves to be pro-growth can also be justified with proper communication by the government that it is necessary to tide businesses and the people over during tough times, a seasoned economist says.
Monetary easing for growth
The central bank is slated to reveal its GDP forecast for 2020 on March 25 in conjunction with the release of its 2019 annual report.
The central bank's 2020 GDP projection is expected to be within the 3.5% to 4.5% range, below the official 4.8% growth forecast announced last October.
"Unless the government revises lower the official projection from 4.8% to 4.5% between now and March 25, Bank Negara could well [keep the headline projection at] 4% to 4.8%," an economist reckons, noting that the central bank might choose to keep the lower end of its headline projection at 4% to shore up confidence while providing guidance or sensitivity analysis on potential slippage.
The next Bank Negara monetary policy committee (MPC) meeting to decide on interest rates is on March 3, followed by May 5 and July 7.
At least five economists are targeting another 25bps cut in the OPR to 2.5% this year while one is expecting a 50bps cut to 2.25%, according to Bloomberg data at the time of writing.
The Bank Negara governor said last Wednesday that the current monetary policy stance remains "accommodative" of growth and that the central bank has "ample room" to manoeuvre.
With inflation at 0.7% last year and expected to remain "modest" this year, real interest rates are likely to remain positive even if the central bank cuts the OPR by 100bps to 1.75% from 2.75%.
The question is, is its stance accommodative enough to achieve the best conditions for economic growth and how much more accommodative its policy can be to boost consumption before the costs outweigh the benefits? This is likely to be closely weighed by Shamsiah, who is one of seven members of the MPC.
Whatever is decided by the MPC and the Cabinet to be the best medicine for the economy, Malaysians are counting on them to act deftly for the country's sake. As the late British Prime Minister Margaret Thatcher famously told President George H W Bush during preparations for the first Gulf conflict, "This is no time to go wobbly." Yes, it is time to act decisively!
THE WISH LIST
In 2003, the government introduced the RM8 billion Package of New Strategies to help industries that were affected by the SARS outbreak. The package also served the purpose of enhancing competitiveness in the medium and long term.
Notably, the federal government's direct spending was only RM1.7 billion. The rest came from Bank Negara Malaysia and the development financial institutions to provide micro-credit schemes to small to medium enterprises. Other government-linked companies such as Tenaga Nasional Bhd and Malaysia Airports Holdings Bhd also undertook some measures.
This time round, many are expecting the stimulus package to be more than RM10 billion, where it will similarly target those most affected by the outbreak.
As the nation and businesses that have been affected by the COVID-19 outbreak await the government's announcement of the stimulus package, we compile a list of measures that economists say could be introduced this time.
1. Consumption
•     A further 25-basis-point cut in the Overnight Policy Rate if the COVID-2019 outbreak extends beyond 1Q
•     Voluntary 2% reduction in the employee's Employees Provident Fund (EPF) contribution rate
•     Voluntary withdrawal of EPF dividends
•     E-wallet programmes to be expanded and increased
2. Relief for affected sectors
•     Lowering of sales and services tax rate
•     Tax exemption or relief for the sectors
•     Setting up of a Tourism Relief Fund
•     Government partnership with local retail and tourism sectors to encourage inbound tourism
•     Temporary suspension of minimum wage hike to RM1,200 per month that took effect on Feb 1, for industries or businesses affected by the outbreak
•     Discount on electricity bills for hotel operators
•     One-time reduction in road tax for taxis
•     Exemption in Human Resources Development Fund levy
3. Acceleration in planned infrastructure projects and other development expenditure
4. Undertaking more measures to spur the private investment sector in order to revive business sentiment