This article first appeared in The Edge Malaysia Weekly, on February 10, 2020 - February 16, 2020.
Click / Tap image to enlarge

BETWEEN 2009 and 2014, Tan Sri Tony Fernandes authorised the purchase of hundreds of aircraft from Airbus SE for the growth of AirAsia and AirAsia X. However, these purchases seem to have come with strings attached — Airbus had to provide millions of dollars in sponsorship to Fernandes' personal venture, Caterham F1 Team. Was it an illegal act or a common industrial practice of "offset"? Here, we give the timeline and email trail during the period in review, which have landed Fernandes and his partner, Datuk Kamarudin Meranun, in hot water.
footnotes: Email correspondence cited in SFO's statement of facts
1. An MoU was signed between Airbus Employee 1 (senior) and AirAsia Executive 1 whereby US$16 million was to be paid to "further strengthen the relationship between the industrial, research, educational and economic patterns in the Malaysia and play a determining and favorable role in the enhanced penetration of [Airbus] products in Malaysia".
2. "Resending previous self explanatory mail with all details attached. Could be further discussed when I will be early next week in KL, should it be convenient to you."
3. "Honestly [Airbus Employee 1 (senior)] I'm fed up. You owe me 4 million already and I'm owed 16 million in total. This shd have been paid ages ago when I bought thre first 60 aircraft. I want my money and I want compensation … pay up. I want my whole 16 million now.."
4. "I am sure that you will understand that paying USD16 million on [Sports team] need some minimum engineering!!!"
5. "I have not seen all the papers relating to the sponsorship but in general, we need to have some internal link to AirAsia as we can't get board approval simply to sponsor. Externally there is probably no need to link the two."
6. "[Airbus Employee 1 (senior)] as discussed yesterday, please can you pay immediately. It will help close my deal."
7. "In the context of its international operations, and in accordance with its policy as regards the development of local footprint, [Airbus] is willing to assist in the development and implementation of projects in support of the operations of AIRASIA where its operates...It is anticipated that in the mid and long term, such support would further strengthen the relationship between the industrial, research, educational and economic patterns in Malaysia and play a determining and favorable role in the enhanced penetration of [Airbus] products within AIRASIA fleets."
8. "…overall Contribution to Projects as per the MoU has been established as a maximum amount of USD40 million (US dollar forty million) to be invested between year 2016 and 2026. It is understood that such Contribution may be reassessed from time to time in the light of the effectiveness of the development of its business with AIRASIA."
9. "…[AirAsia Executive 1]… insists that we clear the 10m on signing the PA for 200 and that we have a written commitment for the 40m."
10. "To invest potentially up to USD 40 million (NOT NOW), it's mandatory to follow a minimum governance and receive information from the partner...We have to be serious.""
11. "Following the presentation of the status, and difficulties to gather information and financial data, [Airbus employee 4 [very senior] (Airbus SMO)] confirms that the process to invest has to be followed with no deviation. The agreement in principle has been made and now it is about implementing the agreement in respecting the procedures in terms of documentation, valuation of the activity and assets to be contributed..."."
12. "if we want to sign 50+50 A320 CEO deal... 40m + another 10m (new deal)...I believe [Airbus employee 1 [senior]] and his team have done a correct and proper job of building a structure that complies with our Internal rules. The problem is that it is difficult to see how we will complete the obligation using this structure... I would like to suggest that in order to close this subject and move forward with AirAsia we propose the following. Under the structure proposed by SMO we commit 10m for the seats over the next 12months. In addition, we offer a simple sponsorship of [the Sports team] for 10m per year for the next 4 years. The structure for the sponsorship is also in place as we used this method for previous obligations with [AirAsia Executive 1]."
13. "We will sign for 60m even though we have not signed for 100 more planes. First 40 will be 20 now and 20 next year. Remaining 20 will be 10+10 as we are not sure if we sign for 50 or 100 planes. They will keep a get out clause in the contract in case we don't sign for any further aircraft but the clause for obvious reasons will not refer to aircraft orders."
14. "We have had some good meeting with [AirAsia Executive 1] this week-end in Singapore. AirAsia X is willing to take 25 A330-300s starting in 2015. ... But as you can imagine. [AirAsia Executive 1] is insisting on the early payment of his sponsorship.
We owe 10 musd in both jan 2014 and 2015. He wants it paid now... The incremental A330s will generate a follow-on sponsorship so we need SMO involvement...""
15. "At the request of SMO I will summarise our deal with [AirAsia Executive 1].
AirAsia X will place an order for 25 A330-300 with deliveries starting in early 2015 ...
As part of the deal, EADS will advance the 10m of sponsorship due to be paid in Jan 14 and the 10m due to be paid in Jan 2015, both to be paid on A330 PA signature and PDP payment. These two payments were due as part of the A320 deal.
The A330 deal will create a new obligation to pay 15m in jan 14 and 15m in jan 15.
I trust that this deal meets with your approval...""
16. "This is helpful. However, I strongly advise that our contribution to [the Sports team] becomes transparent to the management of AirAsia. For instance, the MD or another legal rep of the airline can acknowledge the contribution. The purpose is to mitigate the risk of being accused of conspiracy on transfer value from the airline to the majority shareholder private interests.""
17. "We need to get this done. If not we don't have a 25 A330 deal. We won't get any letter from Air Asia x.""
18. "I know we still have some compliance issues on the 30m for [the Sports team]. When can we expect a solution. My PA for A330 is now signed but not dated. They will only release when we sign with [the Sports team].""
19. "[AirAsia Executive 1] has agreed we can announce this month if it is important for Airbus.
However, he wants his contract for the 30m in sponsorship before he agrees.""
20. "Instead of sponsorship we want to put it as a Grant..."
21. "I just need to show something serious for auditors. To be honest [Airbus employee 5 [very senior]], and [Airbus employee 6 [very senior]] and I don't care what it is""
22. "We have kept our side of the deal...Pls don't let us down..."
23. "Now if I bend the rules any more I hope you will see I will end up in trouble...I [sic] standby my commitment of 50m and increase to 55m"."
24. "the payments will follow the new delivery schedule 1m per ac from airbus. I would prefer that Airbus provides the money for PR and events or sponsorship related to developing your network.
We will not require any proof or invoice for these payments"."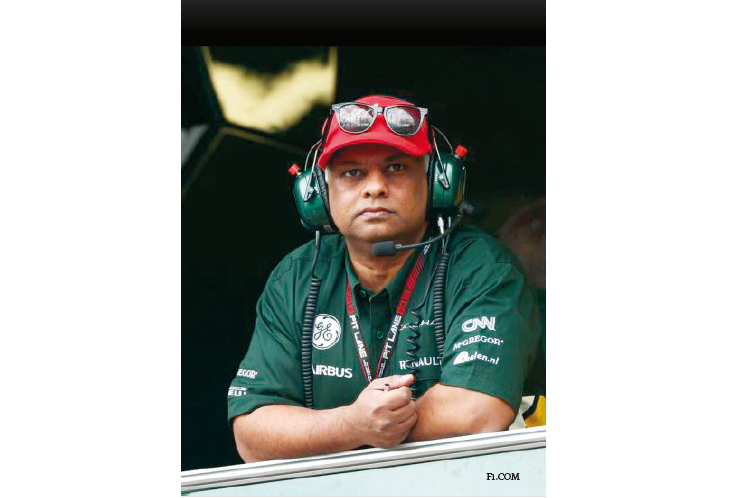 F1 — a disaster for Tune Group
Tan Sri Tony Fernandes is known as the man who disrupted the Asian aviation industry through AirAsia — the region's largest low-cost carrier. His private investment company, Tune Group, has also been successful in a handful of other ventures, such as insurance and digital banking.
After AirAsia was set up in early 2000 and quickly became a giant in its own right in the aviation world, Fernandes looked at sport. Among the earlier investments he made in sport was through the Caterham F1 Team, then known as Lotus Racing.
Fernandes said back then that the setting up of Lotus Racing heralded "a new beginning for Asean and Malaysian motorsport". As team principal, he was obviously very excited about the new venture.
In fact, in an interview with ESPN, Fernandes warned the other more established teams to not underestimate the newcomers, including Lotus Racing.
"Both Virgin (Sir Richard Branson's Virgin Group was one of the new teams back then) and AirAsia have been to hell and back, and we're fighters. Don't underestimate either of us. This talk back from some of the bigger teams is only going to motivate us more," he said.
However, due to the rigid structure of Formula 1 racing, which requires a lot of investment, the new teams did not stamp their mark on the circuit. After a change in branding — from Lotus Racing to Caterham F1 Team — Fernandes sold the outfit in July 2014.
It is not clear how much Tune Group lost in chasing its F1 dream but the fact that Fernandes asked Airbus to sponsor up to US$100 million to keep Caterham running shows how much was needed to maintain an F1 team.
"Formula 1 was a disaster for me … we didn't do very well," Fernandes said in a BBC Radio interview in 2017. Perhaps, some dreams should not be chased at all. — By Kamarul Azhar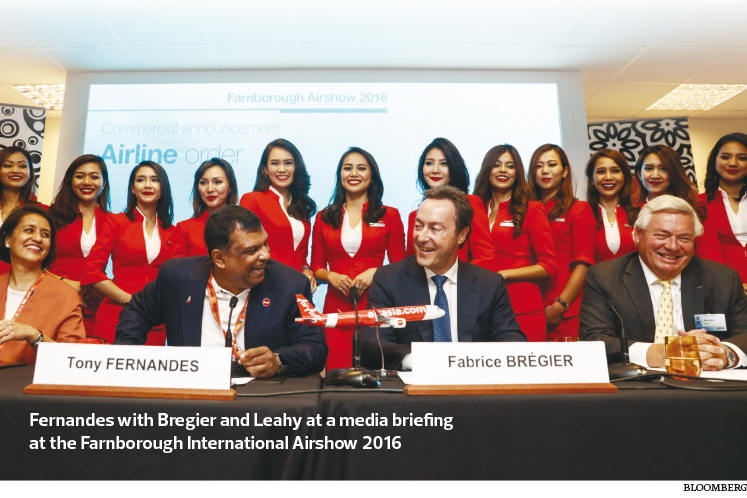 A cosy relationship
Tan Sri Tony Fernandes and Datuk Kamarudin Meranun built the AirAsia empire with a fleet that consisted entirely of Airbus aircraft. The low-cost carrier became one of Airbus' largest customers globally in no time at all. It helped that AirAsia was growing rapidly and placing massive aircraft orders.
The cosy relationship between the senior executives of the two companies was not a secret. In 2014, for example, when AirAsia signed Airbus' biggest deal yet at the UK's Farnborough International Airshow, the executives reportedly exchanged kisses and bear hugs.
According to a Bloomberg report, Airbus CEO Fabrice Brégier grabbed his counterpart at AirAsia, Fernandes, and planted a kiss on his cheek after the latter said he would buy 50 A330-900neo airliners. "The passion on display at the press conference flowed from Fernandes to John Leahy, the then Airbus sales chief, who found himself on the receiving end of another peck," the report added.
Leahy, nicknamed "Mr Airbus", was a top salesman during his time, known for selling 16,000 of the company's aircraft, of which more than 400 went to AirAsia. He stepped down in 2017.
In June 2011, in telling the story behind the signing of another deal at the Paris Air Show, Fernandes recounted to Reuters how he managed to cajole Leahy onto the dance floor. "At 12am, John nudged me and said, 'Tony, can we sign?' but I said, 'No, you haven't danced'."
When Leahy refused to dance, it took the "authoritarian German voice" of the then Airbus CEO Tom Enders, who served from 2012 to 2019, to get him on the dance floor, Fernandes recalled.
According to the Reuters report, Fernandes said that once he was on the dance floor, flanked by a row of air stewardesses dressed in the bright-red AirAsia cabin crew outfit, Leahy almost did not want to leave. — By Kang Siew Li