This article first appeared in The Edge Malaysia Weekly, on January 29, 2018 - February 04, 2018.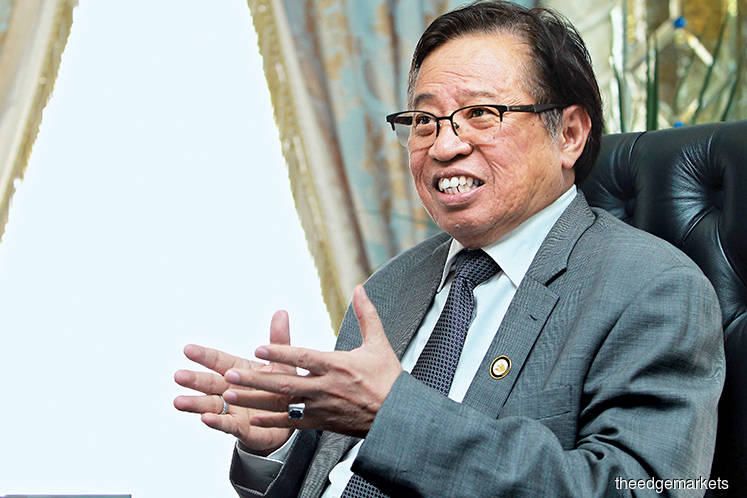 THE following is an excerpt from the interview with Sarawak Chief Minister Datuk Patinggi Abang Johari Abang Openg, lightly edited for clarity and conciseness.
The Edge: Will there be enough ridership to justify the light rail project? Is there a business case to build now as opposed to later when the population is higher?
Abang Johari: If you were to wait until there is a need, then the cost will be higher. It's basic economics. Definitely within 10 years, there will be a need. Might as well we do it now, then it could be cheaper. It is something between LRT and tram, not electrified but hydrogen-powered.
Is the state still looking to get 20% oil royalty?
Actually, the question of 20% does not arise. It was my predecessor who requested that and I believe based on the present scenario, it is still debatable whether you can get 20%.
But if there is a new environment, where Petros (Petroleum Sarawak Bhd) is there, it can become an alternative to 20%. The crux is to get additional revenue, right? It can be through royalty or in other forms.
So what is the state government's stance? Do you still want that 20%?
We'll see, it depends on discussions. Because that was started by my predecessor, I have to continue it, I must try. But I need to have an alternative approach also in order to get our (extra) revenue from oil and gas.
On the devolution of power, you have said that you intend to continue Pehin Sri Adenan Satem's pursuit of more autonomy.
Not more autonomy but rights that have been eroded. Whatever rights that we should have had, we want to get them back. And that is already part of the agreement. Our Malaysia Agreement is a treaty, an international treaty. You cannot change it.
For example?
Our territorial boundary rights. You see, when we formed Malaysia, our boundary was (up to) 12 nautical miles (from the coastline) but now it is three. Under Article 2 of the Federal Constitution, you cannot change our boundary (without the state's consent).
The review (of the agreement) was supposed to be done in 1973, headed by (the then deputy prime minister) Tun Dr Ismail, but he died (that year). Then Tun Abdul Razak also passed away, so they forgot about that (the review).
And then the Petroleum Development Act was passed in 1974.
It was under emergency. So, the question is, when the emergency was lifted, is (the Act still) relevant or not? We don't know. That is what we have to discuss. We have formed a high-level committee to (look into it) because we feel that it (the Act) is not relevant anymore.
Most of the oil reserves are beyond three nautical miles.
(Nods) Also, there is the question of our right to the seabed. So we sent our team to London and we found documents that strengthen our argument on our rights.
So what is the ideal end-scenario from these discussions for Sarawak?
Win-win for the state and federal.
Does that mean gaining full control over Sarawak's oil reserves, or…?
Within our waters.
Meaning there is a scenario where those resources are no longer vested in Petroliam Nasional Bhd as per the Act?
Not under the Act because we are questioning the Act itself. So let them discuss the legal implications. Not for me to decide. This one you must quote properly, it is not for me to decide. Let the legal people discuss first.
Just to clarify, it sounds that if the state's argument is upheld, Petros could be the Petronas of Sarawak, vested with all the state's oil reserves. Correct?
Yes, something like that.
You said Petros will be active within two years. Interestingly, we heard some production-sharing contracts also expire around that time.
I won't want to comment on that. But yes, I did say within two years.
Is it fair to assume that Petros' activity will be closely tied to these legal discussions (surrounding the Petroleum Development Act)?
Activities will be tied to the existing legal parameters.
If Sarawak succeeds in getting oil and gas resources vested in it instead of Petronas, its share of the federal budget allocation may be reduced correspondingly. What is Sarawak's stance here?
We will cross the bridge when we get to it.
The strategic portfolios like finance, oil and gas, energy development and public transport are all under your office. Isn't that a lot for one person to manage?
Not really, I have got staff and also some assistant ministers to help me.
By the next state election in 2021, you will be 71. Have you given some thought to possible succession planning to ensure continuity of your plans?
I've only had a year, wait-lah (laughs).
Save by subscribing to us for your print and/or digital copy.
P/S: The Edge is also available on Apple's AppStore and Androids' Google Play.