This article first appeared in The Edge Malaysia Weekly, on October 12, 2020 - October 18, 2020.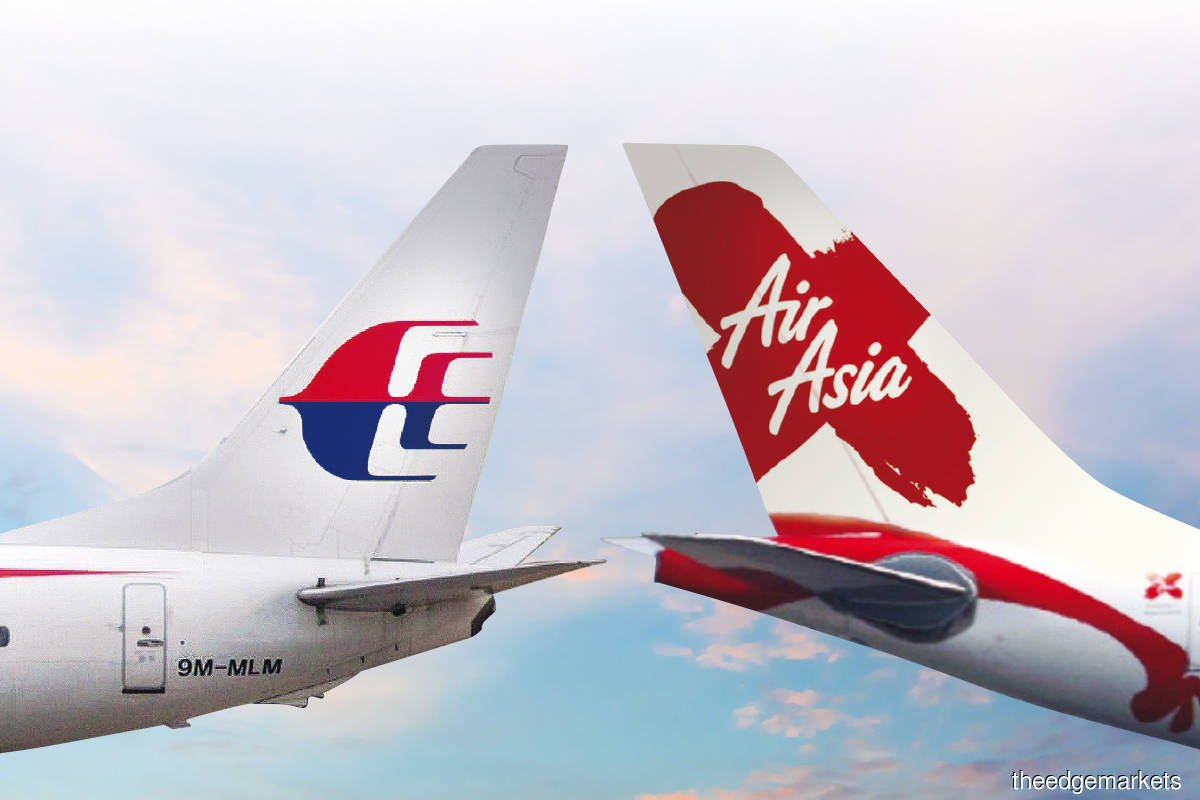 THE next few weeks will be crucial for Malaysia Airlines Bhd (MAS) and AirAsia X Bhd (AAX) as the two airlines make a last-ditch attempt to convince creditors to agree to take haircuts on their debts. Whether or not they stay in the air will depend on their getting creditors holding 75% of total debt — the threshold that is required under company law — to say yes.
The airlines have warned that without majority support, they could be forced to default on their debt and consider liquidation.
Growing troubles at major airlines in Malaysia — MAS, Malindo Airways Sdn Bhd, low-cost carrier AirAsia Group Bhd and its long-haul arm AAX — have been widely flagged in recent years. But the recent collapse in demand owing to the Covid-19 pandemic led to the airlines grounding aircraft, raising concerns about how long it will be before they run out of cash. What makes planning harder is that nobody knows when the travel industry will recover until a vaccine is developed.
Even before the pandemic struck, MAS had become technically insolvent in the financial year ended Dec 31, 2018 (FY2018), after liabilities exceeded its assets by RM852.14 million. In March, MAS had warned that travel bans and plummeting demand around the world owing to the outbreak would put many global airlines, including the loss-making national carrier, at risk of going bankrupt.
AAX, meanwhile, found itself in a similar situation in the first quarter ended March 31, 2020 (1QFY2020), after it posted negative shareholders' equity of RM864.1 million. It also triggered Practice Note 17 criteria, as its shareholders' equity on a consolidated basis fell to less than 25% of its share capital. Earlier, AAX's auditor Ernst & Young had cast doubt on the airline's ability to continue as a going concern in its FY2019 financial statements.
On Oct 2, MAS, with AAX following suit on Oct 6, joined other cash-strapped airlines such as Virgin Atlantic Airways and Thai Airways International Pcl in announcing plans to restructure their outstanding debt to avoid liquidation.
In an interview with The Edge last Friday (Oct 9), MAS group CEO Captain Izham Ismail said MAS is seeking to restructure RM16 billion worth of legacy liabilities and commitments that have been with the national carrier and other business units under holding company Malaysia Aviation Group Bhd (MAGB) since its reset in August 2014.
This involves about 50 creditors comprising lessors, aircraft maintenance service providers and key suppliers. A check with the Companies Commission of Malaysia shows that its creditors include Turus Pesawat Sdn Bhd, Yamasa Aircraft BY1 Kumiai, BBAM Aircraft Holdings and Pembroke Aircraft Leasing.
MAS is going to the negotiation table with its creditors against a backdrop of no government bailout. Finance Minister Tengku Datuk Seri Zafrul Abdul Aziz has repeatedly said that the government will not inject any more funds into MAS and that it is up to the national carrier's sole shareholder, Khazanah Nasional Bhd, to sort it out.
"Everybody must agree on the restructuring plan. Then the shareholder (Khazanah) will pump in money. The proposals are inter-conditional," says Izham, who did not disclose the amount. It was reported that Khazanah would inject US$1 billion in 2021. "I need some little money, not a lot, from my shareholder to kick-start MAS for the next 18 months," he adds.
AAX, meanwhile, is asking its unsecured creditors to write down their dues totalling RM63.49 billion by a whopping 99.7% to RM200 million, without offering them any equity in the airline. Of the RM63.49 billion, RM9.26 billion is owed to aircraft lessors, RM53.15 billion is payable to unsecured trade and non-trade creditors, RM582.82 million is owed to customers and travel agent creditors and the remaining RM490.63 million is related companies' debts.
As at June 30, 2020, AAX had liabilities of RM10.32 billion, of which about RM6.1 billion are secured borrowings. The bulk of the borrowings are lease liabilities amounting to RM5.81 billion.
Secured creditors have a charge over the assets of the company and are paid before unsecured creditors when a company is liquidated. Examples of secured creditors are banks, while unsecured creditors include lessors, suppliers and customers.
AAX's restructuring plan also entails undertaking a 90% share capital reduction and a consolidation of every 10 existing shares to one consolidated share.
The exercises will result in AAX's share capital reducing to RM150 million from RM1.53 billion currently, with the credit of RM1.38 billion used to offset the accumulated losses, according to PublicInvest Research analyst Nur Farah Syifaa' Mohamad Fu'ad.
"Its accumulated losses as at June 30, 2020, stood at a negative balance of RM2.2 billion. It will be reduced to a negative balance of RM900.9 million after the exercise. Meanwhile, the number of shares is expected to reduce to 414.8 million post-consolidation (from 4.1 billion shares now)," she says in an Oct 7 report.
While the capital reconstruction may help facilitate future restructuring exercises, Nur Farah notes that AAX will still need to address its shareholders' deficit of RM960 million as at June 30, 2020.
Will creditors accept rescue deal?
According to AAX's scheme of arrangement, there are 1,200 creditors whose debts are to be dealt with under its proposed debt restructuring. Among them are Airbus Operations SAS, Rolls-Royce Plc, BOC Aviation Ltd, Macquarie Aircraft Leasing Services (Ireland) Ltd and Sky High I Leasing Co Ltd.
A source says AAX has applied to the court for an order to hold a scheme creditors' meeting to vote on its proposed debt restructuring between Oct 27 and Nov 3. However, the airline has yet to apply for a restraining order to restrict any legal action by creditors against it. A restraining order would also give AAX some breathing space to negotiate a compromise with the creditors.
BOC Aviation had last month launched a lawsuit against AAX seeking US$22.98 million in dues related to the leasing of four aircraft. However, the lawsuit was filed before AAX made the announcement of its proposed debt restructuring scheme.
The Edge CEO Morning Brief, citing a person familiar with the restructuring scheme, reported last Thursday that more than 70% of the RM63.49 billion is owed to Airbus for planes on order.
When contacted, an Airbus spokesman said: "We are in discussions with our customer to find possible solutions during this very challenging time."
To date, AAX has placed orders for 138 aircraft from Airbus, comprising 30 A321neos, 20 A330-300s, 78 A330-900s and 10 A350-900s. Of these, the carrier had taken delivery of 20 A330-300s as at end-August 2020, according to Airbus Orders and Deliveries report.
AirAsia X's fleet size stood at 40 A330 aircraft at the end of June, including those operated by AirAsia X Thailand and AirAsia X Indonesia.
Creditors of MAS and AAX are stuck between the proverbial rock and a hard place.
One creditor tells The Edge that AAX's proposal is unattractive to creditors as they would have to take massive haircuts. He also points out that even with the majority support of its creditors, there is no injection of funds by the airline's major shareholders, unlike the case of Singapore Airlines and Cathay Pacific Airways.
AAX non-executive directors Datuk Kamarudin Meranun and Tan Sri Tony Fernandes jointly owned a 31.59% controlling stake in the airline through private vehicles Tune Group Sdn Bhd and AirAsia Bhd as at June 30, 2020. Additionally, Kamarudin has a direct stake of 8.94% in the airline, while Fernandes holds a 2.69% direct stake.
The creditor also points to a proposal by AAX for any advance payments or deposits by its customers and travel agents to be converted into credits for future travel or purchase of seat inventory, rather than being returned.
KAF Equities analyst Max Koh is neutral on the proposals as he notes that AAX will still need to seek approvals from creditors and shareholders to succeed.
"As it is, the aviation industry's outlook remains grim due to the pandemic. We also believe fresh equity injection from shareholders should accompany AAX's request for a steep debt haircut by creditors," he says.
In an Oct 8 report, CGS-CIMB Research analyst Raymond Yap says if the unsecured creditors agree, they can get back a maximum of 2% of what is owed to them but will have to wait for as long as five years.
"However, if they do not agree, then AAX will likely be liquidated and the unsecured creditors are likely to get close to nothing. The aircraft lessors, in particular, may struggle to redeploy their aircraft to other airlines during the Covid-19 pandemic.
"Therefore, the proposed 98% haircut is fair and reasonable, in our opinion. We believe there is a more-than-equal chance that a large number of unsecured creditors will have no better choice than to agree to the terms of the proposed debt restructuring," he adds.
Yap also notes that as AAX is expected to continue to report losses in 2HFY2020 and 1QFY2021, the negative shareholders' equity position may continue to widen before the restructuring is completed.
"Our calculations suggest that even after a successful debt restructuring, AAX's shareholders' equity will remain below zero, therefore requiring a subsequent, post-restructuring equity injection in addition to additional debt capital. Therefore, we reiterate our 'reduce' call on AAX, with a target price of zero, based on its book value but subject to a minimum value of zero," he says.
AAX's share price has fallen 75% year to date to close at 4 sen last Friday, giving the company a market capitalisation of RM165.93 million.
A spokesman for AAX says it will not be commenting further on its proposed restructuring.
The restructuring comes as the International Air Transport Association (IATA) on Oct 6 warned that the global airline industry will burn through US$77 billion in cash during the second half of 2020 (almost US$13 billion a month) and a further US$60 billion to US$70 billion, or US$5 billion to US$6 billion a month, in 2021. The industry is not expected to turn cash positive until 2022.
Time running out for AirAsia to secure funding
AS the future of Malaysia Airlines Bhd (MAS) and AirAsia X Bhd (AAX) hangs in the balance while they engage proactively to get creditors' buy-in for their debt restructuring proposals, all eyes will also be on AirAsia Group Bhd to see what measures it will take to keep flying.
Asia's largest low-cost carrier by volume is racing to raise between RM2 billion and RM2.5 billion in additional capital via equity and debt before year-end. It has yet to announce any capital injection to help it weather the Covid-19 crisis, although it has been negotiating with counterparties to restructure fuel hedges and postpone lease and maintenance payments.
Last Thursday, its group CEO Tan Sri Tony Fernandes was reported as saying that the airline has halted aircraft purchases and plans to reduce its fleet size by 65 aircraft by the end of next year, out of a total of 245 currently.
Kenanga Research notes that the airline has applied for bank loans in the countries it operates in to shore up liquidity to help fund working capital and repayment of lease liabilities, which stood at RM12.2 billion as at June 30, 2020.
However, analysts believe it will not be easy for AirAsia to raise money as they see airlines continuing to face tougher operating conditions amid the pandemic owing to restricted movements and a collapse in air travel despite the resumption of domestic flights.
"Over the medium term, we expect AirAsia to face a tough operating environment already derailed by widespread travel disruptions due to Covid-19, and hits from a lower load factor," says Kenanga Research in an Oct 7 report.
Last week, the pandemic claimed AirAsia Japan Co Ltd, in which AirAsia holds a 67% stake, when it shut its operations in Japan after six years.
In a statement on Oct 5, AirAsia Japan representative director and chief operating officer Jun Aida says despite the company's unrelenting efforts to sustain operations through successive and wide-ranging cost reduction initiatives, it had concluded that it "would be an extremely challenging feat to continue operating without any visibility and certainty of a post-pandemic recovery path".
It was reported that AirAsia is also evaluating its operations in India through its 49%-owned affiliate, AirAsia India Ltd.
For the first six months of 2020 (1HFY2020), AirAsia posted a net loss of RM1.8 billion versus a net profit of RM111.78 million in the previous corresponding period, as revenue more than halved to RM2.43 billion from RM5.65 billion in 1HFY2019.
In July, the company triggered the prescribed criteria of Practice Note 17 status.
Earlier, its external auditors Ernst & Young had also cast doubt on its ability to continue as a going concern in view of the adverse impact of the Covid-19 pandemic, in respect of its audited accounts for the financial year ended Dec 31, 2019 (FY2019).
At the end of June, AirAsia had cash of RM996.1 million and borrowings of RM538.6 million, but its cash burn rate is fast as most of its aircraft are grounded due to travelling restrictions.
Airlines in survival mode
IN March, British airline Flybe became one of the earliest airlines to enter administration. The Covid-19 pandemic and ensuing plunge in flight bookings proved to be the final nail in the coffin for the airline, which was already in serious financial difficulties.
Since then, many more airlines have collapsed while others are racing against time to raise funds to help them weather the crisis as countries around the world continue to close their borders, causing air travel to drop significantly and forcing airlines to suspend routes, ground planes and rehabilitate their debt.
In June, Singapore Airlines Ltd (SIA), one of the world's biggest airlines, raised S$19 billion (RM58 billion) to tide it over during the pandemic, with S$15 billion through a rights issue. The S$5.3 billion equity and up to S$9.7 billion convertible note portions of the fundraising were underwritten by Temasek Holdings, which owns about 55% of the group.
The carrier has also obtained a S$4 billion bridge loan facility from the country's biggest lender, DBS Group Holdings Ltd, to support near-term liquidity needs until it secures money from the rights issue.
However, the funds raised were not enough. Last month, SIA announced that it was cutting about 20% or around 4,300 positions across its three airlines — SIA, SilkAir and Scoot — as the coronavirus continues to batter the global aviation industry. This follows a number of measures that the airline has taken since March, including a recruitment freeze, natural attrition, and a voluntary release scheme for cabin crew.
In June, Hong Kong's Cathay Pacific Airways received a US$5 billion (RM20.7 billion) rescue package led by the Hong Kong government. So far, the group has cut the jobs of around 400 overseas cabin crew and offered voluntary early retirement to pilots.
Last month, Thai Airways International PCL received court approval for its debt restructuring. The airline had defaulted on loans and bonds totalling THB85 billion (RM11.3 billion), or 33.1% of its total assets, according to its latest statement on July 22.
Virgin Australia was one of the first Asia-Pacific airlines to be placed into voluntary administration on April 21, with debts of US$6.8 billion. In September, its creditors approved its purchase by US-based Bain Capital.
In August, it also announced 3,000 job cuts or a third of its headcount, removed some of its aircraft and discontinued its low-cost carrier Tigerair Australia.
The same month, Virgin Atlantic said it had filed for bankruptcy in the US as it raced to finalise a US$1.5 billion plan to rescue it from the crisis. The US filing followed a UK court hearing earlier the same day, in which Virgin Atlantic obtained approval to call a meeting of creditors on Aug 25 to vote on the restructuring plan. Virgin Atlantic has already laid off 3,550 staff and closed its base at London's Gatwick airport.
Still, the worst is not over yet. Global air travel is not expected to fully recover from the pandemic until 2024, according to the International Air Transport Association.
Read also: