This article first appeared in City & Country, The Edge Malaysia Weekly, on May 31, 2021 - June 06, 2021.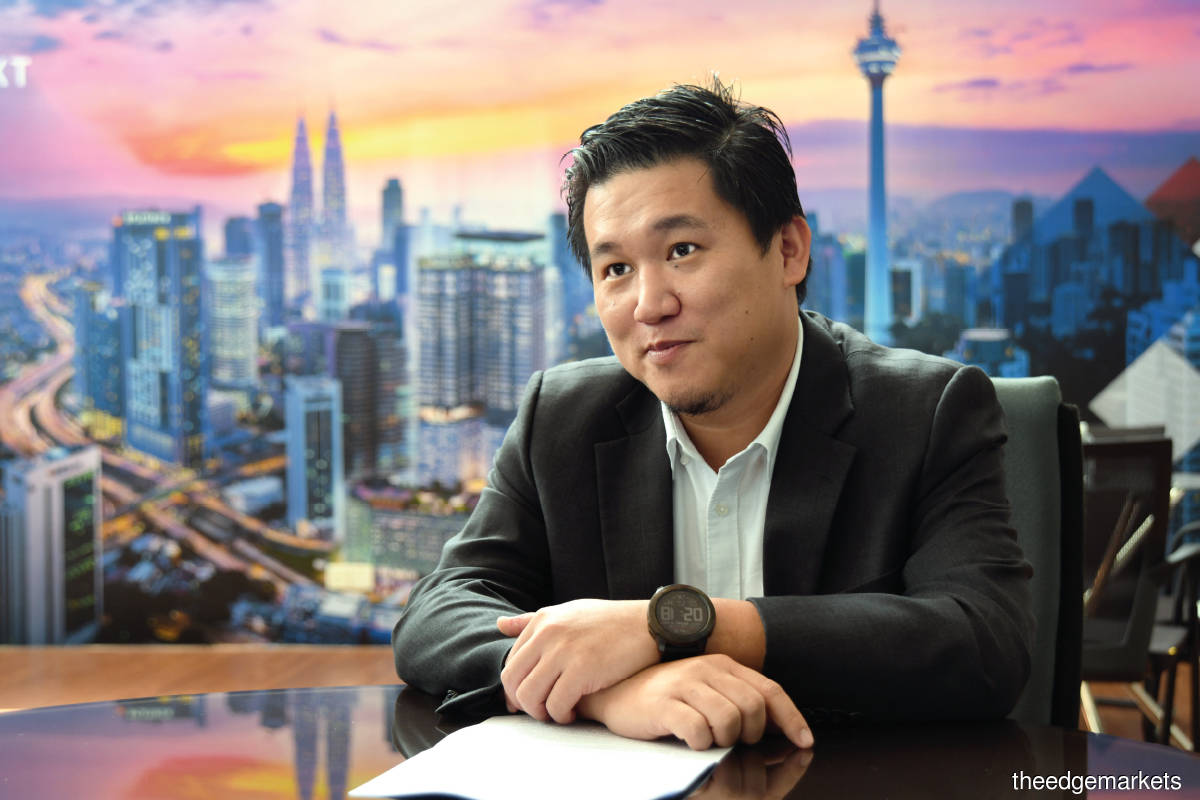 It is a breezy afternoon when we arrive at the headquarters of Crest Builder Holdings Bhd (CBHB) in Petaling Jaya, Selangor. Group managing director Eric Yong Shang Ming welcomes us cordially and is excited to talk about the company's upcoming plans.
The company has always been prudent, developing one project at a time. "We are different from some other developers as we do not develop townships and our land acquisitions are mainly opportunistic ones. For instance, our maiden development, 3 Two Square, was acquired in a fire sale from Tops Supermarket when the government imposed a ban on new hypermarkets," says Yong.
More recently, the purchase of land in Bandar Bukit Tinggi, Klang, from WCT Land Sdn Bhd was also an opportunistic one. "We are constantly looking for new opportunities for land, whether due to a fire sale, a bargain from market prices or via a joint venture with landowners. We do not rule out opportunities arising from the monetisation of government assets in the near future," says Yong.
CBHB is looking to launch Interpoint in Bandar Bukit Tinggi and Latitud 8 in Jalan Ampang, Kuala Lumpur, in December and the first quarter of 2022 (1Q2022) respectively.
Among its completed property developments are The Greens @ Subang West, Alam Sanjung @ Subang West, Tierra Crest in Kelana Jaya and Avenue Crest in Shah Alam.
The group was listed on the Main Market of Bursa Malaysia in 2003 and its core businesses are construction and property development. The construction sector contributes about 80% of the group's revenue while the remainder comes from property development. 
"Construction-wise, the company remains optimistic, as various developers have started pushing out their project launches and we have a number of projects in the pipeline. We target the medium- and high-end projects with good sales rates and have been participating in many tenders so far. We are confident of securing some projects and hitting our internal replenishment target this year," says Yong.
The company's completed and ongoing construction projects include Celcom Tower and 3 Two Square in Petaling Jaya, Anggun JSI in Jalan Sultan Ismail, Menara Binjai in Jalan Binjai, KPJ Ampang Puteri Specialist Hospital in Ampang and the UiTM Tapah campus in Perak.
Yong joined CBHB in 2003 after graduating from City, University of London in the UK with a degree in civil engineering. "Since young, I have been a very outdoor person. My late father had been in the construction sector since 1977, and it became almost a weekly weekend pastime for me to go to construction sites with him when I was young, learning about the types of machinery and how houses are built. During my secondary school years, my weekends became more than just visiting the sites. My dad would share his knowledge and educate me. We would walk around the entire project site, whereby I was exposed to the various problems as well as solutions for the problems," he says.
From Form 3, Yong would spend his school holidays doing some form of internship at the office as well as on site. He had a hunch then that he would be joining the business. "My late father taught me about the business as well as the management and problem-solving skills required. I observed that he had many daily issues as a contractor. After joining the company, I worked with him on those issues and this further enhanced my experience in the construction industry," Yong recalls.
According to him, CBHB currently has an outstanding order book of more than RM1 billion, an annual tender book of between RM2 billion and RM3 billion and an annual order book replenishment rate of RM500 million to RM600 million.
Interpoint
Interpoint will be previewed in September, followed by the official launch in December. According to the developer, "inter" symbolises interconnection, with everything conveniently within reach at the development, which will be a converging point between Klang town centre and Bandar Bukit Tinggi. "Point" refers to a prime destination where live, work, learn and play are carried out.
"When we coined the word 'Interpoint', we wanted not only [a name] that could be pronounced easily but to also provide occupants and the surrounding community with an avenue to realise their ideal lifestyle. This is where lush greenery meets modern architecture design to allow residents to relax and rejuvenate in the calmness of nature," explains Yong.
Interpoint is strategically located, he points out. "The project sits between the upcoming Tesco Extra Bukit Tinggi and AEON Bukit Tinggi LRT stations, both of which are only a 10-minute walk away. Both stations are part of the LRT Johan Setia Line and are due to be fully operational in 2023."
The development is easily accessible via Jalan Langat, the South Klang Valley Expressway, Shah Alam Expressway, Federal Highway and West Coast Expressway, which is under construction and expected to be fully operational by 2022. It is also near AEON Bukit Tinggi, Tesco Extra Bukit Tinggi, GM Klang Wholesale City, Hospital Tengku Ampuan Rahimah, Pantai Hospital Klang, SJK (C) Hin Hua, Hin Hua High School and Collinz International School.
Yong says initially, he was not certain about building a high-rise as Klangites often prefer landed property. "We appointed agents and did a survey on sales of high-rise projects in the area built by other developers such as Trio by S P Setia Bhd and Gravit8 by Mitraland Group. We noticed that demand for these projects was quite good and that the larger units tended to be sold out faster than the smaller ones as most of the bigger units were bought by parents for their children while the smaller units were usually bought by investors," says Yong.
"Since these developers have established a foothold in Bandar Bukit Tinggi, I believe it is worth considering developing a project in the area," he says, adding that CBHB is building based on demand and buyers' preferences.
Interpoint, which will be built on a 6.54-acre freehold parcel, will have a gross development value (GDV) of RM620 million and will comprise three towers with two wings — Tower A (26 and 36 storeys), Tower B (27 and 35 storeys) and Tower C (27 and 34 storeys) — offering a total of 998 serviced apartments. It will also have 36 retail units and 30 office suites. The development is due to be completed in May 2025.
The serviced apartments will have built-ups of 593 to 1,270 sq ft and come in 1+1, 2-, 3- or 4-bedroom layouts, of which half will be larger units that can be dual-key.  Selling prices will start from RM376,555.
"These units have a contemporary design and practical layouts that are suitable for young families with or without children, multigenerational families, parents buying for their children, singles, young couples and investors. Eighty per cent of the units are targeted at owner-occupiers while the rest will be marketed to investors," says Yong.
"We are able to provide what buyers want with direct input from our marketing agents. Hence, we are confident that there will be demand for this project and hope to achieve sales of 30% within six months of the official launch and 100% before completion of the project." 
There will be a total of 2,692 parking bays and each unit will be allocated at least two parking lots. "The car park will have an express ramp for residents to drive up to their parking lots on their respective floors to reduce traffic flow," Yong notes.
As for the retail units located on the ground floor, they will have built-ups of 1,200 to 1,600 sq ft and be priced from RM840,000. The developer will manage the retail units for a period of time and eventually sell them. "One of the shops is a two-storey unit, which will be used as our sales gallery first and ultimately be converted into a drive-through fast food restaurant. We are still in discussions with a few well-known fast food operators," he says.
The office suites on the first floor, which will be sold to small and medium enterprises (SMEs) and law and consultancy firms, have built-ups of 700 to 1,000 sq ft and will be priced from RM399,000.
The towers are designed to cluster around a 2.7-acre facility deck on the topmost level of the podium. The deck will include an infinity leisure pool, a 30m lap pool, wading pool, an aqua gymnasium, an urban farm (spice/herb garden), a hammock area, yoga room, sauna, reading room, barbecue area and jogging/walking trail.
"Nowadays, people do not go out much because of the pandemic, hence it is important to provide sufficient facilities for residents. The project caters for people from all walks of life, from the young to the elderly. The maintenance fee is estimated at 35 sen psf per month," says Yong.
Latitud 8
Slated to be previewed in September and officially launched in 1Q2022, Latitud 8 is a joint venture between the group and Prasarana Integrated Development Sdn Bhd, whereby Prasarana is the landowner and CBHB is the developer.
The transit-oriented development (TOD) occupies a 2.39-acre leasehold parcel in Jalan Ampang, Kuala Lumpur. It sits above the underground Dang Wangi LRT station and is only a 300m walk to the Bukit Nanas monorail station.
Yong says the original plan was to launch the project, which would have a mix of stratified offices and SoHo (small office/home office) units, in 2018. The developer had carried out a survey overseas in 2017 and response to the project was overwhelming. "However, there was some negative feedback in Malaysia on the stratified office plinth as a result of the oversupply of office space in KL. Hence, we decided to reconfigure the project into mainly SoHos after discussing with our partner, Prasarana," he says.
With a GDV of RM900 million, Latitud 8 will comprise a 46-storey tower with a total of 857 SoHos, 22 retail units and a 16,680 sq ft office space. The development is due to be completed in 3Q2026. Yong notes that the project emphasises clustering density around the public transport nodes, which is crucial in urban planning. The concept promotes the integration of residential and communal hubs and leverages the convenient location and connectivity to transport hubs.
The SoHos will come in studio, 1-, 2- or 3-bedroom layouts with built-ups of 570 to 1,250 sq ft, and indicative prices starting at RM615,600. "There will also be 357 dual-key units that cater for buyers who are looking for own stay as well as to rent out part of the unit. We intend to target working professionals who work in the city centre, talent expatriates, as well as local and foreign investors," says Yong.
The retail units will have built-ups of 160 to 1,450 sq ft and be priced from RM224,000, while the office space is priced at RM950 psf. "For the retail units, we are looking to bring in food and beverage outlets, convenience stores, pharmacies, optical outlets and bakeries, while the office space is likely to be targeted at co-working operators," he informs.
The project, which is designed around the "transit, play, dine and live in one vertical city" tagline, aims to provide convenience and a comfortable living space for residents, as well as to connect people and form a sustainable community. "The building is meant to rise into the infinite sky, to tower over the surrounding buildings in the city centre and bring a touch of exclusivity to Jalan Ampang," says Yong.
He believes the prospects for the development are good owing to its proximity to malls such as Suria KLCC, Pavilion Kuala Lumpur, Lot 10 Shopping Centre and Sungei Wang Plaza, and schools such as SJK(C) Nan Kai and Tsun Jin High School. It is also easily accessible via Jalan Ampang, Jalan Sultan Ismail, Jalan Dang Wangi, the Middle Ring Road 2 and Ampang-Kuala Lumpur Elevated Highway.
"Latitud 8 is a TOD located in the city centre. As the trend of TODs is not very old in Malaysia, we foresee the capital gain for this project to be 6% to 8%, even though TODs in developed countries like Singapore and Hong Kong may achieve a much higher capital appreciation of 10% to 18%," says Yong.
The development will have two landscaped gardens — one at a connecting platform at levels 10B and 11 with views of the Klang river and another on the rooftop that overlooks the Petronas Twin Towers, KL Tower and KL Forest Eco Park, formerly known as Bukit Nanas Forest Reserve. Facilities such as a swimming pool, pool spa, jacuzzi, gymnasium, rooftop garden, indoor and outdoor terraces, tree house area, viewing deck, gourmet kitchen, reading room, games room, entertainment room and multipurpose room will be spread out on these levels. The indicative monthly maintenance fee is 45 sen psf.
Despite the current market conditions, the developer is cautiously optimistic that demand will remain resilient for properties of good quality at strategic locations with good accessibility. The current working-from-home trend is expected to continue and see higher demand for SoHos.
"We believe Malaysia is in the process of recovering from the pandemic and revitalising the economy on the back of the government's proactive approach in introducing stimulus packages, especially the National Economic Recovery (Penjana) plan. The low interest rate environment will also stimulate buying interest," says Yong.
Future plans
CBHB has an upcoming redevelopment project in Kelana Jaya — a proposed joint venture, mixed-use development of the Kelana Jaya LRT station on 4.95 acres of land. The project, with an estimated  GDV of RM1 billion, will comprise retail units, serviced suites and offices. "The project is currently at the land conversion stage and will take a while as the exhibitions and meetings to gazette the conversion from transport to TOD status have been delayed. Other details of the project have yet to be finalised," says Yong. The company is also in talks with a few landowners in the Klang Valley as well as Penang and Kuantan to jointly develop projects.