This article first appeared in City & Country, The Edge Malaysia Weekly, on February 11, 2019 - February 17, 2019.
An artist's impression of the facilities on Level 6.
The barbecue area is one of the many facilities provided for residents.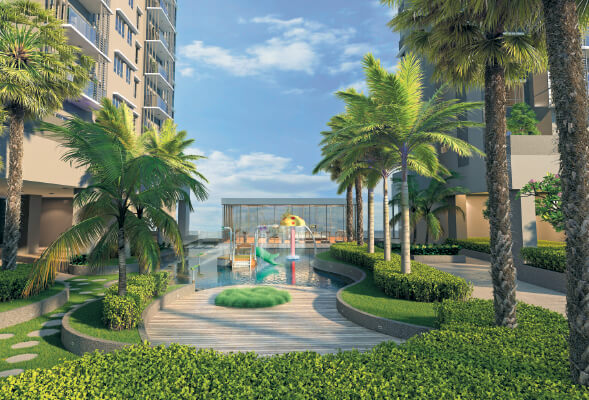 The water playground is among the children-friendly facilities
An artist's impression of the gym
Gaya Resort Homes is PDMC's second high-rise development
PDMC Group group managing director Bill Tan greets us cheerfully as we arrive at the company's headquarters in Bukit Jalil. "I kept my promise to give you an exclusive interview," he laughs as we get ready to take his photograph.
PDMC, Tan says, is conservative. The company usually funds its projects internally and buys land with cash. "This is why we cannot grow very big at the moment. But one thing is for sure, our projects are fully sold. We don't have overhang because we don't build a lot and we are very careful about the unit types and location."
The group's property division — PDMC Holdings Sdn Bhd — is headed by Tan, who has almost 30 years of experience in the industry. He had founded the group with three friends in 2008.
Other than property, the group is also involved in semiconductors, construction and material supply, training equipment, and robotics and machinery — businesses that are headed by his partners.
Revenue contribution from each business is quite equal, says Tan, although the property division is the biggest in terms of turnover, which can amount to a few hundred million for just one project. Turnover for the other businesses, which are trading companies, is about RM30 million to RM50 million.
One of Tan's career highlights is being involved in Tabung Projek Perumahan Terbengkalai, which was set up by Bank Negara Malaysia in the 1990s to rescue projects that were abandoned during the recession in the 1980s.
The funds to revive these projects were handled by auditing firms, which then appointed people like Tan to handle the technical side under a project management company (PMC).
The group's name is derived from the term PMC. "PMC is a very common term people use for an industry that runs projects. I started that when I came out on my own. However, I don't only manage now but also develop. So I came up with the name 'Project Development and Management Company'," Tan explains.
Being a young company, PDMC has undertaken only two projects at any one time in the past 11 years. Clearly, Tan is very cautious. "We always keep it that way so that we can manage things more effectively."
The company started with landed properties, first in Puchong, Selangor, and then in 2012, went on to high-rises, developing its first in Bandar Mahkota Cheras, Kajang. The RM95 million condominium, which was completed in 2015, comprises 222 units.
Gaya Resort Homes
PDMC's second high-rise — Gaya Resort Homes in Bukit Rimau, Shah Alam — will be soft-launched on Feb 23.
Located behind AEON BiG Bukit Rimau, the freehold mixed-use development occupies a 3.6-acre commercial parcel and has an estimated gross development value of RM312 million.
The three-tower, 21-storey development will comprise 540 unfurnished serviced apartments and 24 shoplots on two floors of its podium.
As the development has a resort theme, its design is Balinese-inspired, says Tan. Among the 44 facilities it provides residents on Level 6 are a private and family spa, resort-style pergola, artificial sand beach, mini orchard and herbal garden. There will also be a lot of children-friendly facilities, such as rock climbing, camping zone and water play equipment to encourage parents to take their children outdoors, Tan adds.
From Level 7 onwards come the three towers of apartments, which boast four types of layouts.
Type A has 2 bedrooms and 2 bathrooms and a built-up of 751 sq ft while the 869 sq ft Type B has 3 bedrooms and 2 bathrooms.
Types C and D are dual-key units and consist of 4 bedrooms and 3 bathrooms (1,263 sq ft), and 5 bedrooms and 4 bathrooms (1,462 sq ft) respectively.
Only the apartments on Level 7 have extra space, and Tan calls them terraced units.
"Conventionally, a transfer beam is used to carry the whole tower, and it is very thick — about 6ft to 7ft high and 3ft to 4ft wide. But now, we use something called the transfer slab, which is about 4ft tall and is neater than the transfer beam.
"The slab is unable to follow the building line as it has to be a square. Thus, there will be extra space outside the building. We didn't want to waste the space, so we are allowing our buyers to use this area as it is just outside their units," Tan explains.
He adds that the owners have a free hand in the usage of the space but under the Strata Titles Act 1985, they will not be able to build a roof or awning to cover the extra space. The selling price of the extra space, he says, is only RM150 psf.
As for the shoplots, those on the ground floor will have built-ups of between 1,884 and 2,795 sq ft while those on the first floor will be smaller at 1,787 to 2,666 sq ft.
Prices for the serviced apartments start at RM390,000 and the shoplots at RM679,320. The maintenance fee is 30 sen and 26 sen psf respectively. The fee is lower for the shoplots because mechanical things such as centralised air-conditioning, escalators and exhaust fans are not included, says Tan.
"Under the Strata Act, the rate is cheaper for commercial units that do not require these additional things. This is to our advantage as we keep things to the minimum so that the shopowners don't need to pay so much maintenance fees. They also don't get to use the facilities, so they don't have to pay the same rate as the residents," he points out.
Parking bays will be allocated to both the residents and shoplot owners. Residents get two to three bays depending on the size of the unit while first-floor shop owners are entitled to one or two and ground-floor owners three to five.
According to Tan, although the land tenure is of commercial status, the serviced apartments are regulated under the Housing Development Act (HDA). Thus, the standard sales and purchase agreement is used, which is regulated by Schedule H.
"Our water and electricity are charged domestic rates. Our project is exempted from commercial rates because these are regulated by Schedule H. When the Ministry of Housing and Local Government regulated serviced apartments under the HDA (Housing Development Act) a few years ago, it took some time for other agencies like Syabas and TNB to adjust. Now, they accept and agree that serviced apartments can use domestic rates," Tan explains.
He adds that there will be two joint management committees for Gaya Resort Homes — one for the serviced apartments and the other for the shoplots.
There will only be three staircases to access the ground and first floors of the shoplots. The staircase area in the middle — the grand staircase — will have a small lift to service the handicapped and senior citizens.
For those who purchase a unit on the ground floor and a unit directly above it, a space will be provided in a corner that could be hacked for an internal staircase.
The public will be able to visit the shoplots but security will be tightly controlled. Shop owners and customers will have access to only the lower ground car park. And there will be a guardhouse behind the shoplots to cater only for residents with access cards. People without access cards will not be able to get to the serviced apartments from the shoplots.
Gaya Resort Homes is accessible via many highways, such as the Shah Alam Expressway (KESAS), Kemuning-Shah Alam Highway, Federal Highway and South Klang Valley Expressway. It is just a short distance away from the Bukit Rimau interchange and Kota Kemuning interchange to KESAS.
The development is near many amenities, such as hospitals (Columbia Asia Bukit Rimau), schools (Chinese Taipei School), shopping and grocery outlets (Gamuda Walk), hotels (Orange Hotel) and banks (Hong Leong Bank).
For all generations
All the serviced apartments come with a big space for dry and wet kitchens, thus freeing up the kitchen area, says Tan.
"In Type A, the living room can be converted into another room by putting up a partition. This is possible because the kitchen and living room can be adjusted. The design is flexible," he explains.
The wall between the master bedroom and second bedroom of all units can be hacked, he continues, for people who do not need more than one bedroom.
According to Tan, there is also space at the front of each unit. "This makes for a good design but, more importantly, you can put a shoe rack there."
Besides being children-friendly, Gaya Resort Homes is also wheelchair and senior citizen-friendly. The studios of the dual-key units in Types C and D come with features that cater for the handicapped and aged, says Tan.
"The toilet is bigger so that it can accommodate a wheelchair. There will be a ramp at the toilet so that people in wheelchairs can access it easily. It will have a sliding door and the wash basin and taps will be placed lower. The shower area will have a built-in bench so that senior citizens or the handicapped can shower sitting down."
The studios will be complete with enough space for a small kitchen, dining table, refrigerator, washing machine and dryer.
"Buyers can either live there or rent out the units. We provide an electrical sub-meter and if the studio is rented out, the owner can ask a wire man to put in another meter," Tan says.
He adds that the layout designs of the development are targeted at two groups of people — homeowners and upgraders. Types A and B cater for young couples or small families while the bigger units are for people who want a bigger space and have an extended family.
"There aren't many investors in Bukit Rimau, so we have to be realistic and cater for specific groups."
To date, about half the units have been booked and Tan is confident that the development will be a success. "In those days, when people wanted to buy a property, they considered three things — location, location and location. They still consider three things but these are location, price and design. The development has to be at the right location, have the right sizes and come at the right price. I believe our development is at a nice location as it is next to a highway and it is sized correctly and priced competitively."
Future plans
Other than Gaya Resort Homes, PDMC will also be launching Taman Gaya Merak — a RM60 million mixed-use development in Kuala Selangor — in the first quarter of the year. It will comprise eight 3-storey shopoffices, 18 three-storey semi-detached houses and 60 three-storey terraced houses.
Depending on the market, Tan says the company may launch a RM120 million gated residential project with clubhouse facilities in Bentong, Pahang. It will comprise 151 2½-storey superlink houses, 46 1½-storey semidees and 23 three-
storey bungalows.
PDMC has four projects in the pipeline as well. It has already obtained a development order for a 176-unit condominium called T-Residence in
Temerloh, Pahang, and Tan says it may be launched next year.
The other three projects will be located in Puchong, Melaka and Johor.
PDMC currently owns just 54 acres of undeveloped land. "We are a small company, so we don't have a lot [of land]. But the good thing is that our land is ready for development. These parcels are very valuable. On average, they are about RM25 psf, so 54 acres come up to RM58 million," Tan says.
"This is what I always emphasise … there is no point in having much land that is not ready for development. It is better to have a few pieces of strategically located land that can be developed anytime when the market is ready."
As the company is only 11 years old, Tan says he will need to continue to build up market confidence and publicity. "In the near future, when the time is right, we will go into bigger projects like townships. We will not remain a small boutique developer."
Minimum borrowing is Tan's strategy to reduce risk. "As long as we have minimum borrowing, we can face any challenge. If the market collapses, we can still survive."
Moving forward, Tan will be focusing on Selangor, where the company is based, as it will be more convenient to get things done. He has identified two hot spots — Dengkil in Sepang and Kuala Selangor.
"The land is cheap [there] and the houses are still very affordable. The only problem is the travelling time [to the city centre]. But there are a lot of highways now and very soon, the distance would not be an issue," he says.
The long-term plan for the company is to seek a listing on Bursa Malaysia. "The market is a little haywire, so it is not advisable now. But we have plans to consolidate our businesses and go for listing. From my experience, the property market will pick up this year or at the latest next year. By then, I think it should be a good time to look at listing again," Tan says.