This article first appeared in City & Country, The Edge Malaysia Weekly, on October 28, 2019 - November 03, 2019.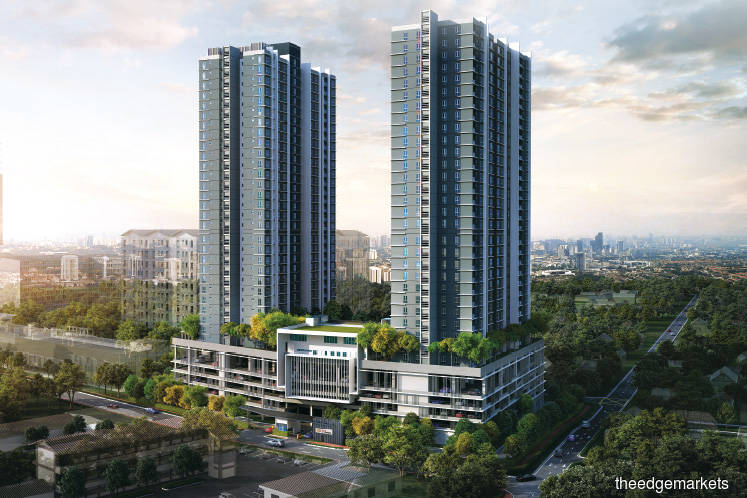 121 Residences comprises 554 SoHos and 280 serviced apartments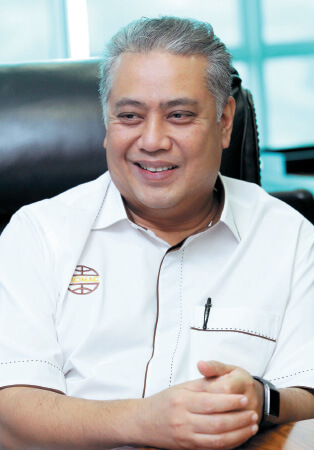 There is demand for quality properties in good locations that are near transport hubs, and with a good degree of affordability." — FD Iskandar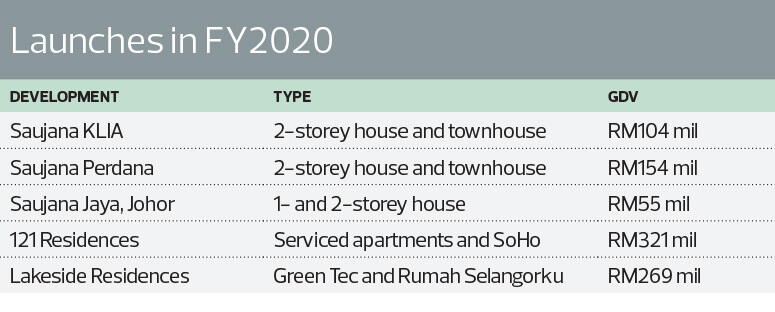 Glomac Bhd has had a relatively low-key couple of years. However, that does not mean that the developer has been idle — far from it, says group managing director and CEO Datuk Seri Fateh Iskandar Mohamed Mansor, or better known as FD Iskandar.
"We used the time to strategise. There were projects planned but because of the challenges that we faced in the property market, we had to reject some of the projects and take a closer look at what the market wanted. The last two financial years were fairly slow, to be honest. We only launched about RM290 million worth of products in 2017 and about RM460 million last year," he continues.
The group recorded revenue of RM584.1 million and new sales of RM420 million in its financial year ended April 30, 2017 (FY2017). The following financial year, revenue and new sales decreased to RM404.72 million and RM214 million respectively. In FY2019, revenue fell further to RM273.3 million but new sales jumped 51% year on year to RM323 million.
According to FD Iskandar, conservatively, 70% to 75% of the newer Glomac developments were taken up within the first six months of their launch. One of its most successful projects is [email protected] Jaya, which was launched in June last year.
"We had not done high-rises and strata units for quite a while. When we launched [email protected] Jaya, we saw that demand was still there. The project has given us the confidence to return to the market. There is demand for quality properties in good locations that are near transport hubs, and with a good degree of affordability," he adds.
FD Iskandar says the plan for [email protected] Jaya was approved more than 1½ years ago. "At the time, we were not confident, so we went back to the drawing board and did some research. Then we went back to the local council. A year later, we finally launched the project. Today, the take-up rate is about 80%."
The 3.22-acre development will comprise 700 serviced apartments and small offices/home offices (SoHos) as well as 18 shopoffices, which will be launched at a later date. The smaller built-ups — 450 to 750 sq ft — of the apartments and SoHos mean that they can be priced lower at RM300,000 onwards. The project has a gross development value (GDV) of RM347 million.
"People are looking at the affordability of the product. There was a time when they wanted larger units but now, they are thinking maybe they should start with a smaller unit first and upgrade later," says FD Iskandar.
Now, Glomac hopes to replicate the success of [email protected] Jaya at 121 Residences in Petaling Jaya, Selangor.
Strategic location and the right price
The leasehold 121 Residences sits on a 3.1-acre parcel in the vicinity of Bandar Utama. It will comprise 554 SoHos and 280 serviced apartments in two towers with a total GDV of RM321 million.
Tower A (445 units) was soft-launched in August and has achieved a take-up of 93%. Tower B (389 units) was previewed  for registered prospective buyers in the middle of this month and has seen a take-up of 40%.
Like [email protected] Jaya, 121 Residences offers units with built-ups of 450 to 750 sq ft and either 1+1 or 3 bedrooms. The units are priced from RM325,000 to RM605,000, or RM745 to RM808 psf.
One of the key selling points of the project is its location. It is 400m from the upcoming Kayu Ara light rail transit station and next to the Sprint Highway as well as in close proximity to amenities such as The British International School of Kuala Lumpur, First City University College, Glo Damansara Shopping Mall, Centrepoint Bandar Utama, The Curve, KPJ Damansara Specialist Hospital, Thomson Hospital Kota Damansara and 1Utama Shopping Centre. There are also several family and leisure sports venues nearsuch as Bukit Kiara Park, TPC Kuala Lumpur, Tropicana Golf & Country Resort, Central Park Bandar Utama and Mutiara Damansara Recreational Park.
"Young people prefer smaller units with facilities and in locations near public transport," says FD Iskandar, adding that 121 Residences will attract both investors and owner-occupiers, as has been the case at [email protected] Jaya.
Despite their small built-ups, the units are more than sufficient for single occupants and small families, he opines.
"Some people may say that 450 sq ft is too small but to put things in perspective, 450 sq ft is big for people in Hong Kong. I believe that we have, through experience and innovation, created the right space for the 450 sq ft units. There are actually two rooms — of course, for the second room, you will have to be a bit more creative with the placement of the furniture," says FD Iskandar.
Packages for fittings, such as kitchen cabinets worth between RM25,000 and RM50,000, are available.
"The price of the package can be incorporated into the selling price. It's not easy, especially for young people, to come up with the 10% deposit and still have to find the money to pay for fittings," explains FD Iskandar.
At [email protected] Jaya, he has noticed parents helping their offspring with the deposit payment and he expects this trend to continue at 121 Residences.
"With several educational institutions in the vicinity, you are going to get out-of-towners who will need places to stay. And you will get parents who are willing to buy a unit or two for their children," says FD Iskandar.
Glomac has put in a lot of work to ensure that 121 Residences will be a place the young crowd will want to stay in.
"We sent out questionnaires to the target market and asked them, if we are selling a residence at RM300,000 to RM600,000 in this area, what would they like to be included in the development. The answers would surprise some people, and they are all fairly similar.
"It wasn't long ago when the No 1 facility on people's list was a swimming pool, and there was also a time when people wanted squash courts. Five years ago, it was a futsal court. Today, young people are talking about the concept of wellness and the No 1 facility on the list is a well-equipped gym," says FD Iskandar, adding that there are also requests for basketball courts and a pet-friendly environment.
Glomac plans to have a community lounge in 121 Residences where residents can mingle and socialise. The furnished lounge will have high-speed broadband and games such as darts and table tennis.
Plans for the future
The group recorded revenue of RM51.9 million and profit before tax of RM4.7 million in the first quarter of FY2020. It currently has a portfolio of developments with a GDV of RM8 billion.
For the second half of FY2020, the developer is targeting to launch projects with an estimated GDV of RM903 million. FD Iskandar says there are plans to launch developments at its townships — Saujana Perdana in Sungai Buloh, Saujana Rawang and Saujana KLIA — as well as standalone projects, which will be in the mid-market and affordable segments.
"The townships will give us steady sales while the smaller standalone projects will provide us with faster turnaround and better returns. So, we need both," he adds.
One development FD Iskandar is particularly excited about is the 174.23-acre Saujana Jaya @ Kulai, Johor. A joint venture between Kumpulan Prasarana Rakyat Johor and Glomac, it will comprise 1,878 residential and commercial units. It has an estimated GDV of RM710 million.
"Saujana Jaya is different from our other township in Johor — Sri Saujana in Kota Tinggi — because Kulai is a much more vibrant area. The township is located only several kilometres from the Johor Premium Outlets and is in front of the mature Taman Scientex township."
He is "cautiously optimistic" about Saujana Jaya, noting that Johor is a challenge right now. "Everyone is talking about the overhang in the state. However, our products in Saujana Jaya are not high-rises. They will be landed homes in the RM400,000 to RM500,000 price range, which is what we believe Johorians want and need."
Phase 1 was launched in June last year. Named Freesia, it will comprise 110 two-storey terraced houses with built-ups of 1,750 sq ft each. It has seen a take-up of 75%.
Glomac is working on enhancing the next phase of Saujana Jaya and expects to launch it in 1Q2020.
Despite the current challenging market, the developer is confident that it will continue to maintain steady sales.