This article first appeared in Personal Wealth, The Edge Malaysia Weekly, on May 28, 2018 - June 03, 2018.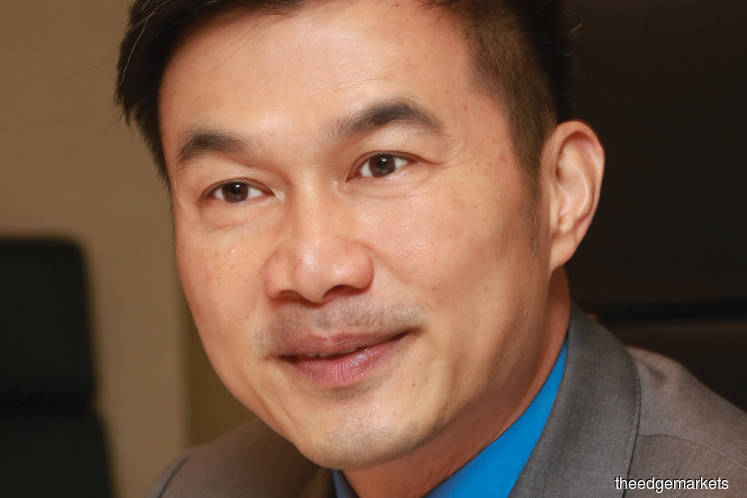 The take-up of temporary, pay-as-you-go insurance products is increasing, observes Sun Life Malaysia Assurance Bhd CEO and president Raymond Lew. This could impact the future demand for traditional long-term insurance plans, particularly among millennials.
That is because they are more focused on their short-term needs and they do not want the burden of long-term financial commitments, he explains.
"I think that will be the trend. So, we will need to reinvent ourselves," says Lew.
"Insurance may no longer be a long-term thing. [Young people] do not want to be tied down. They want to have coverage for this month or this year, and they will review it again next year. They know the importance of life insurance but say, 'You don't need to talk to me about 20 or 30 years from now. It is too far away.'
"Short-term products are good for those with specific term needs, such as someone who only wants coverage for 10 years or until his child starts earning a living."
However, despite the risks of shorter periods of coverage, these insurance products may be cheaper in the long run because the long-term pricing assumptions are not built into them.
"You may hear a lot about how an agent promised that the premium would be enough to support the policyholder for the next 20 or 30 years. But eventually, the agent comes back and says, 'This is not enough. You need to top up your policy.' This is a misalignment because the reality is that the interest assumptions used 10 or 20 years ago are no longer applicable in today's world," says Lew.
"That is why we put a lot of emphasis on asset liability management, on whether we can deliver our promise to our clients. In hindsight, some of these short-term products are more workable and more cost-effective if you just need protection and not other things like returns."
Sun Life has taken a step in this direction with its first telco-assurance product, Golife, which was jointly launched with U Mobile in May last year. It was the first collaboration of its kind in the country.
The micro-insurance product, which is a term life insurance policy clubbed with medical benefits, can be purchased for a monthly premium of RM5 or RM10 via a mobile phone, which cuts out the middleman such as agents or banks. As at last month, there were more than 3,000 subscribers on this channel, most of whom were aged between 25 and 35.
"The entire distribution and servicing of the insurance products and services are conducted via the U Mobile app with no human intervention. It is low cost and provides high value to clients. The transaction, provision of insurance coverage, servicing, communication and payment of premium is done entirely via the app," says Lew.
These types of products work because on-demand insurance, also referred to as sachet insurance, offers reasonably priced premium payments. "The focus is not on one's health condition but on their needs, values and affordability," he says.
But as their clients age and have a better awareness and understanding of insurance, they are advised to upgrade to policies that have long-term coverage. "As they enter different life stages, their needs change," says Lew.
This model also improves the insurance penetration rate to an extent. According to Bank Negara Malaysia, the growth has been marginal at 5%, despite the fact that life insurance premiums and family takaful contributions have grown by 48% since 2010. The numbers indicate that the industry is concentrated on a narrow segment of insurance, the central bank says.
"If we eliminate double-counting, only 35% of adults have some form of coverage. For the rest, the products are too complex and remain unaffordable. The existing distribution channels also fail to provide adequate access, especially outside urban centres. Technological advancements are not being used to the fullest," Bank Negara governor Tan Sri Dr Muhammad Ibrahim said at the Malaysian Insurance Summit last year.
However, insurers cannot fully rely on online and mobile distribution channels to offer products in Malaysia. While insurance technology (insurtech) is a trend of the future, the agency force and bancassurance channels are still the main drivers of new business, representing more than 80% of the new premiums in the life insurance sector, according to Bank Negara last year. The online distribution channel brought in less than 1% of the new premiums collected.
That is why even though Sun Life ventured into insurtech last year by offering Golife, it is also recruiting agents to be part of its workforce. Prior to 2017, the insurer did not have an agency force in Malaysia. The company was the third largest bancassurance player last year, according to Sun Life Financial Inc's 2017 annual report.
"Generally, from an industry point of view, you see half of the business coming from agents and the other half coming from banks. There is some business coming from the digital, group and broker [segments], but it is negligible. That is why Sun Life wants to claim a share of the agency segment as we continue to grow our bancassurance business," says Lew.
"We are one of the top-tier players in bancassurance and we continue to work on our digital offerings. That is the position we are taking. No matter how we reinvent ourselves, we think the consensus is that we cannot replace the agents."
Bancassurance also comes with its own set of challenges, especially when it comes to providing personalised services when there is a high turnover of bank staff. Banks may not prioritise the sale of insurance products as they have a lot of other products to promote. Also, insurance matters may require a longer consultation, he adds.
As a result, insurers must ensure that they have several channels of distribution in Malaysia. "We need to reinvent ourselves and look at multiple channels. It is about whichever channel is preferred by the clients. It is no longer about whichever channel the insurer thinks is most cost-effective or most appropriate. It is no longer about us. It is the client's choice," says Lew.
This must be done even if the demand for other channels is not strong yet. Sun Life currently sells two life insurance and takaful products online.
"We want to let the public view some of the products we offer, but the demand is not there yet. For life and term insurance, we do not see a strong demand. But from an operator's point of view, we are making them available to the public," says Lew.
Another reason technology-based solutions are not yet able to command a huge market share in the insurance business is because there is no "pain point" that compels people to buy life insurance. Technology may enable insurers to present the best products online, but it is ineffective if consumers are not driven to search for them.
"That is why when I am asked whether financial technology (fintech) or insurtech will disrupt the insurance business, [my opinion is that] it probably will. But not in the near term," says Lew.
"In the insurance business, we do not have an immediate pain point. When we feel the pain, we are already gone or we are sick and lying in hospital. It is not like Grab [and other transport service providers]. When you need to go somewhere and you need transport, it is a pain point and technology can solve the problem.
"But in insurance, I can always delay the decision. But the longer you procrastinate, the more expensive it becomes. And it may come to a point where we are no longer insurable. Even if we have the most advanced insurance products online, it is unlikely that people will wake up in the morning and think, 'Oh, I had better get myself insured today'."
He adds that life insurance products are more complicated than general and motor insurance products. "[For life insurance,] when you are buying it online, you cannot have a very comprehensive or full-fledged underwriting engine to build it. It is not here in Malaysia yet because for certain products, you still need to do your medical check-up," says Lew.
"The doctor needs to assess your health, so you still need to have face-to-face advisory. If you declare that you have certain illnesses, the underwriter may request for information and need the hospital to provide a report. And we need to get the information to assess the risk. So, some of the things cannot be done online."
However, he does note that micro-insurance products such as Golife could improve the insurance penetration rate in Malaysia.
Most of the insured are middle-class urbanites. There is low penetration among the bottom 40% (B40) of the population and those who live in non-urban areas, according to the central bank. Lew observes that many insurance agents target urban dwellers because they can afford the higher premiums.
"The underserved live in the kampungs, suburbs and more rural areas — those who don't have access to insurance. We need to have a viable proposition and medium to reach out to this group," he says.
"What we are doing through our tie-up with U Mobile is to offer it at a low cost, with the smallest ticket size, which banks do not want to do. Not everyone can afford a RM5,000-a-year policy. Some can only afford RM500 or RM200. Who is there to serve this segment? So, this is a very cost-effective medium."
Multi-channel approach pays off
Lew, who took the helm at Sun Life last May, is a 26-year veteran of the insurance industry. He initially joined the industry because he enjoyed training and coaching. That passion saw him join several insurers as a salesforce trainer.
Later, Lew moved into other areas such as agency development and sales management. Prior to his role as CEO and president of Sun Life, he was deputy CEO in charge of distribution, marketing and the digital segment.
Lew has been with Sun Life since it was launched in 2013 in Malaysia. The company is a joint venture between Canada-based Sun Life Financial and Avicennia Capital Sdn Bhd, a wholly-owned investment holding company of Khazanah Nasional Bhd, that specialises in insurance and takaful.
In 2012, Sun Life teamed up with Khazanah to buy a 49% stake each in CIMB Aviva Assurance Bhd and CIMB Aviva Takaful Bhd. They were renamed Sun Life Malaysia Assurance and Sun Life Malaysia Takaful Bhd.
"I have been here since the inception. The perspective I have now is to follow through on and maintain some of the things we have started since the inception of the company and some of the plans set by our previous CEO [Ooi Say Teng]," says Lew.
According to him, the company has seen a compound annual growth rate of more than 20% over the past five years, compared with the industry's single-digit growth. The company has grown its market share by a compound annual growth rate of 33% since 2013 while its client base has grown from one million to 1.8 million.
"That is why we will keep doing well in our business-as-usual activities such as growing our bank partnerships. We will also continue to grow our frontier initiatives for the future such as the telco-assurance and agency channels," says Lew.
In addition to launching the telco-assurance product with U Mobile, Sun Life also introduced the SunActiv app (developed in collaboration with BookDoc) last year. The app, which is only available to clients, offers rewards to users who adopt an active lifestyle. BookDoc is a mobile platform that connects patients to healthcare professionals.
"If they achieve a certain activity rate, they will be rewarded accordingly. They can redeem free drinks and online vouchers from approved merchants and outlets," says Lew.
"We want to be their partner and empower them to live a healthier life. This particular digital initiative has garnered a very good response from our clients."
The products offered by Sun Life are aligned with Lew's philosophy — if people focus on living their lives well now, the positivity will spill over into the future. "The way I look at it is if you can secure the present, your future will be secured as well. Life is accumulative. It has to be down to every single thing you do that will result in who you are," he says.
"For example, health is accumulative. It has to do with every meal that goes into your body. If you don't manage the present, don't talk about the future."
To meet the demands of its clients, Sun Life has automated its existing processes to cut down turnaround time. It also uses technology to proactively engage with its clients, says Lew.
"We make life easy for them. In those days, they needed to answer 30 questions. But now, they only need to answer six questions. In those days, they needed to go through 12 pages. Now, they just need to go through six pages," he adds.
"We make life easier for them by cutting down a lot of the underwriting process. We also have a paramedic visit them at their homes to conduct a simple test."
The company is trying to use technology to make it easier for clients to change beneficiaries, review their plans and submit claims. "We have 150 years of history and we are one of the most sustainable companies globally. We take pride in that and want to preserve that position, so doing the right thing is very important," says Lew.
"That is why we are not here to grow market share or top-line sales. Our focus is on clients. If we can do well in serving our clients and do the right things right, then we will have a place in the business."
Observing the industry's evolution and revolution
Lew has observed positive trends in the insurance industry over the past 10 years. He says both an evolution and a revolution has been taking place in the industry at the same time.
"Certain things have moved slowly and steadily. When I started working 26 years ago, the insurance penetration rate was about 15%. It is now 56%. That took us 23 years, with all the hard work by the government, insurers and private sector," he adds.
Bank Negara has set a national insurance penetration rate target of 75% by 2020 — a figure that Lew says will be quite a challenge to achieve in just two years. At the same time, he has seen a revolution take place in the last
5 to 10 years in the form of digital disruption.
"This is where we see technology really come into play. We see that consumer awareness and the level of education and knowledge on insurance has improved tremendously from 20 years ago because of all these key drivers. They have pushed the industry towards professionalism, transparency and the need to deliver value to our clients. In my view, this is really a revolution," says Lew.
"Most of the time, the life insurance industry is quite slow to respond to some of these things. But over the last 10 years, we have seen tremendous changes on all fronts, including how we deal with clients and the use of mobile apps, chat bots and all that."
The industry's workforce is also becoming more qualified and professional while clients are focusing more on living benefits rather than death benefits. They are also more educated.
"In those days, people talked about death and total disablement. But now, we talk about living benefits to cover hospitalisation costs when they fall sick," says Lew.
"People are also more demanding. They want to see value. They want the insurer to engage with them. It is no longer like those days, when I signed up for one whole life policy and that was it. The first time I deal with an agent is when I sign the policy and the next time is when the insurer deals with my next of kin."
This has created the demand for more transparency in the industry and for insurers to provide more value to clients. Sun Life holds quarterly review sessions with employees to make sure they are aware of the latest trends, says Lew.
"I must say that from our experience, the clients who purchase our products know exactly what they want. We follow up with calls to reinforce the sales need. Gone are the days when people have a lot of scepticism about insurance. Now, they all know the importance of it," he adds.
At 51, Lew shows no signs of stopping and the future is something he looks forward to. "When I wake up and put on my work clothes every morning, I look forward to coming to the office. I have enjoyed every single day of my working life. You may think I am overselling it, but it is true. I am very consistent in my energy level and work rate. I am lucky that I have found something I want to do and find a lot of meaning in it," he says.
"I also practise living in the present, so I do not anticipate too much of the future. I still have nine years to go [to retirement], but I do not think too much of that. I just want to make sure I am able to add value to the people around me and continue to be productive.
"If I feel that I am contributing to society and the organisation, then I am very pleased. I will be here as long as I am needed."