This article first appeared in The Edge Malaysia Weekly, on June 15, 2020 - June 21, 2020.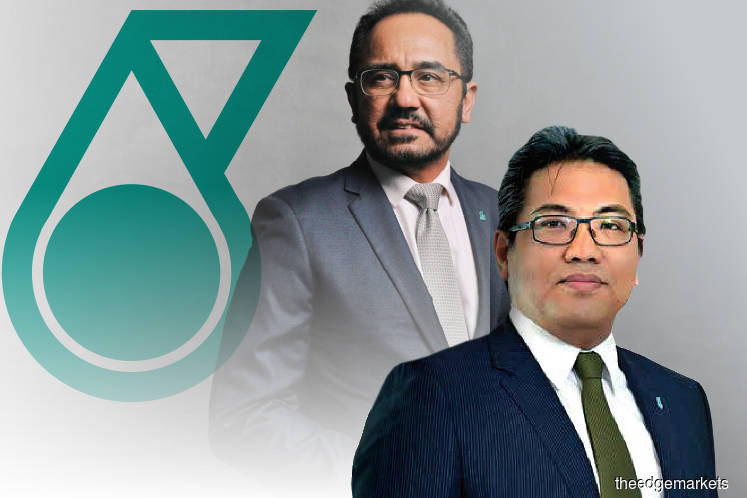 This article is published under the headline "Cover Story: Changes at the helm of Petronas".
IN a span of nine months, national oil company Petroliam Nasional Bhd ­(Petronas) has lost two key executives — Tan Sri Wan ­Zulkiflee Wan Ariffin, president and CEO, who will be leaving at end-June before the end of his term, and Datuk Mohd Anuar Taib, executive vice-president and upstream business CEO, who left in September last year.
Wan Zulkiflee, better known as Wan Zul, took over Petronas' leadership in the first quarter of 2015. His contract was renewed for another three years from April 1, 2018.
He is being replaced by Tengku Muhammad Taufik Tengku Aziz, who is being promoted from the CFO position at the company.
While the two resignations are not related, the departure of the respected oilmen and the circumstances surrounding the events have raised eyebrows.
Wan Zulkiflee's move to Malaysia Airlines Bhd (MAS) as chairman after 37 years at Petronas had one oil and gas executive commenting that it was a move "from Fortune 500 [referring to Petronas being Malaysia's sole Fortune 500 company] to unfortunate 500 [referring to the ailing national carrier]."
Another top-level oil and gas executive is also perplexed. "What a move. Why would someone as experienced as him be shifted to MAS? What is the motivation of putting him there?" However, The Edge understands that the move to MAS may have been requested by Wan Zulkiflee.
It is also worth noting that Wan Zulkiflee's contract was only slated to end next April. After almost four decades serving the national oil company, his departure in such a manner has raised questions.
For its financial year ended December 2018, MAS suffered an after-tax loss of RM791.71 million from RM8.73 billion in revenue. As at end-2018, it had accumulated losses of RM3.36 billion and total debts of just under RM6 billion.
More resignations?
It is understood that there could be more movements within Petronas and its companies. Sources familiar with the company say Datuk Seri Syed Zainal Abidin Syed Mohd Tahir — who was managing director and CEO of the national oil company's 63.94%-owned unit Petronas Dagangan Bhd (PetDag) until January 2020, and is vice-president of marketing for Petronas' downstream business — is set to leave at the end of this month to pursue his own interests. At one time, Syed Zainal, who was previously CEO of national automaker Proton Holdings Bhd, was speculated to be a possible heir to Wan Zulkiflee.
It is also no secret that there was a fair bit of opposition to Tan Sri Noh Omar's appointment as chairman of shipping company MISC Bhd, a 57.56% unit of Petronas. Noh is the former Minister of Entrepreneur and Co-operative Ddevelopment and member of parliament (MP) for Tanjung Karang.
While industry players say Petronas has, at any one time, three to four individuals capable of taking on the CEO role, the departure of high-level executives in such an abrupt manner does not send the right signals to the public.
"Considering how important Petronas is to the government, these high-level departures were not handled well," one market watcher says bluntly.
Word of Mohd Anuar — the de facto No 2 in Petronas then — leaving had surfaced in June last year after he resigned as chairman of Petronas Gas Bhd. But Petronas initially refuted it.
However, on Sept 20, Petronas chairman Datuk Ahmad Nizam Salleh told the media that Mohd Anuar had resigned two days before for personal reasons. Speculation about the reasons and the payoff, if any, is still going round.
Talk of Wan Zulkiflee's departure had been circulating for months. Some say he wanted out because he was opposed to amendments to the Petroleum Development Act 1974 (PDA).
"He didn't want it [the changes to the PDA] to happen on his watch," an oil and gas executive says on condition of anonymity.
Impending changes to the PDA?
The PDA gives Petronas exclusive ownership of the oil and gas resources in Malaysia, and makes it the main regulatory body for upstream oil-and-gas activities.
While it is not clear which terms of the PDA will be amended, they will likely be to the benefit of Sabah and Sarawak. These two states contribute about 60% of the country's oil and gas revenues but receive a mere 5% of oil royalties in return.
Last month, Petronas agreed to pay RM2 billion in sales tax owed to Sarawak for 2019, after an out-of-court settlement was reached. This issue surfaced in January last year, when the Sarawak government imposed a 5% sales tax on Petronas' petroleum products under its State Sales Tax Ordinance 1998.
Petronas sought to declare the tax unconstitutional but lost the case in mid-March when the Kuching High Court ruled that Sabah and Sarawak had the right under the Federal Constitution to impose a sales tax on petroleum products.
Sarawak has agreed to progressively reduce the 5% sales tax rate imposed on the national oil company as a result of Petronas' RM2 billion payment, and the parties issued a joint statement on the payment on May 8.
On June 10, Bernama reported that Sarawak Consultative Committee on Malaysia Agreement 1963 (MA63) chairman, Datuk Amar Mohd Asfia Awang Nassar, said Petronas had yet to pay the sales tax due and had instead filed an appeal over the matter with the Court of Appeal. He added that the May 8 statement was not a formal agreement.
However, on June 12, Sarawak Chief Minister Datuk Patinggi Abang Johari Tun Openg said Petronas was in the process of withdrawing the appeal.
Much of the problem started with the Pakatan Harapan's promise prior to the 14th general election in 2018 to increase oil royalties paid by Petronas to Sabah and Sarawak to 20%.
This came about as Sarawak's former chief minister, the late Tan Sri Adenan Satem, had sought higher oil royalties of 20% and the motion was passed in the Sarawak legislative assembly in 2014.
Sarawak had questioned whether the PDA was valid as it was passed in 1974, when a state of emergency was still in place following the May 13, 1969 riots.
However, once the Pakatan Harapan government came into power, then prime minister Tun Mahathir Mohamad said a 20% oil royalty would not augur well for Petronas and that the government was looking at other means of satisfying the two states — the sale of stakes in Petronas to the state governments of Sabah and Sarawak, among others.
Current Prime Minister Tan Sri Muhyiddin Yassin helms Perikatan Nasional, which is made up of Barisan Nasional, Bersatu and PAS with 93 MPs, and has the support of 18 Gabungan Parti Sarawak MPs, as well as three Gabungan Parti Bersatu Sabah and two independent MPs. This amounts to a total of 116 seats, giving the alliance a majority in the 222-seat Parliament.
A breakdown of Perikatan Nasional's numbers shows the largest contributor of seats is Barisan Nasional (with Umno having 39 MPs, MCA two and MIC one). Muhyidin's Bersatu has 33 seats while PAS has 18, Gabungan Parti Sarawak has 18 and Gabungan Parti Bersatu Sabah, three. There are two independent candidates.
With a change in the PDA to make it more favourable towards Sabah and Sarawak, Muhyiddin could try to court Parti Warisan Sabah, which has nine seats and is part of the Pakatan Harapan coalition.
Bersatu MPs in total make up 28% of Perikatan Nasional, but the party seems to have greater control of the coalition, holding the prime minister and two senior minister roles — Datuk Seri Mohamed Azmin Ali is Minister of International Trade and Industry and Mohd Radzi Md Jidin is Minister of Education.
Umno, meanwhile, only has one senior minister, Minister of Defence Datuk Seri Ismail Sabri. This is despite Umno accounting for 35% of the Perikatan Nasional MPs. The other senior minister is Datuk Sri Fadillah Yusuf of Parti Pesaka Bumiputera Bersatu of Sarawak.
While Muhyiddin has pacified Umno by giving many of its MPs chairmanship of government-linked companies, amending the PDA and giving more royalties to Sabah and Sarawak could placate these two states and the politicians, and give the prime minister much-needed support.
Petronas' importance to the country
Petronas' key companies include Petronas Chemicals Bhd, in which the national oil company has 64.35%; PetDag; Petronas Gas, in which it holds 51%; MISC, and MISC's 66.5% unit, Malaysia Marine and Heavy Engineering Holdings Bhd.
Collectively, these five companies have a market value in excess of RM100 billion. Petronas, meanwhile, provides more than 15% of the country's revenue, and has in the past been asked to assist the government in a myriad of affairs. For instance, in January 2004, it surfaced as a shareholder of Tenaga Nasional Bhd with a shareholding of almost 10%. It is said that the national oil company had acquired the block of shares from the government to enable bonuses to be paid to civil servants.
With its steady cash flow and strong balance sheet, Petronas was also, at one time, a shareholder of Perusahaan Otomobil Nasional Bhd, now Proton Holdings.
For FY2019, Petronas chalked up RM40.47 billion in net profit from RM240.26 billion in revenue. As at end-December last year, it had current assets of RM206.46 billion, out of which RM141.62 billion was cash and cash equivalents. It had long-term debt commitments of RM53.42 billion and short-term borrowings of RM15.32 billion. As at end-2019, it had reserves of RM389 billion.
Petronas paid RM16 billion each in 2016 and 2017, and RM24 billion in 2018, to the government. In 2019, it paid RM54 billion, including a RM30 billion special dividend.
This year, to date, the company has stated that its dividend payment will be RM24 billion.
Petronas' ability to pay dividends is linked to its earnings, which in turn hinge on oil prices. Oil prices are currently volatile because of low demand and supply arising from the Covid-19 outbreak and the fluctuating ringgit.
Last year, with Brent Crude averaging US$64 per barrel, the national oil company recorded RM40.47 billion in after-tax profits on the back of RM240.26 billion in sales.
Year to date, oil prices have averaged only US$42.44 per barrel, as the Covid-19 pandemic has caused people to cancel travel plans and reduced the demand for oil.
For the first quarter of 2020, Petronas' after-tax profit plunged 68% to RM4.5 billion, from RM14.2 billion a year ago, while revenue fell 4% to RM59.6 billion for the period in review from RM62 billion in the first quarter of 2019.
The lower earnings were attributed to net impairments on assets and lower revenue. Sans the impairment, after-tax profits were RM9.2 billion, a 35% drop from the first quarter of last year.
And oil prices may remain at depressed levels in 2021.
Moody's Investors Service recently lowered its oil price assumptions for Brent Crude to an average of US$35 per barrel this year and US$45 per barrel in 2021, or US$8/barrel below the rating agency's March 2020 assumptions. Medium-term oil price assumptions are now US$45 to US$65/barrel, compared with US$50 to US$70/barrel in March.
"The deeper global economic recession that we now expect in 2020 in all major advanced economies and the drastic reduction in travel in particular have reduced demand for oil products beyond our previous assumptions," says Alexander Perjessy, a senior analyst at Moody's.
"This lower-for-longer oil price environment will weaken all oil exporters' fiscal and external positions," he adds.
It is against this backdrop that Wan ­Zulkiflee is passing the reins of the national oil company to Muhammad Taufik.