This article first appeared in The Edge Malaysia Weekly, on January 15, 2018 - January 21, 2018.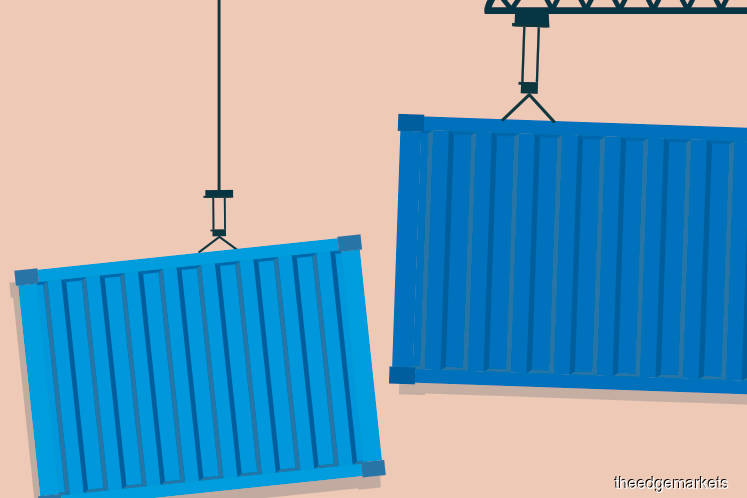 THE export sector's impressive performance in 2017 no doubt boosted Malaysia's economic growth — averaging 5.9% in the first three quarters of the year.
The monthly double-digit export growth recorded from January to November last year came after almost benign growth in 2016. Export growth for the first 11 months of 2017 averaged 20.7%, a figure many did not expect.
While a weak ringgit against the US dollar helped, it should be noted that compared with 2016, the ringgit had fared much better against the greenback.
Labelled as one of Asia's worst performing currencies of 2016, the ringgit came out much stronger in 2017. Although it started off 2017 on a weak note — hitting 4.4975 against the US dollar on Jan 4 and marking its lowest level since the drop in crude oil prices in 2014 — the ringgit has appreciated 10% since then, closing at 4.0465 against the greenback on Dec 29.
Another point to note is the growth in export volumes. Although it was not exactly synchronised with the growth in export value, the numbers were not too far off. For example, when export value grew 32.5% year on year to RM79.4 billion in May 2017, the export volume index rose 20.6%. The latest trade numbers released earlier this month show that November export volume grew 9.7% while value rose 14.8%.
The growth in export volume was in tandem with the improvement in the global economy in 2017, which prompted the International Monetary Fund to revise its global growth forecasts for 2017 from 3.5% to 3.6%, and for 2018 from 3.6% to 3.7%.
After a good year, will export growth moderate in 2018?
The short answer is yes, according to economists, but it will still be at levels supportive of economic growth.
Affin Hwang Investment Bank chief economist Alan Tan sees export growth moderating to 7% to 8% this year as a result of the high base in 2017.
"In the first half, we do see relatively strong export growth in the range of 10% to 15% y-o-y, which we expect to moderate to single-digit growth in the second half. So, for the full year, we are expecting exports to grow 7% to 8% y-o-y.
"In 2017, the growth driver for the economy was exports. We think that stronger domestic demand will likely cushion the slowdown in exports this year. All in all, we remain optimistic that our gross domestic product (GDP) growth will be in the region of 5%," he tells The Edge.
UOB Malaysia senior vice-president of global economics and market research Julia Goh concurs. She expects export growth to moderate from 12% in 1H2018 to 8% in 2H2018.
"This is in keeping with gradual normalisation of global trade and moderation in global semiconductor sales. Exports of manufactured items are expected to remain the main driver while commodity exports take a breather due to the high-base effect and China's slower economic growth," she says.
MIDF Research chief economist Dr Kamaruddin Mohd Nor is cautiously optimistic about the export performance this year, expecting it to post 9.3% y-o-y growth.
"The trend is expected to continue, albeit at a moderate pace due to the high-base effect. Geopolitical uncertainties, policy risks and the threat of protectionism are some of the possible headwinds going forward," he says.
The bulk of Malaysia's exports in the 11-month period ended November 2017, which amounted to RM856.1 billion, consisted of electrical and electronic products (E&E) (36.7%), palm oil and palm oil-based goods (8.4%) and refined petroleum products (6.1%). Others included liquefied natural gas (4.3%), crude oil (3%), timber and timber-based products (2.5%) and natural rubber (0.5%).
Does a stronger ringgit spell lower earnings for exporters?
Nomura economist for Southeast Asia Brian Tan expects only partial reversion of the export competitiveness gain that was enjoyed when the ringgit was weak.
"I emphasise 'partial' here. I think that is the operative word. If you look at where the ringgit is now, it is still relatively low compared with where it used to be, at least prior to 2014 when oil prices started collapsing. So, we are not particularly worried about the situation," he says.
"To give you some perspective, we were closer to 3 to 3.25 to the US dollar back in 2014, and now we are at about 4. So, there will be some reversal in that gain in export competitiveness, but it's not going to be something that really offsets all of that boost."
Areca Capital CEO Danny Wong says theoretically, exporters are expected to see lower conversion gains with the strengthening of the ringgit unless they practise hedging against currency risks.
"However, if the exporters see an improvement in capacity utilisation as a result of an improvement in global demand, their capacity to export increases and this can easily cover the impact from currency movements. It boils down to each individual company — how they have prepared for currency fluctuations and whether they have [capitalised] on the opportunity of an increase in global demand to boost their exports," he adds.
Tan expects Malaysia's export growth to sustain at relatively strong levels, supported by the E&E sector.
"There is a temptation to look at electronics as something that is mainly tied to smartphones, but what we are seeing in the past year or so is a lot of the applications in electronics manufacturing are actually broadened out," he says.
"For example, the fourth industrial revolution applications that have been popping up and the electronics needed to fill those applications, the Internet of Things and even cryptocurrency mining is increasingly driving electronics demand.
"Because of that, we expect demand for electronics across the region to persist in 2018 and ultimately, we think that this will be a key source of support for Malaysian exports and the economy."
TA Securities head of research Kaladher Govindan says a 1% drop in the US dollar to ringgit exchange rate will potentially impact semiconductor earnings by 1.8% to 5.4%. However based on an exchange rate of 4.1 to the greenback for 2018, he is still projecting a 6.8% earnings growth for the sector.
"This will be driven by the generation of new revenue streams and exposure to fast-growing segments in the market," he says.
PublicInvest head of research Ching Weng Jin says with the projected improvement in global growth this year, it would provide a buffer should there be any downside for exporters as a result of a stronger ringgit against the greenback.
"With the global economy improving, the growth in demand for [exports] will come in, so I don't think there will be a major drop in earnings for exporters this year. In terms of translated earnings, it could be slightly lower but it will be mitigated by higher demand. The share prices of glove makers have performed well despite the strengthening of the ringgit against the US dollar [towards the end of last year] as a result of stronger demand. We believe this will hold up in 2018. EMS (electronics manufacturing service) players such as SKP Resources Bhd and VS Industry Bhd are also expected to continue to do well, premised on stronger demand for their products," says Ching.
According to recent data released by global semiconductor industry association SEMI, global sales of semiconductor equipment are expected to increase 7.5% in 2018 to US$60.1 billion from forecast sales of US$55.93 billion in 2017.
UOB Global Economics & Market Research notes in a report last week that a potential headwind to watch out for is the regional central banks' posture which is biased towards gradual tightening in their monetary policy as further strengthening in the Asian currencies could undermine the export sector competitiveness.
With export growth expected to moderate this year, domestic demand is expected to step in to deliver GDP growth for the year. That being the case, then one key catalyst the market will certainly be looking out for is the 14th general election.
Save by subscribing to us for your print and/or digital copy.
P/S: The Edge is also available on Apple's AppStore and Androids' Google Play.