This article first appeared in City & Country, The Edge Malaysia Weekly, on October 21, 2019 - October 27, 2019.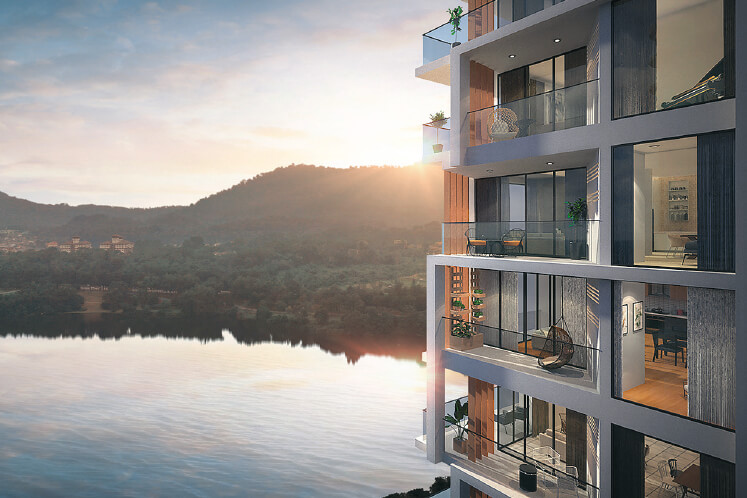 The 73-acre Kiara Bay is located next to Kepong Metropolitan Park.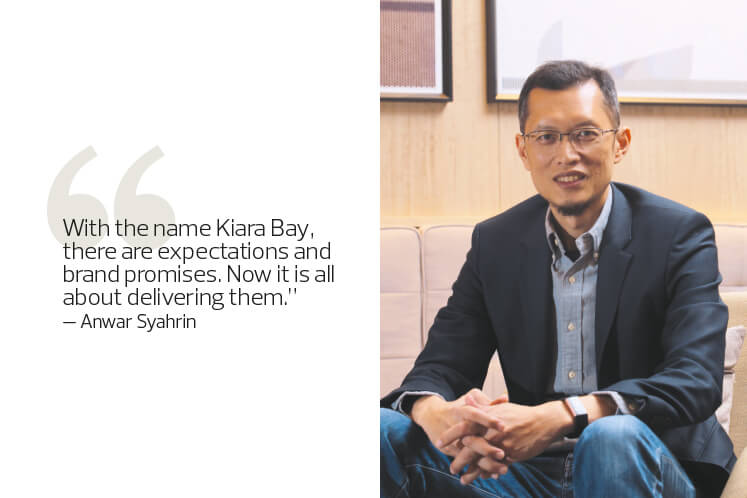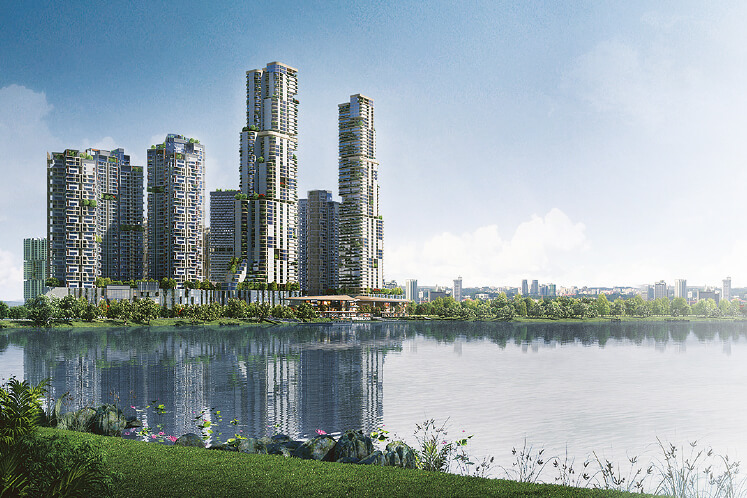 An artist's impression of Kiara Bay, which will have a total built-up of 19 million sq ft. Pictures by UEM Sunrise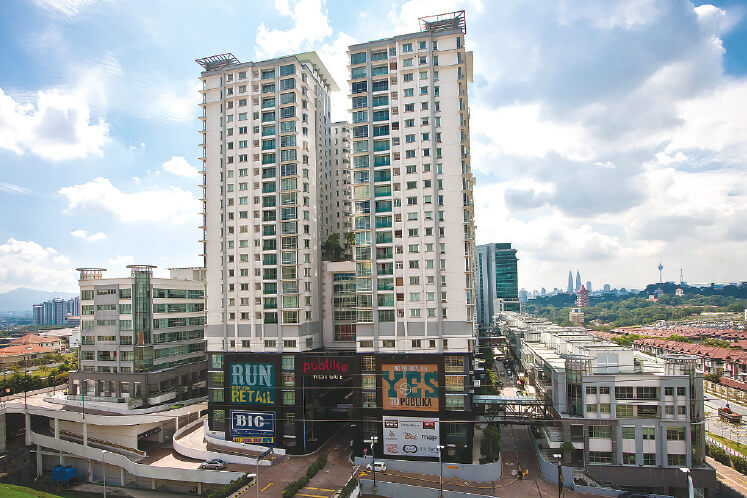 There will be a neighbourhood mall, which will be slightly bigger than Publika Shopping Gallery in Mont'Kiara.
Click / Tap image to enlarge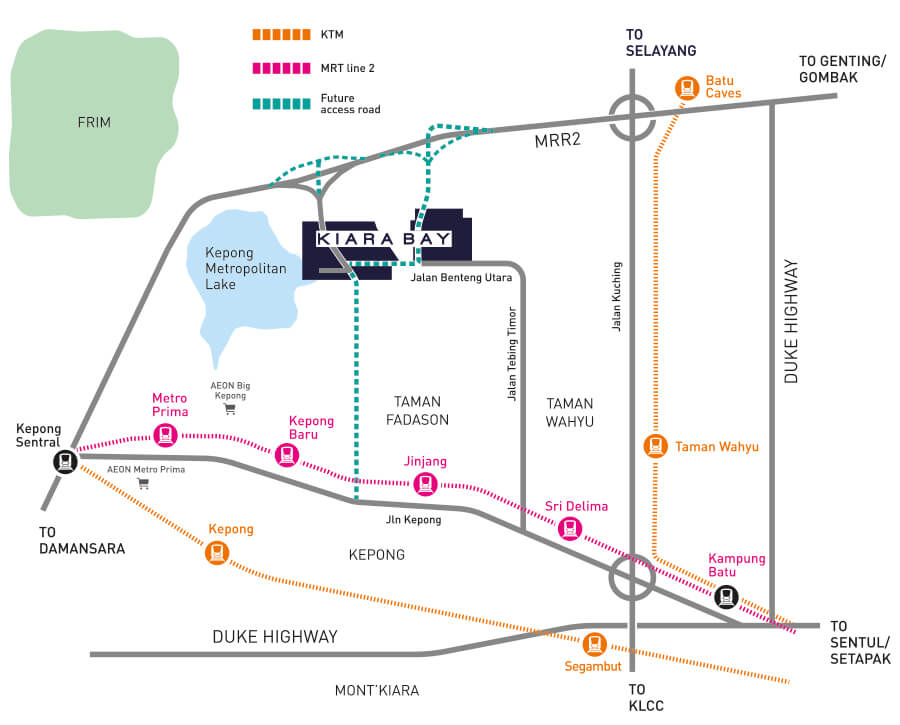 UEM Sunrise Bhd is known for developing Mont'Kiara into the upscale, self-sustaining township it is today. The pioneer developer has been popularising condominium living there since the early 1990s.
Today, Mont'Kiara is a designated international zone with more than 20 condominium developments, exclusive bungalows as well as commercial and retail outlets. Located just 12km from the Kuala Lumpur City Centre, it is a favourite address for both locals and expatriates.
After three decades in developing Mont'Kiara, the developer is ready to launch another township nearby, this time focusing on locals. UEM Sunrise is looking to build a mixed-use development, Kiara Bay, on the 73-acre parcel next to Kepong Metropolitan Park and plans to unveil the master plan on Oct 24.
The 235-acre Kepong Metropolitan Park has a 140-acre lake where members of the public can fish, as well as a huge field where the young and old alike can fly kites. Other facilities at the park include a cycling track, jogging track, viewing tower, children's playground and boat house.
Greenery and water feature
UEM Sunrise CEO and managing director Anwar Syahrin Abdul Ajib says the leasehold Kiara Bay development will be developed over 20 years and have a gross development value of RM15 billion. It is developed jointly with Melati Ehsan Group.
With a plot ratio of six, the developer is looking at a total built-up of 19 million sq ft in Kiara Bay, he says. "Kiara Bay will be a high-rise township, similar to that of Mont'Kiara, but with the target being the local market because it is a strong market now … the high-end market can be challenging because people are more discerning now. However, we hope that Kiara Bay will eventually attract the international crowd," he tells City & Country.
"Being next to a park is a huge attraction because property is all about location … the park and sports facilities are what attracted us. Many developers have to spend a lot of money on infrastructure and water features but, for us, the green lung and the water are already there … we just need to make sure that we maximise these resources."
Kiara Bay will comprise three districts — The Waters (the lakefront district), The Walk (a bustling commercial hub) and The Village (for active multi-generational living).
UEM Sunrise will build two interchanges to connect the project to the adjacent Middle Ring
Road 2. The development is currently accessible via Jalan Kuching and Duta-Ulu Kelang Expressway in the east, North-South Expressway and Selayang-Kepong Highway in the west and Damansara-Puchong Highway in the southwest.
The development will also be served by four stations on the Mass Rapid Transit Sungai Buloh-Serdang-Putrajaya Line 2.
"People are getting more sophisticated. They travel more to learn about different cultures … they don't go for big houses but they make sure that they have a nest to go home to. They know where to get groceries, services, recreation and so on. We need to think of the expectations of Malaysians at large and we believe modern and contemporary high-rise townships cater for those expectations."
The sizeable parcel is an advantage for the developer as it is able to curate the development to encourage community living; the surrounding areas already provide amenities such as schools, healthcare service providers and supermarkets.
Anwar Syahrin notes that Kepong is an underserved area and there is a strong demand from potential upgraders as well as parents who want their children to live near them.
"It is very exciting for us because we saw more land deals being concluded after we got our land … this shows that other developers are also excited about the growth prospects there. Our project is designed for people from all walks of life, whether singletons or families. Residents in the surrounding areas are comfortable and do not want to move out. This is an opportunity for them to continue to stay in the area — but within a modern township," he says.
Community living
Anwar Syahrin adds that, for a start, UEM Sunrise will build a 10-acre community retail area next to the park, which will house a sales gallery and a few retail units. These interim structures will remain for about 10 years before a permanent structure is built.
To be opened by the third quarter of next year, the community retail area will feature two anchor retail operators, one of which is an international supermarket brand, as well as F&B operators and a drive-through café.
"This will give the public a place to go to after they go to the park. At the same time, it will help to create awareness of the development among the public. We are going to sign tenancy agreements with the operators soon," Anwar Syahrin adds. "Also, this is where we want to bring in excitement, to change the public's perception of Kepong. We want to share the storyline and vision we have for the area. We also want to change the perception of the locals towards high-rise living. Changing perceptions involves a lot of branding work."
Kiara Bay will comprise a residential component (80%) and a commercial component that will include retail outlets and offices.
After the unveiling of the master plan, the first phase of the development will be open for preview next month. Spanning 4.4 acres, this phase will offer 870 apartments and 11 shop units on the ground floor.
The built-ups of the apartments will range from 830 to 1,300 sq ft with prices ranging from RM600,000 to RM900,000. The developer will retain the shops so that it will be able to control the tenancy mix.
Similar to its other developments, UEM Sunrise will manage the residential blocks at Kiara Bay via its subsidiary, SCM Property Services Sdn Bhd, until a management corporation is formed.
Anwar Syahrin notes that the shops will be similar to the shops in Mont'Kiara, in that they will face the main road. The operators will offer services to fulfil the daily needs of residents.
"There will also be a neighbourhood mall, which will be slightly bigger than Publika [Shopping Gallery]. Internally, we went through many debates and discussions on the details of the development because in this current environment, we have to be very specific about our target market. There are now more choices and good deals," he says.
"The planning process for Kiara Bay was a robust one for us. We talked to people in the area, we formed focus groups, we talked to our customers and our staff even went jogging at the Kepong Metropolitan Park to carry out a market survey. "With the name Kiara Bay, there are expectations and brand promises. Now it is all about delivering them. And we will make sure that we deliver those expectations."
Anwar Syahrin believes that the unique selling points of Kiara Bay include its greenery and water features as well as the fact that it is a self-sustaining development that is being built by an experienced master developer. The development's modern lifestyle will complement the surrounding mature areas and townships. These unique selling points differentiate Kiara Bay from its competitors, he adds.
"We know what we can give and people value our brand. As a master developer, we will be able to bring in something different to make Kiara Bay the next Mont'Kiara. We will bring all the learning and experiences we have had from Mont'Kiara to Kiara Bay," he says.
UEM Sunrise is looking to launch the second phase of Kiara Bay in 2021 but the exact date depends on the response to the first phase.
"We don't go too big [at once]. We are conservative but optimistic at the same time. After some time, we believe Kiara Bay will be a much-talked-about place. We are cautious. We went through a robust process internally and we even hired a consultant to look at how we could influence people to gravitate to a certain area. We have the data and we need to interpret it into behaviours."
Time will tell whether UEM Sunrise will be able to replicate Mont'Kiara's success in Kepong.