This article first appeared in The Edge Malaysia Weekly, on October 14, 2019 - October 20, 2019.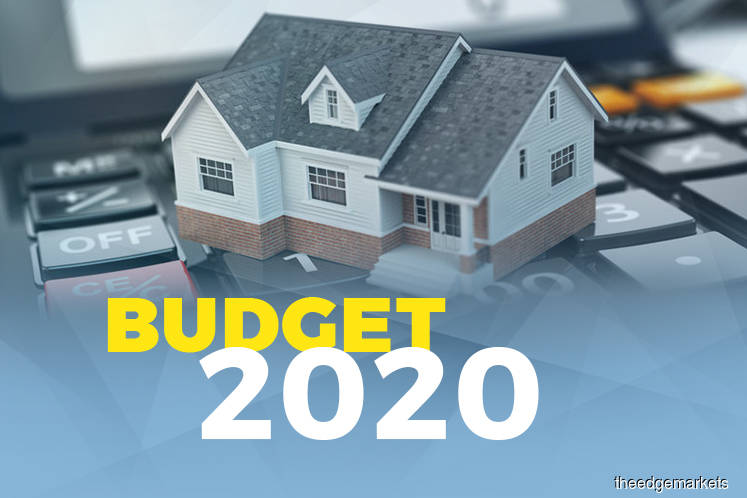 ATTRACTING INVESTMENTS
•    Setting up of a "Special Channel" under InvestKL to attract investments from China
•    A new incentive framework to promote investments to be ready by Jan 1, 2021
•    RM1 billion worth of customised incentives annually for targeted Fortune 500 companies and global unicorns in the digital sector that invest at least RM5 billion each and create 150,000 high-quality jobs over the next five years
•    RM1 billion in customised incentives annually over five years for Malaysian businesses that export goods and services globally
•    Income tax exemption of up to 10 years for electrical and electronics (E&E) companies that invest in selected knowledge-based services
•    A special investment tax allowance for E&E companies that have exhausted their reinvestment allowance to further reinvest in Malaysia
HOUSING
•    Lowering the high-rise property price threshold in urban areas for foreign ownership from RM1 million to RM600,000
•    Introducing Rent To Own financing scheme for purchasers of first homes priced up to RM500,000
•    Extending the Youth Housing Scheme administered by Bank Simpanan Nasional from Jan 1, 2020, to Dec 31, 2021
•    Revising the base year for the Real Property Gains Tax imposed on disposals of properties after five years for assets acquired before Jan 1, 2013, to Jan 1, 2013, from Jan 1, 2000
LOGISTICS
•    In-depth feasibility studies on the development of Pulau Carey, the Serendah-Port Klang Rail Bypass for cargo shipments and the Klang Logistics Corridor for commercial vehicles
•    RM50 million for repairs and maintenance of roads leading to Port Klang
•    Deferred payment facility under the Customs Department to expedite the clearance of cross-border transactions
•    RM50 million to stimulate public-private partnerships for the Kota Perdana Special Border Economic Zone in Bukit Kayu Hitam
GAMING
•    Higher minimum mandatory penalty of RM100,000 for illegal gamblers, along with a minimum mandatory jail sentence of six months
•    For illegal operators, a higher minimum mandatory penalty of RM1 million and a 12-month minimum mandatory jail sentence will be imposed
•    Commencing 2020, the number of special draws for numbers forecast operators will be reduced from 11 to 8 a year
CORRIDOR DEVELOPMENT   ACTIVITIES
•    RM50 million for the development of the Chuping Valley Industrial Area in Perlis by the Northern Corridor Implementation Authority
•    RM69.5 million for the development of Kuantan Port-related projects by the East Coast Economic Region Development Council
•    RM42 million for the construction of the Sungai Segget Centralised Sewerage Treatment Plant in Johor by the Iskandar Regional Development Authority
•    RM55 million for the development of infrastructure in Samalaju Industrial Park in Sarawak by the Regional Corridor Development Authority, Sarawak
•    RM20 million for the development of the Sabah Agro-Industrial Precinct by the Sabah Economic Development and Investment Authority
DIGITAL ECONOMY
•    The Malaysian Communications and Multimedia Commission (MCMC) to finance at least half of the required investment under the National Fiberisation and Connectivity Plan, with corresponding investments by private telecommunications players via a matching grant mechanism
•    RM250 million allocation by MCMC to leverage various technologies, including via satellite broadband connectivity
•    RM210 million to accelerate the deployment of new digital infrastructure for public buildings, particularly schools, and high-impact areas such as industrial parks
•    Setting up a 5G ecosystem development grant worth RM50 million
•    RM25 million contestable matching grant to spur more pilot projects on digital applications that leverage fibre optics and 5G infrastructure
•    RM20 million for the Malaysian Digital Economy Corporation (MDEC) to grow local champions in creating digital content, especially in electronic games, animation and digital arts
•    50% matching grant of up to RM5,000 per company for small and medium enterprises that adopt digitalisation measures for their business operations, such as e-POS, ERP and electronic payroll system
•    RM550 million smart automation matching grants to 1,000 manufacturing and 1,000 services companies to automate their business processes. This grant will be given on a matching basis up to RM2 million per company.
•    RM70 million for MDEC to set up 14 one-stop digital enhancement centres and RM10 million to train micro-digital entrepreneurs and technology experts
•    RM20 million to Cradle Fund for the provision of training and grants to seed companies
•    Tax deduction for contributions towards digital social responsibility by companies
E-WALLETS
•    One-time RM30 digital stimulus to qualified Malaysians aged 18 and above with an annual income of less than RM100,000, who own an identity-verified e-wallet account with selected service providers
•    RM450 million to Khazanah Nasional Bhd to implement this digital stimulus
SMEs
•    Government guarantee for bumiputera SMEs, export-oriented SMEs and SMEs investing in automation and digitalisation will be increased from 70% to 80% and their guarantee fee to be reduced to 0.75%
•     RM500 million allocation under Skim Jaminan Pinjaman Perniagaan earmarked for women entrepreneurs
•    Two new funds by SME Bank where the government will provide an annual interest subsidy of 2% to reduce borrowing costs
•    RM10 million to the Ministry of Entrepreneur Development to focus on advocacy and awareness of halal certification, halal product development and providing platforms for local players to tap the US$3 trillion global halal market
•    Ceiling per company for the Market Development Grant initiative by the Malaysia External Trade Development Corporation raised from RM200,000 to RM300,000 per year, and for the participation in each export fair will be increased from RM15,000 to RM25,000
•    RM50 million to encourage SMEs to engage in more export promotion activities
FINTECH
•    Bank Negara Malaysia is finalising the licensing framework for digital banks to be issued by year end for public consultation, and ready to invite applications by the first half of 2020
•    Tax incentives given to venture capital and angel investors will be extended to 2023
•    RM1 billion 1:5 matching guarantee for dedicated private equity funds to invest in Malaysian construction consortiums bidding for projects and concessions overseas
ENTREPRENEURSHIP
•    Grants amounting to RM445 million for bumiputera entrepreneurs seeking access to financing, provision of business premises and entrepreneur training
•    RM100 million for small business loans for the Chinese community via Bank Simpanan Nasional, at an interest rate of 4%
•    RM20 million for Indian entrepreneurs under TEKUN Nasional's Skim Pembangunan Usahawan Masyarakat India, at an interest rate of 4%
DEVELOPMENT FINANCIAL INSTITUTIONS
•    Bank Negara is proposing a two-phase restructuring plan for our DFIs to form a new financial institution through the merger of Bank Pembangunan Malaysia, Danajamin Nasional, SME Bank and the Export-Import Bank of Malaysia
ISLAMIC FINANCE
•    Setting up of a special Islamic finance committee
•    Development of an Islamic economic blueprint and Islamic finance outreach initiative
•    Current tax deductions on the cost of issuance and additional deductions on sukuk issuance costs under the principle of wakalah will be extended for five years until year of assessment 2025
•    Tax exemption for fund management companies managing syariah-compliant funds and sustainable and responsible investment (SRI) funds, and the tax deduction on the cost of issuing SRI sukuk will be extended for another three years until year of assessment 2023
RENEWABLE ENERGY
•    Green Investment Tax Allowance and Green Income Tax Exemption incentives will be extended to 2023
•    70% income tax exemption of up to 10 years for companies undertaking solar leasing activities
COMMODITIES
•    RM550 million oil palm replanting loans for smallholders, collateral-free at an interest rate of 2% per annum, with a tenure of 12 years, including a four-year moratorium on repayment
•    RM27 million to support the Malaysian Palm Oil Board's efforts to market palm oil internationally and counter anti-palm oil campaigns
•    B20 biodiesel for the transport sector to be implemented by end-2020
•    RM100 million for rubber production incentive to enhance the income of smallholders faced with low rubber prices
•    RM810 million for the welfare of the FELDA community
•    RM738 million for the Rubber Industry Smallholders Development Authority (Risda) and the Federal Land Consolidation and Rehabilitation Authority (Felcra) to implement various income-generating programmes to benefit the more than 300,000 Risda and 100,000 Felcra smallholders
•    Allocation to the Ministry of Agriculture raised from RM4.4 billion in 2019 to RM4.9 billion in 2020, with a special focus on enhancing incomes of farmers
•    Fishermen's allowance to be raised from RM200 to RM250 per month
•    RM150 million to facilitate crop integration to help supplement farmers' income such as through chilli, pineapple, coconut, watermelon and bamboo
•    RM30 million for the production of glutinous rice in Langkawi
•    Allocation for padi inputs raised from RM796 million in 2019 to RM855 million in 2020 under the Skim Baja Padi Kerajaan Persekutuan and Skim Insentif Pengeluaran Padi
•    RM43 million for Agriculture Industry 4.0 to develop new crop varieties with higher productivity and quality
RESEARCH AND DEVELOPMENT
•    RM524 million to ministries and public agencies
•    RM30 million for R&D matching grants for collaborations with industry and academia to develop higher value-added downstream uses of palm oil, specifically tocotrienol in pharmaceuticals and bio-jet fuel
•    10-year income tax exemption for IP-generated income from patents and copyright software based on the Modified Nexus Approach
TOURISM
•    RM1.1 billion for the Ministry of Tourism, Arts and Culture to promote Visit Malaysia 2020
•    Income tax exemption for organisers of approved arts and cultural activities, international sports recreational competitions and conferences
•    New investments in international theme park projects will be given income tax exemption of 100% of statutory income or Investment Tax Allowance of 100% to be set off against 70% for five years
•    Increasing tax deductions for companies sponsoring arts, cultural and heritage activities in Malaysia from RM700,000 to RM1 million per year
•    Accelerated Capital Allowance for expenditure incurred on the purchases of new locally assembled excursion buses to be fully claimed within two years
•    Excise duty exemption of 50% for locally assembled vehicles be given to tour operators for the purchases of qualified new tourism vehicles
•    RM100 million for a new cable car system on Penang Hill
•    RM25 million for the Malaysian Healthcare Tourism Council to strengthen the position of Malaysia as the preferred destination for health tourism in Asean for oncology, cardiology and fertility treatment
EMPLOYMENT
•    Launch of [email protected] initiative for the hiring of graduates who have been unemployed for more than 12 months
•    Under [email protected], the wage incentive for returning women workers is RM500 per month for two years, and a corresponding hiring incentive for employers of up to RM300 per month for two years
•    Current income tax exemption for women who return to work after a career break be extended for another four years until 2023
•    Under [email protected] programme, the wage incentive for Malaysians who are hired to replace foreign workers is at either RM350 or RM500 per month, depending on the sectors, for a duration of two years, and corresponding hiring incentive for employers of up to RM250 per month for two years
•    Under [email protected] programme, an additional RM100 per month on existing allowance for trainees on apprenticeships
•    Extending double tax deduction on expenses incurred by companies participating in Skim Latihan Dual Nasional for another two years
•    Double tax deduction expanded to include students from all academic fields rather than just engineering and technology
•    Minimum wage in major cities to be increased to RM1,200 per month from RM1,100 effective 2020
•    EPF will extend coverage to contract workers, for those under Contract for Services and Professionals
•    Self-employment Social Security Scheme by Socso be expanded to enable contributions by other self-employed groups across 18 key sectors, such as fishermen, farmers, sole proprietors and partnerships
•    Setting up of RM500 million Socso rehabilitation centre in Perak
•     i-Suri programme be expanded whereby husbands may voluntary elect to contribute 2% from his 11% EPF employee's contribution to his wife's EPF account
•    RM20 million to further extend the benefits under i-Suri via social safety coverage under Socso
WOMEN AND PARENTS
•    RM30 million in 2020 to provide more TASKAs, focusing especially on hospitals and schools
•    Individual tax relief for fees paid by parents who enrol their children in registered nurseries and kindergartens will be increased from RM1,000 to RM2,000
•    Employment Act 1955 to be reviewed to include increasing maternity leave from 60 days to 90 days effective 2021, extending the eligibility to overtime from those earning less RM2,000 to those earning less than RM4,000 per month; improving protection and procedures for handling sexual harassment complaints, and introducing new provisions on the prohibition of discrimination on religion, ethnicity and gender
EDUCATION
•    RM735 million for school maintenance and upgrading works
•    RM783 million for repairing dilapidated schools, particularly in Sabah and Sarawak
•    RM23 million for national schools to ensure their facilities are disabled friendly
TVET
•    RM5.9 billion for the Technical and Vocational Education and Training (TVET) programme
•    RM50 million through Perbadanan Tabung Pembangunan Kemahiran to fund TVET courses conducted by state skills development centres
•    Matching grant of RM20 million to support customised TVET courses undertaken in collaboration with industries
•    RM30 million to train more than 3,000 youths from low-income households
EMPLOYEES PROVIDENT FUND
•    Expanding the scope of its education withdrawal for qualifications attained at certificate level, especially for accredited programmes that are in line with the nation's Industrial Revolution 4.0 (IR4.0) aspirations
•    Expanding this withdrawal to include members' parents and spouse
•    RM20 million to be matched by another RM20 million from the Human Resources Development Fund towards encouraging working adults to undertake professional certification examinations in fields relating to IR4.0
RURAL DEVELOPMENT
•    RM587 million for rural water projects, of which RM470 million is for Sabah and Sarawak
•    RM500 million for rural electrification
•    RM1 billion for the development of rural roads throughout Malaysia, primarily targeted at Sabah and Sarawak
SOCIAL WELL-BEING
•    RM5 billion for Bantuan Sara Hidup
•    Expanding Bantuan Sara Hidup to cover 1.1 million single individuals aged above 40 who are earning less than RM2,000 per month, as well as disabled persons aged 18 and above, with an income less than RM2,000 per month
•    RM575 million socioeconomic assistance to senior citizens, benefiting 137,000 individuals whose household income is below the poverty level
•    RM80 million for the upgrading, repair and maintenance of 67 various institutions under the Social Welfare Department
•    RM25 million for the management, administration and expansion of the Food Bank programme
•    RM20 million for five new independent learning centres, Down's Syndrome training and a disabled TASKA
•    RM15 million for the National Anti-Drugs Agency's pilot RINTIS programme on drug addict rehabilitation with non-governmental organisations and local communities
•    RM20 million to expand skills training and programmes that meet the national TVET standard for inmates in areas such as food and beverage, carpentry, laundromat and metal works
•    Increasing the private sector's donation reporting threshold from RM10,000 to RM20,000 beginning 2020
•    Tax deduction on donation for charitable and sports activities and projects of national interest currently capped at 7% from the aggregate income for taxpayers who are other than companies will be increased to 10%
HEALTHCARE
•    RM1.6 billion for the construction of new hospitals as well as upgrading and expansion of existing ones
•    RM319 million for the construction and upgrading of health and dental clinics as well as quarters
•    An initial allocation of RM60 million to kick-start the pneumococcal vaccination programme for children
MYSALAM
•    Cover 45 illnesses from the existing 36, including polio and terminal illness
•    Those aged up to 65 years, compared to the current 55 years
•    Those with gross annual income up to RM100,000
•    RM50 daily hospitalisation income replacement for up to 14 days when diagnosed and warded at government hospitals
FERTILITY
•    EPF will introduce a new category of withdrawals, allowing for fertility treatment such as in-vitro fertilisation procedure
•    Income tax relief of up to RM6,000 given on expenses incurred for medical treatment of serious illnesses will be expanded to include expenses incurred on fertility treatment
PRIVATE RETIREMENT SCHEMES
•    Allowing pre-retirement withdrawals from PRS for the purposes of healthcare and housing
TRANSPORT
•    Reducing average toll charges by 18% across all highways owned by PLUS Malaysia Bhd
•    Toll rates for cars at the Second Penang Bridge will be reduced from RM8.50 to RM7
•    Rail tracks from Gorge Line between Halogilat Station to Tenom Station in Sabah will be upgraded at a cost of RM50 million
•    Sultan Azlan Shah Airport in Ipoh will be upgraded, including an extension of its runway
•    Government will invest RM85 million beginning 2020 in enhancing vehicle and traffic flow through the Customs, Immigration and Quarantine Complex at the Causeway and Second Link
•    The Rapid Transit System project between Johor Baru and Singapore will proceed
•    RM450 million to acquire up to 500 electric buses of various sizes for public transport in selected cities nationwide
SPORTS
•    RM299 million to implement the Sports For All programme, including rehabilitating and upgrading of sports facilities
•    RM179 million for Malaysian athletes' preparation in international sporting events such as the Tokyo Olympics 2020 and Hanoi SEA Games 2021
•    RM45 million for the National Football Development programme
NATURAL DISASTERS
•    RM30 million to raise the capability and capacity of the Department of Environment and Department of Chemistry
•    RM443.9 million for flood mitigation projects
•    RM150 million for the maintenance of retention ponds
•    RM100 million Disaster Assistance Fund to provide loans to farmers at an interest rate of 4%
•    RM48 million to preserve Malaysia's pristine forests and natural biodiversity
CIVIL SERVICE
•    The Cost of Living Allowance (COLA) will be increased by RM50 per month, beginning 2020 for support group
•    Civil servants will be allowed early redemption of accumulated leaves for up 75 days as replacement pay, for those who have at least 15 years of service
•    The Public Sector Home Financing Board will offer free personal accident insurance (up to RM100,000 coverage) for two years to new government housing loan borrowers
•    The People's Volunteer Corps (RELA) will enjoy higher allowance of RM2 per hour beginning from Jan 1, 2020
•    Fire and Rescue Department personnel will receive a special allowance of RM200 a month
•    One-off payment of RM500 to the 70,000 holders of the Pingat Jasa Malaysia
•    RM330 million to property and land management division under the Prime Minister's Department to repair and maintain the public service quarters
•    RM150 million and RM250 million for the repair and refurbishment of armed forces' family housing units and police quarters respectively
ENFORCEMENT
•    RM235 million to purchase 20 additional cargo scanners to be placed at all strategic ports of entry