This article first appeared in The Edge Malaysia Weekly, on October 14, 2019 - October 20, 2019.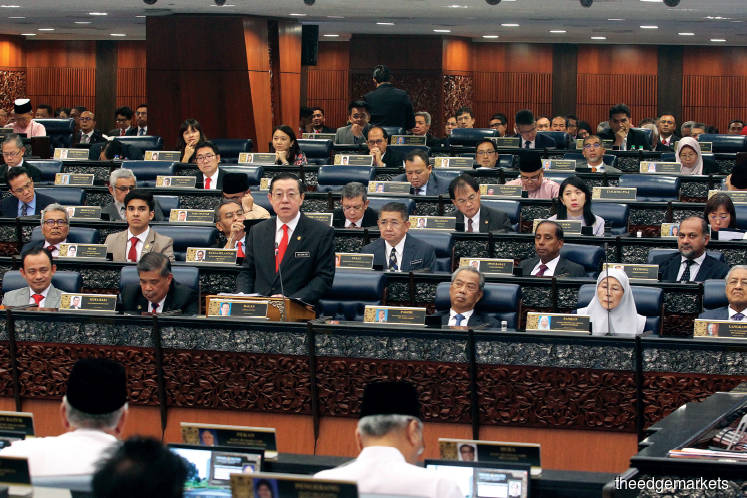 THE budget that Finance Minister Lim Guan Eng unveiled last Friday had a very different feel to it and was unlike any Malaysians are used to. Anyone who had expected flashy pump-priming by way of new mega infrastructure projects or generous handouts would have been sorely disappointed.
Indeed, many say Budget 2020 is grounded in discipline, taking into account the government's limited resources, and yet is expansionary.
The measures outlined in it focus on stimulating household spending as private consumption is expected to be the main engine of growth in 2020, which is forecast to be another year of uncertainty on the expectation of a global economic slowdown.
The budget also includes initiatives to attract and increase private investment in the country, which would help ease the burden of the government to support growth during uncertain times.
Economists say Budget 2020, besides taking into account the need to support growth in what is expected to be a difficult year, looks beyond the one-year horizon with many measures aimed at preparing the country for the future.
"Budget 2020 broadly met our expectation of being slightly expansionary — at a deficit of 3.2% of GDP — with some innovative outcome-driven incentives. Policy focus was evenly balanced between providing short-term targeted stimulus through households, high-impact mega projects and infrastructure works, and keeping an eye on the longer-term structural areas like attracting value-added foreign direct investment," says CGS-CIMB economist Michelle Chia via email.
"The budget's emphasis on backing higher-value-added industries and infrastructure development (both social and physical) will support growth in a challenging global environment. However, set against a projected contraction in revenue, the expanded budget puts the government's original 3% deficit target for 2020 further out of reach. Fiscal strength will continue to constrain Malaysia's credit profile, although the focus on some inclusive growth measures will be credit-positive for the country if sustained over time," says Anushka Shah, vice-president-senior analyst, sovereign risk group at Moody's Investors Service.
In his budget speech, Lim said the government expects the fiscal deficit to shrink to an average of 2.8% of GDP over the medium term.
Affin Hwang Investment Bank Research chief economist Alan Tan says Budget 2020 is not just focused on the short term but also provides a platform for the 12th Malaysia Plan, which is set to begin in 2021.
"2020 will be the last year of the 11th Malaysia Plan and the measures in this budget seem to lay the foundations for 2021, when the 12th Malaysia Plan starts," he says.
On the private consumption side, what can be noticed is that many of the household-related measures seem specifically targeted and directed at groups whose propensity to spend is higher. It is worth noting that the allocation for subsidies and social assistance will be increased to RM24.3 billion in 2020 from RM22.3 billion this year.
One of the biggest allocations in the subsidy bill is for Bantuan Sara Hidup. Next year, the scheme will be expanded to cover 1.1 million single individuals aged 40 and above who earn less than RM2,000 a month while all disabled people aged 18 and above with similar income will also be covered.
The government has also proposed to increase the minimum wage in major cities to RM1,200 per month from the present RM1,100 from 2020. "This increase in minimum wage may not seem big but it is a significant direction in the government's initiative to improve the standard of living of the B40 group," say PwC Malaysia tax leader Jagdev Singh.
He adds that the announcement of details of the targeted fuel subsidy scheme is welcomed as it crystallises the government's promise to the rakyat.
Nevertheless, says Jagdev, there are some reservations about the implementation of two different mechanisms for the delivery of the subsidy: one is where the B40 will see the subsidy credited directly into the bank accounts of the beneficiaries while the other is at the point-of-sale for the rest of the recipients, which could result in inefficiencies.
"While this is necessary, given the limited data on the M40 beneficiaries, over time, the two mechanisms need to converge," he adds.
According to economists, an interesting proposal by the government is its [email protected] initiative, which provides wage incentives to workers and hiring incentives to employers to create better employment opportunities for women and youth as well as reduce the dependence on low-skilled foreign workers in Malaysia.
This initiative is expected to create an additional 350,000 jobs for Malaysians and reduce foreign worker dependency by more than 130,000.
"This caught my attention. It is a massive RM6.5 billion initiative over five years to ease the issue of unemployment. What is important is how this will be implemented and how effective it will be, as in what will happen after the two-year incentive period? Will they continue to be employed or will they have to go back to unemployment?" asks ACCCIM's Socio-economic Research Centre executive director Lee Heng Guie.
Many also point out that this budget makes an effort to make the country an attractive destination for high-technology and value-added industries, deeming it a business-friendly budget. It also has in place significant measures for the small to medium enterprises, showing that it is recognising the importance of the SME sector's contribution to economic growth.
"Budget 2020 sends a clear message to the investor community that Malaysia aims to be the preferred investment destination. It is business-friendly and is focused on spurring investments in the right sectors and activities that will culminate in long-term and sustainable growth.
The budget emphasises digital, high-technology, human capital development, electrical and electronics, innovation and R&D, all of which are important building blocks for Malaysia to become a knowledge-based and high-value economy," says EY Asean and Malaysia tax leader Amarjeet Singh.
PwC's Jagdev adds that this is the first budget to provide clarity on the country's approach to navigating the digital and high-tech economy. There are three incentives that caught the tax expert's attention.
The first is the customised incentive to attract Fortune 500 companies and global unicorns to invest RM5 billion and create 150,000 high-quality jobs in Malaysia. What also piqued his interest is the customised incentive for Malaysian businesses that export products and services globally that would commit to the creation of 100,000 high-quality jobs in Malaysia as well as the 10-year income tax exemption for IP-generated income from patents and copyright software based on the Modified Nexus Approach, which requires substantial R&D activity to be undertaken in Malaysia.
"These measures, coupled with a more customer-centric approach to attracting and facilitating these investments through InvestKL, and MIDA's role as an account manager, as well as the expeditious process of approval, will hopefully differentiate us from our neighbours," Jagdev comments.
Deloitte Malaysia managing director and country tax leader Sim Kwang Gek says the initiative by the Ministry of International Trade and Industry and Ministry of Finance to establish a joint-ministerial committee to speed up the incentive approval process and improve the ease of registering a business would certainly help increase investor confidence in the country and expedite the implementation of such investments.
Even as industry leaders and experts applaud the government for a fair budget that gives priority to crucial sectors for future development, the next big step is how the government will effectively implement all the measures proposed in Budget 2020 in order to assist the country to weather the uncertainty ahead.
"The budget delivers a balance of measures to revitalise growth and investments, promote equality, create jobs, raise productivity, and improve human capital. What matters most is timely and effective execution as well as certainty and clarity in policy actions," says United Overseas Bank (M) Bhd economist Julia Goh.