This article first appeared in City & Country, The Edge Malaysia Weekly, on April 19, 2021 - April 25, 2021.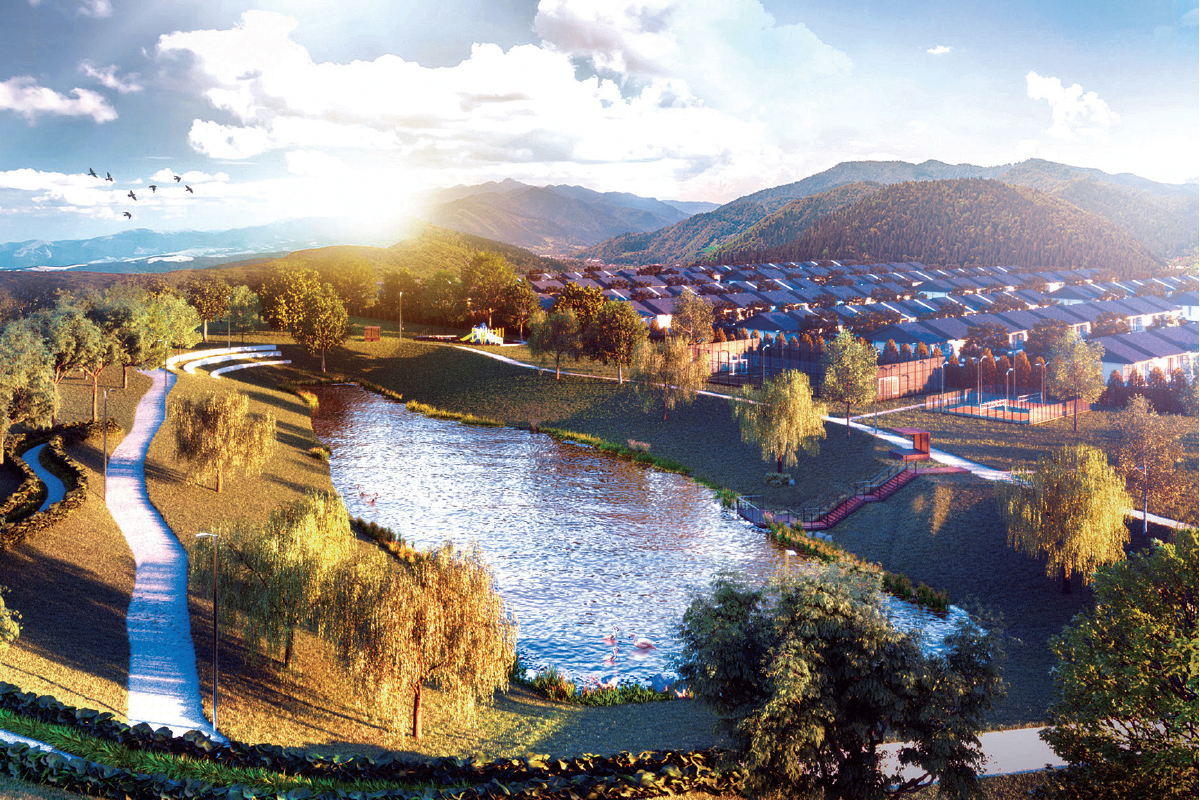 Boustead Properties Bhd, a wholly-owned subsidiary of conglomerate Boustead Holdings Bhd, plans to continue offering affordably priced products in FY2021. On April 10, the developer launched the first phase of its new township, the 1,200-acre Mutiara Hills in Semenyih, Selangor.
In an email interview with City & Country, Boustead Holdings deputy group managing director and Boustead Properties acting CEO Izaddeen Daud says, "Boustead Properties will continue to focus on providing affordable, quality homes in our townships and niche high-rise integrated developments.
"We will ride on our strong DNA and strive to innovate our products creatively, with digitalisation in all our business processes moving forward. Being part of Boustead Holdings enables us to integrate services provided by the respective companies into our townships."
Mutiara Hills was previously a palm oil plantation named Balau Estate, which was owned by Boustead Plantations Bhd. Due to be completed in 2027, the mixed-use township will offer residential and commercial units as well as a business hub.
Part of the developer's Mutiara Collection series, Mutiara Hills will offer low-, mid- and high-end products similar to those in the townships of Mutiara Damansara in Selangor and Mutiara Rini in Johor.
The freehold Mutiara Hills is divided into three sectors, the first of which has a gross development value (GDV) of RM895 million and will comprise five phases. The second and third sectors are still on the drawing board.
"We are currently focusing on Mutiara Hills' first sector. The first phase of the first sector is called Balau Homes," says Izaddeen, adding that Balau Homes will comprise 230 two-storey terraced houses.
The first phase is divided into three sub-phases, namely Phase 1A1 with 74 units that was launched on April 10; Phase 1A2 with 66 units to be unveiled in June; and Phase 1B with 90 units, which will be launched in August, he adds.
Occupying a 14.89-acre tract, Balau Homes has a GDV of RM125 million. The 2-storey terraced houses will have built-ups of 1,512, 1,677 or 1,743 sq ft on a land area of 20ft by 70ft, with an indicative price of RM500,000 and below.
Due to be completed in June 2023, Balau Homes has thus far garnered about 1,000 registrations for the 230 units. The group says the usual target is a take-up rate of 10% of the total number of registrants.
Meanwhile, Boustead Properties recognises the township's potential as a lush shelter for city dwellers and is banking on the development's location next to the Titiwangsa Range. "Mutiara Hills is one of the few townships in Semenyih that enjoys a direct view of the Titiwangsa Range and is situated next to the renowned Broga Hill, famed for its incredible panoramic views," says Izaddeen.
"We are targeting first-time homebuyers, empty nesters, retirees, upgraders from high-rise dwellings looking to purchase their first landed home, those who wish to escape the hustle and bustle of city life but still remain connected to central Kuala Lumpur, and homebuyers who appreciate living close to nature," he continues.
"As part of our development, we will have properties targeted at the B40 (bottom 40% income group). Our affordable homes will provide owners with a value-for-money property in a well-developed, sustainable township, with access to all the features and amenities of Mutiara Hills to enhance their quality of life."
'New crown jewel' of Mutiara Collection
Boustead Properties is confident about the development's long-term appeal and value. "The property value in Mutiara Hills has much potential for growth as it is located in the Greater KL South Corridor, which is developing quickly. It is also strategically located — about 40 minutes to KL city and the Kuala Lumpur International Airport (KLIA)," says Izaddeen.
"We are confident that we can transform Mutiara Hills in Semenyih into another sustainable, well-planned township. It will be the new crown jewel in Boustead Properties' Mutiara Collection. Mutiara Hills is ideal for owner-occupiers, given our focus on liveability, and for investors because of the good value proposition found in an integrated freehold township."
In terms of connectivity, the development is accessible via the Kajang-Seremban Highway (Lekas), SILK Highway, South Klang Valley Expressway and Grand Saga Highway. In the vicinity of the homes will be parks, lakes, cycling and jogging tracks and a surau.
"Apart from a centralised recreational area in Semenyih, Mutiara Hills will have a first-of-its-kind river park, with river water streaming through certain sectors and phases, allowing for a holistic family lifestyle and a relaxing ambiance. Each precinct will have its own recreational park and lake, providing green lungs within the eco-friendly township," says Izaddeen.
Other amenities nearby include primary and secondary schools as well as institutions of higher learning such as the University of Nottingham Malaysia, KPM Beranang and Mara Japan Industrial Institute. There are also hospitals such as Kajang Hospital, KPJ Kajang and KPMC as well as hypermarkets such as Tesco, Econsave, Segi Fresh and Mydin.
"Mutiara Hills is adjacent to the University of Nottingham and close to commercial centres. We will also establish a Boustead Integrated Business Hub, where specialised services — ranging from banking to healthcare — will be easily available to residents.
"The development will also have three access roads running through Semenyih town and Taman Pelangi Semenyih to major expressways in the near future. Given that the price of landed homes in the city centre is getting more expensive, Mutiara Hills has much to offer growing families that are looking for bigger but more affordable houses," says Izaddeen.
"We believe that as the population grows and matures within the Greater KL South Corridor, Mutiara Hills will be a game changer, differentiating itself from the competition through digitalisation and designs, and capitalising on the group's strength in a multitude of industries."
Ongoing projects and plans
Formed in 2004, Boustead Properties has a portfolio that includes award-winning townships such as Mutiara Damansara in Selangor and Mutiara Rini in Johor.
The developer has a land bank of 1,400 acres, comprising parcels in the centre of KL as well as larger tracts in Selangor and Johor. "We are consistently on the lookout for prime land to acquire, especially in Greater KL, Selangor, Johor and Penang. Boustead Properties is very selective in its business undertaking and is actively looking at land acquisitions in keeping with our plans to grow our property development business," says Izaddeen.
"We will continue our search for strategic land bank by increasing our business synergies within the group and exploring new investment and business opportunities through acquisitions, investments and smart partnerships with the right strategic partner."
The developer acknowledges the current challenges amid Covid-19. "The pandemic has affected countries and businesses alike. While this crisis has resulted in a challenging operating environment, we have restrategised by revisiting our core values and purpose to see how we can serve the Malaysian community," says Izaddeen.
"We recognise that with the pandemic, people's needs have changed and that business ecosystems are evolving. Boustead Properties too is taking steps to transform the company [in terms of value offerings, digital adoption and leveraging group synergy] to ensure that we continue to stay relevant and deliver products with good value to our customers. The company has embarked on a brand and digital transformation programme that will drive us through the next decade."
He shares the group's strategies for FY2021. "Part of Boustead Properties' plans is to expand our sales network via digital transformation while enhancing our brand awareness. We will boost our digital marketing efforts with virtual walkthroughs and social media platforms to better engage with our customers in this new normal. Our ongoing brand and digital transformation journey is very much in line with Boustead Holdings' digital initiatives, which will be implemented in our property development, management, and asset and retail businesses to remain agile and fuel our growth in the sector."
Meanwhile, the group's ongoing developments are on track. "We started developing One Cochrane Residences, with a GDV of RM452 million, in the first quarter of 2018. Although the property market has slowed due to the pandemic, we are on track to complete this condominium development, which is strategically located in close proximity to KL city," says Izaddeen.
"Homeowners are expected to receive their keys by the fourth quarter of the year. The current take-up rate is 74% and the development is about 70% completed.
"We are also looking to monetise commercial lots in Mutiara Damansara. We still have some bungalow lots there and are looking at the possibility of redevelopment. As for Mutiara Rini, which was Boustead Properties' first township project in Skudai, Johor, we will start developing new residential and commercial lots this year and next."
Boustead Properties remains hopeful about the market situation in FY2021. "We are cautiously optimistic about the year ahead. Despite the challenging environment, we saw an increase in property sales in the second half of 2020, attributable to our affordable prices as well as government incentives, among others. We plan to reinforce our position as a reliable holistic developer of established townships with a sound ecosystem that helps communities prosper and live well in harmony," says Izaddeen.