This article first appeared in The Edge Malaysia Weekly, on March 11, 2019 - March 17, 2019.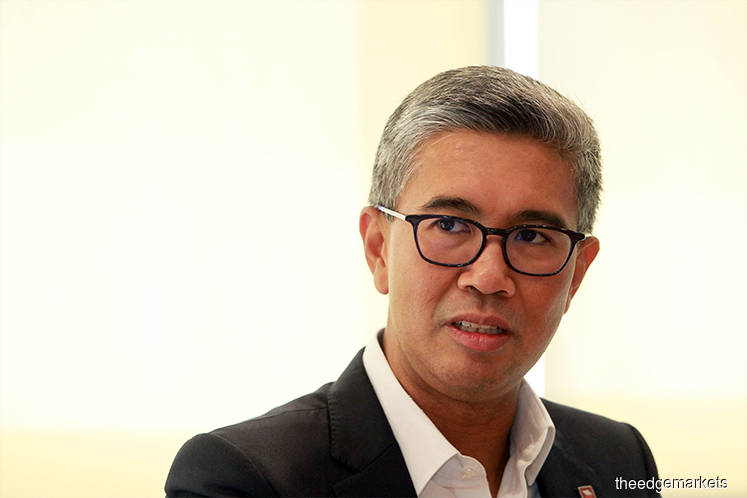 IN a candid two-hour interview with The Edge, CIMB Group Holdings Bhd group CEO Tengku Datuk Seri Zafrul Aziz answers with ease questions on a wide range of topics. But there is an elephant in the room.
We tentatively ask the question that is on the minds of many: Is he staying to see the group's new five-year roadmap through or is he leaving?
"Yes, I'm staying. I've always said it is up to the board to decide. Today [prior to this interview], there was a board meeting and they reiterated that they want me to stay to see Forward23 through," he says.
The Edge understands from industry sources that Bank Negara Malaysia recently approved the extension of his CEO tenure. Zafrul, 45, has been in the driving seat since Feb 27, 2015, although he had been acting group CEO since September 2014.
Below is an excerpt from the interview.
The Edge: CIMB is placed in a bit of dilemma, isn't it? On the one hand, you need to spend to future-proof your business, but at the same time, the coming five years are not going to be easy. There's been a change in government, there's going to be transitional pain, people don't know what kind of reforms will be implemented. So corporates are less willing to put in their money and therefore loans and deals could be short in coming.
Tengku Datuk Seri Zafrul Aziz: It is indeed challenging. But look, in that five years, there will be cycles. There will be 'bumps' along the road. It's just a matter of how we, as a company, adjust to them. We are a multinational already today but, obviously, heavily skewed towards Malaysia contribution. But if we look at the next five years, the plan is to diversify that further, where we are truly an Asean multinational. So, having that PBT target mix of 55:45 (from Malaysia and overseas) for end-2023 is good.
The targets that you've set for end-2023 seem ambitious. Other big banks like Public Bank are guiding for much more conservative growth in the near term.
Yes, we have a loan growth target of 6% this year and we think we'll grow higher than the market. But again, if you look at our net interest margin (NIM) today and the NIM compression that others are projecting, we are in a slightly different position because Malaysia is not as big a contributor [for us] as for other banks. So that helps.
If you look at our NIM, it's around 2+% and the rest is all around 1+%. It's because in Indonesia, we're still doing NIM of 5+%. It helps but, of course, our credit cost is slightly higher. And Indonesian loan growth is still in the double digits. I can't just tell my guys in Indonesia to slow down when their industry is growing at 13% to 14%. So that's why I'm trying to push the team to grow faster.
You do seem to be banking on Indonesia a lot. But there are still many uncertainties — elections, potentially more rate hikes after the 175 basis point hike last year and the weak rupiah.
The rupiah depreciation cost [us]around RM200 million in revenue last year, just on translation gains ... that was the other number that brought our revenue down. But, of course, it can work the other way for us if the rupiah improves! But yes, Indonesia is more volatile, but that also explains why NIM is double that of Malaysia's — because when you look at the risk-adjusted return, that's the kind of return that you get in markets where risk is higher.
Big techs like Grab are making strides in the payment space. Debit and credit cards are being challenged. How do you intend to fight with these techs?
On the payments side, at the end of the day, if you look at the economics behind the payment strategy, it's not really there. These companies are doing it to acquire data as much as possible and then cross-sell to others, like how Ant Financial and WeChat are doing ... they try to cross-sell to their wealth management side, to their lending side. So we need to do the same.
At the end of the day, we need to make sure that we mine our data properly, not just for customer experience but also for risk management, so that we can use the data to lend, to cross-sell other products. So, that's what we're doing.
The next five years will see you continuing to invest heavily in technology, in digital. When do you think the fruits of all those investments will be seen?
Today, across a few products, there's a significant proportion of new sales being originated via digital channels. So definitely, it's already starting to contribute and we will go one step further to say that our outperformance in Malaysia's consumer banking over the last four years — the four key segments of mortgage, auto loans, cards and CASA (current account savings account) — was aided by data and digital.
Now with data and digital, it's so much more effective. We're doing that a lot. So, the short answer to your question is, it's already showing results and, definitely, we don't have to wait 10 years. I think during the Forward23 period, that will become a much more material contributor.
Are there more divestments on the cards?
We are assessing that. We're looking at all the business lines. These will continuously be monitored. Under Forward23, like T18, there are no sacred cows.
So, your stance on bank mergers and acquisitions at home is they are not on the cards under Forward23, but you'll consider proposals that come your way?
Yes. Proposals come all the time. But, there's no compelling reason for us to do bank M&A in Malaysia. Unless you can show us a merger that has the right kind of synergies, but at the same time, the right kind of valuation. Our shareholders will always be sensitive to valuation. And even if the merger makes sense, but at what price? Today, where we are in terms of our journey ... are we at the right time, the right place, the right valuation to do such things?
Your 27% shareholder Khazanah Nasional has indicated that it plans to exit. That could trigger an M&A, no?
They've said they categorise us as a 'commercial' investment ... which means that it is not strategic. At the right time or at the right price, they will look at disposing of some of it. Basically, from my understanding, they are not in a rush to do it ... so it can be today, it can be two, three, five years, right? I don't think there will be any [merger].
The banking sector is continuing to change fast and remains very challenging. Some developed markets are talking about a recession. Italy, for example, is already in one. Against this backdrop, what do you see as your biggest challenges going forward?
For us, the biggest challenge will be in Malaysia. Being a key market, it will be important for us at least for the next two to three years as it will still continue to generate more than half of our profits. But if you look at the Malaysian economy, it's really, firstly, determined by what's happening globally ... that's the nature of an open economy. And two, we are sure there are many policies being formulated that would be a further catalyst for the economy.
We can understand why the government is in a consolidating mode — it's because it needs to fix certain things. But I think it has to be parallel to a growth strategy.
If you look at the region, the other markets are expected to do quite well. Having said that, even 4.5% growth [in Malaysia] is still respectable. But, we need to look at where we are versus our peers in this region. And they are all looking at growing strongly, especially in Indonesia, Vietnam and the Philippines.
We can't do anything about the global uncertainties but we can do something to make sure that the companies and the government all focus on building the competitive edge that we have as a country. CIMB's performance is closely correlated to the GDP growth of the countries in which we operate.
Save by subscribing to us for your print and/or digital copy.
P/S: The Edge is also available on Apple's AppStore and Androids' Google Play.