This article first appeared in Enterprise, The Edge Malaysia Weekly, on April 8, 2019 - April 14, 2019.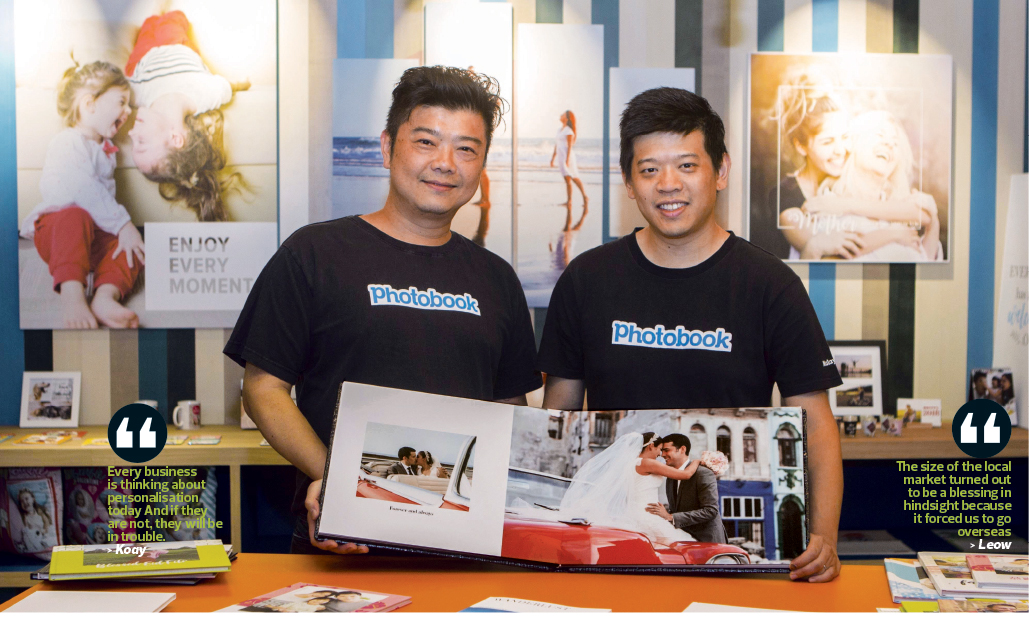 In 2005, Mark Koay took his savings — which he had earned by building websites for a lot of companies — and the money he had borrowed from his father — and bought a RM1.4 million HP Indigo (considered the Lamborghini of digital printers). He wanted to create a service where he could help people print their digital photos and turn them into photobooks.
Having no place to put the Leviathan, he moved it into a house he had just bought in Bukit Jelutong, Shah Alam, placing it squarely in the living room. It was so huge that the only place for the exit tray — from which the beautiful, high-quality prints would emerge — was under the staircase. The binding machine (which he did not use until later) went into the maid's room. The book covers were made in the kitchen.
Koay, who was living with his parents at the time, had intended to move the family into the new house. Instead, he moved his equipment there and turned the second floor into an office for his company's designers.
"It was truly one of those 'building a company in a garage' kind of stories," the Photobook founder recalls with a chuckle. Except that, in this case, they used the whole house.
The thing is, as Koay never fails to reiterate, he was not a printer. Far from it. He had been part of the dotcom revolution and his company, Storm Quest, which he started in 1998, built thousands of websites for businesses. These included small and medium enterprises, government-linked companies (GLCs) such as Permodalan Nasional Bhd and multinational corporations such as KFC and Pizza Hut.
He even tried to find a suitable business to take advantage of the dotcom boom, setting up, among others, golf portal, ABagofClubs.com,  and textoad, a premium SMS model that dealt in classified advertisements. Nothing really took off. In 1999, he sold the business to a Swedish internet consulting company, the Icon Medialab, which had come to Malaysia and was looking to grow quickly through acquisitions.
The dotcom bubble burst in 2000. Icon Medialab closed its operations the following year and pulled out of the market. So, Koay started a web consulting company in 2002 and a few of the guys from his previous company stayed on with him, including his brother Kelvin, who would go on to be a co-founder of Photobook.
But Koay wanted to move out of the service business. Up to that point, he had not been able to find a business model that worked. Nevertheless, he kept his ear to the ground and carefully noted the trends of the time.
"In 2005, we saw that people were taking a lot of photos with their digital cameras, but were not printing them. So, we saw this unique opportunity in the photo market to basically create a more interesting photo product," says Koay.
He bought the top-of-the-line digital press machine and proceeded to create a platform where people could order their photos online. "From day one, in 2005, Photobook was already created to be an e-commerce business," he says.
As Koay is quick to point out, his is a technology — rather than a printing — company. Frankly, the founders had no idea what they were doing when they started out. So, they simply explored and experimented.
"It was really fun testing the products, especially because we were not in the printing space. We were also not in the book-binding space. So, in the early days, although we could print the pages, we had no idea how to bind books," he says.
They found a woman who bound law journals in Petaling Jaya's Section 17. Every day, they would trudge up the stairs to her tiny office to drop off the day's prints and collect the books she had already done. "She would take three to four days to bind a book, drilling holes and hand-stitching it. Her books were super high quality and we still have some of those," says Koay.
It was easier at the time because the orders were relatively few. "For many months, waking up to just one order was cause for celebration. At the time, people were not that familiar with e-commerce and were uncomfortable putting their credit card details online," he says.
But those who ordered the product were extremely eager. "The moment they ordered they would call us and say, "Eh, you received my order already? When ah? Where is the book, ah?' And we would say, 'Sir, you just placed your order 15 minutes ago!'" Koay laughs.
After six months, he and his team decided that they needed to figure out how to bind the books themselves. "Because we had to drive every day to Section 17, whatever profit we made had to be used for petrol," he jokes.
They decided to take the books apart to see how the book binder did it. "We bought a Black & Decker drill to make the holes and used the Japanese book-binding method, where the string is inserted in a particular sequence. After that, we would glue the end sheet, or the piece of black paper that is used to attach the pages to the cover," says Koay.
"And that was how we made the books at that time. It was all very manual. Today, of course, it is very different. We have invested more than RM80 million in book-binding technology and equipment. We make a couple of thousand books every day now."
In the early days, he and his team participated in just about every fair — wedding fairs, travel fairs, baby fairs — to get the word out on Photobook. And every weekend, they set up a booth at The Curve flea market in Mutiara Damansara.
Orders trickled in, but Koay quickly realised that the Malaysian market was too small for him. He started buying more website domains all over the world and set up operations in Canada and Australia with the help of family members in those countries.
"In the initial years, Canada and Australia took off a lot faster than Malaysia. The size of the local market turned out to be a blessing in hindsight because it forced us to go overseas," says Photobook CEO Leow Wee Jonn.
Koay agrees. "We localised the websites in each country, calling it, for instance, Photobook Singapore or Photobook Canada. That was the idea as well — to make people believe it was a local business."
It helped that the one thing he did know how to do was create very professional, polished websites that did not look like they were created in Malaysia. "Even the first version of our website did not look like a Malaysian website," says Koay.
He had run a web consulting business so he knew the importance of ensuring that the company's website showed up on search engines. He says that when someone types in Photobook in Malaysia, Singapore, the Philippines, Canada or Australia, the company's website appears in the top spot. "That is not paid advertising but search engine optimisation."
From 2007, Photobook started duplicating its website and localising it for each country. "By localising, I mean — since we did not have so many resources — we could only localise the pricing. So, we started selling in Singapore, Canadian and Hong Kong dollars as well as Philippine pesos," says Koay.
"Of course, there was the opportunity to localise products and templates, but it was only much later that we had the resources to do so. The idea from the beginning was to provide more localised services. But with only 10 people on our marketing team, how could we do localisation in each country?"
Why did it go global just two years into its operations? "Because we had to. If you are a photobook company in the US, you can survive just on demand from your local market alone. But Malaysia is so small. If you want to do e-commerce, you have to think about going abroad from day one," he says.
The next big breakthrough was when Photobook started working with Groupon. Leow describes how this happened. "At the time (2010), we had more of a presence in the US than in Malaysia. In fact, we went on Groupon's US platform first and it was our US account manager who introduced us to the Malaysian account manager, and not the other way around," he says.
"They introduced Mark to Joel Neoh and sometime during the call Mark said, 'Hey, you have a Malaysian accent. Where are you based?' Then he realised that Joel was actually Malaysian."
That was how Photobook broke into the market here, he says. It had a strong partnership with Groupon, which worked out very well for the company from 2010 to 2013. Leow himself came on board in 2013.
"At the time, Groupon came to a bit of a halt in the US and Canada. It was definitely a bit more competitive and everyone was doing the same thing. So, we really had to look for new areas of growth," he says.
"We decided that we were going to be more Asia-focused. Also, we needed to grow our product range. I told Mark that what we really needed was to make the photobook a more everyday product. And as long as we kept a very high price point, it would not be consistent with our push to be a more B2C company."
So, they designed a basic product — a 6in by 6in book — and launched it for free in Malaysia on Groupon. "We had more than 180,000 orders and that is the highest ever," says Leow.
Of course, they lost some money offering it for free, but he and Koay found a way to do so in the most cost-efficient way. "We called a few partners who were working with us at the time, such as Groupon, PayPal and GDex, and asked if they would be willing to take a small hit. And everyone said yes."
It took them 48 hours to come up with the prototype and get all the partners on board. They managed to go live on Groupon in just a week. "Things happened really quickly after that. We made it so accessible that everyone could try it. I think our rationale was that this was not a product that could be easily understood just by looking at the website. You needed to see, feel and experience it for yourself," says Leow.
Although the company did lose some money, it gained new customers who became loyal followers. "After that, everyone knew us. Today, this product (the 6in by 6in) has been copied by many of our competitors, but we do not obsess over it. We know that if it is successful, people will copy it and that is fine. We move on and do a lot of other stuff as well," says Leow.
Koay's original intention had been to use the HP Indigo not just for photobooks but also to get into the business of mass personalisation. "With our technology, we are able to make every print different. It is amazing, the feel-good effect you can get from it," he says.
From 2005, however, the founders concentrated on growing the photobook business. Now, it is ready to kick off its mass-personalisation service.
"Mass customisation or personalisation is a really difficult skill to acquire because each product has to be unique. We can control the entire process, right down to shipping the products to the customers' list of friends. So, let's say they give us 100 names, we can print 100 different notebooks and ship them out for our customers. That is the power we have," says Leow.
"Every business is thinking about personalisation today And if they are not, they will be in trouble."
Koay says that although the company is doing very well in the US, Canada and Australia, those markets are essentially crowded with competitors such as Blurb, Snapfish, Mixbook, Peekaboo and Shutterfly while Asia remains relatively untapped. "We decided to focus on Asia and grow in more countries there. So while our competitors are focused on their own huge markets, we are going to the smaller countries and adding up the volume from there.
"Western markets are also important for us, but we will not spend our money there. We want to become No 1 in Southeast Asia and then Asia. Our next two targets are Indonesia and Thailand. Eventually, we want to move into Japan and South Korea through partnerships."
He adds that most of the countries that Photobook is targeting have skipped the era of personal computers and tablets and moved straight into mobile. Hence, the importance of the company's mobile app.
"The fact is that 99% of your photos are taken with your handheld device and that the digital cameras in your phones are getting better and better. So, going forward, we will focus on countries that have skipped the era of desktop computers and moved straight to doing everything on their mobile phones. Some of them do not even own a computer but carry around three or four phones. So, mobile is a very important platform for us," says Koay.
But Photobook is not stopping there. There are a lot of people who carry thousands of photos on their phones but are too lazy to select and arrange them into photobooks. So, the company wants to come up with a solution based on artificial intelligence (AI) and machine learning to do it for them.
"We want to help our customers organise their pictures and say, for instance, 'Hey, we have created a Photobook for your Bali holiday. Would you like to order it?' Then you can examine the product, tweak it if you like, and order it. That would be the best, right?" says Koay.
He also talks about attending conferences where HP Indigo users from all over the world come together. Those from India tend to complain that although their customers order the most expensive range of Photobooks (running into US$1,000s), they were usually too lazy to put the books together themselves. They found the process too involved and finicky. This got Koay thinking about the next level of service for the company.
He says Photobook is working with its designers to make the process a lot easier. "So, it is a combination of AI and manual. In the beginning, it will be a lot of AI and machine learning while our designers do some parts of it. The process will be semi-automatic. But as we become better at knowing what the customer wants, it will become more automatic."
The process will involve selecting the pictures you want to put together (for instance, putting all food-related pictures on one page) and removing duplicates. But the company is not stopping there.
"People are already talking about augmented reality. Let's say you have a picture in your book. You can take your phone and point it at the picture and all of a sudden, the picture turns into a video. It is not something we are looking at immediately, but it is in our road map for the future," says Koay.
Leow says Photobook is looking to become a photo product company. "We want to do different kinds of photo-based products."
He says Photobook has been launching 10 to 15 new products a year since he came on board. "From 2013, we went more aggressively into canvasses, greeting cards and calendars. Then we started doing a lot more stationery products and launched different kinds of photo prints and photo-based gifts as well. From 2014, we moved into home décor options and we have been launching even more photo gifts, from pillows and phone cases to mugs and bottles."
It has also been increasing its range of photobooks. "We used to offer only two or three types. But today, we offer more than 10 types of photobooks. I daresay we offer the largest range of photobooks in the world. Simply because we cater for such a large spectrum of customers," says Leow.
"There are many professional photographers who want something more premium, but we also have a lot of first-time users who have never experienced a Photobook before and normally go for a more basic product. The products can range from a few ringgit to a few thousand ringgit."