This article first appeared in Personal Wealth, The Edge Malaysia Weekly, on December 23, 2019 - December 29, 2019.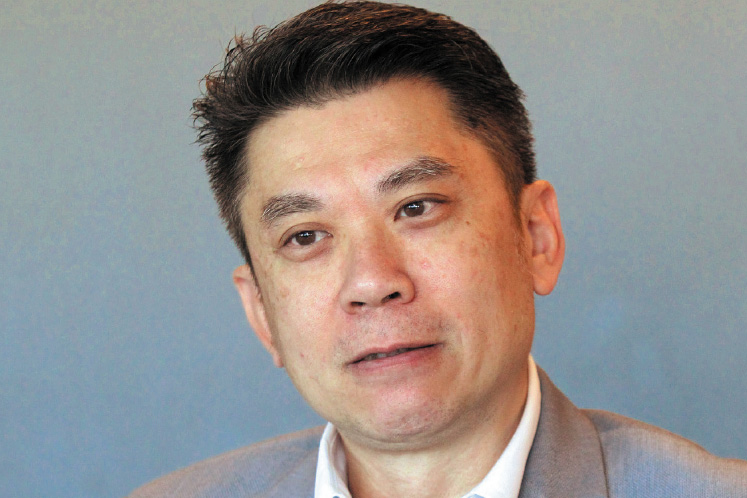 The industry has to evolve. You cannot stop the digitalisation trend. To stay competitive in the business — not just for the stockbroking industry but also insurance and banking — you will need to go digital, or you will face tough competition. - Fok
Stockbroking companies the world over are in for a rough ride. In October, US-based online stockbroker Charles Schwab reduced its commission to 0%, pushing the price war among stockbrokers in the US to a record low.
In Malaysia, the industry is on the cusp of a major shake-up. Traditional stockbrokers are being pushed to go digital and lower costs or risk becoming irrelevant. This may have a bigger impact on non-bank-backed stockbrokers such as Malacca Securities Sdn Bhd as they arguably have fewer resources to revamp their businesses than their bigger, foreign-owned and bank-backed counterparts.
"The industry has to evolve. You cannot stop the digitalisation trend. To stay competitive in the business — not just for the stockbroking industry but also insurance and banking — you will need to go digital, or you will face tough competition. But if you go digital, you will need to think about how to proceed because with too much digitalisation, you will lose the personal touch," says Malacca Securities executive director of dealing Fok Chuan Meng.
So far, the firm — one of the largest non-bank-backed retail stockbrokers in the country, which has been in business for more than five decades — seems to be tackling the challenge head-on. It launched its online platform in 2010 and lowered its online trading prices. Two years later, it rebranded the platform as M+ Online.
Last year, Malacca Securities completely revamped its website and online products to make these more user-friendly. Earlier this year, it launched two trading tools powered by artificial intelligence (AI) on M+ Online.
The decision to go digital was spurred by the firm's observations about the changing investor profile and behaviour in Malaysia. Interestingly, its innovations go beyond providing just an online trading platform but also offering additional tools that it thinks will appeal to the next generation of investors.
"Everyone is expecting digitalisation [to happen in the industry]. It is the norm today. Internet platforms and apps will be a requirement and everyone will make transactions online. Today, if millennials realise you do not have an app, they will say you are outdated. That is why any business that wants to be somebody has to consider digitalisation. And this is why we have to do it as well," says Fok, who has been with the firm for 18 years.
He started his career as a remisier in 1997 and joined Malacca Securities in 2002.
"These are some of the trends occurring in the stock market today. That is why we have to formulate our strategy and business plan to accept that millennials are looking at these things and how we can connect with them," he adds.
What do millennials want?
The digitalisation drive is significant for Malacca Securities, which has been in business since 1963 — just three years after the Malayan Stock Exchange (now known as Bursa Malaysia) was established. The company was started as a partnership in Malacca by Sim Swee Tin and has since expanded to 16 branches across Malaysia.
The firm is still run like a family business. Sim's son, Lim Peng Cheong, is currently managing director while her granddaughter, Lim Chia Wei, is executive director of operations.
"Malacca Securities has been in business for more than 50 years. We saw the stock market run in the 1970s and 1990s. Then, we were hit by the Asian financial crisis in 1997, the subprime crisis and oil price crash [in the subsequent years]. Of course, the change of government last year has had a significant effect on the stock market. We went through all this and we are lucky to have survived thus far with no major hiccups," says Fok.
Back in the 1990s, the stock market was not as regulated as it is today, he observes. Information was scarce and the market was driven more by rumours. Many retail investors also relied on credit to trade. While these investors enjoyed huge returns during the boom years, many lost a lot of money when the market crashed in 1997.
"The combination of clean limits, rumours and a few market crashes caused a generation to lose confidence in the stock market. Luckily for us, there were some investors with different objectives. They saw the financial crisis as an opportunity to collect quality stocks, especially in 1997, when some banking stocks were trading at less than RM2 per share," says Fok.
"Of course, we [as stockbrokers] suffered at the time, but not to the point of collapse. We came back after 2000, when the industry had evolved and risk management frameworks in the industry had improved."
However, the firm still could not attract the younger generation of investors, who preferred to invest in unit trusts rather than directly in the stock market. "I would say a lot of investors [who got burnt in 1997] were fuelled by clean limits and looking for fast returns without much of a risk management strategy. Based on that, the stock market becomes a dangerous place," he says.
An opportunity came in the new millennium with the internet boom and rise of the millennial generation. Fok has spent quite some time observing the behaviours and wants of this generation. "Youngsters today will not accept what their seniors say at face value. They will verify what they have heard using the internet. They will look for information to substantiate what they have heard," he says.
The explosion of information and data online is another factor shaping how the younger generation consumes news, he adds. "Today, if something happens in Japan, the rest of the world knows about it five minutes later. This is what I call information efficiency. Once you have that, the market is unlikely to be rumour-driven."
Millennials also have access to more financial information than their predecessors through the plethora of websites, blogs and newspapers out there. "Today, we also see a lot of social media influencers sharing their views, experience and latest corporate news. Investors' choices are no longer fuelled by rumours and slowly, they prefer to use fundamental or technical analysis. We find that the younger generation is more likely to use these types of tools to help them invest," says Fok.
To capture this segment of digital savvy customers, Malacca Securities has had to build up its digital capacities and offer services that meet their needs. This means providing them with the tools to invest online and workshops to equip them with skills.
"The younger generation is more financially stable and they are not struggling to pay bus fares, for example. Their knowledge of financial management is greater than when my generation was their age. Today, you can see students investing in unit trusts or even multilevel-marketing schemes. They do this because they want to grow their wealth. So, there must be facilitation by brokers or Bursa Malaysia to educate them," says Fok.
Thinking out of the box
Rather than just creating a user-friendly platform for customers to trade online, Malacca Securities intends to go a step further by gamifying the investment process. "I would say that 70% to 80% of those under the age of 35 have either played online games or know what these are. We wanted to set up an investment process that could be gamified. It is our way of breaking down the process," says Fok.
"When you start playing a game, you are not afraid of your character dying because you learn along the way. In the next round, you use those lessons learnt to avoid dying. As you progress through the stages, you become more proficient and if you have a high score, you can get some rewards," he points out.
"Isn't the stock market the same? It is the same risk-reward relationship. But if you succeed, the reward is cash. This is where we come in with training. When you are starting out, we tell you the training you need. It is like military training before you are sent onto the battlefield."
The "Trader's Journey", as it is called on M+ Online, serves as a reference point for new investors on the various levels they will have to accomplish to be considered an expert. Using the principles of gamification, the journey starts at the "Novice" level, where they become familiar with the platform and learn the basics of trading. Next is the "Professional" level, where they learn technical analysis and read financial reports.
These are followed by the "Expert" level, where they learn trading strategies and utilise the Live Beat (live-matched trade alert) tool to trade, the "Master" level, where they learn to use M+ Momentum, a momentum-driven tool, and algorithm trading, and the "Grand Master" level.
New investors who would like to go through the recommended stages can sign up for the relevant classes on Malacca Securities' website. The firm plans to offer packages for the different levels, potentially rewarding the participants with tools once they have completed the training required for a particular stage.
Going into AI
The introduction of Malacca Securities' AI tools, called Elfstone and mPower, earlier this year was another step forward in differentiating itself in the market. This comes as AI-driven algorithm trading gains traction around the world, with prominent quantitative hedge funds also exploring the use of AI in their investment processes.
Elfstone and mPower are available to advanced traders on the platform. Using the analogy of a game, these will be useful when one is stuck at a level and unable to move forward.
"What do gamers do to solve problems? One, they ask their friends, Two, they go to YouTube and watch how others play. Three, they pay for some weapon. And four, they buy their way out of it. It is the same with the stock market. AI helps you if you are not that good and want to rely on a programme to make decisions for you," says Fok.
The mPower algorithm programme is a screener that tracks stock price movements, trading volumes and volatility levels and generates signals to identify trading opportunities. This is targeted at traders rather than retail clients.
Elfstone is a trading programme that executes buy and sell orders automatically based on pre-set algorithmic data. This is targeted at advanced traders who can select their preferred trading strategies to power the programme. It is a logic box that can be attached to M+ Online.
"The client can set up the parameters such as the stocks he wants to track. Then he can apply the strategies he wants to use. For instance, this could be a technical analysis strategy called intraday breakout, meaning that if the price breaks out from its previous high, it is a signal that the price may go higher, based on historical data. The box will pick up the signal and, based on the parameters set, trigger an order automatically," says Fok.
The user can also set his take-profit and cut-loss points.
Elfstone currently supports four strategies — intraday breakout; breakout, which tracks whether prices have broken out from the previous day's high; pullback and go, which aims for a rebound from the support level; and swing, which is a longer-term, buy-and-hold strategy to detect whether prices are moving away from a flattish trend.
The firm worked together with the third-party that developed the tools. But these are still in the infancy stage, says Fok. For now, they only track the real-time price data of Malaysian stocks.
"It is not sophisticated and very straightforward. It is an automated strategy with a bit of fuzzy logic. This is simple compared with the algorithm strategies that track a lot of data points and make a lot of predictions," he adds.
While Malacca Securities charges the normal rate for trades, investors need to fork out a one-time payment of RM12,000 to RM14,000 to the third party that built the strategies. The price covers the four strategies and learning tools. Fok expects the price to come down over time as more parties offer their strategies to Elfstone.
This is just the beginning. The firm plans to continue innovating in this area, says Chia Wei. "This will not be the only AI product. We are in the process of constructing more products to suit people with different investment appetites. We are looking at a spectrum of AI tools and we are not limited to AI-driven algorithm tools."
Physical presence still needed
For a firm like Malacca Securities Sdn Bhd, which has had a close relationship with its customers for decades, the shift to online trading — where clients no longer picked up the phone to call or meet up with their remisiers — could evoke a sense of nostalgia for a bygone era.
When asked whether he feels a sense of loss for days gone by, executive director of dealing Fok Chuan Meng says he does. The firm is still trying to combine the best of both worlds when it comes to the services it offers, he adds.
Over the past decade, while it was aggressively promoting its online platform, it was also opening new branches outside of Melaka. "Having been in business for more than 50 years, we still very much believe in the personal touch. That is why we opened 16 branches in the last few years. So, if you prefer to have the human touch, we have that option for you," says Fok.
Meanwhile, the firm tries to interact with the online-savvy millennial generation through the workshops it conducts at its branches. "This is where we try to strike a balance between having the human touch and online services. That is our competitive edge because a lot of our peers either go fully online or remain as traditional stockbrokers. Another aspect is that people are into personalised services now. So, we cannot go fully online. It has to be a mix of both," says executive director of operations Lim Chia Wei.
For now, a physical presence is needed because the older generation prefers to have a face-to-face relationship with brokers. It is also a reality that millennials do not have as much capital as their predecessors to invest.
"Those who have a large amount of capital are the baby boomers. They also invest more. But if you look at the number of accounts opened annually, the millennials are showing strong numbers. At least for us, we can see that millennials are willing to participate in the market," says Fok.
"Some of our investors are not ready to lose that personal touch yet. So, it is a matter of creating a balance between the different approaches to the market."
Making it as a family business
Several mergers and acquisitions (M&A) as well as joint ventures have occurred among non-bank-backed stockbroking firms in recent years. With eroding commissions, low retail participation in the stock market and a growing preference for online trading, traditional players need to find a way to adapt, survive and thrive.
In 2017, non-bank-backed Jupiter Securities Sdn Bhd was acquired by CIMB Group Holdings Bhd, which then partnered China Galaxy International Financial Holdings Ltd to form CGS-CIMB Securities Sdn Bhd this year. Meanwhile, a merger exercise is currently ongoing between JF Apex Securities Bhd and Mercury Securities Sdn Bhd.
"Most M&A involve brokers such as ourselves, who are non-bank-backed. Technology investments are heavy. It is not just about investing in hardware. You have to be in it for the long haul. So, the question is whether some of the older brokers want to endure this. Banks have deeper pockets and more resources," says Malacca Securities Sdn Bhd executive director of dealing Fok Chuan Meng.
Another reason for M&A is that some family businesses may decide to sell the company. "A lot of brokers, like ourselves, have been in business for 40 to 50 years. The second or third generation are not willing to come into the business. That is why some of the family businesses cannot find successors and the only way is to sell the company," he says.
This is different for Malacca Securities, where the family of the founder continue to develop the firm. "I am very lucky that my children are interested in the business. My daughter, Chia Wei, has been involved in the business for five years now and is [being groomed for] management. My son joined earlier this year. I think the future of the company will very much depend on how they and their team see opportunities," says managing director Lim Peng Cheong, the son of the firm's founder.
"The family has managed to retain control of the company even though there were many instances in the past when we were pressured to sell, in line with industry policy. However, we have held steadfast to the fact that we managed to survive the turbulence of the industry with the contribution of stakeholders, namely our employees and remisiers. So, we will continue to fight alongside them as we would like to continue being a player in the industry and recognise the changing landscape with the advent of the internet and digitalisation."
As a player in the local retail segment, Lim realises that the firm cannot maintain the status quo. That is why Malacca Securities has been exploring various areas, including online trading, Islamic stockbroking window and algorithmic trading. It has also brought in professional managers to raise its game.
"I think the term 'family business' has a very limiting connotation. We are more of a family-controlled business and we have professionals running the company and implementing modern management practices together with us. My immediate challenge is to structure a succession plan that will work and sustain the growth of the company," says Lim.
The company is still growing and innovating to attract a new generation of customers. "The age group of the people opening accounts with us gets younger every year and the account opening numbers also hit new highs each year. We have introduced a lot of ways to acquire clients, other than the normal dealer-remisier route. We also look at online acquisitions," says Chia Wei.
But is that enough to survive the tough market? Several local non-bank-backed stockbrokers such as Mercury Securities have gone into corporate finance to look for new revenue streams. When asked, Fok does not discount the possibility that Malacca Securities may do the same in the future.