This article first appeared in The Edge Malaysia Weekly, on April 19, 2021 - April 25, 2021.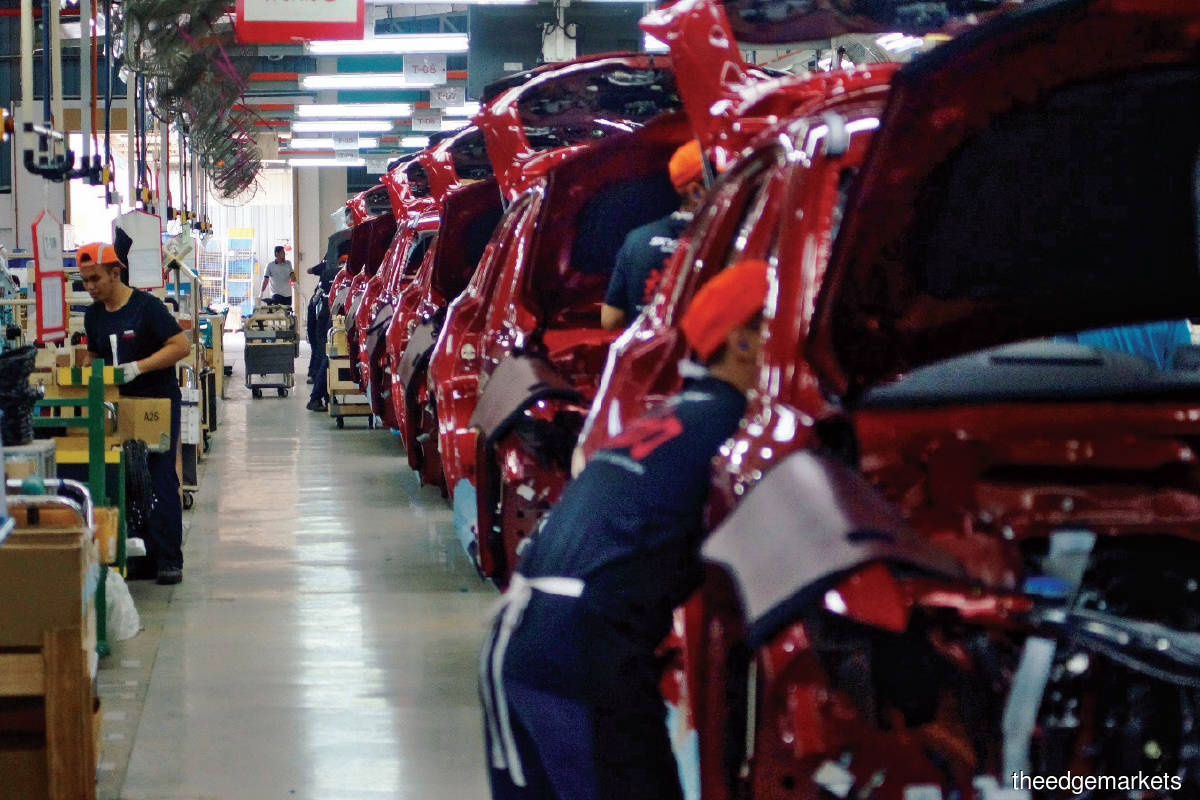 FEW would dispute that Bermaz Auto Bhd (BAuto) has had an impressive track record of distributing Mazda vehicles in Malaysia over the past 13 years under the leadership of automotive industry veterans Datuk Seri Ben Yeoh Choon San and Datuk Francis Lee Kok Chuan.
When the Japanese car brand was initially distributed by Cycle & Carriage Bintang Bhd, only 500 to 600 cars were sold in the country each year. But since BAuto — then controlled by Berjaya Corp Bhd — took over the Mazda distributorship in 2008, total vehicle sales in Malaysia grew significantly from 886 units in the financial year ended April 30, 2009 (FY2009) to 9,484 units in FY2020.
At its peak in FY2019, BAuto sold close to 16,000 units of Mazda vehicles. Today, the marque is the country's fourth largest non-national car brand in terms of sales.
Not content to rest on its laurels, BAuto recently stepped up its game when it announced a partnership with South Korean carmaker Kia Motors Corp to make and distribute Kia vehicles in Malaysia.
Auto industry observers may feel a sense of déjà vu, considering that Kia Motors sold fewer than 800 cars here last year, much like Mazda's performance prior to 2008.
The question is, can BAuto replicate what it did with Mazda and deliver success for Kia? And why has it chosen to expand its portfolio of offerings now?
In a phone interview with The Edge, Lee says BAuto needs a strong partner like Kia Motors to take the company to the next level and to sustain its long-term growth.
"BAuto has been focusing on Mazda over the years and now, we want to have a bit of diversification instead of just relying on one franchise. If the release of Mazda's new models were to slow down, then at least we would have Kia's new models to keep the momentum going. To us, it is about maintaining equilibrium for the two valuable brands," explains Lee, who is the group CEO and executive director of the company.
He reveals that BAuto had been working to secure the Kia franchise over the past 12 to 18 months and that the group's future is very much secure with the new partnership. "Today, if Mazda does not have enough models for us to do completely knocked-down (CKD) projects, BAuto will not be able to grow as a company. But in the next five to 10 years, Kia will have a lot of new models coming on stream. So, it is very timely for us to tie up with it as JV (joint-venture) partners," he says.
BAuto and Kia Motors are forming a JV company called Kia Malaysia Sdn Bhd (KMSB) to undertake the assembly of Kia vehicles here, with BAuto having a 33.33% stake and its South Korean partner holding the rest.
Kia Motors is South Korea's oldest manufacturer of motor vehicles. Part of the Hyundai-Kia Automotive Group, the company has grown to become the world's fifth largest vehicle manufacturer. It is also South Korea's second largest automobile manufacturer after its parent, Hyundai Motor Company.
"Kia is such a big automotive group with economies of scale. It is gaining strength in the electric vehicle (EV) and hybrid vehicle segments. Going forward, everyone will be craving for EVs. We will be able to tap into its expertise in these areas," says Lee.
"Nevertheless, I still believe that in the next five years or so, combustion engines will remain relevant in Asean because our EV infrastructure is not as mature as that in the US, European countries and major cities in China."
Lee, 61, was appointed to the board of BAuto in July 2011. He is also chairman of Bermaz Auto Philippines Inc as well as director of Mazda Malaysia Sdn Bhd and Inokom Corp Sdn Bhd.
Formerly known as Berjaya Auto Bhd, BAuto took on its current name following a management buyout (MBO) in 2016 as it was no longer a major subsidiary of Berjaya Corp — the flagship company of prominent tycoon Tan Sri Vincent Tan Chee Yioun. Yeoh, the then CEO of BAuto, spearheaded the MBO by leading 10 members of the senior management team, including Lee, in buying a substantial stake from Berjaya Corp.
BAuto's 29%-owned associate company Inokom is a contract manufacturer of various marques, including Mazda, that is based in Kulim, Kedah. Meanwhile, Mazda Malaysia, which assembles Mazda vehicles locally, is a 30:70 joint venture between BAuto and Japan-based Mazda Motor Corp.
Regional manufacturing hub for Kia
Interestingly, Lee highlights that BAuto is one of only two JV partners of Kia Motors in the world. The other is in China.
"Normally, Kia would not enter into a JV wherever it goes because it is big enough that it can just go into a market and invest totally. Previously, the Naza group was Kia's official distributor in Malaysia but they were not JV partners. We enticed Kia to enter into a JV with us because we hoped that Malaysia could be its automotive hub for the Asean market," he explains.
With the Asean Free Trade Area, BAuto will be able to take advantage of the zero import duty — as long as it meets the requirement of a minimum of 40% local content — by exporting the locally made Kia vehicles to other Southeast Asian countries.
"For a start, we are looking at Thailand, Cambodia and the Philippines. If Kia had wanted us to do only CKD for the Malaysian market, we would not have been keen. Kia has not done any manufacturing in this region other than in Vietnam, but it doesn't export out of Vietnam. That's why it is an opportune time for it to co-invest with us and export to other Asean markets," Lee elaborates.
"This is exactly what we do with Mazda. In fact, we have been the biggest car exporter in Malaysia over the past five to six years. Now, we want to replicate this business model with Kia."
With the JV in KMSB, Lee is confident that the future of all BAuto stakeholders — including shareholders, car vendors and insurance vendors — will be secure because they know Kia Motors is here to stay. "With at least six to seven CKD models, BAuto will become a strong automotive group, or maybe even a mini auto conglomerate in Malaysia," he remarks.
BAuto has about 10 completely built-up (CBU) models in its Mazda portfolio, but only three CKD models, namely Mazda 3, CX-5 and CX-8. CKD refers to cars that are put together at a local manufacturing facility, while CBU refers to cars that are assembled in a foreign country and subsequently imported into the local market as a complete, operable vehicle.
The JV with Kia Motors will produce two models — Kia Seltos and Kia Carnival — with a third model to be determined by the end of the year.
Both Mazda's and Kia's CKD models will be assembled at Inokom's plant in Kulim. But it is estimated that KMSB will need about eight to 12 months to set up the CKD programme and for the mass production to come on stream.
Lee opines that Malaysia lacks a CKD programme. However, with the new Kia project, he hopes that the Inokom plant will be reactivated and, hopefully, more employment will be created in the northern region.
"We want to make sure that our Inokom plant is running at full capacity. Frankly, there aren't many job opportunities in Kulim. If our new CKD project is successful, I think it will be very meaningful because people in Kulim will be taken care of and the breadwinners will be able to put food on the table," says Lee.
Wrong perception of South Korean cars
While the market share of non-national car brands in Malaysia is largely dominated by Japanese marques, Lee insists it does not mean that Malaysians do not like South Korean cars, which have been used in the country for the past two to three decades.
"It started with Hyundai-Berjaya when Tan Sri Vincent Tan brought them here in the 1990s. Then, in the early 2000s, the Naza group brought in Kia. Overall, I would think that South Korean cars are well accepted in Malaysia. Don't forget, Kia has sold more than 100,000 to 110,000 cars in the last 14 to 15 years — these are not small numbers," Lee points out.
Nevertheless, he acknowledges that some South Korean cars have not been well received, mainly because there isn't a CKD programme in Malaysia. "To make a car sellable, it has to be in CKD form. With the support of the government and incentives, your car would be more competitive in terms of pricing. If you bring in CBU, with the high duties and all that, the cars would be very expensive and difficult for you to sell."
Lee reiterates that there is a misperception that Malaysians mistrust South Korean cars. "If you ask the Japanese brands to sell only CBU, do you think their cars will sell? I don't think so. The difference, in my opinion, isn't whether the car is Japanese or South Korean, but more about CKD or CBU."
He goes on to say that BAuto's initial target is to sell 2,000 units of Kia vehicles in FY2022. Subsequently, the group hopes to sell 7,000 to 8,000 units in FY2023.
"These sales targets are only for the Malaysian market. For the export markets, we are looking at an additional 10% to 15%. For now, we want to underpromise but overdeliver. But in the coming years, we expect the sales of Kia vehicles to match or even surpass that of Mazda," he predicts.
Car ownership experience
On BAuto's secret to success in revitalising Mazda, Lee says it is all about providing a good car-ownership experience. "We are well known for giving good customer experience to Mazda car owners. We want to maintain that. From there, with word of mouth, our cars — whether they are Mazda or Kia — will sell."
BAuto is the first player in Malaysia to offer 3+3 — that is three years' warranty plus three years of free service maintenance — and subsequently 5+5, to its customers so they can have peace of mind without having to worry about unexpected repair costs.
"Being the distributor of choice, a lot of work has to be put in to ensure that we are top of mind when customers want to buy a car. There is no shortcut. We must do it the correct way. We want to make sure they will always come back to us again and again," says Lee.
BAuto even provides mobile car maintenance services to enhance the customers' car-ownership experience. "If you do not have time to come to our service centres, we will come to you. We need to let our customers know that we are always there for them. Just one phone call and your problems will be solved. That's what sets us apart from the other players."
Currently, the Employees Provident Fund is the single largest shareholder of BAuto with a 20.2% stake, followed by the management's special purpose vehicle, with 13.87% equity interest.
"Including our personal stakes, the management has a collective shareholding of 17% to 18%. We did the MBO about five years ago. We have to make sure BAuto delivers because our reputation is at stake. We have to do a good job," says Lee.
It is worth noting that Berjaya Corp has exited BAuto and does not own any shares in the company.
The share price of BAuto has gained 34.5% from its 52-week low of RM1.13 on Nov 2 last year to close at RM1.52 last Wednesday, giving the firm a market capitalisation of RM1.77 billion.
Despite higher revenue, BAuto saw its net profit decline 31.5% to RM67.11 million in the nine months ended Jan 31, 2021 (9MFY2021), down from RM98.05 million in the previous corresponding period.