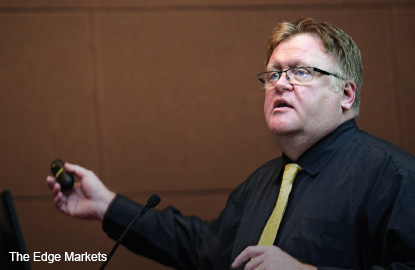 This article first appeared in
The Edge Malaysia Weekly
, on December 12 - 18, 2016.
OVER the last three decades, the world watched in awe as China — the once closed-off, vastly agriculture-based economy — rapidly grew to become the economic powerhouse that it is today.
The China of today is seen as increasingly asserting its core interests by being a key player on the world stage. This is especially so from the time of the global financial crisis of 2008-2009, which left the US and Europe reeling from economic woes.
With recent political developments pointing to the US and Europe becoming more domestic-focused, many are wondering if this is inevitably China's time to reign.
Yet, the key questions remain: Does China even want to be a global superpower replacing the US? And if so, does it have the capacity to assert more global dominance given the challenges it has to balance back in its vast homeground?
To the first question, China expert Professor Shaun Breslin simply says: "No, not at the moment."
Breslin's academic interest in China spans over three decades, from the mid-1980s when he was an undergraduate student to the present day in his work as researcher and professor at the University of Warwick's Department of Politics and International Studies.
"I think there is a very strong recognition in China that even if they wanted to be, they don't have the capabilities to be. Some people talk about China as a superpower, but people in China don't even talk about China being number two," Breslin tells The Edge on the sideline of his recent lecture at Monash University Malaysia.
According to Breslin, there is the realisation within China's top brass that China remains a secondary power and cannot be expected to take on too many global public and humanitarian initiatives that are typically expected of powerful countries on the world stage.
He disagrees with the popular view that China will inevitably replace the US as the new superpower. It simply is not that straightforward.
"It is, I'm afraid, a messy world. So, let's disaggregate between military power, mediational power and material power. Let's further disaggregate material power: there's market power, productive power and financial power. China's power lies mostly in financial power," he says.
As Breslin points out, the world is not as simple as it once was such as in the Cold War era where countries in alliance operated on the basis of "you're either with us or against us".
Now, the world is moving towards a period of multi-polarity, he notes. This means that countries can stand together on one issue such as trade, and stand apart on other issues such as environmental pacts and security.
"For many countries in this part of the world, their economic future seems inevitably to be with China …  it is not necessarily a case of wholly hitching yourself to China on every issue.
"Who would you look to for old-fashioned, straight-forward security alliances? It's more often the US," says Breslin.
He argues that China's agenda is to focus on domestic development, but push for moderate reform internationally where possible.
He expects China to make a moderate push for change such as in the establishment of the Asian Infrastructure Investment Bank that does not radically alter the world order but is, in some ways, China's attempt at leading.
The China-proposed infrastructure financial institution for the Asia-Pacific region is seen as a move to grow China's influence in the region. Others see it as China's way of assuming roles previously held by the World Bank and the Asian Development Bank that are dominated by the US and Japan.
"As a leading Chinese academic said to me, China's major challenge isn't to change the global order. It is to ensure that it doesn't break it because the existing global order actually serves China's interest quite well."
Apart from infrastructure, China is also expected to push for negotiations for a China-led regional economic partnership deal in place of the Trans-Pacific Partnership agreement that increasingly looks like being pushed off the table with the election of incoming US President Donald Trump.
The time is certainly right for China.
"Countries in the region are anxious about America's long-term commitment to free trade and security. They [China] might find that there is more willing reception than there was a year ago," says Breslin.
From conversations with experts on China, he points out that not everyone in China sees the nation as being as powerful as it is sold on the international scene.
In fact, there are people who think that China is not assertive enough on issues such as the South China Sea territorial dispute with countries like the Philippines, Vietnam and Malaysia.
Although Malaysia is involved in the South China Sea dispute, it has also been cosying up to China in recent years. Take, for example, Prime Minister Datuk Seri Najib Razak's recent visit to China where an unprecedented RM144 billion in deals were signed, including the RM55 billion East Coast Rail Link.
Although the government hailed it as a big boost for bilateral trade and ties, anxiety remains as to what cost China's investment comes with.
When asked, Breslin points out that although China could be economically beneficial to countries like Malaysia, power imbalances will remain in other areas.
"I think there is some attempt to build some form of economic dependence on China that makes it much harder for countries in the region to challenge it strategically and diplomatically when it comes to questions of territory.
"It can still be benign but we can rest assured it is not going to be just about economics. The relationship with China comes with geo-strategic, political and security implications that many people in Malaysia, the Philippines, and Vietnam might find uncomfortable," Breslin says.
The reality that China's government faces is that it has to balance its global ambitions and domestic challenges that it has been facing for a long time.
Breslin says China's main priority will still remain domestic-focused and it will push for some moderate changes and reforms, where it sees they work to its interests.
China's leadership, in the short term, has its hands full with dealing with complex, inter-connected domestic issues in the realms of economy, politics, society and the environment.
Back in 2012, China's President Xi Jinping had hinted at four areas that needed urgent attention in the country: China's economic model, the Communist Party of China, the ties between the party and the people and a moral-ethical void in society.
As Breslin puts it, Xi saw that "the economic model served us very well but has run its course. The party is broken, internally fragmented. There were too many people serving their own interests instead of uniting to serve party interests".
"The people didn't trust the party. They saw them [some leaders and officials] as being self-serving. Xi looked at society and thought there was a moral, ethical void within society," he says.
Then the fifth problem came along — the environment too was "broken".
Yes, China has long had issues with air quality among other environmental problems, but all came to a peak in late 2015 in what was dubbed "The Airpocalypse" when Beijing was shut down amid an air pollution red alert when the capital was engulfed in thick smog.
The challenge is that all these issues have to be fixed simultaneously.
The measures, Breslin notes, include Xi's move to consolidate power within the Communist Party by establishing himself as the core and his attempt to restore public faith in the party via national campaigns and a widespread corruption crackdown that has seen over 300,000 officials punished for alleged graft.
On the environmental challenges, China's government has announced a long-term plan for it to move from a coal-dependent energy consumer to a low-carbon economy by reducing carbon emissions and improving financing to green projects.
But in the crucial area of economic reform, things are not as easy.
The desire to reform China's economy is met with resistance from those with vested interests or different views as well as the government's need for control, says Breslin.
"There is this desire to use the market, where the private sector will lead the growth. There is a desire to drive decentralisation, flexibility, innovation and initiative," he says.
Yet, the desire for reform is restricted by the government wanting control over the economy as well as fear of political instability. Although the Communist Party has enjoyed almost unchallenged control and political power, the party leadership never takes it for granted.
"There is a gut instinct and need to control and this very strong consideration that chaos is just around the corner."
Given these domestic challenges, Breslin takes the contrarian view that China's future dominance should not be assumed to be inevitable.
"A lot of people, certainly in the West, have assumed [there will be] a continual, steady rise of China because of the continual, steady economic growth there.
"Why does past success inevitably mean future success?" Breslin asks.
The world cannot discount the possibility of a hard landing for economic reforms in China, or an even slower rate of growth or the possibility of its economy remaining stuck in its present model of debt-led growth, he says.
The bottom line is that although what China wants is important, it may not always get what it wants.
"I shouldn't say this as a person who concentrates on China, but we have become too China-centric. What China wants is very important but China can't change the world by clicking its fingers," says Breslin.