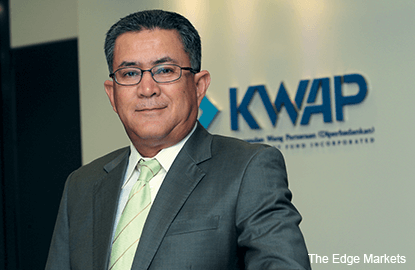 This article first appeared in The Edge Malaysia Weekly, on January 25 - 31, 2016.
CLOSE to a decade since it was set up to aid and eventually take over the federal government's over RM300 billion, and growing, pension liabilities, Kumpulan Wang Persaraan (Diperbadankan) or KWAP is structurally ready to take on the mammoth task.
This year, it takes over the job of dispensing pension cheques to 600,000 pensioners and 100,000 of their dependants from the Public Service Department, which still takes care of 1.6 million civil servants in active service.
The number of pensioners and dependants that KWAP serves is expected to grow from 700,000 to over one million in the next five years and its CEO Wan Kamaruzaman Wan Ahmad has already ordered studies to be done on how the fund can serve them better.
He is thinking beyond the timely processing and delivery of pension payments to helping pensioners have a better quality of life, such as providing them with serviced retirement homes. "I think the time is right for someone with capital backing like KWAP to do it on a commercial basis," Kamaruzaman tells The Edge, relating how his people had already visited model retirement homes in Australia.
Simply put, KWAP hopes to create a sustainable and profitable business out of taking care of pensioners at a reasonable cost — a cost it can finance directly out of their pensions. Kamaruzaman says KWAP is also open to working with the Employees Provident Fund (EPF), which also has a pool of retirees who may want similar old-age services. "We hope it will take no longer than five years to start rolling out."
While his intention is noble, these add-on services are not the core reason KWAP was set up. The pensioners who KWAP serves are those with the so-called defined benefit pension where the government pays for the civil servants' retirement.
Private sector employees, on the other hand, are on the defined contribution scheme, where the amount saved for retirement in their accounts with the EPF is cut from his or her salary with additional contribution from the private sector employer. This means they need to save for their own retirement.
While civil service pensioners and their dependants have this retirement safety net, the escalating cost to care for a growing pool of retired government servants and their eligible dependants is contributing to a growing fiscal burden for the government.
This is more so as Malaysians are living longer post-retirement and the cost of healthcare is escalating for the aged. The average Malaysian was only expected to live until 61 five decades ago — about five years after the then retirement age — but is expected to live around 20 years longer post-retirement.
While Malaysia's population is still much younger than that of the developed countries, where pension reforms are in place, one in 10 Malaysians will be aged 65 and above by 2035, according to projections by the Statistics Department. This means there will be 3.89 million people aged 65 and above — more than double the 1.43 million in 2010 — and this is projected to rise to 4.41 million or 11.4% of Malaysia's population by 2040. In fact, Malaysia will reach the 7% threshold that the World Bank defines as an ageing society in about five years, in 2021.
Little surprise then that the amount that Malaysia spends on pensions and gratuities has more than doubled in less than a decade, from RM7 billion in 2006 to RM18.2 billion last year.
This sum is projected to grow 7.4% year on year to reach RM19.5 billion this year or about 9.1% of the federal government's budgeted operating expenditure, according to the latest Economic Report. In the same report, pensions and gratuities have been reclassified as "retirement charges" to include the government's contribution to KWAP.
While KWAP, which is supposed to eventually become the EPF-equivalent for civil servants — has been working on expanding since 1991, its fund size stood at only RM109.43 billion at end 2014 — barely a third of the government's estimated RM300 billion pension liabilities.
This is not to say that KWAP has been unsuccessful, though.
To its credit, its fund size grew an average of 13% annually for seven years to reach nearly RM110 billion at end-2014. And the largest contributor to its growth is investment income, and not contributions from the government and statutory bodies.
For the record, the government allocates 5% of the total emolument budget to help grow KWAP's fund every year. But the contribution from the government has remained stagnant at RM1.5 billion a year since 2011, KWAP's latest annual report shows.
When asked about this, Kamaruzaman has this to say: "Due to the constraints of the federal government in terms of its budget deficits, the contribution [to KWAP] has not been growing. It has been either stagnant or down a little bit, actually. This is why our ability to grow from the contribution side is limited, because it is beyond our control. That is why we are not growing in a manner that can close the liabilities gap."
Though the government's fiscal position is currently tight, that was not the case in 2011 when oil prices were two to three times where they are today.
Is the sluggish contribution from the government a sign that KWAP is more of a "like-to-have" than a "must-have"?
Based on the 5% of total emolument budget formula and the amount allocated for emoluments, some RM3.1 billion was due to KWAP in 2013 and another RM3.2 billion in 2014. Based on the emolument budget of RM65.6 billion for 2015 and RM70.5 billion for 2016, at least another RM3.3 billion and RM3.5 billion is due to the pension fund from the government respectively.
Kamaruzaman defends the government's position, maintaining that KWAP remains committed to the goal it was set up for. "The government still fulfils its obligation to make pension payments monthly and on a periodical basis without fail. This is just additional savings that the government is trying to put in and grow," he says, adding that the government is still growing its revenue base to be able to continue fulfilling its obligation to civil servants, government pensioners and their dependants.
He believes the current system can be sustained if the government is able to grow its revenue. "The government can raise revenue through the Goods and Services Tax, it could introduce other taxes. It has raised the income tax rate for the higher income tax bracket. There are so many ways the government can grow its revenue. Whether or not they are sustainable, the government just has to plan them in its annual budget."
Yet, economists, who have long red-flagged that the government's ability to channel more money into development expenditure is because easily 90% of government revenue is spent on operating expenditure, of which emoluments make up a third. Together with pension obligations, some RM90 billion will be spent on civil servant emoluments, pensions and gratuities this year.
Moving the pension burden to KWAP will give the government additional fiscal room for other development spending and safety nets. The latter are needed as the rest of the population, including private sector earners, would likely require more healthcare benefits in their old age.
An obvious alternative would be to reform the public pension system into an EPF-like defined contribution scheme. Not only will that not be a popular move for the government but it could also be "political suicide" because civil servants enter public service with the peace of mind granted by the existing defined benefits scheme.
"[A defined contribution scheme] has been done in many countries. But whether the [Malaysian] government is willing to look at that as well as for the new entries into the civil service, that is an entirely new issue," says Kamaruzaman.
"What you have promised, that one would be on a defined benefits programme, you cannot take that away. But it is different for new employees. Of course, there should be political will to push the reform because, obviously, it is not going to be popular."
For some perspective, consider that almost 70% of the EPF's members aged 54 have average savings of only RM27,558 in their accounts, according to the EPF's 2014 annual report. This sum may not be enough to finance surgeries if health becomes an issue in old age. The remaining 30% have average savings of RM180,153 in their accounts, meaning their average pension is just RM750 per month for over 20 years.
In contrast, Budget 2016 tabled last October set the minimum pension for civil servants at RM950 per month effective July 2016.
Kamaruzaman assures that the government is still studying the need for pension reform to decide how and when best to make such a move. He also says that with the legislation amendments made last year, KWAP is structurally ready to be the civil servants' EPF.
The only thing lacking is KWAP's fund size.
According to Kamaruzaman, KWAP will be able to start undertaking part of the government's pension liabilities if it can grow its fund to RM150 billion — half the current liability estimate.
"If we can close the gap to about 50% of the pension liabilities, I think it is something very workable for KWAP to undertake," he says. "There needs to be a time frame, in which we can take on the pension liabilities on a gradual basis."
Some of the options being looked at include having a cut-off date by which new civil servants will knowingly join the government on an EPF-like defined contribution scheme instead of the current defined benefit scheme. The rest who join based on the existing scheme will remain the government's obligation.
"[With a cut-off], what the government pays on a yearly basis will deplete over time. In the meantime, KWAP's fund size will keep growing," explains KWAP's chief investment officer Nik Amlizan Mohamed, who was also present at the interview. But she adds that no cut-off date has been decided yet.
"A formula can be worked out; there are so many variations that can be considered. But at the same time, there is a need for KWAP to grow to a certain size first before those variations can be worked out. If not, it will be too long before KWAP can take on the pension liabilities," says Kamaruzaman.
"[The pension liabilities] should be slightly higher today. That is why KWAP needs to grow faster and get a much higher return to close the pension liabilities gap. Unfortunately, there is only so much we can do in terms of investments. Because of our approach to risk management, we do take a little bit more of a conservative profile. Ultimately, we need to protect our principal."
So, how soon can KWAP meet this RM150 billion threshold? "Within three years, we should hit RM150 billion or maybe slightly more," says Kamaruzaman.
Last year, KWAP's preliminary estimates put growth at about 8% y-o-y to RM118 billion from RM109.4 billion reported in 2014. "This year's target should be about RM130.2 billion based on our key performance indicator," he says.
KWAP's fund has been growing in double digits since 2009 but in 2014, growth slowed to 9.5%, no thanks to lower contributions from the government and statutory bodies, Kamaruzaman says.
"That is the kind of percentage at which we have managed to grow our fund size and [the decrease] purely reflects the smaller contribution," says Kamaruzaman, adding that contributions are not likely to fall further.
With KWAP focused on its goals, one can only hope that the government will soon shed some light on how it will address the growing burden that is the public pension system. Going by the lessons from developed countries, it is better to have a planned and orderly transition rather than having one forced upon the government due to a lack of finances.