This article first appeared in City & Country, The Edge Malaysia Weekly, on March 15, 2021 - March 21, 2021.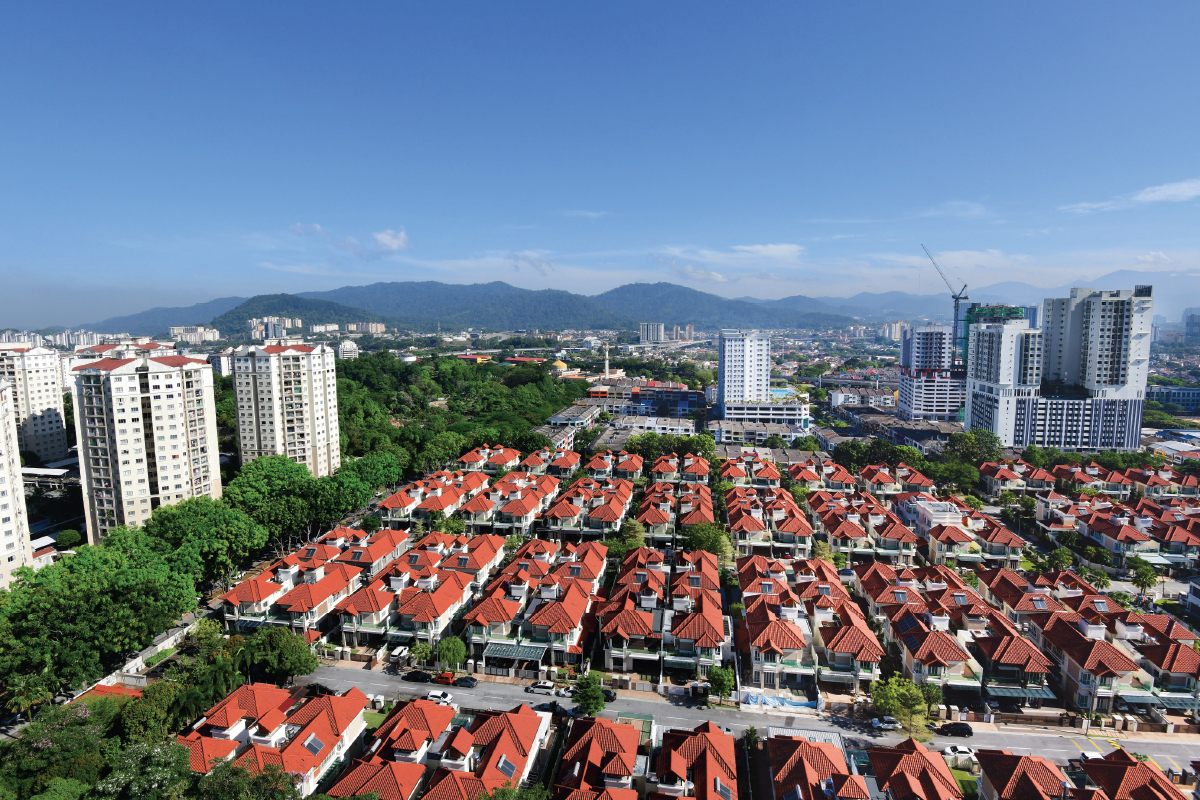 Bandar Menjalara is a busy neighbourhood. Parking in the main commercial area is always difficult owing to the wide range of eateries and shops there. In the mornings and evenings, residents can be seen jogging or walking in the 20-acre Taman Tasik Menjalara.
Thanks to its location adjacent to Desa ParkCity and Kepong, the township has come a long way from its humble beginnings in the 1980s.
"Bandar Menjalara was one of the earlier townships in Kepong and it is almost fully developed. Now, there are mostly small pockets of undeveloped land within or on the fringe of Bandar Menjalara," says CCO & Associates (KL) Sdn Bhd director Chan Wai Seen.
According to Savills Malaysia director of research  and consultancy Amy Wong, the 400-acre Bandar Menjalara is bordered by the Damansara-Puchong Expressway (LDP) to the west and the Dutamas-Ulu Klang Expressway (DUKE) 2 to the northeast.
"Bandar Menjalara used to be known as Desa Sri Mahkota. The area is almost fully developed, with an excellent mix of amenities, including Kepong Village Mall, where the Tesco hypermarket is located, two secondary schools, a mosque, an upcoming fire station and a wide range of shops offering a variety of F&B and services," says Wong.
She notes that similar to any suburban neighbourhood, Bandar Menjalara is popular with families owing to its excellent amenities and proximity to schools in the neighbouring areas.
"Notably, the second generation of the initial dwellers are forming new families as they step into their 30s, and that contributes to the considerable demand within the area," says Wong.
According to Metro Homes Realty Bhd executive director See Kok Loong, Bandar Menjalara has transformed and grown in popularity partly owing to the neighbouring Desa ParkCity.
Wong concurs with See, noting that a very crucial change to its recent demographic is the increasing popularity of, and development in Desa ParkCity.
"Bandar Menjalara residents benefit greatly in terms of immediate access to the quality public realm at Central Park in Desa ParkCity and the increasingly high quality offerings at The Waterfront and Plaza Arkadia," says Wong.
Chan notes that Bandar Menjalara is well occupied, with Chinese making up the majority of the population.
"The increase in population will be gradual before hitting its peak, as limited new projects are expected in this township," he says.
A vibrant market
Its strategic location in Kuala Lumpur, land scarcity and easy access to various highways have boosted demand in Bandar Menjalara, says Chan.
"The neighbourhood is mature, with limited new supply, which is important to ensure price stability. Bandar Menjalara is also one of the few townships in Kuala Lumpur that offer landed houses," he points out.
Wong notes that Bandar Menjalara, with its close proximity to Petaling Jaya, Mont'Kiara and other areas, has always been a strategic location.
"Connectivity was further improved with the opening of DUKE 2 in 2017, with access to the Kuala Lumpur city centre during peak hours shortened to 30 minutes, compared with the 45 to 60 minutes before the appearance of the tolled highway. In the next two to three years, the Mass Rapid Transit (MRT) line 2, Putrajaya Line Sri Damansara East station will be less than a 3km drive away and will further improve the current connectivity.
"The excellent and wide-ranging amenities, benefits of proximity to Desa ParkCity and improving connectivity are the main factors contributing to the attractiveness of Bandar Menjalara," says Wong.
The Putrajaya Line, previously known as the Sungai Buloh-Serdang-Putrajaya Line, is the second MRT line. Once completed, it will serve a population of about two million people, all the way from Kwasa Damansara to Putrajaya.
Despite stagnant property prices since 2015, Wong notes that subsale prices of landed properties have exceeded RM800,000 — a level that only the upper-middle-income group can afford.
"Anecdotal evidence also suggests that the new residents in the area in recent years are from the upper-middle- and upper-income groups. There have been an increasing number of new businesses opening shop in the Bandar Menjalara commercial areas over the last three years, with a notable upgrade in positioning level. This includes new cafés, bakeries, beverage outlets and banks, [in] sharp contrast to the older shops with mass-market positioning. This is a sign of increasing income levels within the area," says Wong.
See says the property market in Bandar Menjalara is very vibrant, much like the other areas in Kepong.
"Just a glance at the data from the Valuation and Property Services Department shows that the property market there is active, with transactions of properties ranging from terraced houses and condominiums to shopoffices," he says.
He notes that its location makes Bandar Menjalara attractive to homebuyers.
"For investors, the pricing of properties is the main factor. Bandar Menjalara is much cheaper compared with Desa ParkCity. And there are certain products that are not available in Desa ParkCity, such as low-cost terraced house, flats and shopoffices, that attract investors," says See.
According to Wong, in line with the general market, prices have held steady since 2015 for landed residences, which form the bulk of the property supply in the area, and, despite a decline in transaction volume, the occupancy rate has remained high.
"Residential developments in Bandar Menjalara mainly comprise double-storey terraced houses in Menjalara 62B (>800 units), with a 22ft x 75ft layout, and Sri Menjalara (>1,300 units), with a smaller layout of 18ft x 60ft. Semi-detached houses (196 units) are limited to those in Villa Manja, which was developed and completed by Sunway SPK in 2010.
"High-rise developments started with Medan Putra Condominium, Menara Menjalara and Kestana Condominium in the early 2000s. They were followed by Plaza Medan Putra (500 units) in 2010. In recent years, there have been higher-quality launches, such as Menjalara 18 (248 units) and Dua Menjalara (95 units) by F3 Capital in 2009 and 2015 respectively; and East Parc @ Menjalara (432 units) by Fiamma Holdings, which was completed a few months ago," says Wong.
She adds that there is currently one upcoming high-rise residential development in the township, namely M-Suite by VST Development Sdn Bhd.
According to Wong, the 0.7-acre development comprises 202 SoHo (small office/home office) units with built-ups ranging from 460 to 920 sq ft. Launched in 2018, the selling prices start from RM311,000.
"At just over 50% completion, the project is expected to be completed by end-2021 or more likely 2022. This will bring the cumulative high-rise residential supply in Bandar Menjalara to about 3,300 units by 2022," says Wong.
See says Sri Melinger Sdn Bhd is planning a new mixed-use development. Sri Melinger is the developer of Plaza Medan Putra, a freehold mixed-use development in Bandar Menjalara comprising 500 apartments in Avelon Tower and Beverly Tower.
"The proposed development comprises a 49-storey serviced residence block, with 2-storey retail shoplots on the ground floor. The site is in Jalan Medan Putra 2 and it is flanked by Medan Putra Condominum and Kestana Condominium," he says.
As for the rental market, Wong says Bandar Menjalara is largely an owner-occupier neighbourhood, with limited rental activity.
"The rental market is believed to be largely in the more affordable condos of Menara Menjalara and Plaza Medan Putra, as well as Menjalara 18 and Dua Menjalara, for tenants with a budget who like the proximity to Desa ParkCity," she says.
Based on historical transactions of residential properties from 2015 to 2020 by Savills Malaysia, prices of high-rise residential and landed residential properties moved in oppposite directions.
The average transacted price for high-rise residential properties declined at a five-year compound annual growth rate (CAGR) of 3%, from RM508 psf in 2015 to RM436 psf in 2020, according to Savills.
"However, the average transacted price for landed residential properties has increased slightly over the years, with a five-year CAGR of 0.6% during the same period," says Wong.
As for commercial properties, 3- to 4-storey shopoffices have the highest transaction volume in the area. According to data by Metro Homes,  shopoffices with a land area of 1,765 sq ft and built-up of 6,801 sq ft were transacted at between RM2.1 million and RM3.38 million over the past three years. Meanwhile, those with a land area of 1,765 sq ft and built-ups of 4,653 to 4,972 sq ft were transacted at between RM1.8 million and RM2.63 million during the same period.
Wong says a standard 22ft x 80ft ground-floor shop unit can command rent of RM4,000 to RM6,000 per month, and the rent for the higher-floor units is usually half or less than half that of ground-floor units.
What the future holds
As Bandar Menjalara has only a handful of undeveloped land parcels and is almost fully developed, Wong believes redevelopment is likely in the foreseeable future. One such case is East Parc @ Menjalara, which was redeveloped from the former ­Fiamma Warehouse.
"The recent successful launch of Park Place in Desa ParkCity shows tremendous demand for the Desa ParkCity address. Its increasing popularity is a boon for Bandar Menjalara's future, as the latter is perceived as an alternative in a strategic location but with a lower price tag," opines Wong.
See and Chan agree on the positive spillover from Desa ParkCity for Bandar Menjalara.
"The future is bright for Bandar Menjalara, as Desa ParkCity will continue to record higher transaction values and the amenities are complete now with an international school, Chinese school, hospital and the like.
"The connectivity will continue to improve, as infrastructure such as the MRT Line 2 come onstream. We were told that there will be another connection from Desa ParkCity to Country Heights Damansara. Upgrading the connection to Mont'Kiara via Segambut Dalam will also improve access and benefit Bandar Menjalara in the medium to long term," says See.
"Personally, I am quite positive about the developments in Bandar Menjalara. It is a mature neighbourhood with a stable market outlook. Prices of properties, particularly the freehold landed houses, will increase further — slowly but surely," says Chan.
As for Wong, she believes that as properties change hands in Bandar Menjalara and new residents from the upper-middle- and upper-income groups move in, the demographic change may increase its positioning level, as reflected in the recent change of tenant mix in the commercial shop areas.