This article first appeared in The Edge Malaysia Weekly, on April 19, 2021 - April 25, 2021.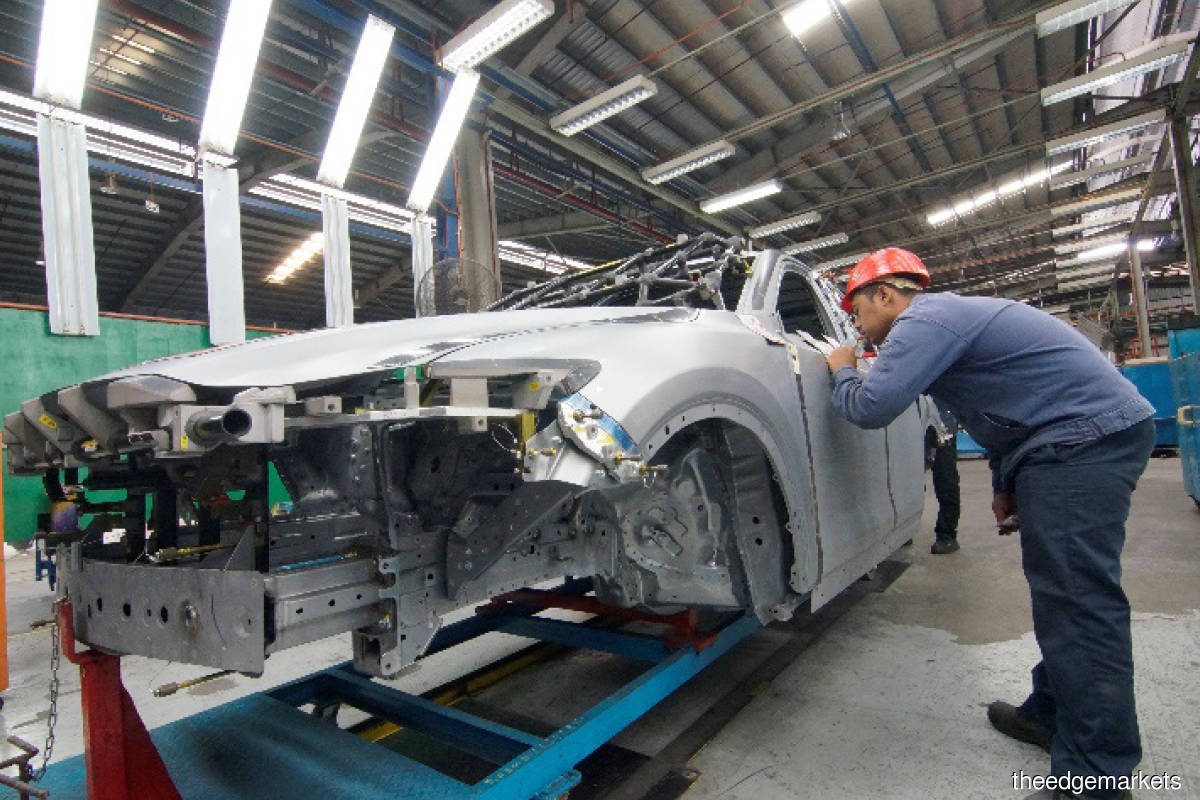 CAR manufacturers and analysts remain upbeat on the prospects of the automotive sector despite the impending end to the 100% sales tax holiday for locally assembled vehicles come June 30. This is on the back of strong vehicle sales volume and pent-up demand over the past year.
The sales tax exemption was introduced on June 15 last year as part of the government's National Economic Regeneration Plan (Penjana) to help the automotive sector to recover better from the Covid-19 crisis.
In February, vehicle sales in Malaysia rose 4% year on year to 42,784 units, driven mainly by a major improvement in footfall in showrooms, following the lifting of the second round of Movement Control Order (MCO 2.0) for most states.
AmInvestment Bank Research analyst Jeremie Yap reiterates a total industry volume (TIV) projection of 575,000 units for 2021 amid hope that the strong sales volume momentum will be sustained throughout 1H2021. He has an "overweight" rating on the auto sector.
According to Malaysian Automotive Association (MAA) data, Malaysia's TIV for 2020 was the lowest in 10 years, with 480,965 new passenger cars and 48,469 new commercial vehicles sold compared with 550,179 and 54,108, respectively, in 2019. It forecasts TIV to grow 8% y-o-y to 570,000 units this year from 529,434 units in 2020.
"When we forecast TIV of 570,000 units for this year, we took into consideration the Penjana incentive ending in June. As with the end of any tax incentive, the trend is that sales tend to drop in the following three months. But there is usually a recovery after the dip, which gives us confidence for a better 4Q2021. Therefore, we won't be revising our forecast," MAA president Datuk Aishah Ahmad tells The Edge.
"For now, we foresee that the sales level will return to pre-pandemic levels in 2022, given that our gross domestic product should recover after [2020's] lapse." Bank Negara Malaysia expects the economy to grow between 6% and 7.5% this year from a 5.6% contraction in 2020.
While corporate players are bullish on earnings for 3Q2021 as part of the economic recovery play and higher domestic sales that carmakers have enjoyed, AmInvestment's Yap cautions that the quarter may bring weaker sales when the tax exemption ends.
"Since the public has enjoyed a full year of sales tax exemption, corporates ought to set their [high] targets for 1H2021 rather than the second half," he says.
It is worth noting that, as at end-February, DRB-Hicom Bhd's Proton B-segment had already exceeded 50,000 booking units, with 8,200 units already delivered to customers. Channel checks reveal a six-month waiting period for the Proton X50.
This year, Proton also plans to double its export market, following the launch of the X70 in Brunei and Pakistan as well as the commencement of its manufacturing operation in Kenya in 2020, and aims to be the third largest player in Southeast Asia by 2027 as part of its transformation strategy.
"The group has indicated that export sales made up around 2% of Proton's total sales volume in 2020. Meanwhile, Proton is still studying and exploring partnership opportunities to penetrate the Thai and Indonesian markets; we think this could be a major driver for its export growth," CGS-CIMB Research analyst Mohd Shanaz Noor Azam says in a March 11 report.
He is also positive on UMW Holdings Bhd posting stronger earnings in 2021 as it gears up for the launch of its new C-segment sports utility vehicle (SUV) model in 2Q2021. "UMW derives more than 90% sales volume from seven CKD (complete knocked-down) models — led by Yaris, Vios and Hilux. We see a higher take-up from new launches, introduction of new CKD models and strengthening of the ringgit versus US dollar as a potential re-rating catalyst," says Mohd Shanaz, reiterating his "add" call on the stock, with a target price of RM4.20.
Meanwhile, AmInvestment's Yap believes Perodua's 2021 sales volume target of 240,000 is more conservative than those of other marques, as it is only 9% higher than its actual sales volume of 220,200 units in 2020. It sold 240,300 vehicles in 2019.
"[This shows that] Perodua is more [pragmatic] about the end of the sales tax holiday. I see it as trying to hit a more reasonable sales volume target of 240,000 units for 1H2021, since I am expecting a big slump after June," he says.
The research house remains optimistic on Perodua's outlook in 2021 with the launch of the Ativa A-segment SUV, although production of the Myvi, Aruz and Alza was affected by the shortage of semiconductor chips, causing a temporary impact on its total sales deliveries for the models until March.
As for Honda's 150% y-o-y growth, having sold 5,800 units in February, Yap believes the sharp increase in sales volume was due to the disruption in production at the government's announcement prohibiting automakers from operating in the first week of the MCO in February, which was lifted shortly after.
Kenanga Research also holds an "overweight" stance on the auto sector, with a 2021 TIV target of 585,000 units. "Overall, 2021 could be a better year, along with a better incentives programme under the National Automotive Policy 2020, positive impact from Bank Negara's overnight policy rate cut and pre-emptive measures that soften the Covid-19 impact," it says in an April 2 sector report.
The research firm is positive on developments at Bermaz Auto Bhd (BAuto), as the car manufacturer has entered into an agreement with South Korea's Kia Motors Corp for the undertaking of the production and assembly of Kia vehicles under Kia Malaysia Sdn Bhd, which will be a 33.3:66.7 joint venture between BAuto and Kia Motors. BAuto has also acquired a 65% stake in Dinamikjaya Motors Sdn Bhd, which is involved in the distributorship and sale of parts and provisions of after-sales service of Kia vehicles in Malaysia.
"With earnings impact of less than 1% at the group level, we are long-term positive on this partnership, which is expected to be fully operational by end-2021," says the research house, ascribing the stock a "market perform" call and a target price of RM1.50.
As Mazda posted a sales volume of 700 units, growing 58% month on month and falling 36% y-o-y in February, Kenanga Research believes BAuto's sales volume will recover in the coming months as movement restrictions ease. The bulk of its sales are expected to come from the CX-5 and CX-8, as the mainstay models are the main beneficiaries of the 100% SST exemption, compared with its other complete built-up (CBU) models.
"Management has recently guided that it will be reverting to its five-year warranty and free maintenance promotion, which we believe will substantially help the group improve its profit margin in 2021," it adds.