This article first appeared in Options, The Edge Malaysia Weekly, on February 17, 2020 - February 23, 2020.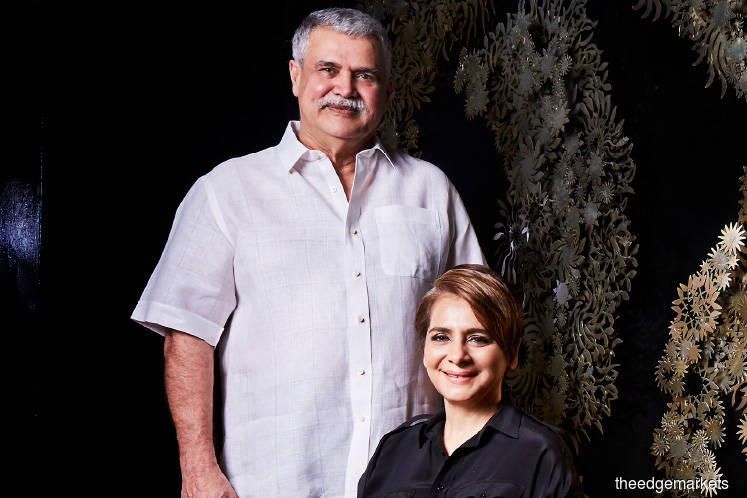 What influences a collector's journey? Aliya and Farouk Khan talk to Anandhi Gopinath about their passion for the Malaysian contemporary art movement and the upcoming digitisation of the Aliya & Farouk Khan Collection
Aliya and Farouk Khan's spacious apartment in Kuala Lumpur is both a well-lived family home and an art gallery of sorts, as a selection of pieces from their enviable collection of Malaysian contemporary art is permanently displayed in their abode. Behind the timber dining table that shines from years of use are two circular works in wood by Sarawakian artist Anniketyni Madian, while a tudung saji-inspired installation by Mohd Noor Mahmud, Perabung Lima, fights for attention with a plush sofa.
Aluminium prints from Masnoor Ramli's Zeppelin series grab our attention in the second living space, while my favourite — and that of photographer Law Soophye — is a specially commissioned work by Abdul Multhalib Musa. Titled It's Written in The Stars, it draws from the delicate cucuk sanggul often worn by Malay brides, and was created when the artist was in the thick of his marriage preparations. There is also a piece by Ahmad Fuad Osman, whose current exhibition at Balai Seni Negara made headlines recently after four pre-approved artworks were removed.
For the full story, pick up a copy of The Edge Malaysia (February 17, 2020) at your nearest news stands or visit optionstheedge.com.