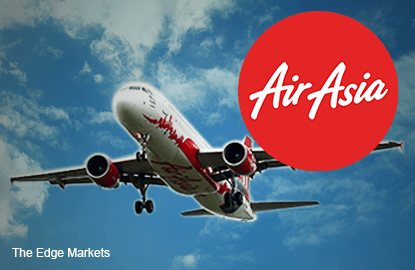 AN airplane tragedy, a run-in with Indonesian regulators and accounting uncertainties have taken a toll on AirAsia Bhd's share price, which has dropped 50% year to date.
But fundamentally, the low-cost carrier (LCC) remains promising, and many analysts covering the stock say it is time to buy.
In a report last week, Maybank Investment Bank Research reiterates its "buy" call on AirAsia (fundamental: 0.20; valuation: 1.40) and advises its clients to buy ahead of the release of the company's results for the second quarter ended June 30, 2015 (2QFY2015). However, it lowered its target price to RM2.32 from RM2.45.
The research house has forecast Air-Asia's 2QFY2015 core net profit to grow 629% year on year and 69% quarter on quarter to RM185.1 million, which will be the best second-quarter performance on record.
"Fuel prices have been trending lower than expected. This will lift first-half financial year ending Dec 31, 2015 (1HFY2015) core net profit to RM294.9 million, representing 94% growth y-o-y and meeting 41% of our full-year forecast and 46% of consensus," writes Maybank IB analyst Mohshin Aziz.
He also says the first half is a seasonally weaker period compared with the second half, with an approximate 40:60 split.
Maybank IB also made revisions to its fuel and US dollar-to-ringgit assumptions by imputing the ringgit to trade at 3.6597 against the greenback and the jet fuel price to average at US$81.80 per barrel.
"AirAsia is the cheapest LCC in the world today and is our top pick for the region. I say it is a good time to accumulate its shares," Mohshin tells digitaledge Weekly.
"Earnings will be stronger as jet fuel prices get lower, not to mention the reforms at Malaysian Airline System Bhd (MAS) will take care of most of the problems the sector is facing now."
MAS is cutting unprofitable routes starting this month, meaning a slash in industry capacity, which will free up a large slice of the pie for the other players — AirAsia and Malindo Airways Sdn Bhd (see table for route cuts and capacity comparison).
"After August, the sector's landscape will change," Mohshin says, adding that ticket prices already seem to be on the rise from September onwards, although it is too early to quantify the impact.
AirAsia's shares began their slippery slide after the disappearance of Indonesia Air-
Asia's Flight QZ8501 — which was flying from Surabaya, Indonesia, to Singapore on Dec 28, 2014 — falling over 15% from RM2.90 in less than a week. It was later found that the plane had crashed into the Java Sea, killing all 162 passengers and crew.
The stock did not recover, and by April, it was trading around the RM2.30 level.
June dealt a double whammy as foreign research outfit GMT Research highlighted weaknesses in AirAsia's financial reporting and in Indonesia, the Ministry of Transport threatened to suspend its operating licence. AirAsia's share price has fallen 39% since June 1. It closed at RM1.34 on Aug 7.
Indonesia's Ministry of Transport had found 13 airlines operating there, including AirAsia's loss-making PT Indonesia Air-
Asia (IAA), to be in negative equity territory (when the value of an asset used to secure a loan falls below the outstanding balance of the loan).
It said their licences would be suspended if they were not in positive territory by end-July. Later, it said it would help the ailing airlines meet the deadline and invited them to present their business plans.
Analysts do not believe AirAsia is at any significant risk of losing its Indonesian operating licence.
"The Indonesian ministry seems to be taking a more reasonable approach by helping the operators meet their equity requirements," says an analyst with a local research house.
"Revoking AirAsia's licence will be detrimental to the Indonesian economy, so I think they will look for a win-win solution."
IAA is said to employ over 2,000 workers, not accounting for the support employment like taxi drivers and cleaning staff.
While this risk does not seem imminent, IAA will still have to remedy its negative equity position by end-September. AirAsia plans to raise funds via pre-initial public offerings for IAA and its Philippine unit Philippine AirAsia (PAA). The IPOs are slated for 2017.
The group also plans to raise share capital through its local partners to US$100 million each for IAA and PAA from US$14 million and US$13 million respectively.
Then, it will rope in new investors for each unit to inject at least US$100 million via the sale of convertible bonds.
But one analyst points out that if they are unable to raise the funds at the associate level, AirAsia will have to step in and that will drag the whole group financially. This would mean a potential downgrade, he says.
"It also might not be easy to find investors because IAA and PAA seem high risk now, with no track record. At an interest rate of 3% to 4%, that might not be worth the risk," he adds.
As it is, AirAsia has come under fire from GMT Research for the way it has classified debts owed by its associates.
"AirAsia is extending significant capital to them, essentially gearing up, funding its own profits and flattering its operating cash flows," the research house claimed.
As at its first quarter ended March 31, 2015, AirAsia had a total of RM2.8 billion due from its associates sitting in its balance sheet. It has classified RM2.4 billion of this amount as non-current.
The group plans to recover some RM1 billion following the twin fundraising exercises for IAA and PAA, but in a worst-case scenario, it might have to prepare for impairment of those debts.
"We are wary of a possible impairment charge if the fundraising exercises fail. Net gearing could spike to 4.4 times in FY2015, assuming RM2 billion in impairment charge," Alliance Research says in a July 15 note.
The research house has one of the more conservative stances among analysts covering AirAsia, with a "hold" recommendation and a target price of RM1.55, indicating a 15% upside.
MIDF Research also revised downwards its target price to RM1.82 (35% upside) from RM3.70, but maintained its "buy" call.
On the higher end of the spectrum, Hong Leong Investment Bank (HLIB) Research has a target price of RM3.11 (130% upside) on the stock while TA Securities' target price is RM2.62 (94% upside) and AmResearch's, RM2.60 (92.5% upside). All three say investors should "buy".
The real wild card may be the way consumer sentiment in the aviation sector pans out.
"Consumers are still wary about flying in general and the concerns they have are ongoing," says HLIB Research analyst Daniel Wong, citing the recent earthquake in Sabah, which closely followed volcanic activity in Bali and Lombok, Indonesia.
This was an added blow after the triple airplane tragedies that befell Malaysian airlines last year.
"At this point, there is a risk discount on the stock (AirAsia), and I think it is warranted at the current share price. Unfortunately, investor sentiment doesn't look good, and until the company's earnings pick up and are able to show some consistency, the share price may not perform," says Wong.
---
Note: The Edge Research's fundamental score reflects a company's profitability and balance sheet strength, calculated based on historical numbers. The valuation score determines if a stock is attractively valued or not, also based on historical numbers. A score of 3 suggests strong fundamentals and attractive valuations. Visit www.theedgemarkets.com for more details on a company's financial dashboard.
This article first appeared in digitaledgeWeekly, on August 10 - 16, 2015.