This article first appeared in The Edge Malaysia Weekly, on March 29, 2021 - April 04, 2021.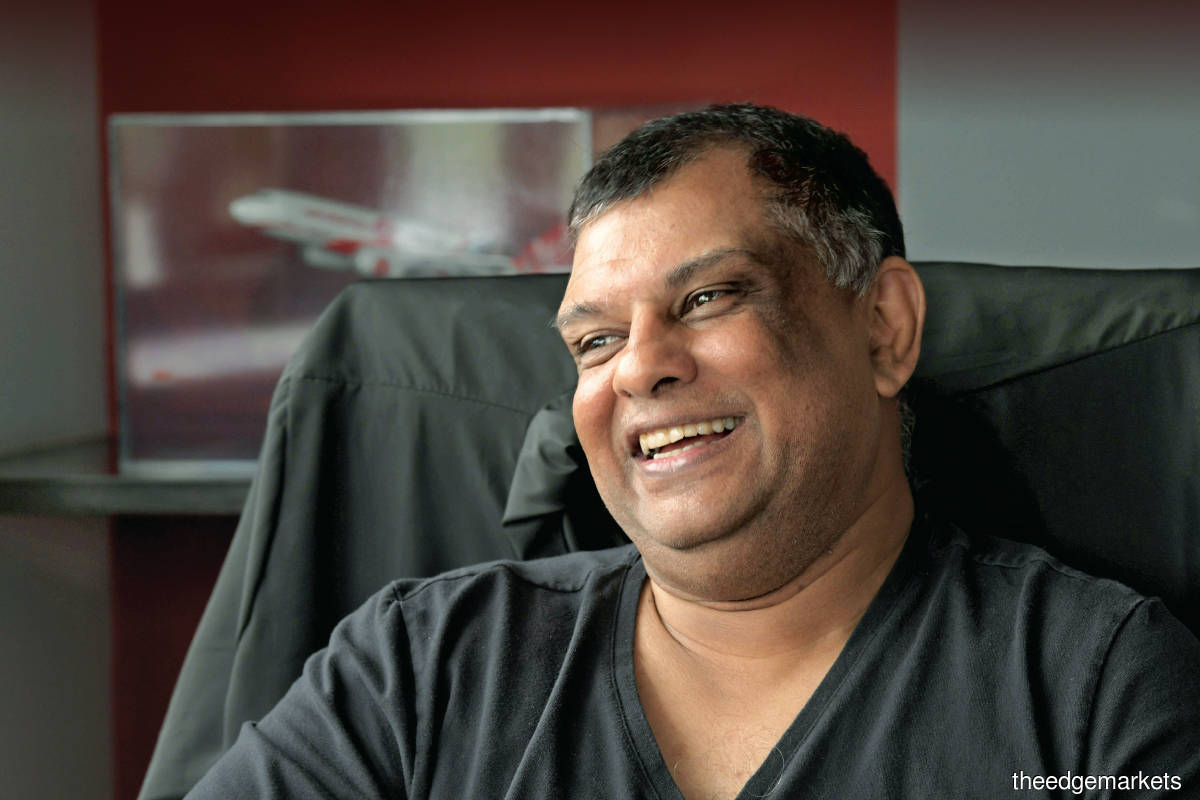 Fresh from raising RM336.46 million via a private placement and a partial recovery of its stock price, Tan Sri Tony Fernandes is upbeat and confident AirAsia will prove cynics — which he claims includesThe Edge — wrong and come out of this crisis stronger and better
ONE year into the Covid-19 pandemic, AirAsia Group Bhd co-founder and group CEO Tan Sri Tony Fernandes sees "the end" in sight.
"We're alive," he says, noting that things are clearer today with vaccination programmes being rolled out and society more informed about the virus.
Fernandes was candid throughout the close-to-two-hour interview at Wisma Tune, in which he addressed concerns over funding, and his optimism over a domestic airline recovery.
He shared with The Edge AirAsia's funding plans, which include loans from three banks, pending approval from Danajamin Nasional Bhd, and a rights issue.
When it was pointed out that other airlines were faster at obtaining their funding compared with AirAsia, he retorted: "You're talking about Malaysia Airlines? I don't have a big shareholder like Khazanah, okay? If you say that MAS is faster, of course it is. Like who else? Singapore Airlines? They also have a big shareholder called Temasek. Name me a private airline that has been faster than AirAsia. It's not easy to raise capital in the aviation business. The reality is, which private airline has received funding quicker than us or done a placement?"
AirAsia Group recently undertook two tranches of private placements, raising RM336.46 million.
"We have done what most of you predicted we couldn't do. We have raised capital from a placement from reputable investors," Fernandes says.
Through the exercise, AirAsia saw the entry of Dr Stanley Choi Chiu Fai, the chairman of Hong Kong's Head and Shoulders Financial Group and International Entertainment Corp; David Bonderman, TPG Capital founder and chairman, and several partners investing in their personal capacity; and Aimia Inc, a holding company with a focus on long-term investments in public and private companies.
Sharing lessons from the pandemic, the outspoken Fernandes commented on how the local aviation industry should move forward.
"Ask me a question on MAHB," he said mid-way through the interview, perhaps wondering why we had not yet brought up the airport operator he has criticised and with which he is entangled in civil litigation.  He again called for greater partnership among key players, as seen at international airports and, closer to home, at Senai International Airport in Johor.
The question on a possible merger with Malaysia Airlines also came up. He said he would not answer it, but in the next breath commented that they are different and that the country needs two types of airlines.
Sustainability is key for AirAsia and in the interview, Fernandes was confident as he touched on how long AirAsia's current cash pile can sustain the group, and his commitment towards the airline.
During the turbulence in the past year, AirAsia had accelerated its pace in the digital space.
The digital model makes sense, he said, based on his wealth of experience with passengers as he and his team go on the ground. "I know because every time I go in the plane, I say hello to every single passenger. When they leave the plane, I wait till the end and I greet every passenger leaving the aircraft."
He revealed that the group plans to enter the ride-hailing business and discussed AirAsia's overall digital game plan (See Page 59: Tony Fernandes: "I want to be the best delivery guy in town").
Indeed, Fernandes and team are doing all they can to get AirAsia flying again. "... two ways to deal with life, you can put your head in the sand and cry and say life is unfair. Or we can go ahead and do something about it. Why waste a crisis? We haven't wasted this crisis."
Following are excerpts of the interview.
The Edge: AirAsia one year into the Covid-19 pandemic. What has this test of endurance been like for you and the company? Where is the group today, one year in?
Tony Fernandes: We're alive. We're happy that we're alive and that's an accomplishment. Things are beginning to look a bit better. I think there's an end in sight. When it started, you didn't know, there was no vaccine. Today, I read there's a Covid pill that Pfizer is testing. In Indonesia, it is now [testing] by breathalyser (GeNose). People underestimate testing. People always talk about the vaccine but people have always underestimated testing and a cure for Covid.
We effectively do not have a cure for AIDS but people can live a very normal life now with medication.
While the emphasis is on vaccines, I think there are four lights [at the end of the tunnel] for a company such as AirAsia. One is vaccines. Two is testing, because if testing becomes 30 seconds, that's a transformation. Third is cure, and fourth, people are much more knowledgeable of Covid, such as mask wearing.
One year in, we're alive and we have clarity that the end is in sight.
Any idea when this end will be for AirAsia?
As an airline, it's much sooner for us than, say, Singapore Airlines because 50% of our business is domestic. Domestic is going to recover first and then regional will recover next. You're more likely to fly to Phuket than LA. An SME businessman is more likely to go to China than he is to fly to London.
Low-cost short-haul travel will rebound first, and I think domestic will begin to see what it was like in 2019 by the third quarter. Internationally, we'll be back to where we were in 2Q of 2022. That could be faster or slower. Tomorrow, someone comes up with a Covid pill, then we're back to normal right? So, based on the information we have now, this is my best guess.
Where is AirAsia in terms of sustainability?
We're alive, we have done what most of you predicted we couldn't do. We have raised capital from a placement from reputable investors. We have Bonderman, Aimia, Stanley Choi ... These are reputable people who have lent their name. They could have been invisible, but they lent their name.
We raised some capital ... we know we have three banks that have already approved the loan and will be submitting to Danajamin very soon.
We have a rights issue coming up ... and a business that has been underplayed by everyone in the market is our digital business, which — now our banker Rothschild has put together a Rolls Royce group of investors in front of us — we'll raise capital from that.
Sustainability from a cash-flow perspective, two bits — one is getting our airline back in the sky and two is funding. Funding is well on its way. We have some reserves — we have looked at securitising our data ... and now, diligence is being done on that. So we have more than we require. And I think by May, June, most of it will be in place.
How much is that?
It depends on how much is the final number. I've been consistent to say RM2 billion to RM2.5 billion — that includes the Thai goverment ... [it] is also giving a loan to Thai AirAsia from their Exim bank. We've done RM500 million already. If I take the Thai loan, then I need another RM1.5 billion. We will have that. Danajamin is supposedly RM1 billion, and that's RM1.5 billion, so I have a funding gap of RM500 million from what I originally said, so we would probably end up getting more than RM2.5 billion. We'll see.
Which are the three banks?
I'm not going to mention it now.
Local or foreign? It should be local for it to be guaranteed by Danajamin.
Yup.
To recap, by June this year, you expect to have RM2 billion to RM2.5 billion, or maybe more fresh funds?
By June, we have a clear line of sight. But timing-wise as to when the funds come in, that would depend on things like regulatory approval, shareholders' approval ... like [the] rights issue may be approved but may take awhile for the cash to come in right, but clear line of sight.
What I'm confirming by the way is that banks have approved part of the RM1 billion but Danajamin hasn't approved.
Are we talking about the Sabah Development Bank or a separate bank?
Separate.
How about bonds?
Convertible bonds.
How long can AirAsia's current cash pile sustain the group? Do you have a timeframe for that?
We've always said that we are raising. In the worst case scenario, we have enough cash to last us until 2023.
So the figure of RM2.5 billion hasn't changed?
Nope. I've been consistent from day one. Of that, we've done RM500 million in terms of placement — whole list of Danajamin, rights issue, debt and digital. Which you add it up, when you add it up, it could be much more than RM2.5 billion, which doesn't include the loan from Exim Thailand.
Rights issue, is there a figure?
We are targeting RM800 million to RM1 billion.
And will you be taking that up?
Not sure if I'm allowed to say.
The new shareholders, will they have to take up the rights?
It's up to them whether they want to take up the rights but I suspect they would. There's a whole lot of issues ... there's rights, potentially convertible, there're so many things we're working on. I'm saying by June, there's a clear line of sight. We are presenting to the board, there're many options. All I'm trying to say to you is that we're back in business. People want to invest in us. We have a variety of ways to raise capital.
Is there any moratorium on the shares for the private placement?
I don't know but I don't think so.
There's another tranche for the placement.
I think we're done. We have a gap, we could raise more but we want to use other forms of raising capital.
Any reason for that?
Capital in a placement is expensive at these prices, so if you can have cheaper forms of capital that don't tax the shareholders, it's better. We wouldn't have done a placement apart from one of the conditions on some of the loans, so we maximise the placement by getting in great strategic investors. We have a great Chinese connection, we have Bonderman, we have Aimia ... All these bring a lot of value to our portfolio. There's another shareholder who hasn't been announced, has a lot of value of engineering business but he didn't want to be announced. So, we were smart in getting the right people at those low prices.
How did the new shareholders come into the picture?
Dr Stanley Choi was already a 4.95% shareholder in AirAsia prior to the announcement of our intended placement exercise. Through one of the joint placement agents, he submitted his bid to take up the placement shares. He has made the required disclosures accordingly per our announcement to Bursa Malaysia.
Aimia has been our long-standing partner in BigLife since 2014 and they had earlier indicated their interest to participate as a direct shareholder in the listed AAGB. Hence their acquisition in the private placement and also the recent AAGB-BigLife share swap proposal.
The other prominent names — including David Bonderman and some of his partners who have been keeping track of AirAsia's progress throughout the pandemic and saw value — had approached the management to invest directly in AirAsia. The other local and foreign investors were identified by the joint placement agents.
What do they bring to the table?
Stanley, his digital experience, his connections into China. Bonderman is the No 1 airline investor in the world. He was chairman of Ryanair for probably the most successful airline in the world. TPG is the foremost airline investor, so they bring a lot to the table.
The airline needs fresh capital right now. Are you prepared to pump in more capital into AirAsia yourself?
Yeah, of course I am.
Is there a figure?
Depends on what structure we go in.
Maybe share placement or rights…?
It's up to the board to decide, not me to decide. I, as management, will give a whole list of issues, but it's up to them to decide what to do. But if you ask me if I want to put more money into this, yeah, of course I do.
On AirAsia X, as you believe in it so much, if it needs more capital, would you put money into that?
You're obsessed with me putting in money. You give me that money, I'll put it in (laughs). Of course I would! Of course I would. You gotta believe in what you believe it, otherwise resign and do something else.
Quickly back to the AirAsia recapitalisation, you shared everything's coming in soon, could it come possibly with control?
What does that mean? Are you saying I might lose control over the airline?
There was a slight dilution after the placement. So moving forward is that something you have to contend with?
It depends on the form of capital raising. I think people invest in AirAsia for the management.
About possible equity dilution, is there any threshold you see for Tune?
I can't control what the board says. It cannot be a decision based on my shareholding, what's best for the company. If the [fundraising] means I am diluting a lot, then so be it. We have to do what's best for the company. The shareholders will ultimately decide on many of these capital raising [matters].
Since you mentioned that things are on the move in your recapitalisation, I think last year, you said that for the first time, AirAsia needs a helping hand from the government. Do you still have that view, or has that changed?
We're still asking for the Danajamin [guarantee]. So that's a helping hand.
Other airlines have been faster paced in terms of getting their funding, so ...
You're talking about Malaysian Airlines? I don't have a big shareholder like Khazanah, okay? If you say that MAS is faster, of course it is. Like who else? Singapore Airlines? They also have a big shareholder called Temasek. Name me a private airline that has been faster than AirAsia? It's not easy to raise capital in the aviation business.
Even at Danajamin with an 80% guarantee, many banks don't want to support the aviation industry. It's not been easy. I don't blame banks — there's a 20% risk for them. So do you want to take that risk?
The reality is, which private airline has received funding quicker than us or done a placement? The perception is that we're slow but the reality is that we're not cause it's just a really hard time for the industry.
Actually, who has raised capital that isn't owned by the government? I want to correct that perception that we're slow. Of course we're slow. I'd have liked it eight months ago but it's the industry that we're in that no one wants to really invest in ... that's the tough part.
The thing is that when you get close, then the second wave, then the third wave. So, honestly, it has been amazing that we're still alive but do believe we will come back much stronger, but that's talk.
Come back stronger how?
I've had the chance to build an airline twice in my lifetime. Honestly. We started with two planes, you get a fresh chance, when you get a chance to take over from DRB-Hicom, you have a chance to redo everything.
I always joke about it ... we started with two planes, we grew to 245, we're back to two at one stage, and back to zero at one stage (laughs).
We've had an opportunity to re-cost and restructure our business and do things that we probably couldn't have done. Temptation when you're making money is to carry on Japan, which was bleeding and carry on India, so now you say you don't have much cash and close down the two things. In the long run, we're better being in Asean.
When you say things got better, when did that conversation change for you? Because you said at first, the banks didn't want to lend.
I think vaccines, and I think some banks knew us very well. Had good visibility on the other financing and some banks just believed. That's a rare thing now. Some banks thought AirAsia was too important to fail and wanted to make sure that we didn't fail. That's admirable and at the right time, I hope these banks get the credit for supporting us.
With the vaccines coming up, you're saying there's light at the end of the tunnel. What would the AirAsia group look like post-Covid?
Same, apart from India (we still have a small stake in India). We'll hope to expand in Asean. I've been talking about other countries in Asean.
Such as?
I like Cambodia, some of the other countries. We have planes, we have pilots, so we can expand in some other countries. I think travel will be very V- shaped — there'll be strong demand.
People want to get out. People want to travel so I think we'll benefit from that. The new AirAsia will be the same as the old AirAsia — just leaner, less cost, simpler and more digital from an airline perspective.
How much cost was saved?
We can't give it to you as we're still in the process of talking to lessors.
Is the negotiation done by AAX and AirAsia done as a group or separately?
Separate companies. My focus is on AirAsia. (AAX deputy chairman) Lim Kian Onn and (AAX CEO) Ben Ismail are driving AAX.
How's Thai AirAsia doing now?
Thai AirAsia is really good now because they are flying. They are almost back to pre-Covid levels.
There's news that there could be a merger with Thai AirAsia.
Merging with who? No, we're not merging. Everyday there's speculation we're merging ... with the likes of MAS…
Would you (merge with MAS)?
I don't want to answer the question ... We're different. I think I've always said that the country needs two types of airlines. One is the full-service airline that serves a market that wants full service, and one that is more mass.
I think the reality of Covid is that we should manage capacity and serve each market better as opposed to... A lot of capital has been lost by trying to go into each other's markets, right?
So I think that has been a good benefit of Covid and airlines are more rational and people realise that capital is scarce and we don't blow money so easily.
And I think coming out of Covid, the competitive environment will be much better.
You think so? Some people are saying the margins will be tight, overcapacity …
Why would margins be tight? Malindo is very small now compared to what it was. MAS and us ... There's enough ... The planes were full for us before. Fares — there is a clear separation of markets.
Margins will be better. 100% sure of that … for both airlines. I want both airlines to make money. It's not good for the aviation industry that one is making money, one is not, or both not making money. We want a healthy aviation industry.
It'll be more pricey for the customers?
Probably will be. Slightly. It's not our philosophy but prices were being sold below what they should have been. It's the same when you come to the digital business — who's making money? Who was making money when AirAsia came in 19 years ago? MAS?
Coming back to your question, Covid will lead to a much better marketplace. Margins will definitely be better.
The vaccine rollout hasn't been as fast here as the government intended. What's your view on that? Do you think domestic recovery will take longer?
You don't need to be vaccinated to fly domestically. Who cares about the vaccine? As long as people don't have Covid, flying will start... you don't have to be vaccinated to fly to Penang.
Your question on whether Malaysians will take the vaccine — who knows? But they would be silly not to. I would take any vaccine tomorrow. I don't care which vaccine, I'm ready to be jabbed.
Notwithstanding the take-up rate, you're confident of the recovery?
Yeah. A lot of people ... There will be a stick for sure. You don't take the vaccine, you can't get out of KL. There will come a point — it's going to happen — you'll be coerced to take the vaccine. Is that fair? Probably not, but that's life.
Speaking about interstate travel, there was a recent media report that there might be job cuts if domestic travel doesn't take off. How real is that?
That's real. We don't have revenue and we have to survive till we can fly.
How big of a job cut?
I don't know. We've lost 10% of our staff and that's tragic because they did nothing wrong. And my job is to rehire them all over again.
Talking about cutting cost, one of the questions [is] the take-up on the Airbus planes. There are no cancellations or delays. Can you elaborate on that?
I don't think we'll take a new aircraft for two years maybe. But I don't think I know, right? If demand comes like this tomorrow, then we may have to take some new aircraft. My best guess is we won't take an aircraft for two years.
Will there be a huge compensation on that?
No compensation. We're the biggest Airbus customer.
In summary, my job is one, to recruit everyone back — that is my No 1 priority. My second priority, which will be announced very soon, a lot of staff have suffered and had pay cuts. So we feel confident enough to reinstate everyone's salary, more or less. Not all operational people. But that's my goal — to get everyone back to earning their salaries. Those are the two most important things for me.
The third — make sure we have a sustainable model. I think through our cost structure, through business model and through funding, we probably feel more confident about being sustainable than we did a year ago.
Yes, there are some blips around the corner in terms of vaccine rollouts, third waves. It's encouraging that Malaysia and Singapore have agreed on the vaccine passport, etcetera. Those are the building blocks of a return to a normal kind of behaviour.
Again, the last kind of travel shock was 9/11 when we first started. Visas, security increased dramatically, so I think we all got used to that. We'll get used to vaccine passports and all these things in time. So there is light.
Let's talk about AAX.
I have no managerial role at AAX. Go interview Lim Kian Onn.
What about international travel? What's your outlook on international travel?
I think AAX is a fantastic model that has been … from the time Azran (Osman Rani) was CEO, had to deal with unfair competition. But it's a fantastic model. Ten million flew with us. We brought more tourists into Malaysia than anyone else did.
It's a model that works. Lots of reporters have said it doesn't work but it works. But it's got to have fair competition. If someone is selling below their cost just to kill us…
X is medium haul. It's AirAsia on steroids. Do I believe in it? 100%. Do I believe it needs to be reset? 100%. That is what the board is doing right now. Will it come out stronger, given the right support? Yes.
When you say reset, how?
The cost structure was too high because it did sale and leaseback. Expensive sale and leaseback because it was always short of cash, because it was an airline that was selling below its cost.
Will they have to relook their routes?
I don't think so. One thing that will benefit AAX is not every route needs a 330, and now Airbus is coming up with a 321 with long range. That will be a very good aircraft for AAX.
Do you have any idea about AAX's chances on pulling off the reconstitution of debt exercise?
I really don't want to comment.
Moving on to MAHB….
Well, I hope Covid-19 will change [Malaysia] Airports' (MAHB) general view of airlines. That it's a partnership, and that they need us as much as we need them. No airlines, no business.
And also that MAHB finally sees that one [size] doesn't fit all. Just like Khazanah does … says that there's a full-service model and a low-cost model. Malaysia needs two airlines. I think that has been publicly quoted, [Datuk] Shahril [Ridza Ridzuan].
I also hope MAHB begins to look outside of KL, to help develop regional airports.
The opportunity that has [emerged]. Many Malaysians went to places they've never been to because they couldn't fly outside. Suddenly everybody's flying to the East Coast, to Pahang. Everywhere, right? New destinations in Sarawak and Sabah.
And I have continued to say, Malaysia Airports and the government should consider selling off some of those airports. I think Johor (under MMC Corp Bhd) has been a success.
I think if Subang is turned into a city airport and run by different people … I don't think one authority should own all the airports. Let entrepreneurs and state governments have a chance at running airports and working with airlines such as AirAsia.
I think Covid-19 gives a chance for governments to relook at aviation as a whole. In KLIA, I hope Malaysia Airports doesn't look at — you know, "you want to use my airport, so this is what you pay", as opposed to "how do we work together to come out of Covid-19 so we both win".
Okay, MAS is full-service, I'm low-cost. MAHB works with both these airlines to help us. Not a take-it-or-leave-it scenario because we don't have a choice. That's the only airport we can fly to in KL.
So I hope that changes. I strongly suggest that the government looks — just like they have in ports, in telecommunications, I don't see why airports should be different. You have many mobile phone operators. You have many port operators. You have many toll road operators. Airports are like toll roads.
So I think Johor Senai has been a success. AirAsia has benefitted from different ownerships, and recently the government announced that cargo trains will be opened up to more than just KTM; I think that's good. I hope they look at the ownership model for airports.
Any recent conversations with MAHB?
Riad is the man to deal with MAHB.
On AirAsia's pivot into digital … would the digital businesses be enough to close the large gap caused by fallen earnings?
Am I doing digital to cover the gap? No. We're doing digital because there's an opportunity. Do I think the gap will be covered eventually, of airlines? It's impossible to say digital is going to cover the gap now. Impossible.
The gap in the airline business needs to be covered by the airline business. I'm not doing this — people have misunderstood. It is an opportunity to diversify the business, and diversify earnings, and utilise resources such as people, data, websites, to build a new business and build an ecosystem. Right? It is not to cover the gap because it's impossible.
And you can't start a digital business and tomorrow make 200 million dollars, right? Grab can't make money, Uber can't make money, so no. Airline business has to cover the airline business. Digital business is the new business, completely, and it's utilising the assets that we have to build a new business.
There's talk that AirAsia is looking to go into ride-hailing — is that true?
Yup.
So when is this ride-hailing venture ­taking off?
I can't comment on this.
There's an array of digital ventures you are in. How have your customers reacted to those services?
Very strong. Very, very strong. Now, remember. We have little money, right? So, it's pretty amazing what we've done. We're not ready to share those numbers but the conversion is very high. The conversion level of BigPay customers using airasia food and airasia fresh is really high. So the model works.
Now, let's go back. If I can rephrase your question. Your question is basically 'can you convert an airline person to buy something else'? That's basically it. Might as well ask it, directly.
I can prove it to you now that we can. How? Give me one guess how I can prove it to you. What have we done that shows that airline data can build another business? BigPay has got 1.2 million downloads, right. It is one of the most established cards in Malaysia. You only need to search the App Store and you can see BigPay up there.
We haven't had the money of Touch 'n Go, who's had AliPay and CIMB. Axiata with Boost. And there's GrabPay. We haven't had that. Yet, we've built a business — you go around town, see a lot of people using BigPay.
And, we have 700,000 cards already, 1.2 million downloads. That's come from airline data. There's a point, right. We've converted airline customers to buy a fintech product. You think it is going to be very difficult for me to get them to buy food with me? No. They buy food on the aeroplane already. Our penetration of food is 36%.
You think I can't get them to buy beauty products? They buy beauty products off me already, when they buy Korean cosmetics.
Can I [get them to] buy fresh food? Yeah, I supply fresh food. They buy in the airport every time they go to Sabah. They go and buy prawns in the airport.
So I know because every time I go in the plane, I say hello to every single passenger. When they leave the plane, I wait till the end and I greet every passenger leaving the aircraft. So I see what they're carrying.
The three products that we're doing, I think we can do it. We're not trying to sell everything. We're not a Shopee.
So, going to taxi. How are you going to compete with Grab? Every passenger that arrives on the KLIA sees me first before anyone else. Before a taxi, before Grab, before anyone. When you book your flight, you can book your taxi. And we can stop people wasting their time at the airport.
You mentioned Rothschild putting together some investors to invest in your digital business. How big or how large is that funding?
We have a target. And we are different from other fintech businesses. I'm not here to burn cash. We built an airline with no money. And we're profitable. We will build tech businesses that'll make money. I have a database. I have my own channels. I don't have to spend millions on Facebook and give away my product.
We're focused. You can see in our food model. We have very transparent delivery charges. Not here to compete with the others.
There was also talk of you looking for a digital banking licence.
Digital bank's for tomorrow.
You're keen to get the licence?
Sure.
Seeking partners for this digital banking licence?
Wait and see. I don't think we can talk about the bank until the regulation is [there] for the digital bank. There has been some stuff that's gone out there so we have an idea, but it's too premature.
Going back to your question, I'm trying to be cash-flow positive. So, we will raise capital as well. How can we be cash-flow positive? We have our own data. So the question is, can we convert our data? We've proven it in BigPay. Can we promote and market without using Facebook and Google? We are. Look at airasia food in Singapore. We haven't spent a cent.
Cash-flow positive off the bat, or is there a time frame for this?
We're cash flow positive in virtually all our digital business right now … Not on BigPay, because there's a negative carry on payment. But depends how quick you want to expand. You know my aim is to be cash-flow positive. It's the only language we know; we've never been borrowers of money or capital. We want to use our capital for other things, not giving away products.
We want to use the capital to hire people, and build engineering products — not discounting heavily.
Do you think there'll be a time when you'll spin off the digital business?
Yes, my personal opinion is that it should be carved out. I carved out the other businesses, right?
Think of Amazon. Amazon started selling books and ended up selling cloud. AirAsia's no different. Amazon's kept it together. There's Prime Air now. But I don't think it makes sense for an airline to have an airline group and digital group, long term. That's my own personal view.
Let's talk about BigPay. How many active users, are you able to share?
Yeah, 700,000 users. There's gonna be specific use cases all the time. And as we develop more and more, you will gravitate to using it more because, it will be unbeatable. You use it to transfer money now. And you have your card here, say your sister has a card overseas, and that makes it easy to transfer money right? But there'll be more use cases coming out. So wait and see.
What do you say to customers, on the concern over customer satisfaction across some of your new services?
We were poor when we started. We had delays, we've got old planes. We're not going to be Rolls-Royce [from] day one. We weren't Rolls-Royce 19 years ago when we started AirAsia. Everybody had jokes about getting delayed, but we'll be better.
How can you compare us with these unicorn companies right now? They're nine years and US$10 billion ahead of us. But we'll catch up. And BigPay's a good example. Not many complaints about BigPay. And it's so good that it's scammed!
Has that been addressed?
Yeah. On the positive side, good products are scammed. We mitigated most of it.
The other question is about securitising your data. How's that…
We're pioneers in that.
Some are saying there are concerns on privacy issues.
Why? Am I selling the data? I'm not selling the data, I am saying I have an asset. It's no different than securitising my plane. It's not leasing my plane to someone else. If it goes bust, they have that data.
Your high and low in this once-in-a-lifetime crisis?
High — we're alive. Letting go of 10% of my staff — very low. As low as when we lost an aircraft in Indonesia. Very low. And even lower, because my staff, no one complained. They were so supportive, and I didn't get one complaint. It's even worse when they say we understand.
I mean, it's very depressing. And so, you know. Just thinking about it is a low.
But the high is you're interviewing me for a taxi. You're interviewing me about new things. We're still alive. We're not out of it by any stretch of imagination but we're alive. And that's a high. I tell people that if we live through this, all of us … Our grandparents lived through a world war. We lived through a pandemic.
And if we come out stronger from this, like I say to my staff, it's an honour to lead you. If I can lead them out of the crisis, that's the ultimate leadership. You can't teach this in Harvard Business School. Leaders who can survive can teach a lot of people a lot of things because my God, we've got through some things that's just like (laughs).
Long answer to a short question is — the high is we are still positive, we can still joke, and still talk about taxi. Whether we are right or wrong, who knows. But we're still … two ways to deal with life, you can put your head in the sand and cry and say life is unfair. Or we can go ahead and do something about it. Like I said, why waste a crisis? We haven't wasted this crisis.
Whether this digital business is going to be a massive success, we don't know. We are giving it a [crack]. And ultimately, I think you know where my real prize is. Logistics. Everything I work towards, logistics is supporting e-commerce. But logistics in AirAsia is not just for AirAsia. We'll work with everybody. That's the difference with other companies — Amazon only supplies Amazon.
Two, you think about the neo-bank as the bank for consumers. I'm focused on SMEs. Most of the SMEs fly with me. Most of the SMEs will use our logistics. You try and get a loan. AirAsia cannot get a loan. Maybe SMEs have a slightly better chance than AirAsia right now.
But in reality, it is also hard for the SMEs to get working capital. SMEs pay a lot for remittances. So, my market is that. It's all linked in. My farm product is about giving restaurants cheaper food. Everything is linked in to the small man on the street. That's our goal in life.