This article first appeared in The Edge Malaysia Weekly, on February 10, 2020 - February 16, 2020.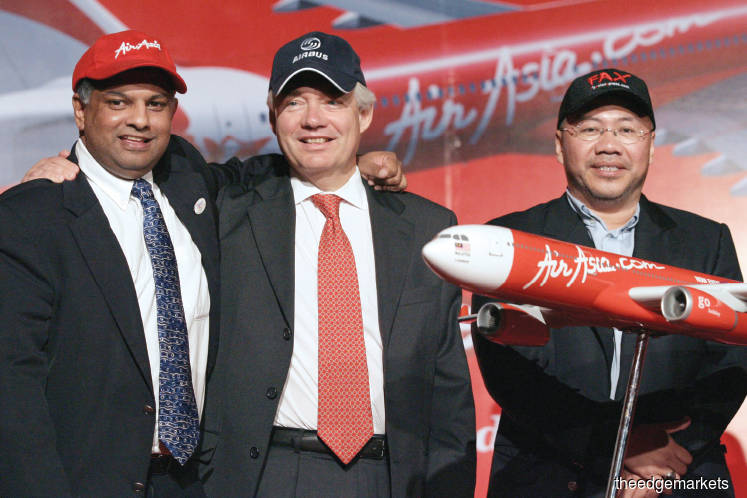 HAPPIER DAYS: Fernandes and Kamarudin with Airbus' top sales director John Leahy, who left the company in 2017. Under Leahy's watch, Airbus sold 16,000 planes and he remains an industry legend.
Photo by Bloomberg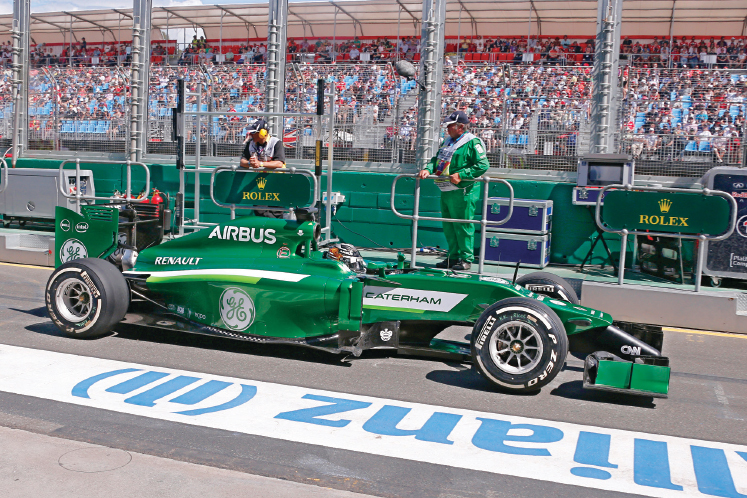 Caterham F1 Team was once owned by Fernandes and his partners.
Photo by Reuters
AN AirAsia executive chided a senior Airbus employee for not paying US$16 million he said was owed to him and demanded US$30 million in sponsorship before placing more aircraft orders, according to internal emails released by the UK Serious Fraud Office (SFO) on Jan 31.
"I'm fed up. You owe me (US$) 4 million already and I'm owed (US$)16 million in total. This should have been paid ages ago when I bought the first 60 aircraft. I want my money and I want compensation ... pay up. I want my whole (US$)16 million now," AirAsia Executive 1 said in a July 15, 2010, email to Airbus Employee 1 (senior).
Other email exchanges released by the SFO involved conversations among Airbus employees in which they discussed how to pay US$50 million as sponsorship for a sports team jointly owned by two AirAsia executives, but that was legally unrelated to AirAsia Group Bhd (AAB) and its long-haul sister airline AirAsia X Bhd (AAX).
They also offered to pay the AirAsia executives an additional US$55 million if AAX placed more aircraft orders. On Nov 24, 2014, a contract was signed and on Dec 15, 2014, AAX confirmed an order for the purchase of 55 A330-900neo aircraft.
In another set of emails, the Airbus employees appear to discuss paying US$3 million to the sports team.
"[Airbus employee 1 [senior]] as discussed yesterday, please can you pay immediately. It will help me close my deal," one employee said to a colleague in an email exchange on Feb 9, 2011. On Feb 24, 2011, a payment of US$3 million was made to the sports team.
The release of the email communications follows a four-year investigation by the SFO, which started in 2016, into Airbus' use of middlemen to secure plane deals in Sri Lanka, Malaysia, Indonesia, Taiwan and Ghana between 2011 and 2015. According to news reports, the investigation was launched after Airbus discovered inconsistencies in disclosures made about external consultants.
The European aircraft maker has since agreed to pay €3.6 billion (US$4.0 billion) in a global bribery settlement with French, British and US authorities.
However, the statement of facts published alongside the British court's approved judgment has led to countries such as Ghana, Colombia and Sri Lanka launching investigations into the Airbus dealings.
In Malaysia, three agencies have launched their own investigations or reviews on the allegations against the two executives from AirAsia — not named but recognised to be Tan Sri Tony Fernandes and Datuk Kamarudin Meranun — the two controlling shareholders of AirAsia and driving force behind its rise.
The Malaysian Anti-Corruption Commission (MACC) is looking at the case from the aspect of alleged corruption, while the Securities Commission Malaysia (SC) is reviewing all available evidence to see whether the directors and/or employees of AAB and AAX may have caused wrongful loss to the listed companies under Section 317A of the Capital Markets & Services Act 2007 (CMSA). The Malaysian Aviation Commission (Mavcom), meanwhile, is assessing the fitness of the two executives in connection with their probity, integrity, competency and financial standing.
A Feb 6 report by The Edge Financial Daily, quoting sources, said the SC and Bursa Malaysia have started a probe into the matter, calling in independent directors of AAB and AAX, both existing and those who had served between July 2011 and June 2015 when the alleged bribery took place.
Fernandes and Kamarudin denied the allegations of wrongdoing but have stepped down from their executive positions for two months pending a resolution of the matter. They remain on the board. They also said they were never called by the SFO to explain anything.
"Caterham F1, the company alleged to have been sponsored improperly by Airbus, was at the relevant time a Formula 1 Racing team that had gone round the globe promoting among others AirAsia, AAX, GE and Airbus," said Kamarudin and Fernandes in a joint statement on Feb 4.
"Throughout the period we were shareholders in Caterham, the company made no profits and was eventually disposed of for £1 in 2014. From start to finish this was a branding exercise and not a venture to make profits."
Their response sounds familiar.
Recall that in 2016, then prime minister Datuk Seri Najib Razak had said that 1Malaysia Development Bhd (1MDB) was not directly involved in the US Department of Justice's civil suit seeking to recover more than US$1 billion laundered through the US as the sovereign wealth fund was not approached for information by the latter. Najib also said the money that went into his account was a Saudi donation and that he never personally benefited from any of the money as they were used for political and social programmes.
Then attorney-general Tan Sri Mohamed Apandi Ali later cleared Najib of any wrongdoing despite the fact that globally, investigations into 1MDB in the US, Switzerland and Singapore continued.
AAB and AAX have separately formed committees comprising non-executive members of their respective boards, excluding Kamarudin and Fernandes, to review the bribery allegations and to take any necessary action based on the review, including the appointment of an independent expert.
No names were, however, disclosed in their press statements.
According to AirAsia's 2018 annual report, its non-executive directors are Datuk Abdul Aziz Abu Bakar, Datuk Fam Lee Ee, Datuk Mohamed Khadar Merican, Stuart L Dean and Noor Neelofa Mohd Noor.
All, except Abdul Aziz, are independent directors. It is interesting to note that, while Fam is designated as a senior independent director of AAB, he is however classified as a non-independent director of AAX.
Abdul Aziz has been instrumental in assisting Fernandes, Kamarudin and Datuk Pahamin Ab Rajab with the acquisition of AirAsia, then a struggling domestic airline, in December 2001, and with the help of Conor McCarthy, a former Ryanair executive, relaunched it as a budget airline in Asia.
Fam, a partner at Messrs Gan & Zul, has been a director of AAB since March 2008. Mohamed Khadar, meanwhile, has more than 40 years of experience in financial and general management. Dean is a retired long-time executive of General Electric Co, while Neelofa is a Malaysian actress and celebrity entrepreneur.
Meanwhile, the current board of AAX comprises five non-executive directors, namely former international trade and industry minister Tan Sri Rafidah Aziz, Datuk Yusli Mohamed Yusoff, Lim Kian Onn, Tan Sri Asmat Kamaludin and Fam. Rafidah, Yusli and Asmat are independent directors.
AAX's 2018 annual report shows that Rafidah has been chairman of the board since March 2011. Both Yusli, who was CEO of Bursa Malaysia Bhd between 2004 and 2011, and Asmat joined the AAX board in May 2013. Asmat was formerly secretary-general of the ministry of international trade and industry and is the father of Riad Asmat, CEO of AirAsia Malaysia.
Independent directors face daunting task
An independent director, who currently serves on the boards of two companies, says independent directors of AirAsia and AAX would have to look at the transparency of the sponsorship deal to the sports team.
A fundamental question would be ­whether the boards of AAB & AAX were informed of the arrangement, she says, adding that the committees set up to look into the matter must be seen to be independent and transparent.
A former independent director tells The Edge that the appointment of an independent expert to review the US$50 million payments to the sports team in respect of the order of 180 aircraft from Airbus would be best to avoid any conflict of interest.
He questions whether Asmat can be deemed independent as his son Riad is the current CEO of AirAsia Malaysia although he has not been implicated.
Minority Shareholders Watch Group (MSWG) CEO Devanesan Evanson concurs. He says the committee should leverage independent professionals, in the course of its review, to impart an independent flavour to the review process.
"This would enhance impartiality and remove the perception of bias," he says in an email reply to The Edge.
"The committee must also bear in mind that there is no conclusive evidence as to the identity of the two AirAsia executives mentioned in the documents relating to the Airbus case — all speculation as to their identities is hitherto based on circumstantial evidence.
"In this context, the committee should give every opportunity to those alleged to have committed the offences to respond and to explain — the right of audience is a sacred limb of natural justice," says Devanesan.
"The committee must be mindful at all times that perceptions need to be managed and in this context, be mindful of the importance and relevance of investor relations and timely dissemination of material information," he adds.
In the coming two months, all eyes will be on the committees of the two airlines and what the outcome of their review will be, as well as the conclusions of investigations by MACC, the SC and Mavcom and whether they will take action.
On Feb 6, Kapila Chandrasena, the former CEO of SriLankan Airlines, was the first among those implicated by the SFO to be charged with money laundering and bribery after he and his wife were accused of receiving US$2 million in bribes over the purchase of Airbus planes. Kapila's wife, Priyanka Niyomali Wijenayaka, was also arrested on money laundering charges.
Still, some quarters are of the view that Kamarudin and Fernandes will be cleared of the bribery allegations following Prime Minister Tun Dr Mahathir Mohamad's remarks on Feb 6 that it was normal to ask for an "offset" in business dealings, provided the money is not taken for personal use.
Critics, however, said it was not proper of Mahathir to make comments that appeared to clear Kamarudin and Fernandes of any wrongdoings when investigations have not been completed. They also highlighted that the offset programmes he talked about were different from cash payments to a company owned privately by the two AirAsia executives.
The Prime Minister's Office has since ­clarified that at no point did Mahathir suggest that the alleged bribery involving AirAsia was an offset payment. "Mahathir did not say that AirAsia was benefiting from this normal practice. He said it is only if the money goes to individuals that it becomes a bribe. If it is not for personal benefit, then it is not a bribe in his view."
Many offset programmes originally came about as a result of defence and aerospace sales. However, in most cases, such offset programmes involve investment, skills training, transfer of technology and exports and not outright cash payments.
For instance, as part of Boeing's industrial participation commitment in delivering new jets to Malaysia, it entered into offset programmes with Composites Technology Research Malaysia (CTRM) to supply ScanEagle hardware services in 2012 and with Aerospace Composites Malaysia to manufacture aileron composites for next-generation 737 jets in 2005.
'AirAsia is Tony and Tony is AirAsia'
He is known as Asia's equivalent of British billionaire Sir Richard Branson. While Branson is synonymous with the Virgin brand, Fernandes is the flamboyant entrepreneur behind the AirAsia brand.
The success witnessed by AirAsia Group today can be attributed to the 54-year-old Fernandes and Kamarudin, 57, who is often overshadowed by the former. Fernandes built a persona similar to Branson as well as Michael O'Leary, the boss of low-cost airline Ryanair. Like O'Leary, Fernandes is notorious for his regular outbursts against regulators, competitors and the media. Indeed, Fernandes' aggressive push for the industry to embrace the low-cost travel model has many a time rubbed people the wrong way.
But whether Fernandes and Kamarudin will take a back seat permanently at the airline they had grown massively over the past two decades remains to be seen. In the interim, AirAsia's deputy group CEO for airlines business, Tharumalingam Kanagalingam, better known as Bo Lingam, has been appointed acting CEO.
Like him or loathe him, Fernandes represents AirAsia, says Endau Analytics founder and aviation consultant Shukor Yusof.
"It would put a question mark over the airline's future (if Fernandes were to step down from his CEO role) because Tony is the face of AirAsia in more ways than one … not just as a shareholder. (Although a co-founder,) Kamarudin was a more passive shareholder than Tony. Tony has always been the one [credited] with bringing AirAsia to where it is today," says Shukor.
"Without him around, investors would have every reason to be concerned about the sustainability of the airline. He is the person who has set the direction for the airline and moulded it into the largest low-cost carrier in Asia today with his philosophy and management style. That's why I say, 'AirAsia is Tony and Tony is AirAsia.' The two are inseparable."
The release of the damning set of internal emails could not have come at a worse time for AirAsia, already struggling with the outbreak of coronavirus and a challenging operating environment, owing to intense competition and overcapacity. It also probably ended all hopes of a merger between it and Malaysia Airlines that has been under consideratiom.
AllianceDBS Research aviation analyst Siti Ruzanna Mohd Faruk expects the bribery allegations to raise some corporate governance concerns among investors until the issue is cleared by MACC and the SC.
"This may lead to some short-term share price volatility, exacerbated by the ongoing coronavirus concerns," she writes in a Feb 3 note. "For the period from January to November 2019, we understand the available seat kilometres (which measures passenger carrying capacity) to China was about 13%. The group continues to fly to China. However, if the spread of the coronavirus prolongs, load factors could be adversely affected."
In a report issued on Feb 5, S&P Global Ratings says its base-case projection is that the coronavirus crisis will stabilise globally in April 2020, with virtually no new transmissions in May.
"Our worst-case projection holds that the virus stops spreading in late May, and optimistically in March. In turn, this suggests that the peak impact on economic activity across Asia-Pacific will be in the first and second quarters. Growth should stabilise later in 2020 and recover through early 2021 as the temporary effect on activity wanes," it adds.
MIDF Research analyst Adam Mohamed Rahim believes the recent corruption case allegedly involving AirAsia could be an overall sentiment dampener to the company, especially in an operating environment that is already facing headwinds.
"Operationally, we view that AirAsia's efforts in its non-airline business, represented by Teleport, BigPay, AirAsia.com and RedBeat Ventures, to continue growing.
"But until the outcome of the investigation is known, precautions have to be taken in valuing the company as any adverse findings could pose an impact to the airline's reputation and potential financial penalties. Nevertheless, if the allegations are found to be untrue, this will serve as a golden opportunity for both co-founders to strengthen their trustworthiness back in the company and subsequently, the airline industry," he says in a Feb report.
Since the news on the Airbus corruption scandal broke, AirAsia's share price has fallen 14% to close at RM1.23 on Feb 6, from RM1.43 on Jan 31, giving it a market capitalisation of RM4.11 billion. Shares in AAX, meanwhile, remained unchanged at 13 sen on Thursday from Jan 31's closing, valuing the stock at RM539.26 million.
Is it splitsville for Airbus and AirAsia?
When contacted, a spokesman for Airbus says the aircraft maker remains committed to its presence in Malaysia and to working together with its customers, stakeholders and industrial partners here.
"For legal reasons, we are unable to comment on specific cases included in the recent statements of facts published by the French, UK and US authorities," the spokesman adds.
According to sources, it would be difficult for AirAsia to cancel any of its aircraft orders with Airbus, as that would result in its having to pay compensation. "It would also make no economic sense to change the airline's entire fleet of Airbus aircraft," says one source.
A check on Airbus' website reveals that AirAsia had ordered 188 A320s, 51 A320neos and 353 A321 neos, while AAX's orders comprised 30 A321neos, 20 A330-300s, 78 A330-900s and 10 A350-900s as at January 2020.
But the love affair between the two parties, during which AirAsia Group was probably the only major airline to buy planes from only one manufacturer, may well be truly over.