This article first appeared in City & Country, The Edge Malaysia Weekly, on May 4, 2020 - May 10, 2020.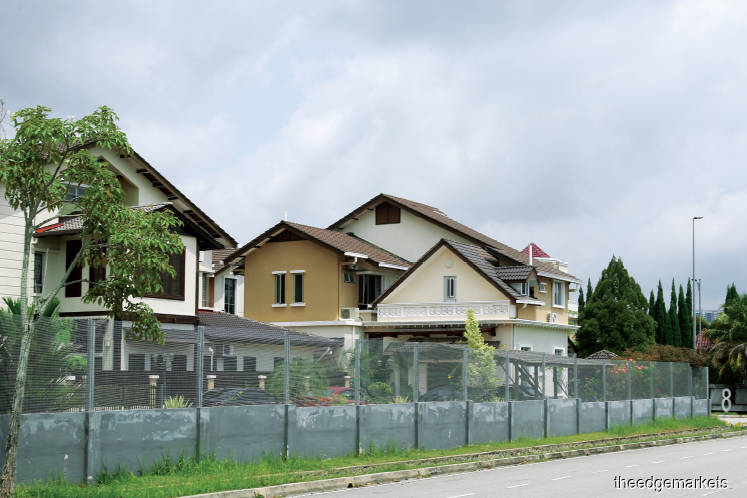 Bungalow land in Bandar Sri Putra, Kajang, has an average price estimate of RM30 to RM40 psf
Photo by Suhaimi Yusuf/The Edge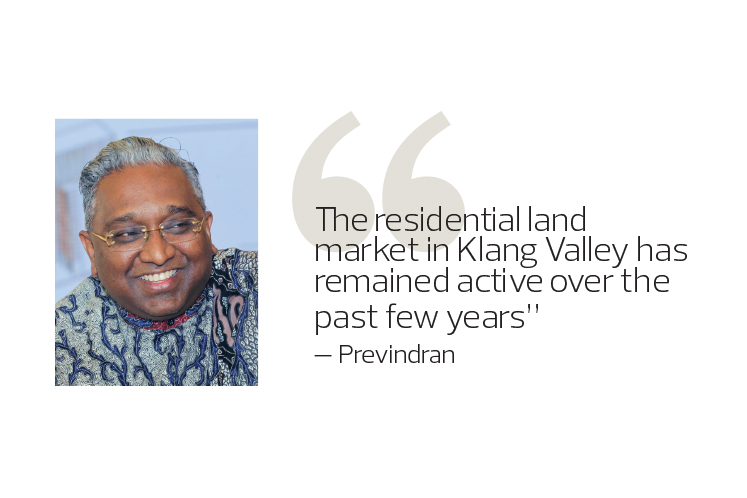 Photo by Haris Hassan/The Edge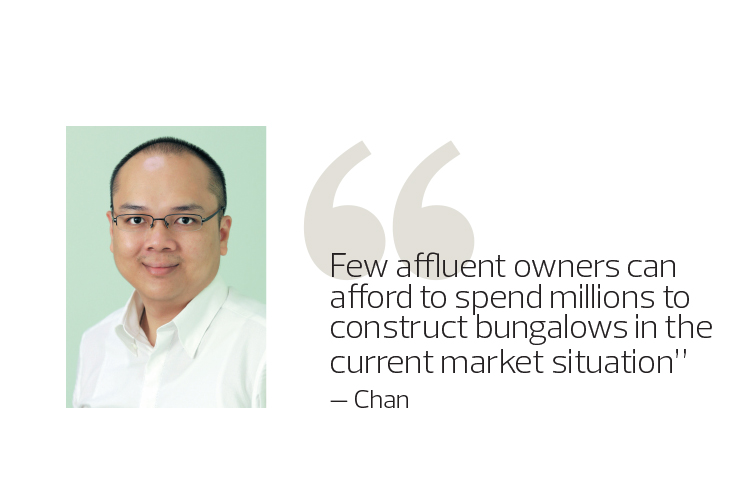 Photo by Mohd Izwan Mohd Nazam/The Edge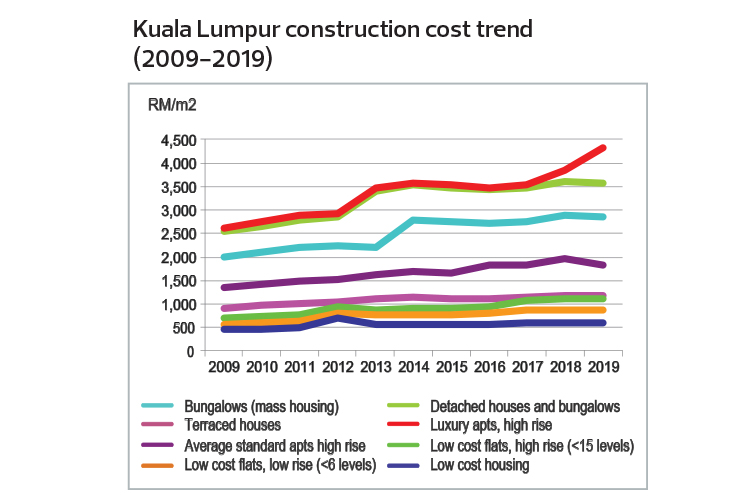 Source: JUBM & Arcadis
Click / Tap image to enlarge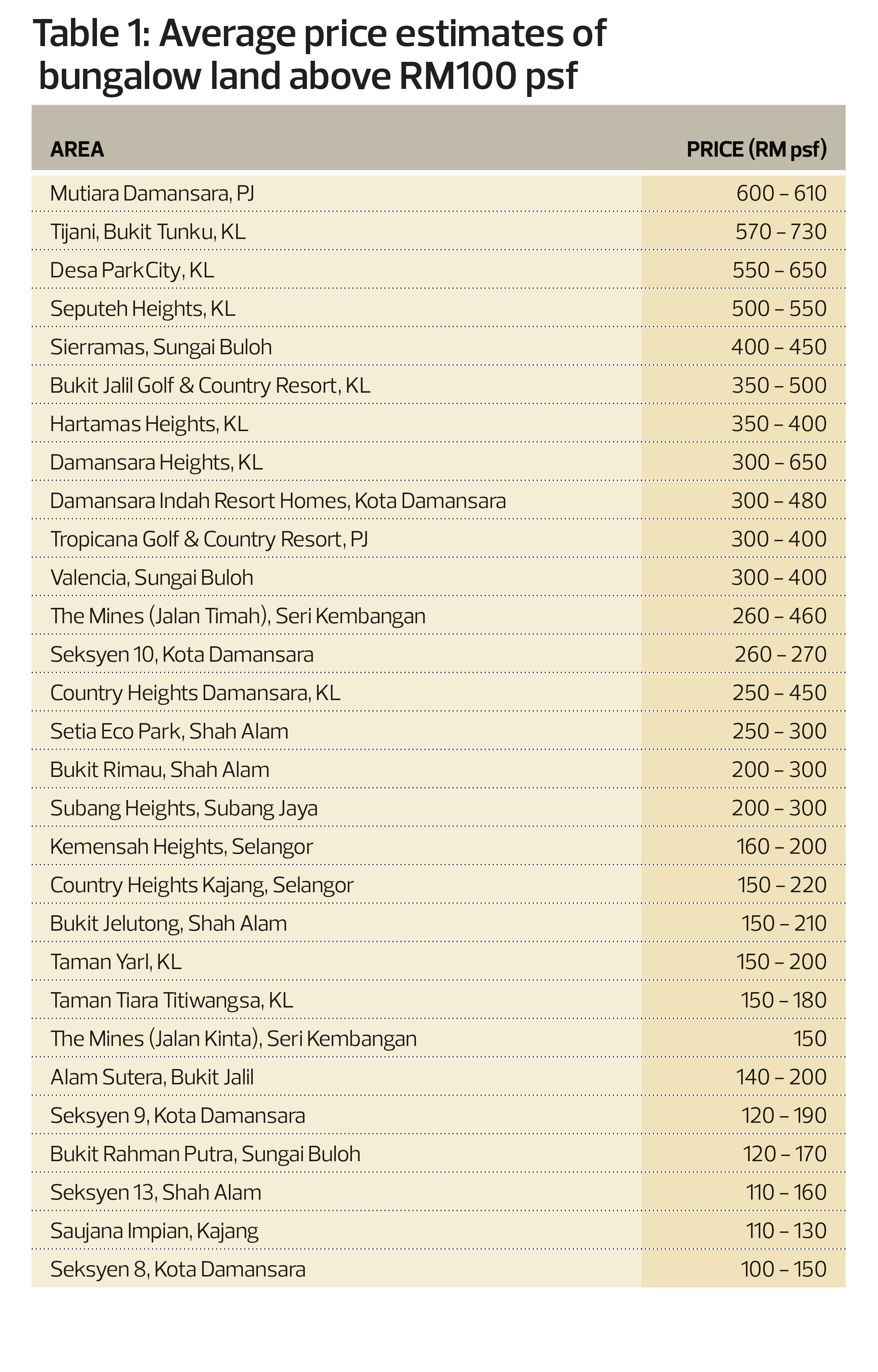 Source: CCO & Associates
Click / Tap image to enlarge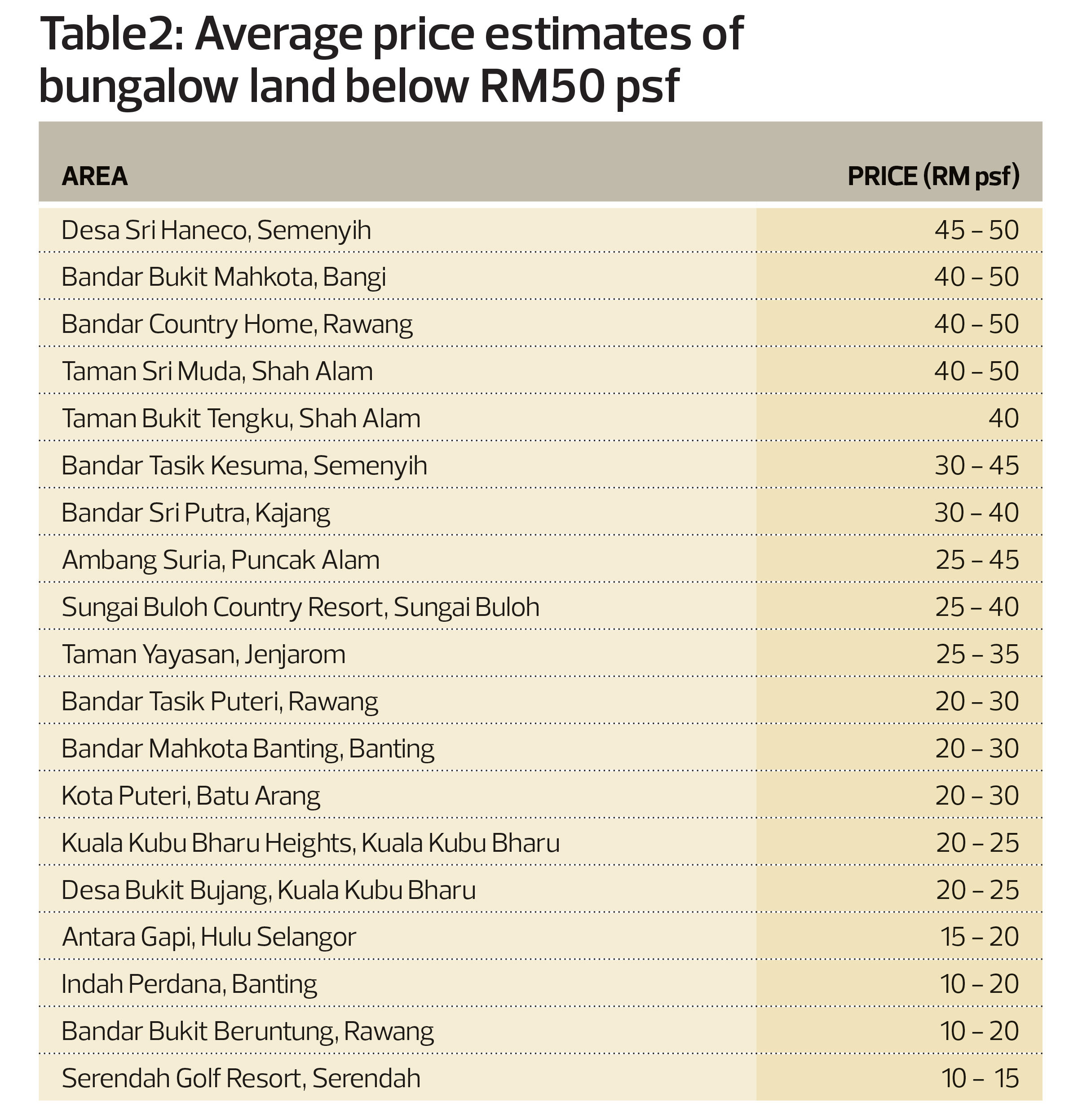 Source: CCO & Associates
Click / Tap image to enlarge

Source: JUBM & Arcadis
Click / Tap image to enlarge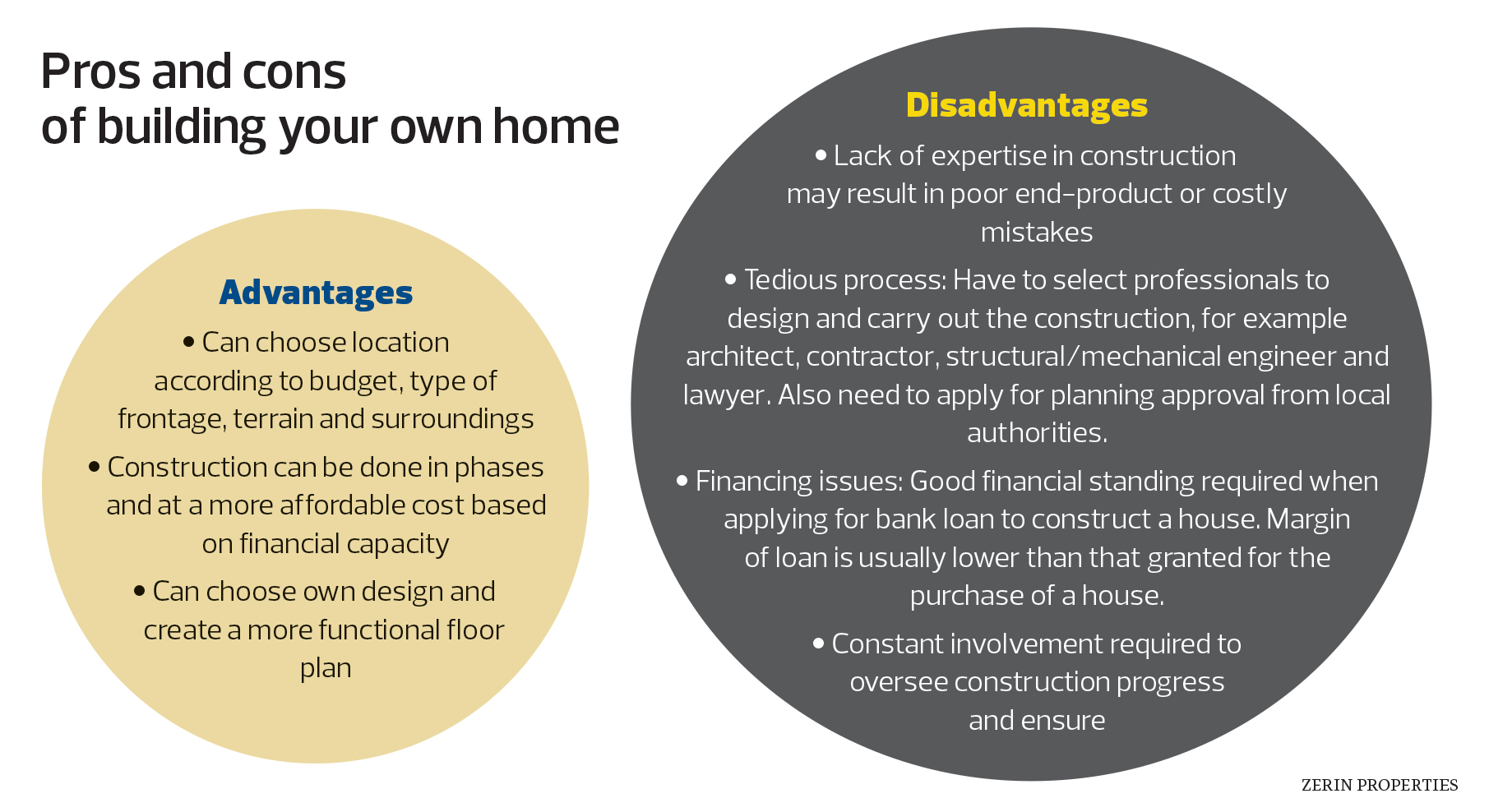 Source:Zerin Properties
For most people, buying a property means purchasing a landed home or a unit in a high-rise. Those looking to build their dream home, however, may opt for bungalow land.
"Building their own home allows buyers to choose the location, depending on budget, and frontage, terrain and surroundings. Construction can be done in phases, at a cost based on the individual's financial capacity and the house can be designed based on individual preferences [and allows] for a more functional floor plan," says Zerin Properties managing director and CEO Previndran Singhe.
Bungalow plots are also popular with investors who are architects, designers as well as developers, to cater to the boutique and designer homes market, he adds.
According to CCO & Associates director Chan Wai Seen, well-planned bungalow plot developments, usually undertaken by developers, are equipped with ready infrastructure and amenities. "This means buyers will only need to build the bungalow. General utilities such as electricity, water, access roads, sewerage, drainage, [phone lines] and internet are readily available for connection."
In contrast, there is also development land zoned for residential purpose by the local authorities. "In most instances, such land does not form part of a planned project and lacks proper infrastructure and amenities. Also, residential land is generally less popular because owners may need to incur additional expenses to develop these amenities and infrastructure, and investors may face difficulty in securing buyers as a result," notes Chan.
Bungalow land is generally considered high-end property and the prevailing sentiment in the property market does not augur well for this segment, according to Chan. "[Few] affluent owners can afford to spend millions to construct bungalows in the current market situation," he says.
"During good times, many investors bought well-planned bungalow plots. Some projects have seen their price increase to over RM300 psf in the secondary market, from RM70 to RM80 psf originally.
"At present, the profit margin is getting less attractive and many investors are unable to sell at desired prices," he adds.
Previndran, meanwhile, says the residential land market in Klang Valley has remained active over the past few years, particularly in areas that are expected to become hotspots owing to infrastructure enhancements such as planned highway and railway projects. These projects include the LRT Line 3, MRT lines as well as the High-Speed Rail (HSR).
"Developers have been and are still looking at opportunities to develop transit-oriented developments and affordable housing projects that are in great demand, especially with the younger generation," he adds.
Previndran says the mid- to long-term outlook is positive for the residential land market as more developers, including Mah Sing and Scientex, are seeking to grow their land bank to cater to the rising demand for affordable housing. "The recent announcement of the revival of the HSR and MRT Line 3 by the government is also expected to spur landbanking interest in areas near the proposed stations," he says.
Bungalow land under RM50 psf
In the Klang Valley in general, those looking to build their own houses tend to gravitate towards more-established locations such as Tropicana Golf & Country Resort, Damansara Heights, Setia Eco Park and Petaling Jaya, where bungalow land prices are RM250 to RM650 psf (see Table 1).
For those less particular about being in a central location, there are still many opportunities for finding bungalow land under RM50 psf within the Klang Valley.
For example, a parcel of bungalow land measuring 6,114 sq ft in Bandar Tasik Kesuma, Semenyih, is listed on EdgeProp.my at RM277,000, or RM45 psf. The freehold land is located just under an hour's drive from KL City Centre.
Another bungalow lot listing on the real estate portal is that of a 4,004 sq ft Malay reserve parcel priced at RM192,000, or RM47 psf, in Desa Sri Haneco, Semenyih.
For more locations with bungalow land under RM50 psf, see Table 2.
Most of the developments on the list, says Chan, enjoy good accessibility and are located within ongoing or upcoming development areas, albeit at less popular locations.
"Most of these projects do not attract affluent owner-occupiers as they generally prefer more-­established locations," he points out.
Constructing a house involves many processes and may incur a higher cost than buying a property from developers or on the secondary market. "Generally, construction costs for a bungalow in the Klang Valley or greater Klang Valley are about the same. As land cost, depending on location, can be a fraction of the overall development cost of a bungalow, buyers who can afford the construction costs tend to prefer to stay at established and popular areas," Chan says.
As a guide, construction cost for an individually designed bungalow in Kuala Lumpur, based on Arcadis Malaysia's Construction Cost Handbook Malaysia 2020, ranges from RM3,025 to RM4,105 per sq m while that for mass-housing bungalows is from RM2,370 to RM3,295 per sq m (see Table 3 and chart).
Chan says for developers, launching bungalow lots involves lower development costs but owing to increasing land costs, he foresees new bungalow land developments being farther away from the city centre or established areas.
Similarly, individuals may acquire residential land in the suburbs as it is more affordable than buying a house in areas close to the city, Previndran points out.
Some of the areas he considers as having good connectivity and accessibility include Sungai Buloh Country Resort in Sungai Buloh, Bandar Bukit Mahkota and Bandar Sri Putra in Bangi, and Bandar Tasik Puteri in Rawang.
Sungai Buloh Country Resort is connected to various major highways including the Guthrie Corridor Expressway, KL-Kuala Selangor Expressway (LATAR), New Pantai Expressway, Shah Alam-Batu Arang Highway, Federal Highway and the latest, Shah Alam-Damansara Highway.
Bandar Bukit Mahkota and Bandar Sri Putra in Bangi, meanwhile, are freehold townships that are accessible via the KL-Seremban Highway and are located 35 minutes from KL City Centre, 25 minutes from Seremban and KLIA and about 30 minutes from the proposed Sepang-Putrajaya HSR Station at Kg Abu Bakar Baginda.
Bandar Tasik Puteri in Rawang is another well-connected township, with access to numerous highways and rail lines, including LATAR, the Bandar Tasik Puteri Interchange, Jalan Batu Arang, North-South Expressway and the KTM Rawang-­Seremban line, according to Previndran.
Bandar Tasik Puteri is near schools such as ELC International School and IGB International School, and universities such as Universiti Teknologi Mara Puncak Alam and Universiti Industri Selangor at Bestari Jaya; medical amenities such as Putra Medical Centre, Sungai Buloh Hospital, KPJ Rawang Specialist Hospital and Hospital Selayang; and retail outlets like AEON Rawang, Giant Hypermarket Rawang, NSK Trade City, Tesco Rawang and Parkson Rawang.
"Overall, Rawang has become one of the preferred locations owing to its proximity to KL City Centre for both individuals and developers, with big developers such as BRDB and Gamuda launching projects in the locality," Previndran says.
Some of the other areas with bungalow land priced below RM50 psf, according to Previndran, are Kg Sungai Tangkas and Kg Aman in Bangi, Kg Sungai Dua in Rawang, Broga Villas in Semen­yih, Kg Sungai Sekamat in Kajang, Pulau Indah in Klang, Seksyen 29 in Shah Alam and Kg Baru, Kg Pasir and Kg Batu in Ulu Yam.
"Notwithstanding, areas in Sungai Buloh, K­ajang, Shah Alam and Klang, especially those close to MRT stations and LRT Line 3 stations, will be highly sought after. Semenyih is also a popular choice owing to ease of accessibility and its proximity to myriad amenities, such as schools, hospitals, parks and shopping malls," he adds.