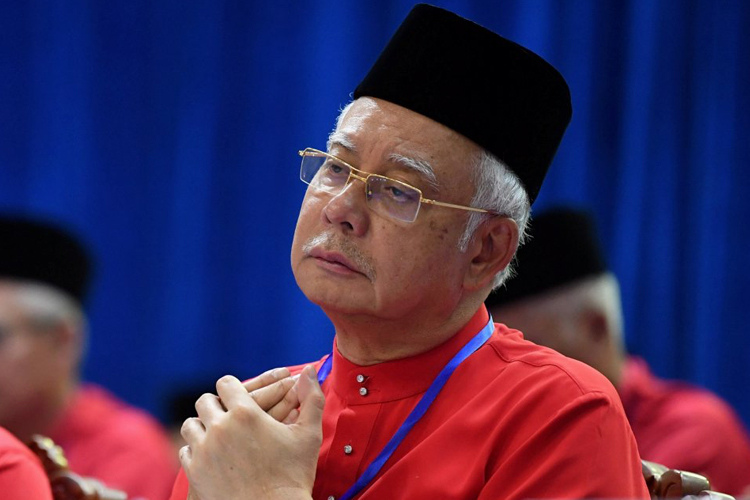 KUALA LUMPUR (Aug 10): Former Prime Minister Datuk Seri Najib Razak's application to extend the interim gag order and prohibit the public from discussing the merit of his court case through any media is "unsustainable" and violates the freedom of speech, the High Court ruled today.
"Freedom of speech is curtailed by and subjected to existing laws on contempt and defamation, which already provides a safeguard and can be pursued if there is any wrongdoing," judge Mohd Nazlan Mohd Ghazali said in his oral ruling at the end of a nearly eight-hour hearing.
The prosecution team was led by DPP Datuk Mohamad Hanafiah Zakaria and assisted by DPP Manoj Kurup, while prominent lawyer Tan Sri Muhammad Shafee Abdullah led Najib's defence team.
Mohd Nazlan threw out Najib's application to extend the interim gag order and prohibit the public from commenting on the former premier's court case involving seven charges related to RM42 million of funds from SRC International Sdn Bhd, a former subsidiary of the troubled 1Malaysia Development Bhd.
The judge said the gag order must be precisely defined with a narrower scope, as it could bring about major implication on the Constitutional rights related to the freedom of speech and expression.
"In light of the aforesaid key considerations, I find the motion unsustainable. If granted, it would represent a major incursion into the Constitutional right of freedom of speech and freedom of expression under Article 10 of the Federal Constitution," he added.
Still, Mohd Nazlan reiterated that Article 10 is not absolute and does not allow any persons with the freedom "to discuss and comment, and publish things about this and any pending trial proceedings."
"Article 10(2)(A), he said, provided four exceptions. Those who overstep the boundary of freedom of expression and speech on this case, risk action being taken for violation for defamation of contempt law, essentially both civil and criminal," he added.
In balancing the Constitutional issues between fair trial and freedom of speech, Mohd Nazlan outlined three reasons to dismiss Najib's gag order application, as it fell short of establishing the case for higher restrain for freedom of speech.
Firstly, Mohd Nazlan ruled that a gag order is an extension of what is already governed by existing legislations such as the law of contempt and defamation.
Secondly, he said a gag order will curtail and provide a higher restrain to the freedom of speech and expression, an order of which should only be granted in the most exceptional of cases.
Thirdly, the judge said: "A party proposing the gag order would bear the heavy burden of providing compelling evidence for making the restrictions."
At the same time, Mohd Nazlan observed that there is "no clear evidence" that the existing media coverage will present a serious prejudice to Najib's right for a fair trial.
"The applicant himself has conducted interviews which have been widely and extensively published, presenting his version of the narrative," he added.
Meanwhile, Mohd Nazlan also ruled that Najib's bid for gag order does not sit comfortably with the provision under Section 15 of the Courts of Judicature Act 1964, which allows the public with an access to any criminal or civil proceedings.
See related story: http://www.theedgemarkets.com/article/najib-appeal-gag-order-dismissal-monday-%E2%80%94-shafee