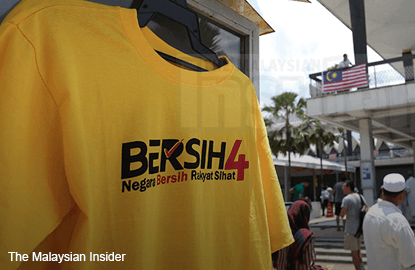 This article first appeared in The Edge Financial Daily, on November 3, 2015.
KUALA LUMPUR: Datuk Seri Ahmad Zahid Hamidi has been ordered to file an affidavit in response to a challenge against the home minister's ban on yellow Bersih 4 T-shirts and other printed materials, which was gazetted two days before the 34-hour rally in late August.
Lawyer for Bersih 2.0 New Sin Yew said High Court senior assistant registrar P Sarulatha instructed that the affidavit must be filed by Nov 23.
"If the need arises, we have been given one week to file an affidavit in reply to the home minister." he told The Malaysian Insider after case management before Sarulatha in Shah Alam yesterday.
Federal counsel Haryati Ahmad represented the minister and the government.
New, who is representing electoral reform group Bersih 2.0 steering committee, said the court has fixed Jan 7 to hear the merit of the judicial review before judicial commissioner Azimah Omar.
On Oct 22, Bersih 2.0 obtained leave from the High Court to challenge the ban.
A government gazette, signed by the home minister on Aug 27, and which came into effect the following day, stated that the order was made under the Printing Presses and Publications Act 1984.
The Printing Presses and Publications (Control of Undesirable Publications) (No. 22) Order 2015 lists as "absolutely prohibited throughout Malaysia" the following items: "Any yellow coloured clothing and which contains the words Bersih 4" and "any other printed material and pamphlet which leads to Bersih 4 rally."
The order states that the "printing, importation, production, reproduction, publishing, sale, issue, circulation, distribution, or possession" of these items are "likely prejudicial to public order", as well as to security and national interest.
Bersih 2.0, in its application, said the ban has "branded as criminals" thousands of Malaysians who have the right to own Bersih 4 T-shirts and pamphlets.
"The home minister's order was unreasonable, illegal and made in bad faith," it said. — The Malaysian Insider