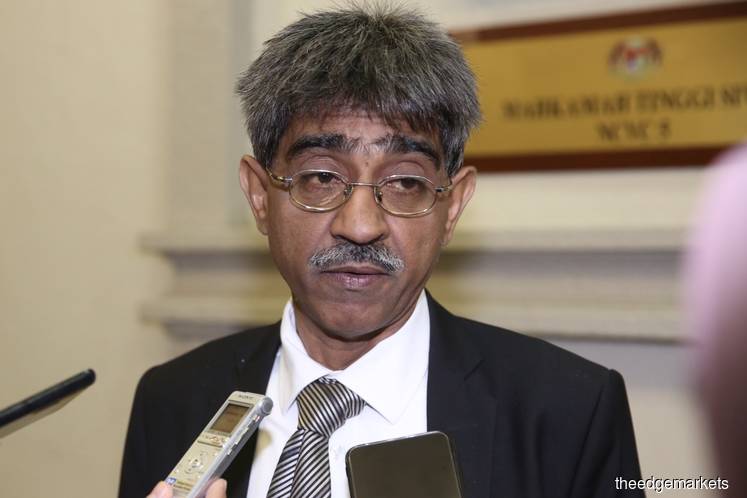 KUALA LUMPUR (Aug 5): The High Court will on Aug 29 hear lawyer Mohamed Haniff Khatri Abdulla's application to intervene in the Attorney-General's Chambers (AGC)'s move to expunge portions of the affidavit filed by Court of Appeal Judge Hamid Sultan Abu Backer.
The lawyer said various allegations were made in Hamid Sultan's affidavit dated Feb 14, supporting lawyer Sangeet Kaur Deo's application against the Chief Justice (CJ) to declare that the latter had failed to defend the judiciary after the judge had revealed alleged interference in her late father Karpal Singh's sedition case last year.
The affidavit also forms the basis for the government in its decision to form a Royal Commission of Inquiry (RCI) to investigate the interference allegations.
"If the AGC wishes to expunge the affidavit, would it not have an impact on the RCI? On one hand, the AG (Attorney-General) is responsible in assisting the government in the matters relating to the formation of the RCI.
"On the other hand, he's taking the opposite stand to strike out the affidavit, which is the basis of the RCI," Mohamed Haniff (pictured) told reporters after the case management of Sangeet's suit in chambers today before Justice Datuk Mohd Firuz Jaffril.
Also present were plaintiff Sangeet, senior federal counsel S Narkuvanathy for the CJ and lawyer Joy Appukuttan for Hamid Sultan .
While the government has announced its intention to form an RCI, the lawyer pointed out that no dates have been set.
The delay in the RCI has affected Sangeet's suit, as she had indicated that she was considering withdrawing her suit against the CJ, depending on several factors, including the developments on the RCI.
"If the applicant wishes to withdraw the action, then why is the AG expunging the affidavit? Why are they so eager to strike out or expunge the affidavit when the action itself may be withdrawn?" asked Mohamed Haniff.
See also:
Court decision wasn't stayed, so why delay setting up RCI, asks Sangeet
Karpal's daughter asks new CJ to probe interference claims afresh
Court rejects bid to adduce further evidence in Karpal's sedition appeal
Sangeet urges Putrajaya to finalise RCI into judicial misconduct
AGC wants large chunk of Hamid Sultan's affidavit removed