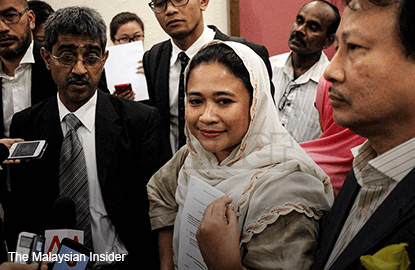 (Oct 9): The High Court will hear on Nov 30, Umno secretary-general Datuk Seri Tengku Adnan Tengku Mansor's application to strike out Anina Saaduddin's suit over her sacking from the party.
Anina's lawyer, Mohamed Haniff Khatri Abdulla said judicial commissioner S. Nantha Balan also instructed parties to file their written submissions on Nov 6.
 
Haniff said the dates were fixed after a case management in chambers today.
Anina, a former Langkawi Umno leader, filed the suit on Sept 11, and also named Umno executive secretary Datuk Ab Rauf Yusoh as defendant.
She is seeking an order that two termination letters issued by Adnan were invalid and had no effect on her membership.
Adnan on Oct 5 filed an application to strike out the suit on grounds that a party member was barred under the party rules and Societies Act to bring grievances to the court.
Anina was sacked from Umno after filing a suit on Aug 28 against Umno president Datuk Seri Najib Razak, to make him account for the RM2.6 billion in his personal bank accounts.
She had also lodged a complaint with the Umno disciplinary board to summon Najib to explain the controversy over the RM2.6 billion. – The Malaysian Insider