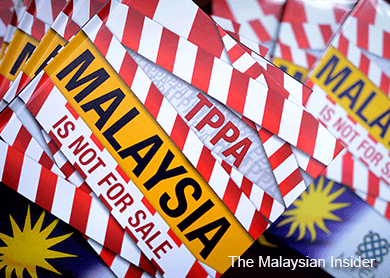 (Dec 1): Putrajaya has raised an objection that the court has no jurisdiction to hear a judicial review by the Muslim Youth Movement of Malaysia (Abim) and two other non-governmental organisations to stop the Malaysian government from signing the Trans-Pacific Partnership Agreement (TPPA).
Senior federal counsel Shamsul Bolhassan, appearing for the government, said the court was incapable settling the dispute.
"The court cannot hear issues regarding international treaties and policy decisions," Shamsul told reporters after proceedings in the chambers of High Court judge Datuk Asmabi Mohamad today.
Lawyer Mohamed Haniff Khatri Abdulla, who is appearing for Abim and Urusetia Menangani Gejala Sosial (Unggas Malaysia) and Persatuan Teras Pendidikan  Malaysia, will rebut Shamsul's submission on January 12.
Today's proceeding before Asmabi was for the three applicants to obtain leave before the court hears the merit of the case.
However, the government has intervened that leave should be rejected on grounds that the subject matter was non-justifiable for the court to make a ruling.
On November 4, Abim and the two NGOs filed for a judicial review to stop Putrajaya from signing the contentious TPPA, and instead want the government to make public the agreement and other related documents.
The three are also seeking a declaration that provisions in the TPPA amount to a breach of fundamental provisions in the Federal Constitution.
The applicants? also want a stay order from the court to stop the government from signing the pact until the disposal of the merit of the judicial review.
Also named as respondents to the application are Prime Minister Datuk Seri Najib Razak and the Ministry of International Trade and Industry.
On October 5, 12 countries including Malaysia concluded TPPA in Atlanta, United States.
International Trade and Industry Minister Datuk Seri Mustapa Mohamed was reported to have said that the agreement would be ratified by Parliament early next year. – The Malaysian Insider