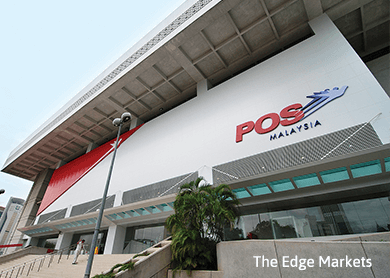 KUALA LUMPUR: Pos Malaysia Bhd expects its courier, express and parcel (CEP) business to drive future growth, based on the segment's performance in the past financial year ended March 31, 2015 (FY15), as its traditional mail segment continued to post a decline in contribution to its overall operations.
Pos Malaysia's covering group chief executive officer Azlan Shahrim said the group sees the CEP business to be the key growth platform for the company, based on its performance over the past year.
"The CEP segment will be the main driver for the company, going forward. Last financial year, the segment grew 22% year-on-year (y-o-y), and it grew at around the same pace in the first quarter (1QFY16)," Azlan told reporters after the company's annual general meeting (AGM) yesterday.
On the other hand, its traditional mail segment, Pos Mel, saw a 4.7% y-o-y contraction in revenue to RM742 million in FY15, translating into a 33% decline in operating profit for the year to RM78 million.
In 1QFY16, the mail segment saw a 9% improvement in operating profit at RM19.8 million, compared with RM18.1 million in 1QFY15.
Overall, Pos Malaysia reported a 16% fall in its net profit to RM22.74 million for 1QFY15, compared with RM27.11 million a year earlier, despite a 6% climb in revenue to RM390.37 million for the period, from RM368.80 million previously.
Azlan said Pos Malaysia is looking to reinvent itself to stay relevant in the evolving business landscape amid the continued decline in mail volume plaguing the global mailing industry.
"Now with the decline in mail volume which is relevant all over the world, how does a 200-year-old organisation like us, which has been very dependent on mail delivery, survive into the future?" he asked.
Hence, the group has outlined and identified three core areas of focus, namely to be more innovative, customer-centric and to encourage a high-performing culture among its staff.
"We need to embrace innovation and improve the way we do things, that's number one. Number two, we need to be more customer-centric. All of our staff need to treat the customers better and make sure they have an enjoyable experience when they step into our offices.
"Thirdly, we need to build a high-performance culture in Pos Malaysia. The company must no longer think of itself as a monopoly, as there are many other companies competing in the same space. We have to be more competitive," said Azlan.
Towards that end, Pos Malaysia launched the FlexiPack, which is a prepaid envelope or box catering to online enterprises. It will also be introducing mobile apps, parcel lockers and automated sorting of its parcels.
The group will also update its facilities, set up more ad-hoc Pos Laju kiosks during peak hours, introduce a drop box system, and  set up self-service terminals to enhance customer experience.
At the AGM, Pos Malaysia saw all eight of its resolutions passed,  including the proposed first and final single-tier dividend of 13.1 sen per share for FY15.
Its shares will trade ex-dividend on Sept 14, with the dividend to be paid out on Oct 7.
Pos Malaysia closed three sen or 0.85% lower at RM3.51 yesterday, for a market capitalisation of RM1.9 billion.
This article first appeared in digitaledge Daily, on September 9, 2015.