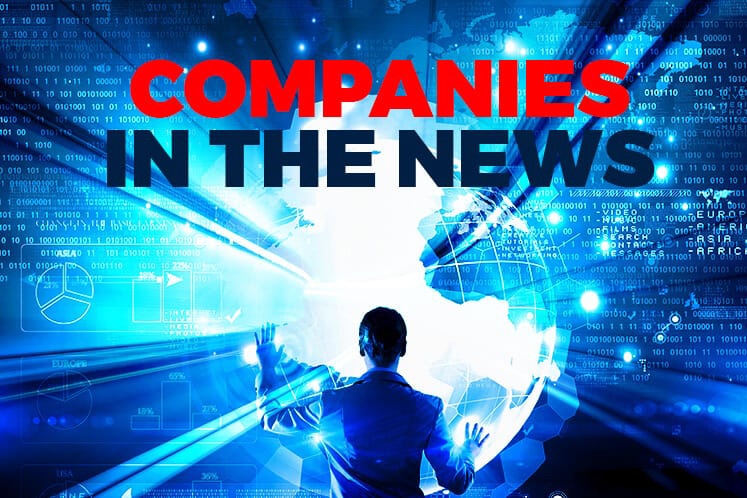 KUALA LUMPUR (June 27): Based on corporate announcements and news flow today, stocks in focus for Thursday (June 28) may include the following: Country Heights Holdings Bhd, TA Global Bhd, Berjaya Land Bhd, MGB Bhd, EA Technique (M) Bhd, Gamuda Bhd, Yinson Holdings Bhd, Borneo Oil Bhd and Comfort Gloves Bhd.
Country Heights Holdings Bhd has proposed a bonus issue of up to 137.85 million warrants to raise funds to finance the property developer and investor's working capital needs.
Country Heights said it plans to issue the five-year warrants on the basis of one warrant for every two existing shares held by shareholders. The exercise price of the warrants has yet to be fixed.
Amid the softer and challenging property market, TA Global Bhd is delaying its Dutamas, as well as its TA 3 & 4 projects to next year, as it uses the time to "retool, reprogramme and redesign" the schemes.
As the company could not get the development permit in time for its Dutamas project, which has an estimated gross development value of RM450 million, Tiah said TA Global would only launch it in the first quarter of next year.
TA 3 & 4, which have a combined GDV of RM2.6 billion, are expected to be launched in the third quarter of 2019, and will be completed in about four years.
Berjaya Land Bhd, which is controlled by tycoon Tan Sri Vincent Tan, wrapped up its financial year ended April 30, 2018 (FY18) with another quarter of net loss, due mainly to unfavourable foreign exchange rates, and lower profit contribution from its number forecast operator business.
Berjaya Land announced a net loss of RM92.15 million for its fourth quarter (4QFY18), compared with a net profit of RM88.57 million in the same quarter last year. This resulted in a loss per share of 1.85 sen, versus earnings per share of 1.78 sen a year ago.
Quarterly revenue fell 6% year-on-year to RM1.585 billion from RM1.676 billion.
For the full year, Berjaya Land fell into the red with a net loss of RM189.53 million, versus a net profit of RM294.74 million in FY17, though revenue only fell marginally to RM6.365 billion from RM6.371 billion.
MGB Bhd has received a letter of intent from Kemudi Ehsan Sdn Bhd, a subsidiary of LBS Bina Group Bhd, to undertake piling, pile cap and building works including internal infrastructure works valued at RM175.2 million, for the proposed Phase 3A and 3B development projects in Bandar Alam Perdana, Ijok, Selangor. LBS Bina is also a major shareholder of MGB.
MGB said its wholly-owned subsidiary has received the letter of intent from Kemudi Ehsan for the proposed job, which is subject to the finalisation of contract documents, terms and conditions and final contract pricing.
EA Technique (M) Bhd has secured contracts to provide and operate two offshore support vessels (OSVs) for an undisclosed sum from ExxonMobil Exploration and Production Malaysia Inc, through a conditional Letter of Award (LoA) dated May 23, 2018.
The contracts awarded are for the provision and operation of two units of fast crew boats (25 knots, 60 pax) shared between ExxonMobil and EnQuest Petroleum Production Malaysia Ltd, under the Integrated Logistic Control Tower Programme.
Gamuda Bhd's net profit in its third quarter ended April 30, 2018 (3QFY18) grew 17% to RM200.69 million, from RM170.93 million a year ago, mainly due to higher work progress from the group's construction projects, stronger overseas property sales, and contribution from several new property projects in Malaysia.
Quarterly earnings per share (EPS) rose to 8.16 sen, from 7.04 sen in 3QFY17. Revenue for the quarter jumped 47% year-on-year to RM1.24 billion from RM839.49 million.
It announced a 6 sen second interim dividend, payable on July 31.
For the nine-month period ended April 30 (9MFY18), Gamuda's net profit grew 23% y-o-y to RM614.96 million from RM499.34 million, as revenue rose 37% y-o-y to RM3.01 billion from RM2.2 billion, with better contribution from all three core operations — led by its engineering and construction segment.
After record earnings in FY18, offshore support services company Yinson Holdings Bhd got off to a tepid start in the first quarter ended April, posting a profit of RM60.43 million against RM60.29 million a year ago, despite revenue rising 36.4% to RM235.18 million from RM172.41 million.
Yinson said the marginal increase in net profit was mainly attributable to a better profit contribution margin on higher recorded revenue, lower administrative overheads, lower fair value loss on investment properties, lower net unfavorable foreign exchange movement and lower income tax expense.
However, these improvements were set-off by higher finance cost of RM40.14 million and lower share of results in joint ventures of RM25.76 million.
Borneo Oil Bhd's subsidiary Borneo Oil & Gas Corp Sdn Bhd, has disposed of its entire 95% stake in a precious metals mining company Jusra Mining Merapoh Sdn Bhd for RM10 million. Borneo Oil acquired Jusra for RM5 million. Proceeds from the disposal will be used as working capital.
The disposal, Borneo Oil added, is in line with the group's plan to streamline its mining operations to focus its resources on the hard rock mining operations in Bukit Ibam, Pahang.
Comfort Gloves Bhd's net profit in the first quarter ended April 30, 2018 (1QFY19) fell 28% to RM7.35 million, from RM10.15 million a year ago, mainly due to a provision for deferred tax of RM2.3 million, besides having incurred higher cost of sales and expenses.
Stripping effects of the deferred taxation, the group's profit before tax (PBT) was down 4% year-on-year to RM9.7 million from RM10.1 million, despite revenue rising 14% y-o-y to RM106.58 million from RM93.7 million, on higher sales under its manufacturing segment.
Comfort Gloves said the PBT drop was mainly due to raw nitrile price and natural gas price, which increased by 10% and 17% respectively since the beginning of the year. It added that the strengthening of the ringgit against the US dollar also impacted its profit margin.