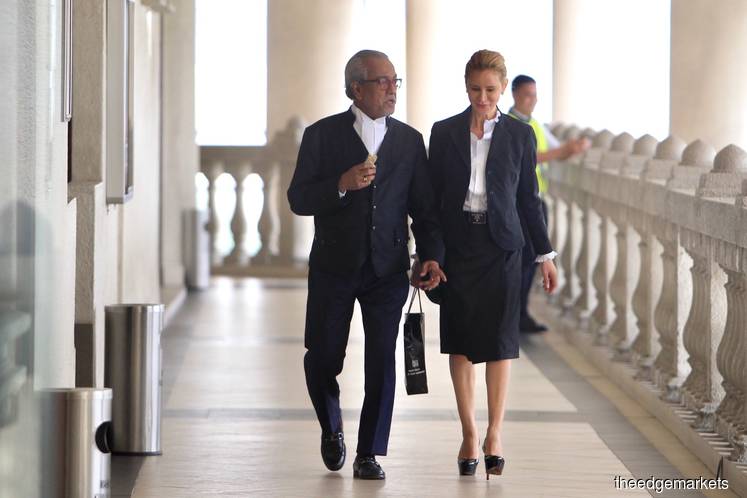 KUALA LUMPUR (Oct 8): The defence in Datuk Seri Najib Razak's 1Malaysia Development Bhd (1MDB) trial has revealed that Thailand-based Country Group Securities Pcl, which was involved in the flipping of a RM5 billion Islamic medium term notes (IMTN) issued by the fund in 2009, is linked to Tan Sri Larry Low Hock Peng — the father of fugitive Low Taek Jho. 
Former 1MDB CEO Datuk Shahrol Azral Ibrahim Halmi said he was unaware of the secondary subscription of the RM5 billion IMTN by Country Group and Aktis Capital Singapore Pte Ltd, owned by Low. 
Lawyer Tan Sri Muhammad Shafee Abdullah today showed Shahrol — the prosecution's 9th witness — two secondary subscription agreements dated May 18, 2009, between AmBank and Aktis and Country Group, wherein the two companies committed to RM700 million and RM3.8 billion of the bonds respectively. 
"This is not the first time you've heard of this company?" Shafee asked Shahrol during cross-examination, referring to Aktis. 
"I saw this name for the first time when I gave my statement to the Royal Malaysian Police in 2018. They asked me if I knew of this company, but I said I didn't know. They explained to me that Jho Low was the beneficial owner," Shahrol replied, adding that the police had also mentioned Country Group at the time he gave his statement. 
"Did they ask you who is behind Country Group?" Shafee asked.
"Yes but I didn't know. If I recall correctly, they said it was Casey Tang," Shahrol said.
"That is not entirely right, but they are in the same group. It's actually Larry Low," the lawyer added. 
"Oh, that is Jho Low's father. I was not aware of this," the witness said.
Like his son, Larry Low has since fled the country. The government has seized RM48.9 million in assets from Larry Low under a civil forfeiture suit, as neither he nor his representatives showed up in court in July to stake a claim on the assets.
Shafee also pointed out that the flipping of the bonds right under the nose of the Terengganu Investment Authority (TIA) — the predecessor of 1MDB — allowed "Low and his cronies" to pocket approximately RM494.62 million, with the Country Group making off with RM420 million, and Aktis RM74.62 million.
The lawyer explained that the bonds were acquired by the two Low-linked companies at a discount and were resold at full value to a Malaysian government entity, which he did not name.
The lawyer also noted that on the same day on March 18, 2009 when the secondary agreements were signed, Low's Good Star Ltd was incorporated by its holding company Smart Power Ltd, which was in turn incorporated in Seychelles in 2005.
Earlier this year, The Edge had reported that US$113.42 million of the funds received by Country Group was transmitted to Acme Time Pte Ltd's RBS Coutts account in Singapore on the same day that the bonds were issued, and that a further sum of US$12.55 million was sent to the same company at a later date. 
US investigators have determined that Acme Time's account was controlled by Low and his associate Eric Tan Kim Loong.
See also:
Jho Low likely proposed 'finance novice' Shahrol to 1MDB as part of scam, High Court told
No lawyers on board of TIA after Christopher Lee left​
1MDB-Tanore trial: Jho Low installed his cronies into TIA, says witness