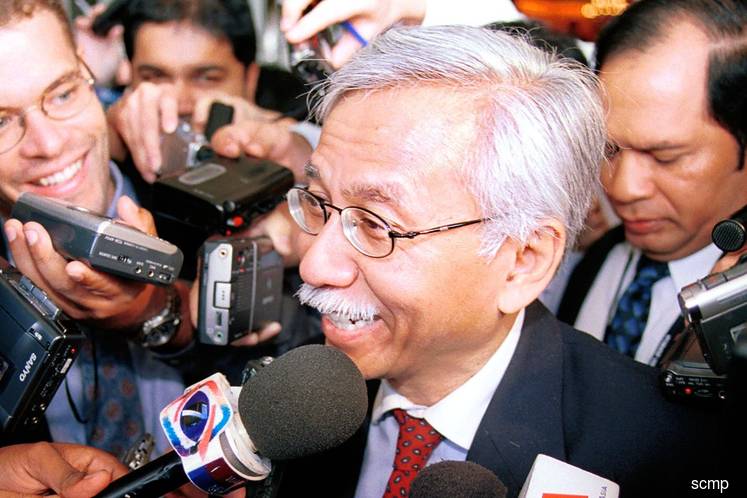 KUALA LUMPUR (May 18): The Council of Eminent Persons reiterated today that its role is only to advise the current federal government, and it is up to the government whether or not to act on the advice.  
Speaking at a media briefing today, its chairman Tun Daim Zainuddin said he "hopes to finish in 100 days" — referring to the agreed timeline — the mandate given by the current government under Tun Mahathir Mohamad. 
"Why should we [go beyond the advisory role]?" he said. "We just advise on policies, the government will decide [whether to follow]. They have the details." 
The Council of Eminent Persons was set up to advise the Pakatan Harapan government in policy-making, implementing its 100-day election manifesto promises, and to review the nation's existing business dealings.  
Daim today shared that over the last six days since it was formed, the five-member council has had 40 meetings with 50 individuals from governments and its agencies, government-linked companies, banks, non-government organisations, state-linked funds and the public sector.  
Among organisations met include the National Statistics Department, Housing Department, Economic Planning Unit (EPU), Perbadanan PR1MA Malaysia (PR1MA), Employees Provident Fund (EPF), Khazanah Nasional Bhd, Bank Negara Malaysia (BNM), Lembaga Tabung Haji (LTH), CIMB, Malayan Banking Bhd (Maybank), Public Bank Bhd and Bursa Malaysia Bhd. 
Additionally, Daim also shared that the council has met with ambassadors from China as part of the process to review mega projects in Malaysia, some of which involves Chinese investments. 
When asked about the implication of halting projects linked to Chinese investments such as the East Coast Rail Link (ECRL), Daim said: "I do not know. 
"This is a government-to-government negatotiation… But I believe the Chinese government is friendly to Malaysia. They have a long relationship with us, [even during] the 22 years under Tun Mahathir, we did not have any problem," Daim said.