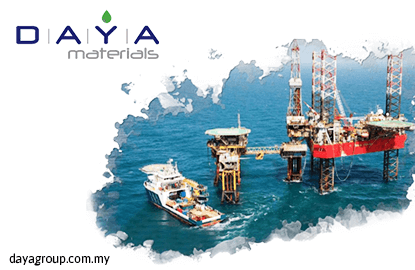 This article first appeared in The Edge Malaysia Weekly, on February 15 - 21, 2016.
Earlier this month, Datuk Lim Soon Foo surfaced as a substantial shareholder in Daya Materials Bhd with a 6.65% stake after buying 50 million shares (2.88%) in an off-market transaction at eight sen apiece.
Lim was appointed to the board of Daya in August 2011. His son Ronnie Lim Hai Liang is an alternate director.
Interestingly, Lim and his family control privately held Optic Marine Services Sdn Bhd (OMS), which, according to its website, provides total and integrated solutions for submarine cable installation projects, including project management and consultancy, permit acquisition, marine agency and logistics consultancy, cable transfers, cable landing, shallow water cable installation, land plant and outside plant construction.
OMS has its own assets in the form of cable lay barges (the US$15 million MV Orchestra and the US$10 million Cable Empowered), an anchor handling tug, MV Janet, and various ploughs.
OMS' financials are not available as it is an exempt private company. However, judging from its track record — with jobs such as the Maldives-Sri Lanka Optic Fibre Submarine Cable Project, Dumai Malacca Cable System, Hokkaido-Shakalin Cable System, Russia-Japan Cable Network, Asia America Gateway, the India, Middle East, Western Europe, Asia Submarine-Cable Express, South-East Asia Japan Cable System, Sulawesi Maluku Papua Cable System and Asia-Africa Express 1 — the company has a lucrative business.
At the launch of MV Orchestra last August, officials said that OMS was considering going public this year and planned to spend as much as US$150 million on acquiring a deep-water cable installer in the fourth quarter of 2017.
As at mid-August last year, OMS had laid about 6,000km of undersea fibre-optic cables across the globe, including in deep waters.
According to news reports after the launch of MV Orchestra, with more than 95% of the world's international communications connected via underground cables on ocean floors, OMS is sitting pretty.
The reports also noted that 34.6% of global internet traffic in 2014 was in Asia-Pacific, and this is forecast to grow at a compound annual growth rate of 21% until 2019.
Daya has an asset base that consists of subsea construction vessels and it trades and distributes speciality chemicals and catalysts.  It also has a fleet of 25 cranes for the onshore and offshore oil and gas industry.
For the nine months ended September 2015, Daya registered a net profit of RM18.5 million on revenue of RM578.12 million. In the previous corresponding period, the company made RM14.56 million in net profit and RM482.10 million in sales.
The better results were attributed to higher vessel utilisation, lower cost structure and improved sales of downstream chemicals.
As at end-September 2015, Daya had cash and cash equivalents of RM99.35 million while short-term debt was at RM83.49 million and long-term debt was at RM76.12 million.
At its close of 8.5 sen last Wednesday, Daya had a market capitalisation of RM147.6 million.
It is worth noting that Daya has raised funds — via a placement of 25% of its issued and paid-up capital, or 347.2 million shares, that raised RM51.81 million, and a rights issue with free warrants that raised RM23 million.
Much of the rights were taken up by director Datuk Lim Thean Shiang, known as T S Lim in corporate circles, who joined Daya's board last March.
Also an executive director and CEO of Daya, he is said to be a well-connected individual. From 2008 to 2009, he was general manager of the Port Klang Authority and executive chairman of the Port Klang Free Zone.
At present, T S Lim is on the boards of companies under the Felda Global Ventures Holdings Bhd umbrella and MSM Malaysia Holdings Bhd. He was also on the board of WWE Holdings Bhd, a company controlled by Tan Sri Rozali Ismail.
Daya's independent and non-executive chairman is Datuk Azmil Khalili Khalid, who is currently the president and CEO of AlloyMtd Group, which is under the MTD group of companies — a conglomerate that has interests in construction, development and toll roads, among others.
Also on Daya's board as independent non-executive director is Aminuddin Mohd Arif, 40, who was special officer to the minister of youth and sports in 2001, private secretary to the ministry of education in 2004 and private secretary to the minister of home affairs. He was also principal private secretary to the minister of transport, Datuk Seri Hishammuddin Hussein, who is currently the minister of defence.