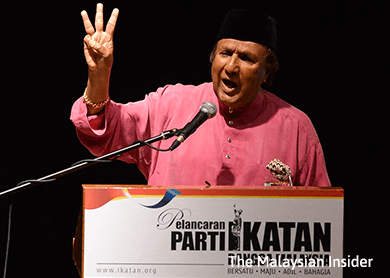 (June 25): The Malaysian Anti-Corruption Commission must look into purported abuses by visa processing agents in India and China, who are allegedly making millions from prospective tourists, said the newly-formed Parti Ikatan Bangsa Malaysia (Ikatan) today.
Party founder and president Tan Sri Abdul Kadir Sheikh Fadzir, a former tourism minister, said that this was yet another example of the abuse by Putrajaya, at the expense of the people and the country.
"MACC, take note that there are parties making hundreds of millions of ringgit every year and the victim is the tourism industry of Malaysia.
"I call upon MACC to immediately visit China and India to check on what is happening. My advice to MACC is to please meet the right people – the travel agents, etc. Not the officers. They will be scared to talk," he said in a statement today.
Kadir was responding to Malaysian Association of Tour and Travel Agents's statement calling for visa exemptions for all tourists from China and not just those who come in groups.
This is following the Home Ministry's announcement on June 20 that visa exemptions would be given to tour groups from China on a trial basis.
Congratulating his successor Datuk Seri Nazri Aziz, whom he said, understood the importance of Chinese tourists, Kadir said the problem with the Malaysian visa for Chinese tourists was the lack of convenience and the speed in obtaining it.
"It has never been the visa fee or even the necessity of obtaining the visa. Look at how the USA, UK and Australian governments are managing that," he said.
"The Australian, USA and the British governments have established very easy, fast and cheap ways of issuing visas to tourists from China, India, Pakistan and other countries for a long time, and it is working very well."
The solution, he added, lay in the convenience and speed in obtaining visas for these countries, which can also be done online.
However, Malaysia has been missing out on the "big boom" enjoyed by other countries as a result of Chinese visitors, with more than 100 million travelling last year.
"We now have various Malaysia parties processing these visa applications, and sometimes the administrative fee collected by these agents are 2-3 times more than the Visa fee itself.
"And China and India being so big, they take at least two weeks to issue the visas. As a result, if anyone wants to travel on short notice, they just give up because it takes such a long time to get the visa. Here we lose huge numbers of quality travellers to Malaysia."
He said when he was the tourism and culture minister, he had suggested, in 2002, that Malaysia appoint several travel agents of government-linked travel companies in China and India to act as its agents.
"Unfortunately, other people thought that this is a great opportunity to appoint their Malaysian cronies or agents to do this business and make free hundreds of million ringgit every year.
"I think it is too much and it has been going on for too long. Meanwhile, our tourism industry – the hotels and the travel agents are all missing out from this big boom enjoyed by other countries as a result of these huge free spending Chinese tourists going out of their country," he added.
Matta president Hamzah Rahmat had previously warned that Malaysia would risk losing out on high-spending tourists from China if it grants visa exemptions to tour groups only, as the move could make independent travellers feel "shunned".
"Many high-spending tourists travel independently and often at short notice," he added.
Last month, Kadir, who is also a former information minister, launched Ikatan, which he said was neither pro-opposition nor government.
"Alhamdulillah, after working hard for more than two years and with the help of the Kuala Lumpur High Court, finally Ikatan is registered," he said.
The former Umno Supreme Council member had formed Ikatan in June 2012, but was forced to wait more than two years for approval from the Registrar of Societies (RoS). – The Malaysian Insider