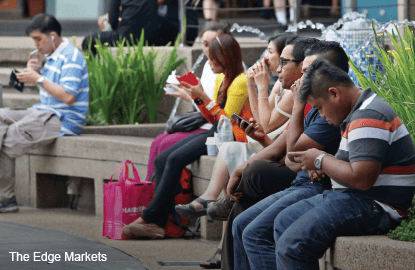 This article first appeared in The Edge Malaysia Weekly, on February 1 - 7, 2016.
THE share prices of the country's three largest telecommunications companies plummeted last week after the government announced the redistribution of telecommunications spectrum via a bidding process. Investors dropped the telcos' shares, afraid that in acquiring more spectrum, the companies would incur substantially more capital expenditure (capex), which would eat into dividend payments.
From last Wednesday to Friday, some RM12.7 billion worth of market capitalisation had been wiped out from the big three — Maxis Bhd, Axiata Group Bhd and DiGi.Com Bhd.
Maxis saw its share price plunge 13% to RM5.72, its lowest level since February 2012. Axiata's slid 8% to RM5.61, a level not seen since November 2012. DiGi.Com was the most resilient, dropping 4% to a two-year low of RM4.88.
Maxis and Axiata are perceived to be the biggest losers as they have high borrowings. Thus, they will not be able to pay much dividends. DiGi.Com is in a better position thanks to its low gearing.
Last Thursday, Prime Minister Datuk Seri Najib Razak in setting out the recalibrated Budget 2016, said the redistribution, which would optimise revenue for the government, will be implemented soon.
The two-line mention of the spectrum redistribution was significant enough to make investors pounce on the panic button. The lack of details, such as the bidding process, timeframe and bidder's qualifications, resulted in speculation on possible scenarios that might not be in the telcos' favour.
A few questions remain. Why was there such a big knee-jerk reaction? Are these telco stocks oversold for no strong reason? And more importantly, wasn't the spectrum acquisition expected? Why was it even a surprise?
Interestingly, HLIB Research highlights that the spectrum tender "was not a surprise" although it came earlier than expected, with the drastic plunge in oil prices putting great pressure on the government to meet its budget deficit target.
"On the bright side, this reinforces our earlier thesis that market rivalry will be rational given the uncertainties ahead," says the research house.
In fact, it is known that every telco player needs spectrum, and yes, they will incur capex. So, wouldn't a bidding process encourage a more transparent and fair redistribution of spectrum?
Packet One Networks (Malaysia) Sdn Bhd CEO Puan Chan Cheong welcomes the government's move to enable spectrum allocation through market forces. "We look forward to a greater level of consultation and discussion that will result in an equitable solution that will drive positive changes in the telco sector," he tells The Edge.
Of course, the main concern for most investors now is the possible substantial outflow of cash that will affect the telcos' dividend payouts and capex planning. But again, this is not new to the market.
For instance, Maxis has turned from a generous dividend payer to one with a self-imposed cap on its cash distribution. For example, it gave less than five sen in one quarter in the financial year ended Dec 31, 2015.
Nonetheless, many are pessimistic.
PublicInvest Research acknowledges that the immediate impact of an open-bidding process would be negative for all telcos as the spectrum licence would come at a higher cost. Subsequently, it may lead to higher borrowing, reducing the telcos' ability to maintain dividend payments.
According to the research house, Maxis is seen as the biggest loser as it has the highest net debt to Ebitda ratio of 1.5 times, followed by Axiata's 1.3 times and DiGi.Com's 0.3 times. (Ebidta stands for earnings before interest, depreciation, taxes and amortisation.)
It, however, argues that the telcos "would undeniably pass on" the additional cost for the spectrum licence.
On another note, Alliance DBS Research estimates that about 23% of the telcos' earnings will be impacted, which is considered manageable. "Using Singapore as a reference, the auction reserve price for the whole 60MHz of 900MHz band spectrum in Malaysia could start at RM1.9 billion. Mobile operators might need to source for additional funds, depending on the payment terms set by the government," it says.
Commenting on the additional cost from the auction, BIMB Securities Research predicts that the minimum amount for Axiata, Digi.Com and Maxis to retain their 900MHz and 1800MHz spectrum would be RM2.6 billion, RM1.6 billion and RM2.5 billion respectively, based on the recent auction in Thailand.
Meanwhile, CIMB Research believes the large mobile incumbents could lose the spectrum to smaller operators such as P1, U Mobile and YES, which could outbid them.
"In this scenario, they (the larger operators) would have to spend more on capex to retune and build network capacity to make up for any loss of spectrum. Competition from the smaller operators that win spectrum may also intensify," it says.
RHB Research also warns of a risk that spectrum bids might go overboard, resulting in value destruction for the industry.
"Malaysia had previously assigned spectra via a combination of beauty contests and direct allocations — avoiding outright auctions. The ongoing spectrum re-farming exercise may be fast-tracked should the government proceed with an auction, in our view," it says.