This article first appeared in The Edge Financial Daily, on January 25, 2019.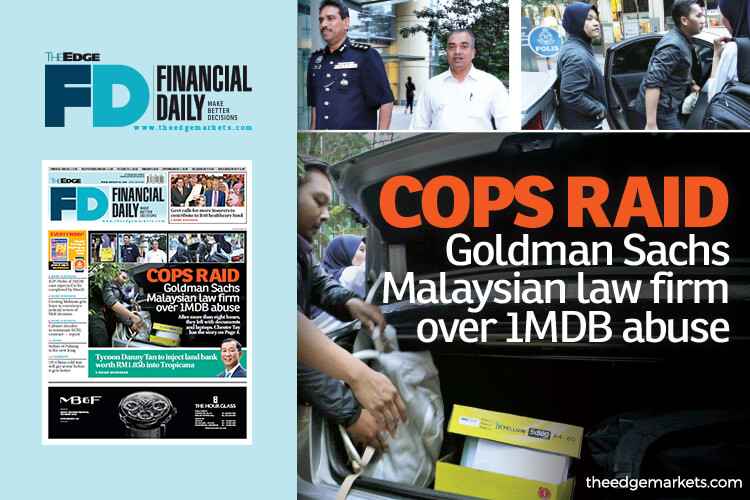 KUALA LUMPUR: Officers from the Bukit Aman Commercial Crime Investigation Department (CCID) yesterday raided Messrs Rahmat Lim & Partners, the local law firm used by global bank Goldman Sachs in its 1Malaysia Development Bhd (1MDB) dealings, and left with a box of documents and laptops.
At 6.35pm, more than eight hours after their arrival, a team of seven officers were seen leaving the office building where Rahmat Lim is located, but they declined to speak to the media.
Rahmat Lim were the lawyers representing the US investment banking giant during the issuance of the 1MDB bonds in 2012 and 2013 totalling US$6.5 billion.
Following the raid, Rahmat Lim maintained it had only a "limited role" in representing Goldman Sachs.
"We had previously acted in a limited role as Malaysian legal counsel for Goldman Sachs in such bond issuances, supporting an international English law firm which was the lead counsel," news portal Free Malaysia Today reported the law firm as saying.
Rahmat Lim also said it had cooperated with police by handing over non-confidential documents, but said there were documents subject to "attorney-client privilege" which it could not provide to investigators.
"We have provided our fullest cooperation to the police, and remain fully committed to cooperating with them, within the confines of the law."
People familiar with the raid told The Edge Financial Daily that apart from physical documents and laptops, the enforcement officials made copies of a substantial number of soft-copy documents, and that this took hours to complete as the size of the documents was large.
Quoting sources, theedgemarkets.com, had reported yesterday morning that Malaysian police were at Rahmat Lim to search for documents related to the three 1MDB bonds arranged by Goldman Sachs.
"The police are there now after obtaining a court order to do a search because the law firm had refused to hand over documents requested by the police" the business news portal reported, quoting one of the sources.
The source also said another law firm, Wong & Partners, which represented 1MDB in the transactions, had given documents as requested by the police.
"Lawyers should not think that they can withhold documents in a criminal investigation," said the source.
Malaysian public prosecutors last month filed criminal charges against Goldman Sachs and two former employees, namely its previous Malaysia head Timothy Leissner and his deputy Roger Ng, in connection with the bond offerings issued by 1MDB.
Last November, the US Department of Justice also filed 1MDB-related criminal charges against Leissner and Ng as well as Low Taek Jho (Jho Low). Jho Low, who has gone into hiding, was charged in absentia.
Arrested in Malaysia, Ng is currently fighting extradition to the US.
Leissner has, however, pleaded guilty to two charges of money laundering and conspiring to corrupt foreign officials. He has agreed to forfeit US$43 million (RM178 million) as part of his guilty plea.