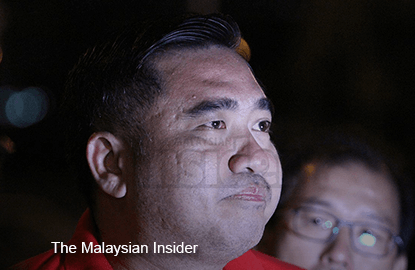 (July 14): DAP's Seremban MP Anthony Loke was questioned over a speech he made last week at the Parliament compound hinting of a possible street demonstration if Prime Minister Datuk Seri Najib Razak refused to step down.
Loke was said to have made the speech during a meeting with members of parliament (MP) and non-governmental organisations (NGO) to discuss the repercussion of The Wall Street Journal's report on 1Malaysia Development Berhad and Najib.
At the Dang Wangi police headquarters today, Loke said he was questioned for about half an hour on the content of the speech.
He was accompanied by his lawyers Lim Lip Eng and Thomas Su.
He is being investigated under the Section 505(b) of the Penal Code for making statements conducing to public mischief.
The probe was initiated after a policeman lodged a report against him based on an article by Malay daily, Sinar Harian.
"Even if we ask for the prime minister to step down, that is not an offence. I don't understand which part of my statement that is seditious," Loke told reporters.
Describing the investigation as a waste of time, Loke said it all started with Inspector-General of Police Tan Sri Khalid Abu Bakar who tweeted that he needed to be investigated following the report titled, "Demo Besar Jika Najib Tak Letak Jawatan" (Huge demonstration if Najib did not resign step).
He said Khalid's action showed that the top cop was against peaceful assembly despite the right to do so was enshrined in the Federal Constitution.
"What I said wasn't something that is against the law. I only said that I didn't rule out the possibility of mass demonstration against Najib as he is involved in a big scandal."
He said it was normal for politicians or leaders in a democratic country to receive such pressure.
"If we are not satisfied with government or prime minister we have the right to assemble, and that is not to incite, but to state our stand.
"Whether he will step down or not is up to him, that is just pressure," he said, adding that the opposition has always pressed Najib during the parliamentary sitting.
On July 7, some 100 opposition parliamentarians, assemblymen and leaders of non-governmental organisations gathered at a corner in the Parliament compound to discuss about the country's financial scandals allegedly involving Najib.
The MPs said the booking for a room inside the building had been withdrawn at the last minute, and they quickly decided to move to an area outside the main Parliament building to hold an "urgent" meeting on claims by The Wall Street Journal that billions of ringgit had been channelled to the prime minister's personal bank accounts. – The Malaysian Insider