This article first appeared in The Edge Financial Daily, on October 1, 2018.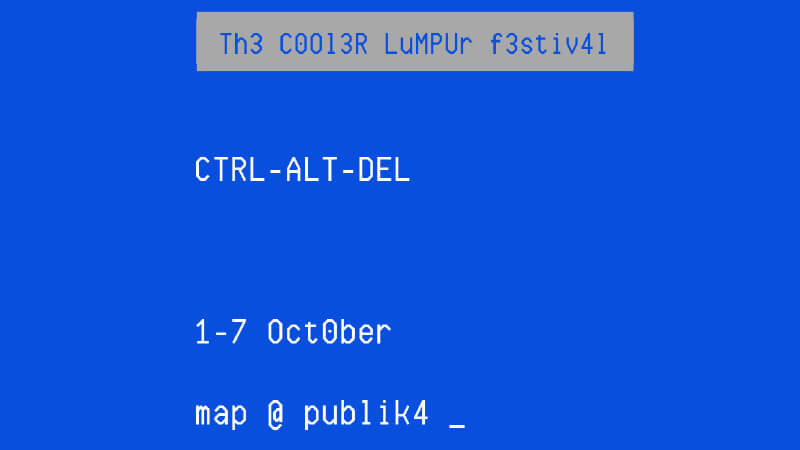 From time to time, life can feel like it is all that little bit too much — too tough, too tiring, too complicated. On days like this, it's understandable to want to regroup and restart. The organisers of the annual Cooler Lumpur Festival understand your struggle — which is exactly why they are encouraging you to Control. Alternate. Delete.
Running for a sixth year, the Cooler Lumpur Festival stands as Southeast Asia's only festival of ideas. According to the event's press release, "this year's theme will explore these individual notions of 'control', 'alternate', and 'delete' and what it all means when taken as a whole ... We wonder how to redo and remake the world if offered the chance at a reset."
The week-long event entails many activities, screenings and talks for all to take delight in, featuring some internationally acclaimed speakers including Richard C Paddock, a reporter for The New York Times who shared an Emmy Award for investigative reporting with PBS NewsHour, back in 2015, as well as Carlo Gabuco, a visual artist and photographer whose human rights-focused works have been exhibited across Southeast Asia. Here are some of our top picks from the festival:
Panel: Saving Journalism in the Age of Social Media
Oct 5 (10am)
Speakers Premesh, Tang Lee Chin and Datuk Jalil discuss the utmost importance of journalism in Malaysian society, in the age of abundant misinformation. Presented with the Institute of Journalists Malaysia, this panel invites you to take a look at the culture of social media, memes and "fake news", and question how journalism can survive this.
Screening: We Are Animals
Oct 5 (6pm)
Journalist and documentary filmmaker Zan Azlee brings a pressing issue to light, with this documentary We Are Animals. Having spent several weeks in Kutupalong, Bangladesh — the world's largest refugee camping housing almost a million displaced Rohingya — he was able to capture a glimpse of the lives of the camp's residents. Be sure to catch this important and touching documentary screening.
Presentation: Saving Stripes: The Plight of the Malayan Tigers
Oct 6 (1:30pm)
Statistics show that there are only 250 Malaysian tigers left in the wilderness. In this eye-opening presentation, Dr Mark Rayan Darmaraj — Tiger Landscape Lead a WWF-Malaysia — provides us a glimpse of how this unfortunate result came to be, and explores the possibility of saving a species that is on the brink of extinction. The presentation is followed by a Q&A session with Rick Paddock.
Panel: Who Run The World?
Oct 6 (3pm)
Girls! Inspirational spreakers Thammy Chong and Hannah Ellis-Petersen discuss the individual and societal struggles that women shockingly still have to endure in the modern day, ranging from the glass ceiling and occupational roles to domestic violence, child marriages and sexual assault. Via the press release, the speakers say they are attempting "to address what needs to be done today, in order to set things right for the women of tomorrow".
Panel: Who's Laughing Now?
Oct 7 (1:30pm)
Drop by this talk to hear Dr Matteo Riatti, Ernest Ng and Lau Mun Yee discuss the three Rs of Malaysian society — "royalty, race, religion". The speakers believe that Malaysians have been socialised into keeping mum about these issues, but the rise of online comic and gag sites has allowed us all to become desensitised to them, and to reset our moral compasses in the process.
Panel: Hear Me Now!: The Power of Audio Storytelling
Oct 7 (4:30pm)
In this panel, speakers Cora Knoblauch and Haruna Ikezawa discuss the phenomenon of podcasts. From altering the ways in which journalists practice their craft and influencers speak to their audiences, the lowered production costs and lessened external control of this increasingly popular and easy-access communication format has greatly impacted how we use our voice.
Footnote: The Cooler Lumpur Festival 2018 takes place from today to Oct 8, from 10am to 10pm daily, at MAPKL @ Publika, 1 Solaris Dutamas, Kuala Lumpur. All-access entry to the festival costs RM10, and includes access to all panels and screenings — some workshops and panels may be subjected to additional fees. Visit www.coolerlumpur.com for the full itinerary and to find out more.